This short, scenic trail near Sedona, Arizona is a really easy hike that you can take with family and kids to get views of Cathedral Rock. If you are wanting an easy trail to do while you are on vacation, this is a great one that you can add to your itinerary with kids!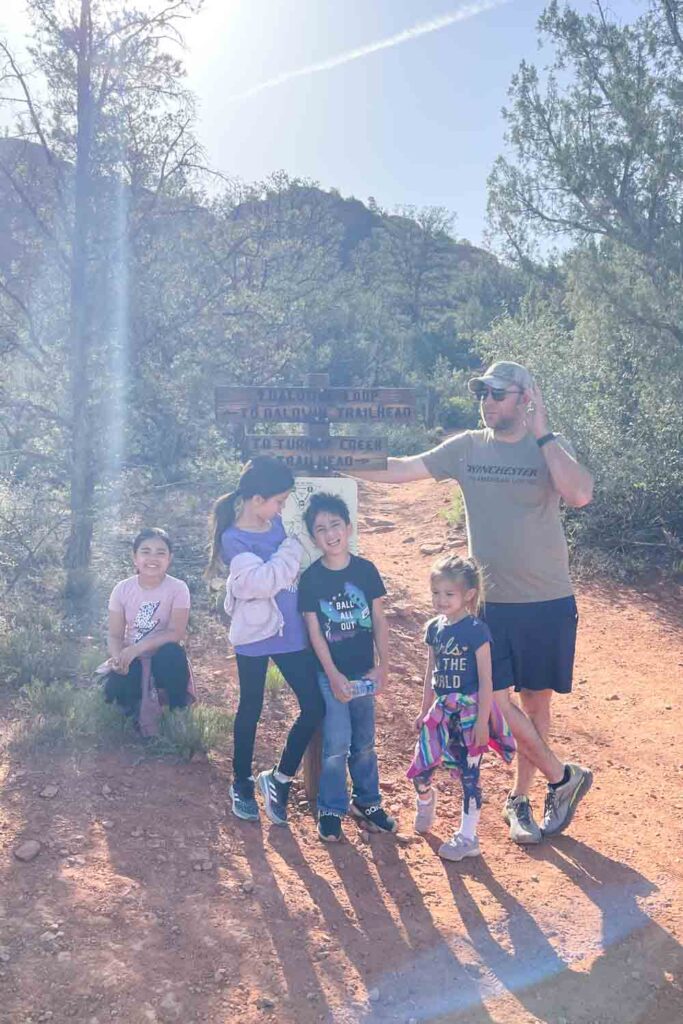 Overview of Baldwin Loop in Sedona
Baldwin Loop Trail is a 2.5-mile loop that has beautiful views. It has the red rocks and red sand that Sedona is known for.
Since it is a relatively easy route, you'll potentially encounter other vacationers and locales while hiking or taking a stroll in on this trail. It has amazing scenic views of Cathedral Rock.
If you are visiting in the fall, it is absolutely beautiful.
Directions
If you are on Verde Valley School Road, you'll want to drive 4.1 miles and it's located on the west side of the road.
If you use Google Maps or Apple Maps, driving may take you to what appears to be a gated community, which means you went the wrong way. If you head towards the Crescent Moon trail, it will lead you to the correct route. If you go a little further, you'll be able to find parking spots that has the trailhead.
Parking
There are a few parking spots near the trailhead. There is also a parking lot that is smaller in Verde Valley across the trail access point. Lastly, there is a Turkey Creek lot that you can hike up to the access point. You will need a Red Rock pass to park which costs around $5.00.
Incline and Elevation
There is a small incline of 120 feet, but nothing that a stroller couldn't handle near the beginning of the trail. Once you go a little deeper into the trail, normal strollers may not be able to handle the rest of the way.
Duration
This hike takes on average two hours for families with little kids under the age of ten.
Best Tips for Families
Go Counter Clockwise
If you go counterclockwise, you'll be able to have a little more shade (not much) and end up near the Crescent Moon Water Hole to cool off. A quarter of the way through the trail, you'll be able to see beautiful views. This allows you to leave the best views for the near the end of the hike.
Arrive Early
You'll want to get there early at around 8:00 as the lot can get pretty full by that point. By 10:00, cars are lined up waiting for a spot.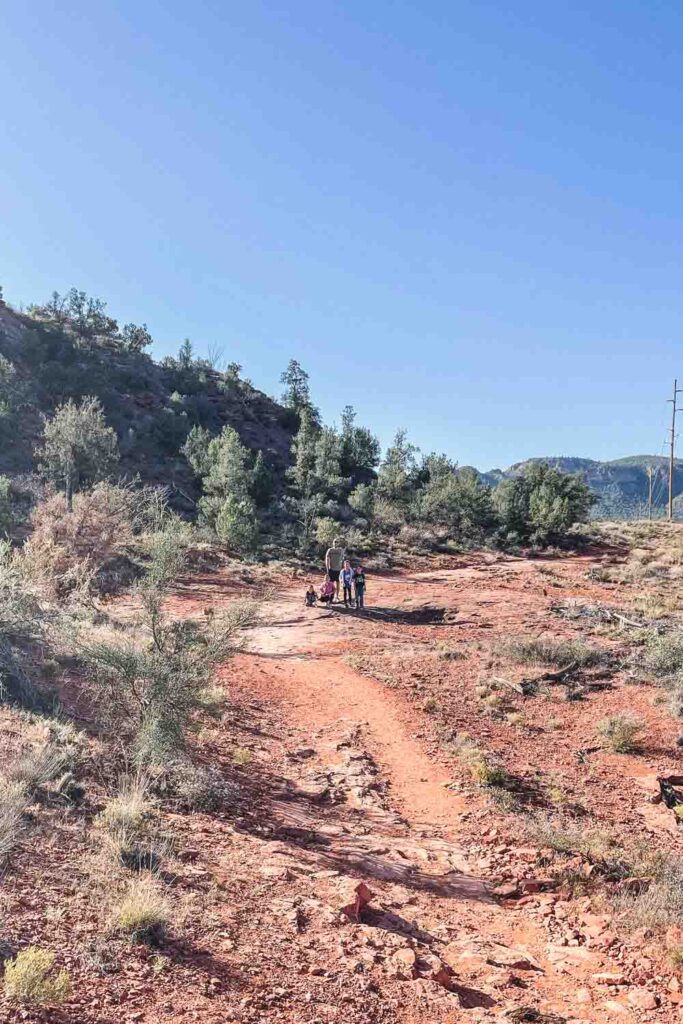 Watch for Bikers
There are a lot of bikers that like to go on this trail, so make sure you account for that especially if you have littles.
Water
Sedona heat can be relentless, so make sure you bring a lot of water. Cool temperatures in the morning should not be a forecast for how the weather will be during the day.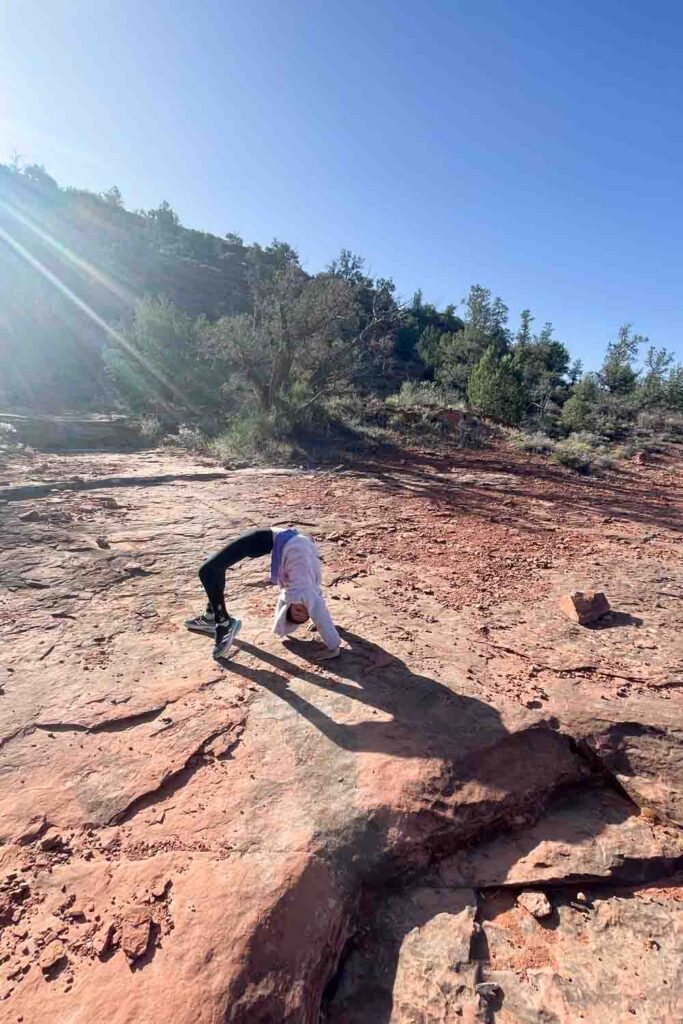 Pets
Dogs are welcome, but they will need to be added on a leash. It is definitely dog friendly.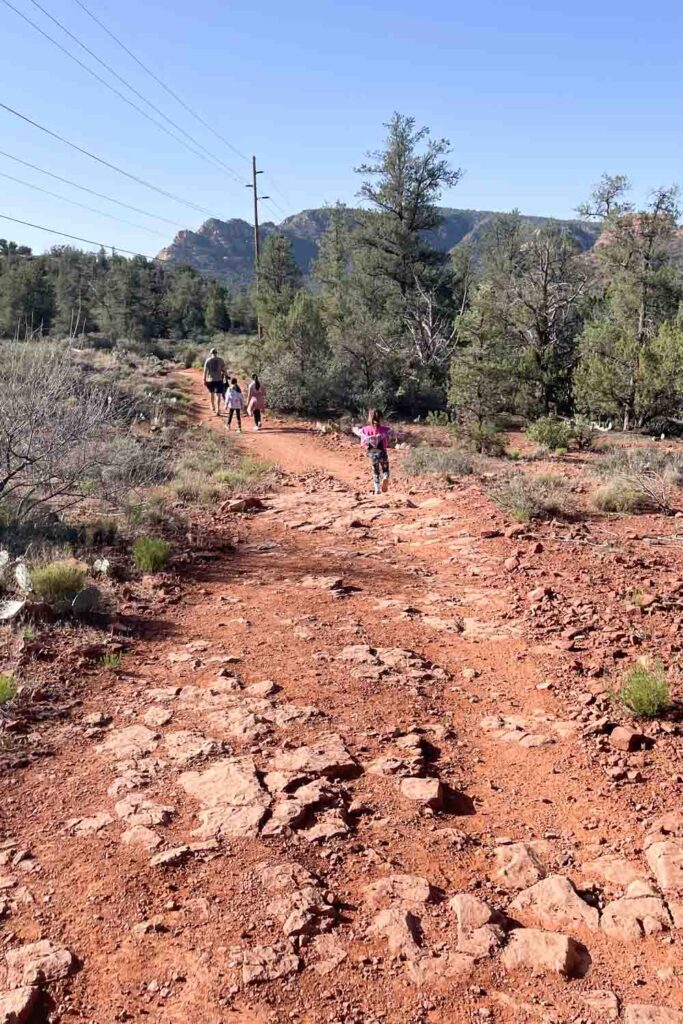 Hiking Purchases for Baldwin Trail
Below are the supplies that I got for our family in preparing for hikes in Sedona since we were doing back to back hikes.
Hiking Socks
We did wear this in the summer, and it worked great because these socks gave them a lot of cushion.
ANTSANG Kids Wool Hiking Socks Toddlers Boys Girls Warm Thick Thermal Crew Boot Heavy Cozy Snow Cabin Winter Gift Snowboarding Socks 6 Pairs(Striped A,1-3 Y)
PREMIUM QUALITY : Made of the 55% wool, 25% cotton, 15% polyester and 5% spandex,the kids wool socks are warm,thick,skin friendly and comfortable.They wick moisture effectively and are great hiking socks for kids!
SOFT & BREATHABLE & COZY : The materials for this stylish kids wool socks are very comfortable and soft, special fuzzy inner design will keep the feet warm, the soft and thicken fabric will keep children's feet feel comfortable all the day, no any itching issue, It's a perfect wool socks for boys, girls or toddlers.
Camelback for 3 to 7 Year Olds
This water pack was great for my five and seven year old because it wasn't too big and they were able to use it.
Sale
Camelback for 8 to 12 Year Olds
This is the exact camelback that we got for our older kids.
Sale
Hiking Shoes for Preschool Kids
These shoes were great because they were easy to take on and off.
Hiking Shoes for 8 Year Olds and Up
These hiking shoes are great because they are velcro'd.
Frequently Asked Questions
How long is Baldwin Loop Trail near Sedona?
How long does it take to get through Baldwin Trail in Sedona?
Baldwin Trail takes 1.5 to 2 hours to complete for the average hiker.
Can Baldwin Loop Trail be used with strollers?
Parts of Baldwin Loop can be used with strollers, but there are parts that will require scrambling. Going clockwise will allow you to see all the views before the terrain gets too tough.
Conclusion
Our family of six absolutely loved Baldwin Loop Trail. The scenic trail was an easy one for us to complete as compared to the other ones in Sedona we completed on previous days. I would recommend having the kids bring a camelback as part of their hike.
It's a great place to check out the outdoors and also get some family photo ops while hiking.
Sedona Vacation Tips