Find everything you need to know about visiting Sedona for families with kids, including an itinerary of what to do, breakfast locations, and best restaurants to visit if you are family with little kids.
Sedona is absolutely gorgeous because of the beautiful views and all of the outdoor activities that your family can do, especially if you love hiking and taking in absolutely gorgeous views.
We just returned from a Spring Break getaway to Sedona with our family in order to get away from the winter and get outside. After our trip with our family of six, I wanted to share our experience with going to Sedona with our kids who were five, six, nine and ten years old.
Why You and Your Kids Will Love Sedona
Sedona is surrounded by beautiful red rock formations that you won't find anywhere else. The rock shaped after it's name, Bell Rock, looks absolutely stunning against the beautiful Sedona backdrop of clouds and blue sky. When you get into the city, you are welcomed into a scenic view that is absolutely breathtaking.
There are so many outdoor activities that you and your family can do in national parks with trails that are family friendly. The trail heads are well taken care of, often with amenities like bathrooms that are a must for families with kids.
The night sky in Sedona is absolutely amazing with the stars. If you wait long enough, you can see the night sky rotate. Often, hotels are aware of this and will have marshmallow roasting or night events that allow you and your family to enjoy the beauty of the night sky.
In addition, there are delicious restaurants around Sedona that are a must for families. There are plenty of upscale restaurants, but also a great selection of family friendly restaurants that offer a large selection for picky eaters as well as allow for kids to be themselves (e.g. rambunctious and loud) without worry about bothering other guests.
Sample 3 Day Sedona Itinerary
Below is the sample itinerary that I would recommend for young families. This will allow you to check out all of what Sedona has to offer as well as have a few breaks in between. This section provides the highlights, and I'll go through details of what you can expect on each day further in the post.
Day 1
Bell Rock Loop Hike (0.8 miles with ability to extend if needed)
Oak Creek Canyon Grill and Brewery for Lunch
Check out Tlaquepaque Shopping Area
Slide Rock Swimming (with optional trails)
Rotten Johnny's Wood-Fired Pizza Pie for Dinner
Day 2
Sedonuts for Breakfast
West Fork Oak Creek Trail (6.5 mile hike)
89 Agave Cantina for Lunch
Creekside American Bistro for Dinner
Day 3
RedRock Cafe for Breakfast
Lunch at Pump House Station Urban Eatery and Market
Son-Silver-West Galleries for Fun Photo Ops
Airport Mesa Overlook
Day 1 - Bell Rock and Slide Rock
On the first day, you'll do a small hike that ends the day with a fun time in the waters going down a natural rock slide that will be fun for the family.
Bell Rock Loop Hike
This is a must-do hike while in Sedona. There is a loop you can take with a stroller. However, there is also an option to go all around the bell formation, which you will need to do some scrambling with the kids. There isn't a lot of shade. Make sure to bring some water! I break the details around the Bell Rock Loop hike here for details with the best tips and what to expect. Just know you'll have lots of great family photo ops!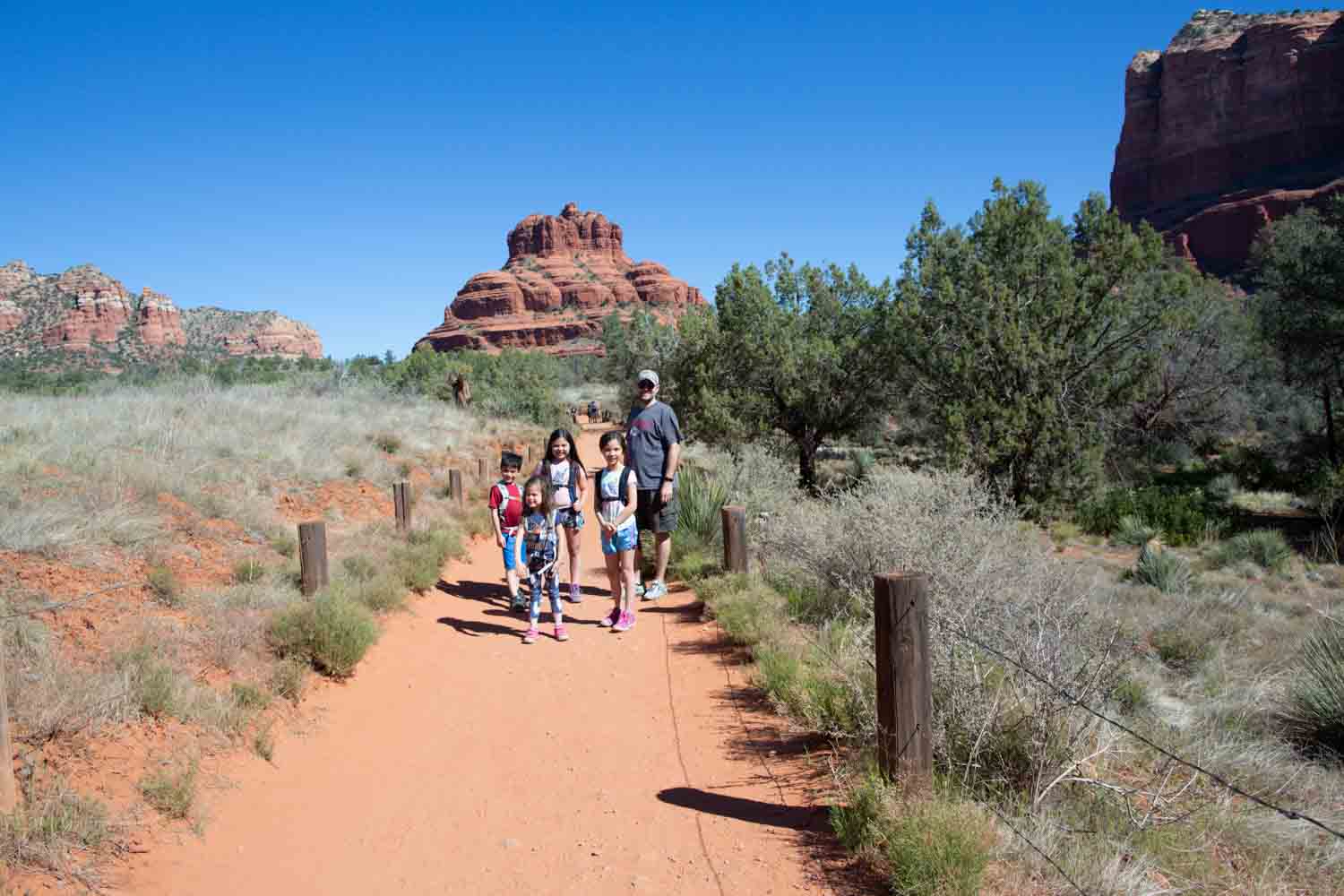 Oak Creek Canyon Grill and Brewery for Lunch
This was a great place to eat lunch after a hike which provided options for all of our kids to eat to their heart's content with pizza, fries, and also allowed us to order adult meals. Best of all, we had fun activities like shopping to do right after lunch that was right in walking distance without having to drive around to find more parking.
Tlaquepaque Shopping Area
After getting your bellies full, you can literally walk out and venture into some awesome kitschy shopping. There are also beautiful locations for family photo ops as well! On the top floor of one of the centers is a kids toy store, so you might want to avoid that if you don't want to overpay for a bunch of souvenirs.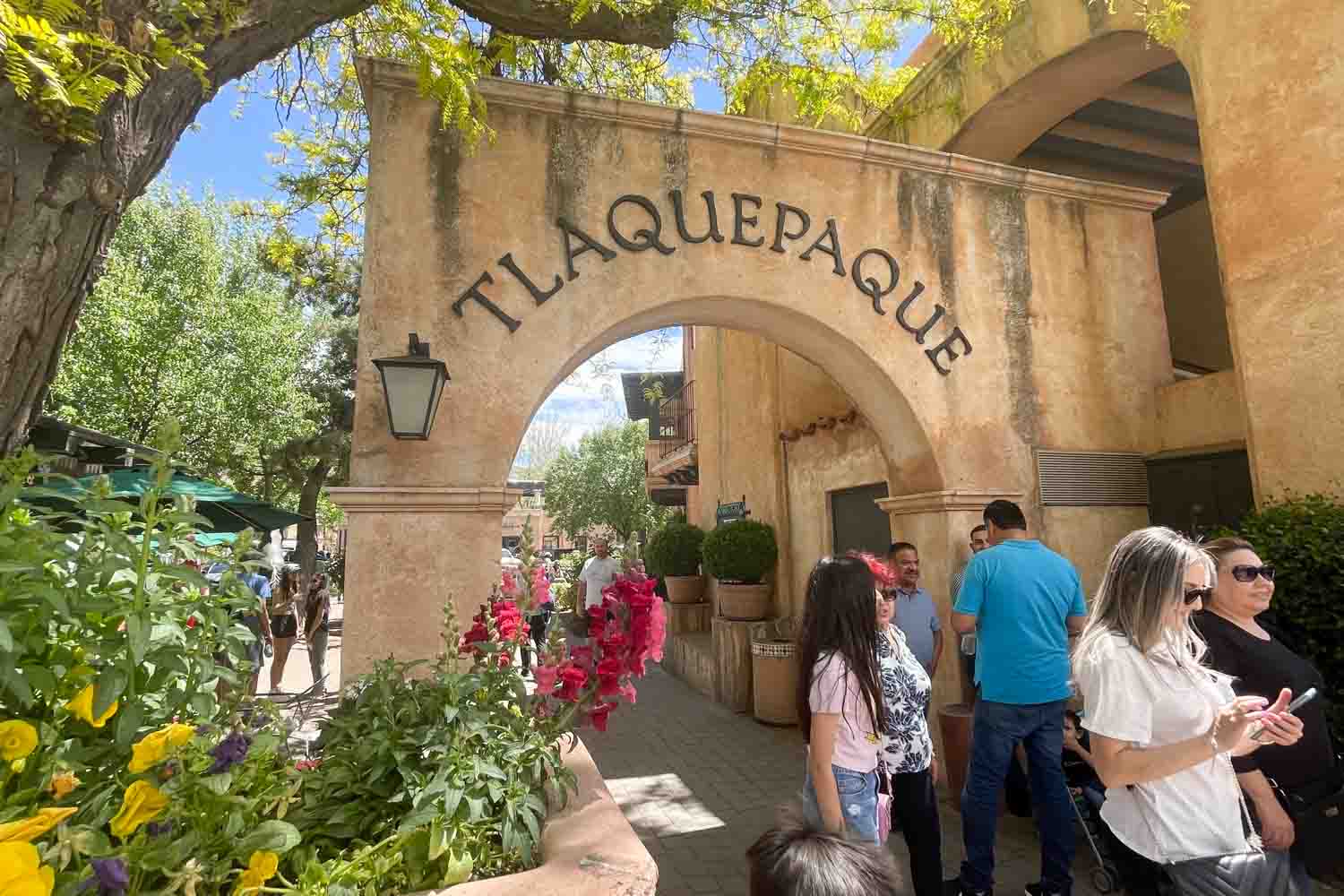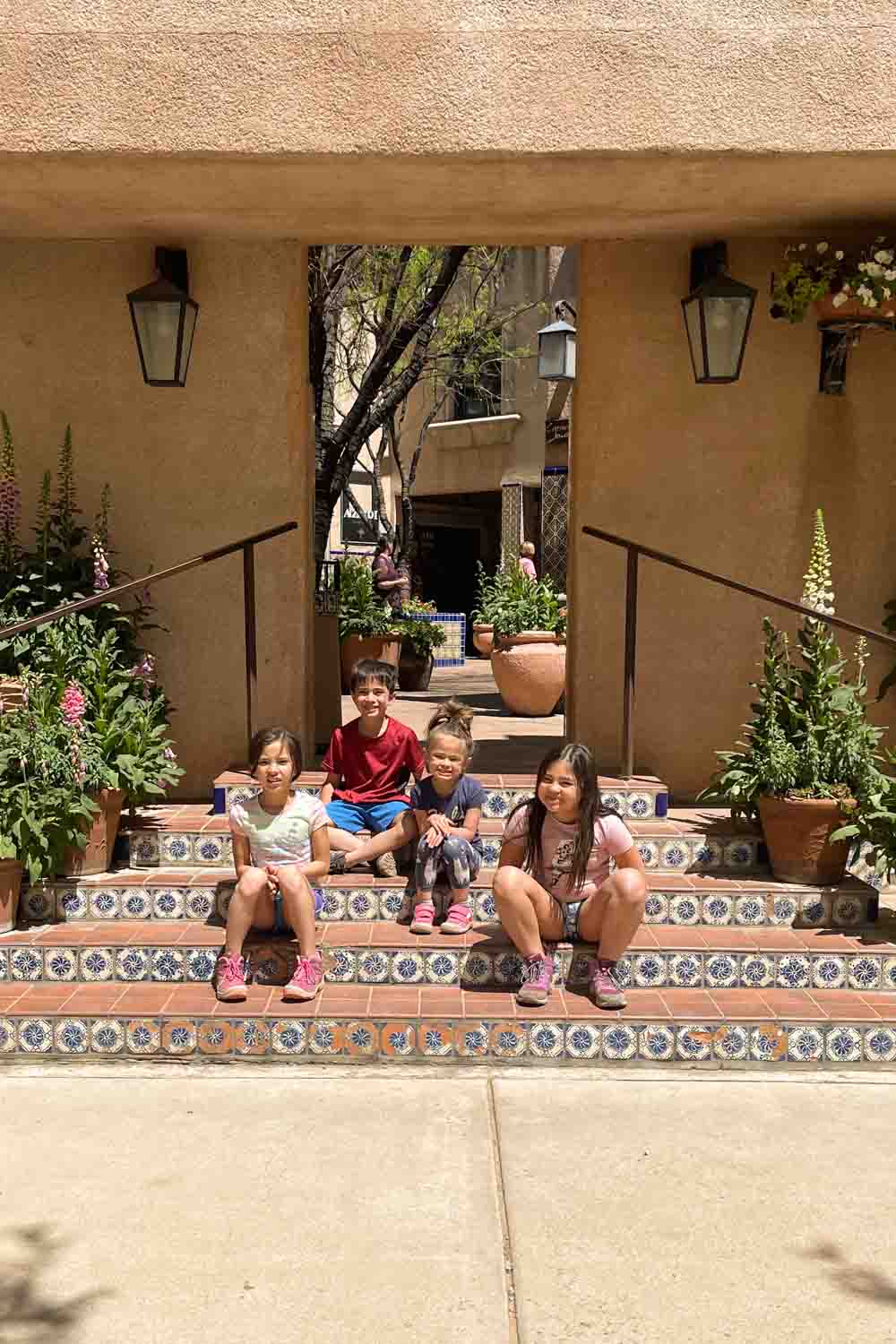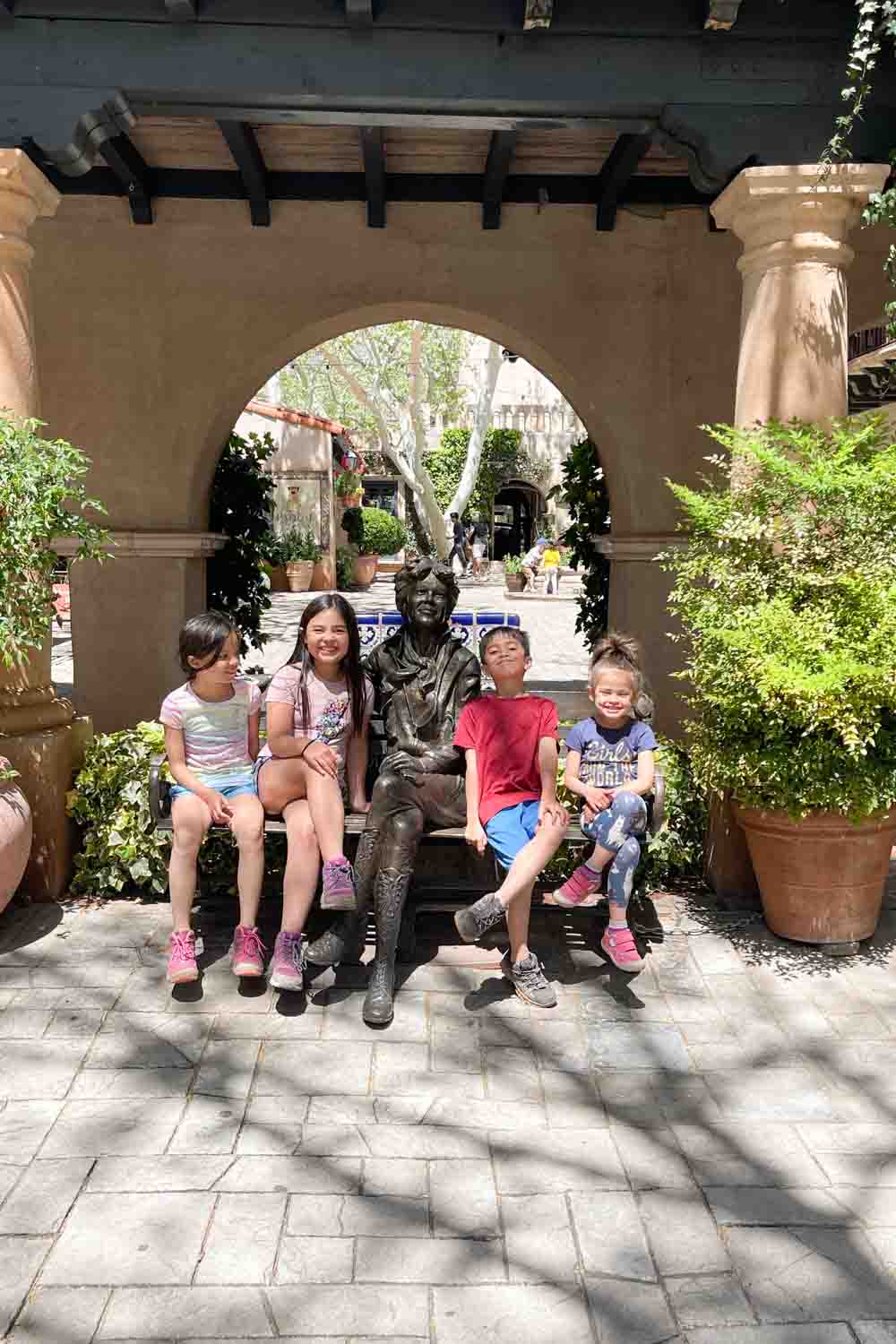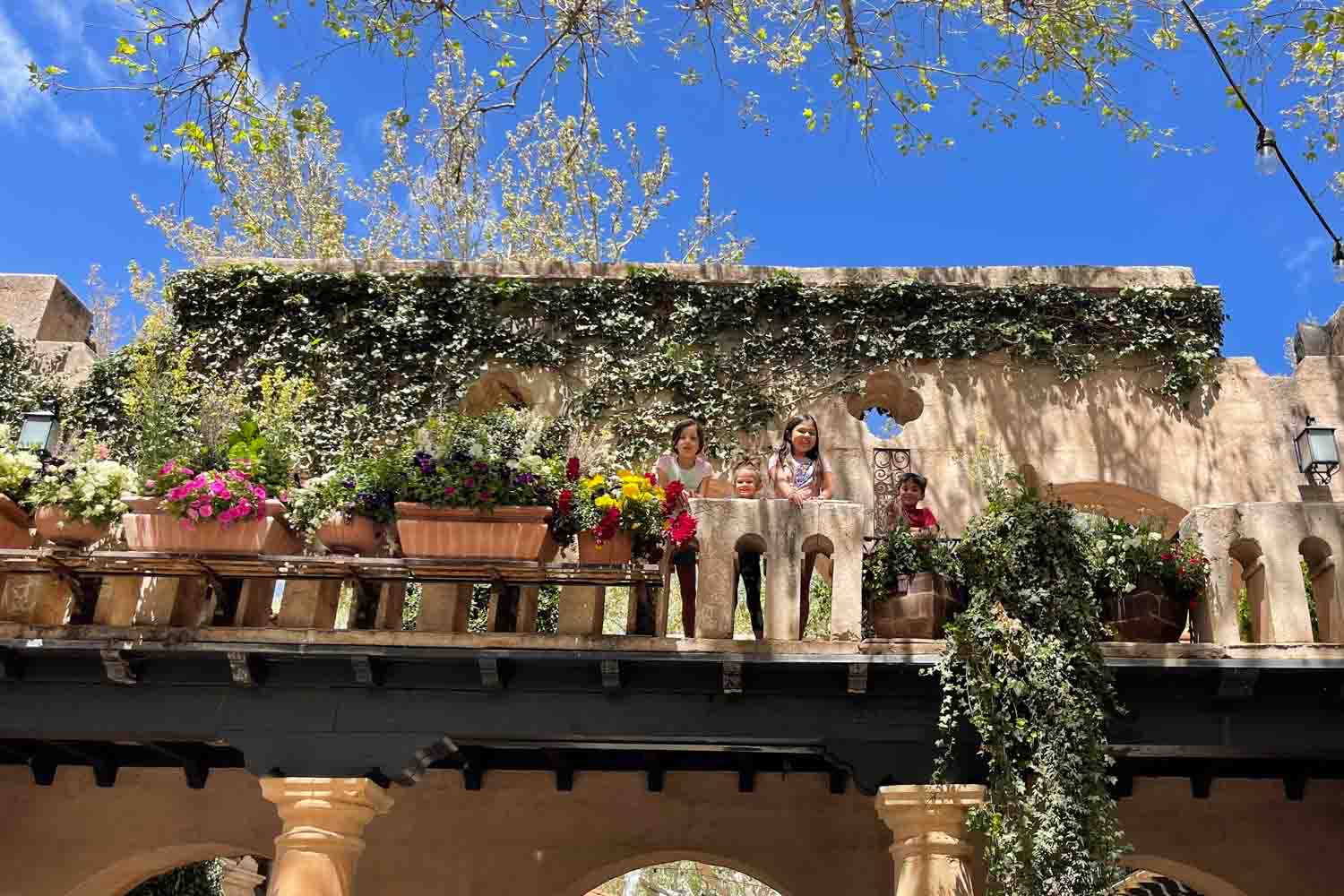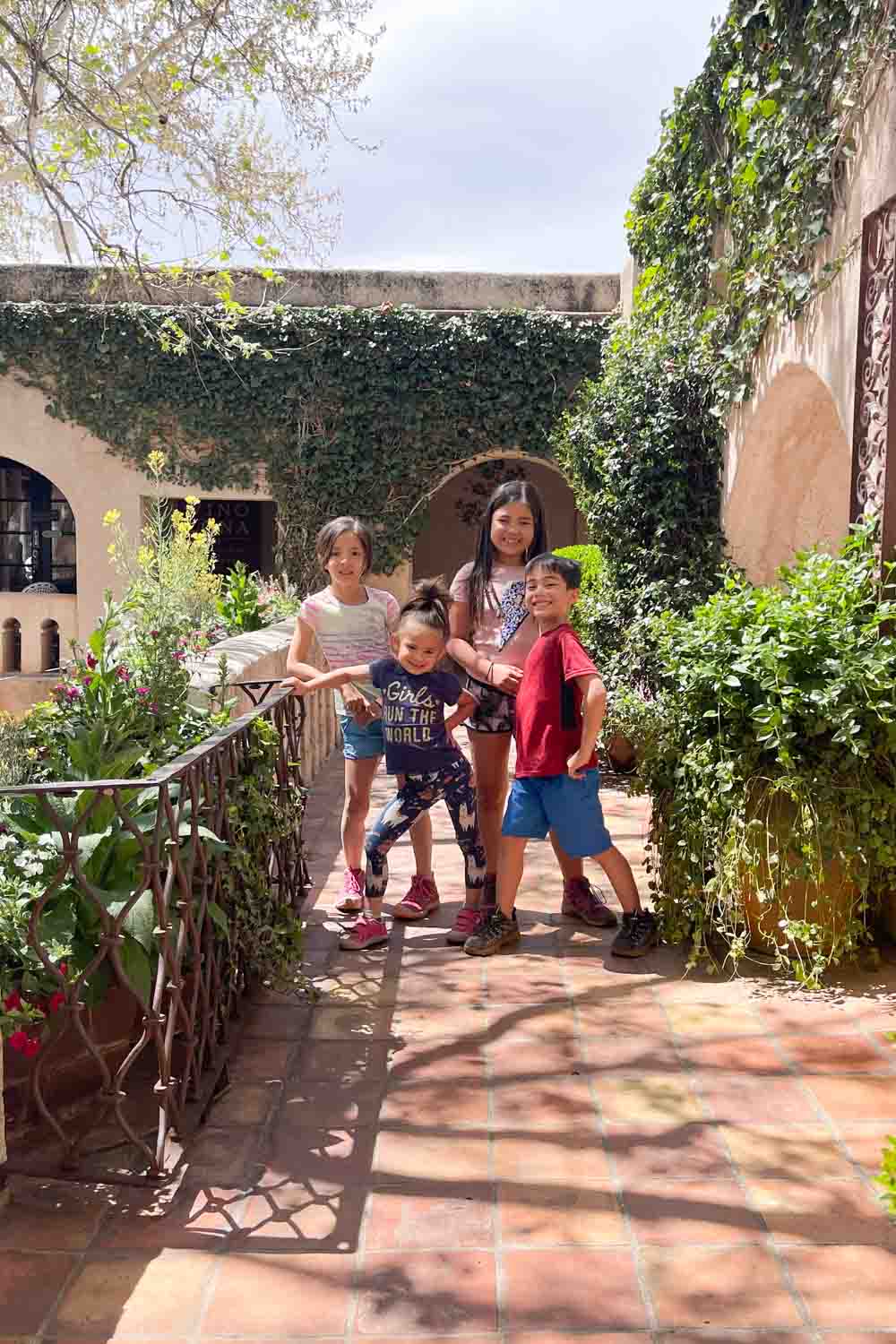 Slide Rock Swimming (with optional trails)
Slide Rock is a national park that will generally have a line in the afternoon, but it's worth the wait because it allows the water to get a little warmer in the afternoon so you can actually get the kids to "slide down" the rocks. It's about a quarter mile hike and down a staircase to get the the creek with the water and absolutely worth it! I talk more about Slide Rock and what you can expect there. The kids wanted to go back a second day!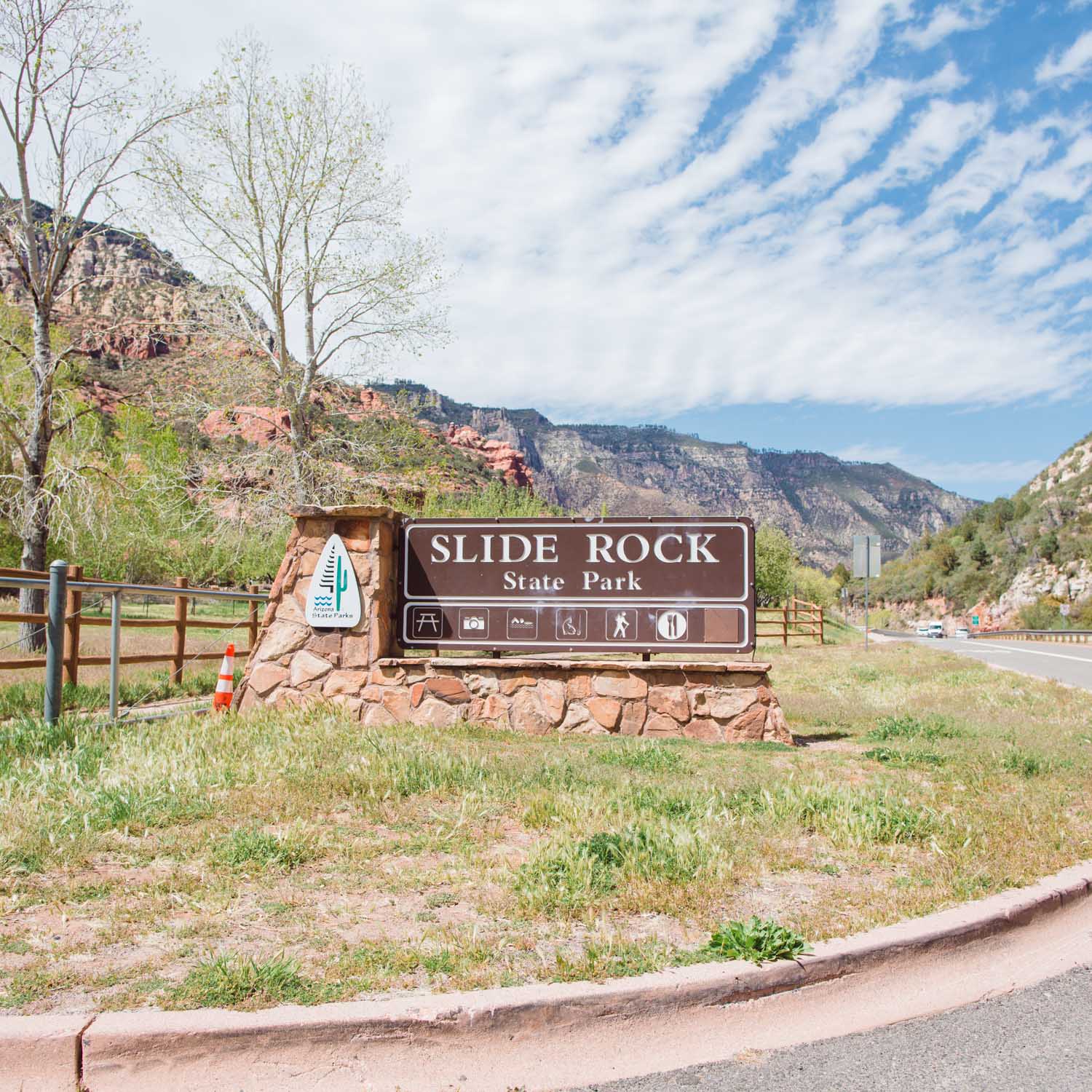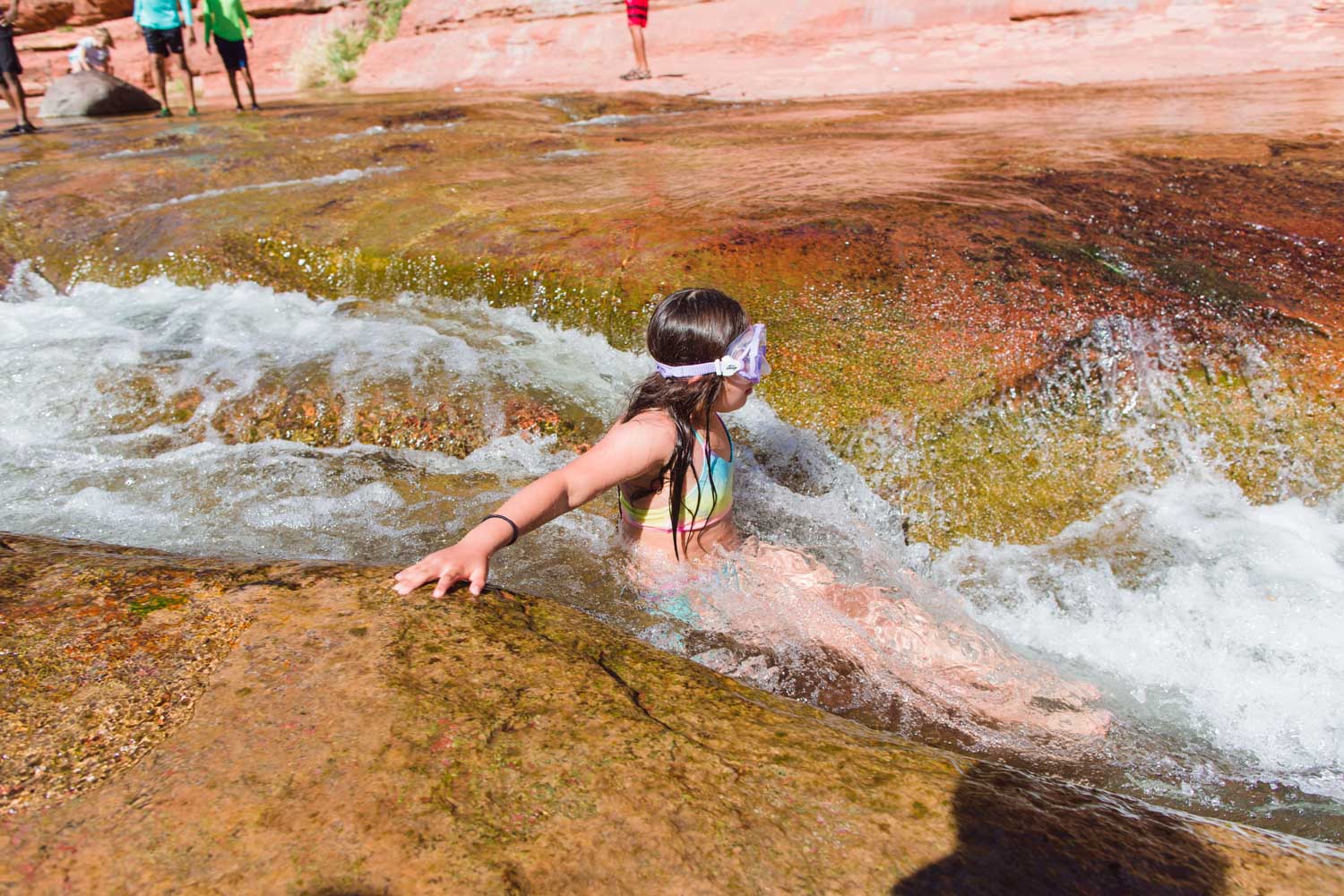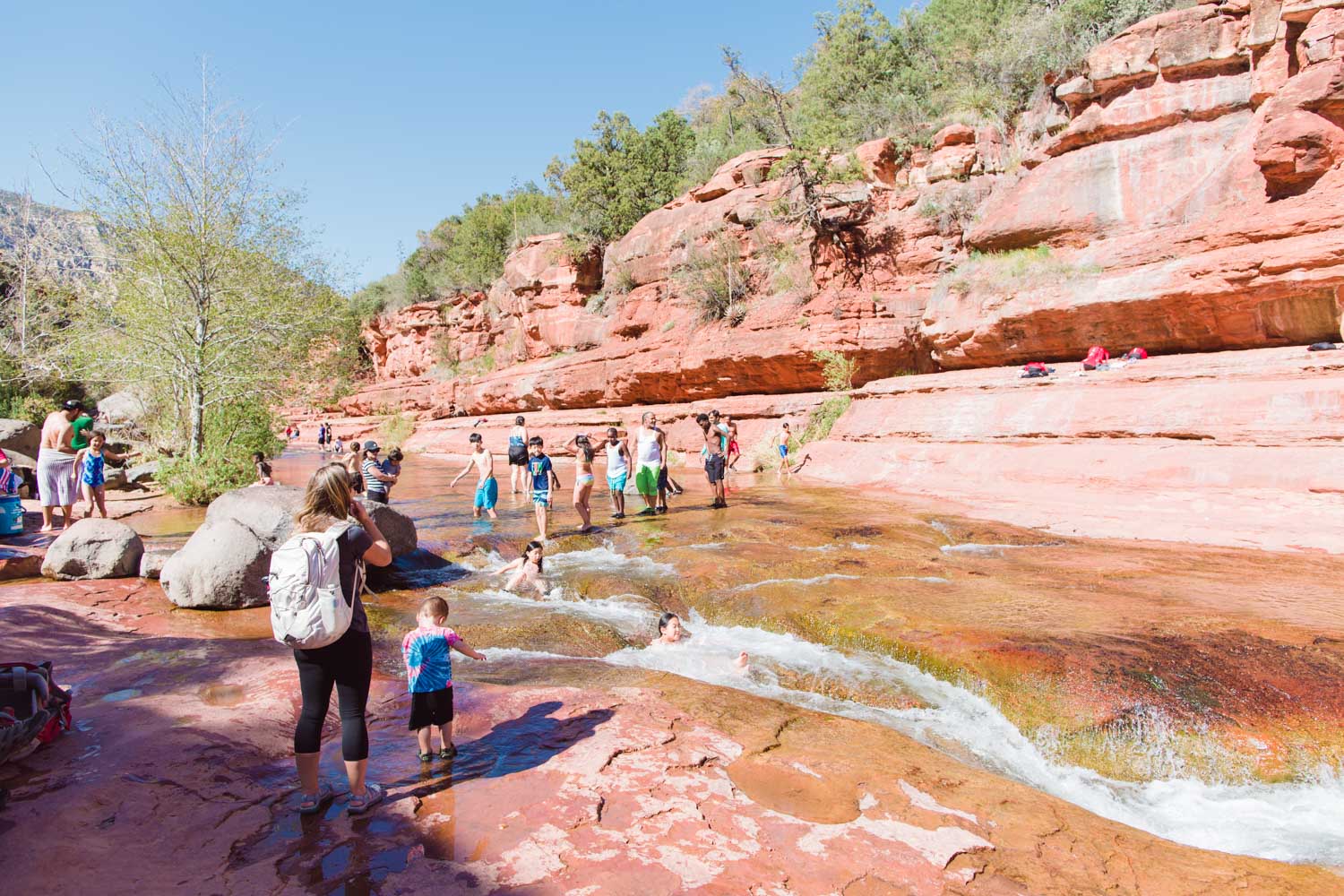 Rotten Johnny's Wood-Fired Pizza Pie for Dinner
If you want an easy meal, pizza is always great again! If you want to change it up, you can choose one of the other restaurants I mentioned, but this one makes it easy after visiting Slide Rock.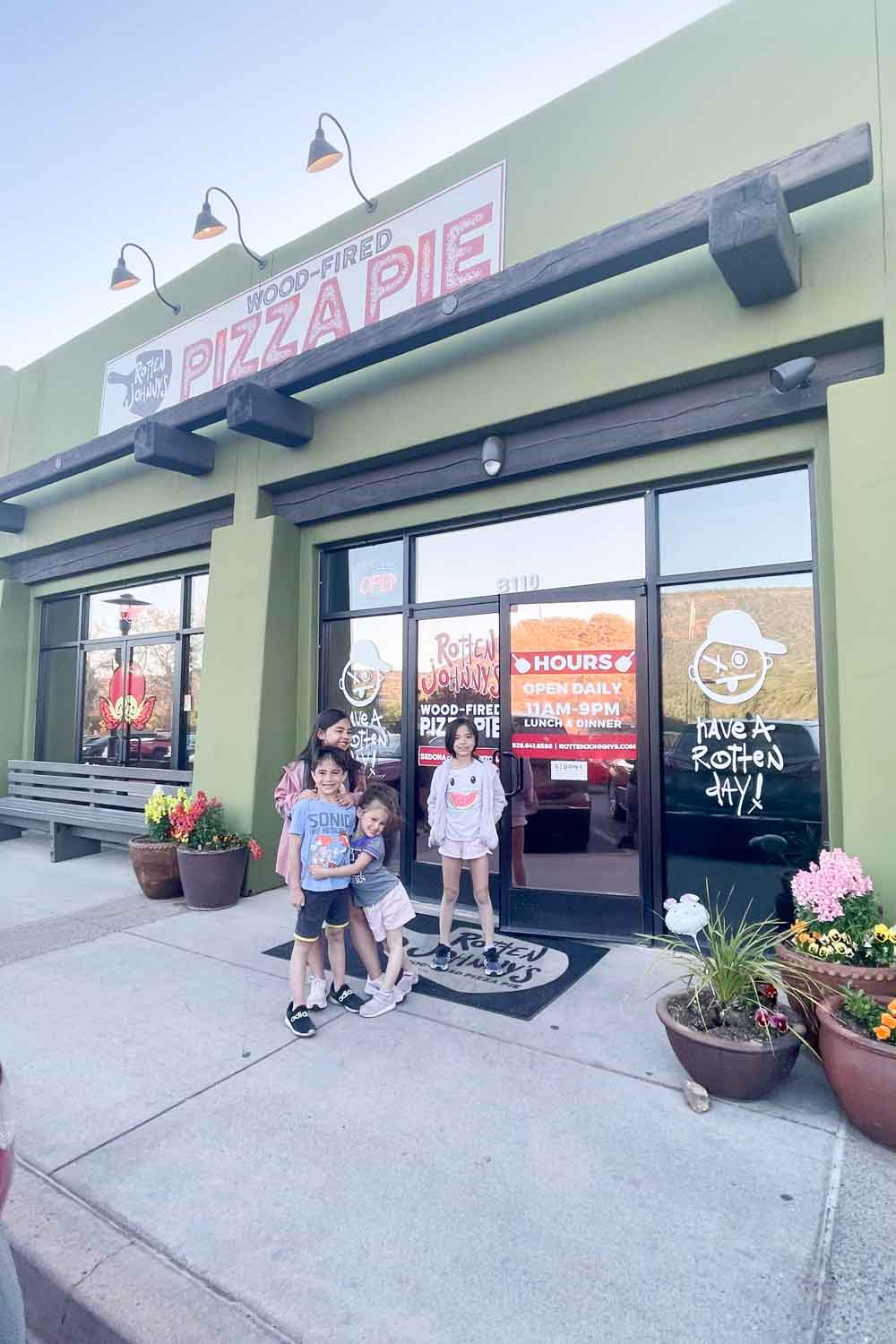 Day 2 - Big Hike and Chapel Visit
The second day takes you to a longer hike with gorgeous close up views of the red rocks followed by a visit to a holy chapel between energy vortexes with magnificent panoramic views of the city.
Sedonuts for Breakfast
We were not able to get Sedonuts because I planned our visit on a Monday, the only day of the week they were not open! However, this is a must do if you come into Sedona!
West Fork Oak Creek Trail (6.5 mile hike)
The hike in West Fork is a super long hike and provides views and landscape unlike other areas of Sedona. The trails are lined sometimes with sand instead of red dirt, which seems like it's not in the same city. It is a cold hike in the morning, so make sure you bring a light jacket for the kids. It is definitely not stroller friendly, so I would recommend getting a hiking pack for little ones. While our kids were able to make it the entire 6.5 mile hike with snacks, unless your kids have been hiking for a while, I don't think kids under the age of 8 would make it. If you can, there are some gorgeous views to be had in West Fork Oak Creek Trail.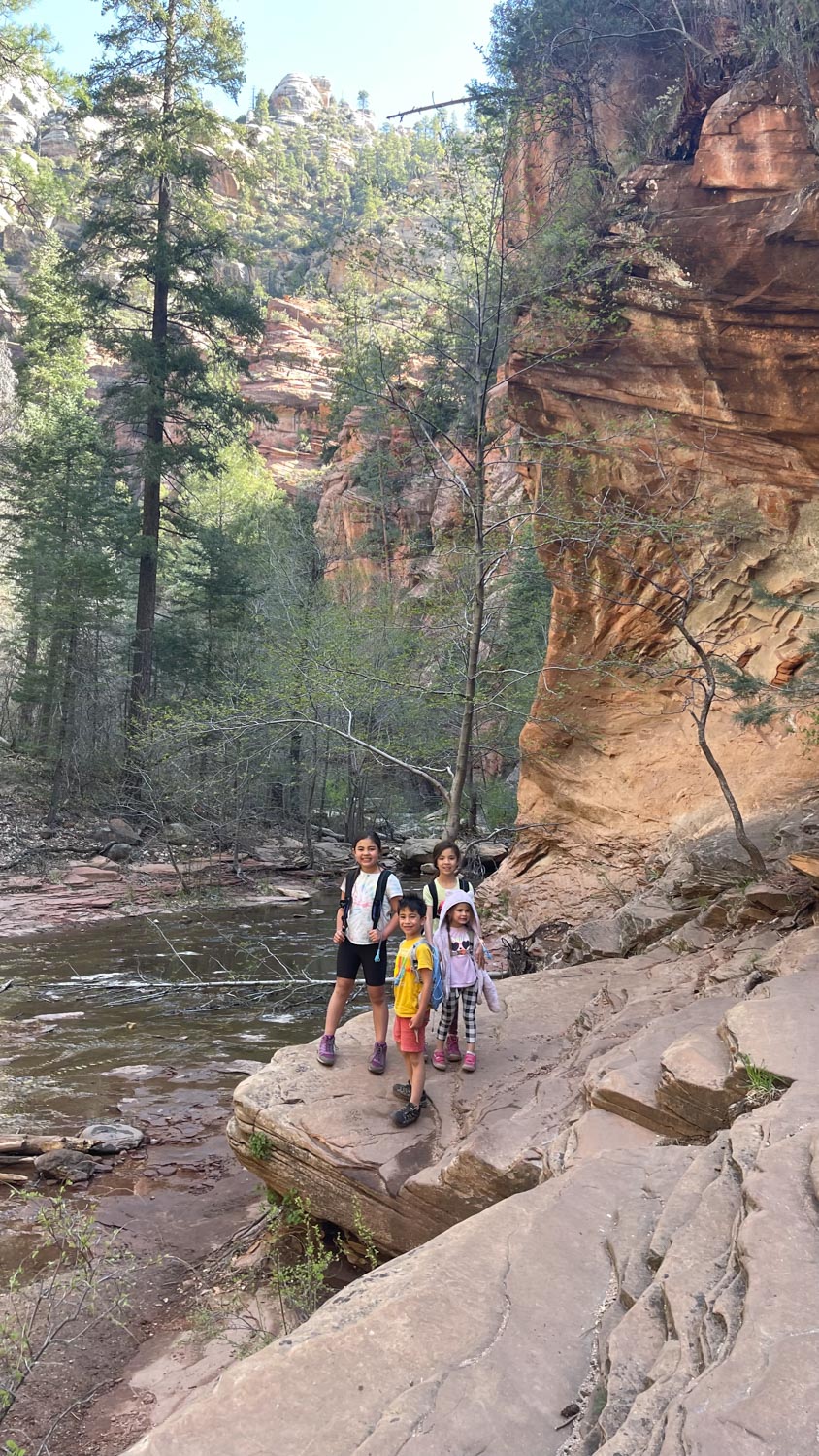 89 Agave Cantina for Lunch
After a long hike, you'll need some food! I would recommend getting reservations if possible because hangry is not something you want your kids to be when waiting to be seated at a restaurant. This place was delicious. While it was a random choice for us, it was a perfect pick!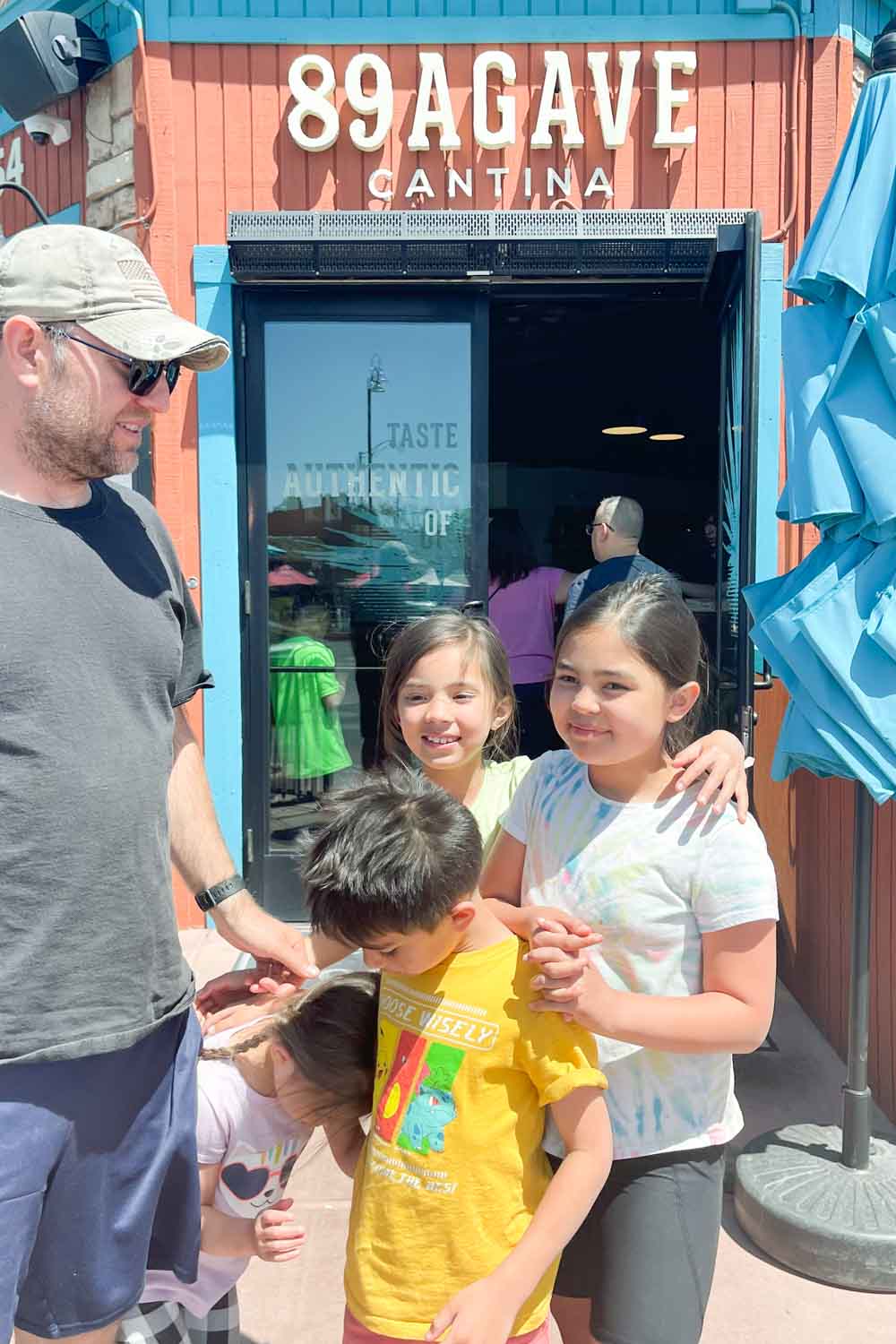 Chapel of the Holy Cross
This may be less than a 30 minute visit at the site, but very well worth it. The only hike is up from the parking area to the Chapel of the Holy Cross. Jesus on the cross is mesmerizing and you can feel His spirit there. In addition, knowing that the architecture was built within 18 months inside of these rocks is just amazing fact to have in your mind while checking out the chapel. Not only that, the views are absolutely magnificent and beautiful.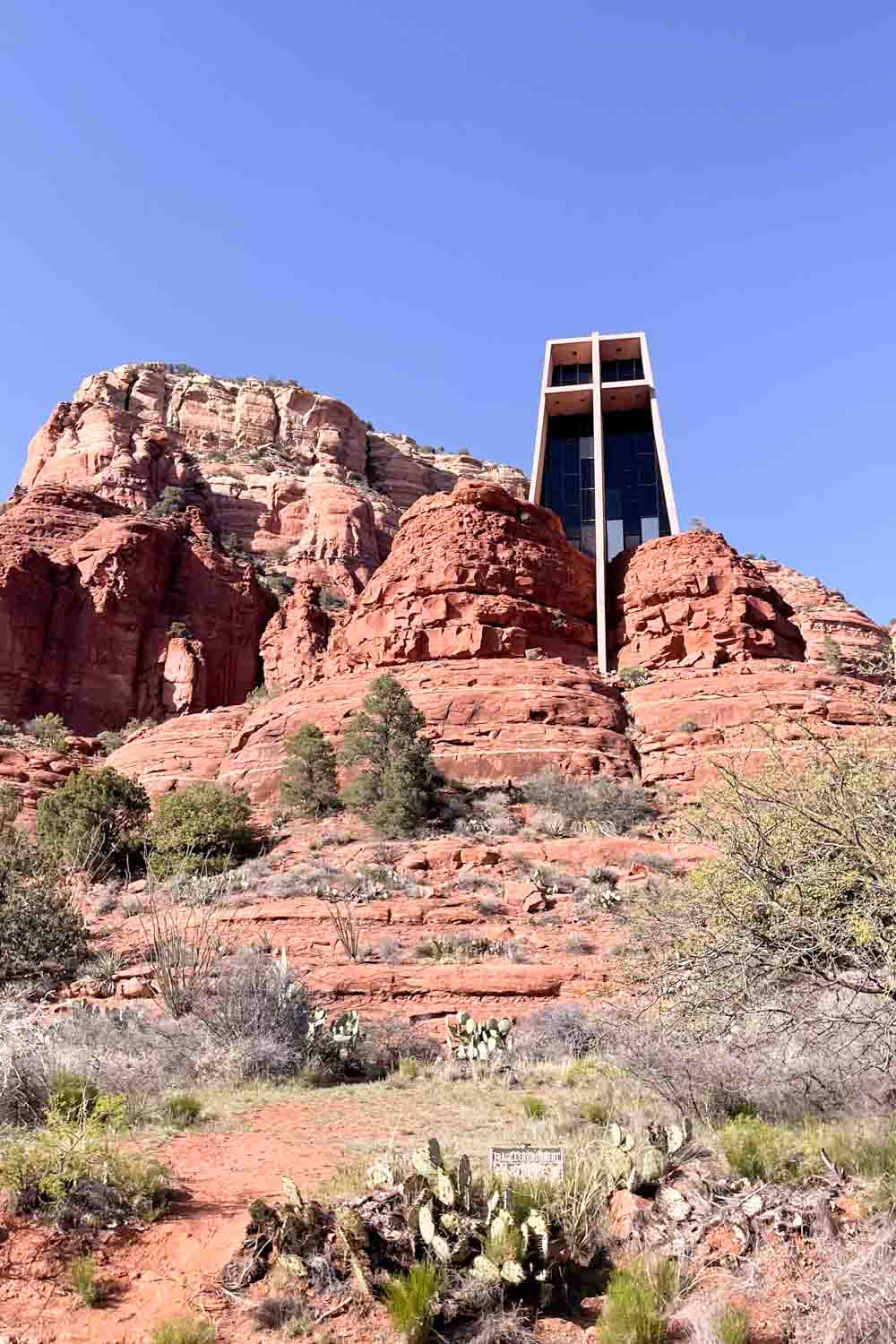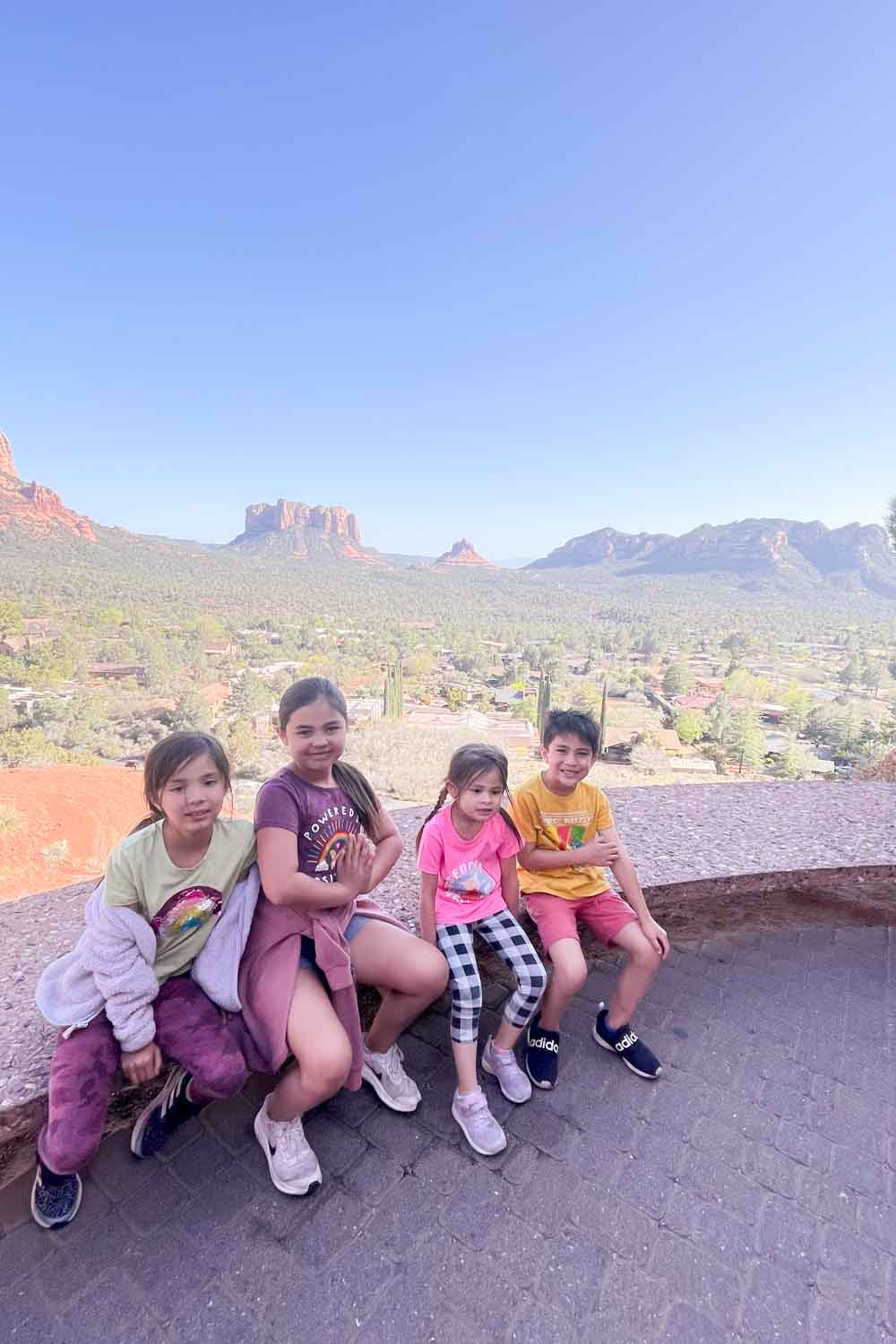 Creekside American Bistro for Dinner
While our meals for my husband and I weren't the greatest, the reviews for this place say otherwise. If given the chance, I would give this place a second chance. Out of five stars, I would rate it as a three. Our kids would rate it a five. The views here for outside dining are spectacular. For these views, a reservation is a must.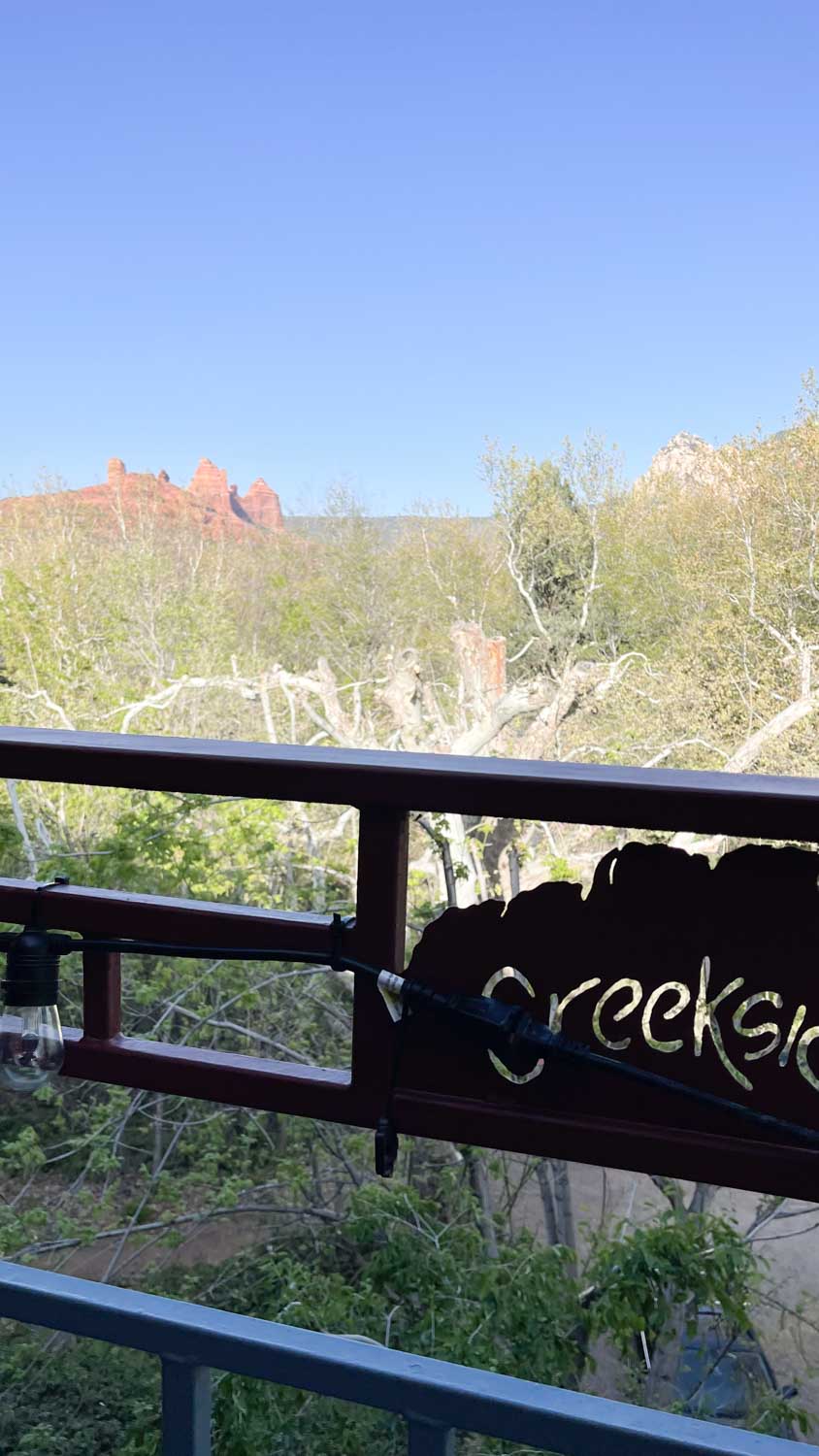 Day 3 - Baldwin Loop, Airport Mesa Overlook, and Fun Shopping
The last day takes you on a shorter trail in the morning, shopping at an eclectic store off the main shopping area, followed by a beautiful overlook during sunset.
RedRock Cafe for Breakfast
This place is such a family friendly breakfast and brunch location. You can't miss their huge cinnamon rolls! Great breakfast with great prices.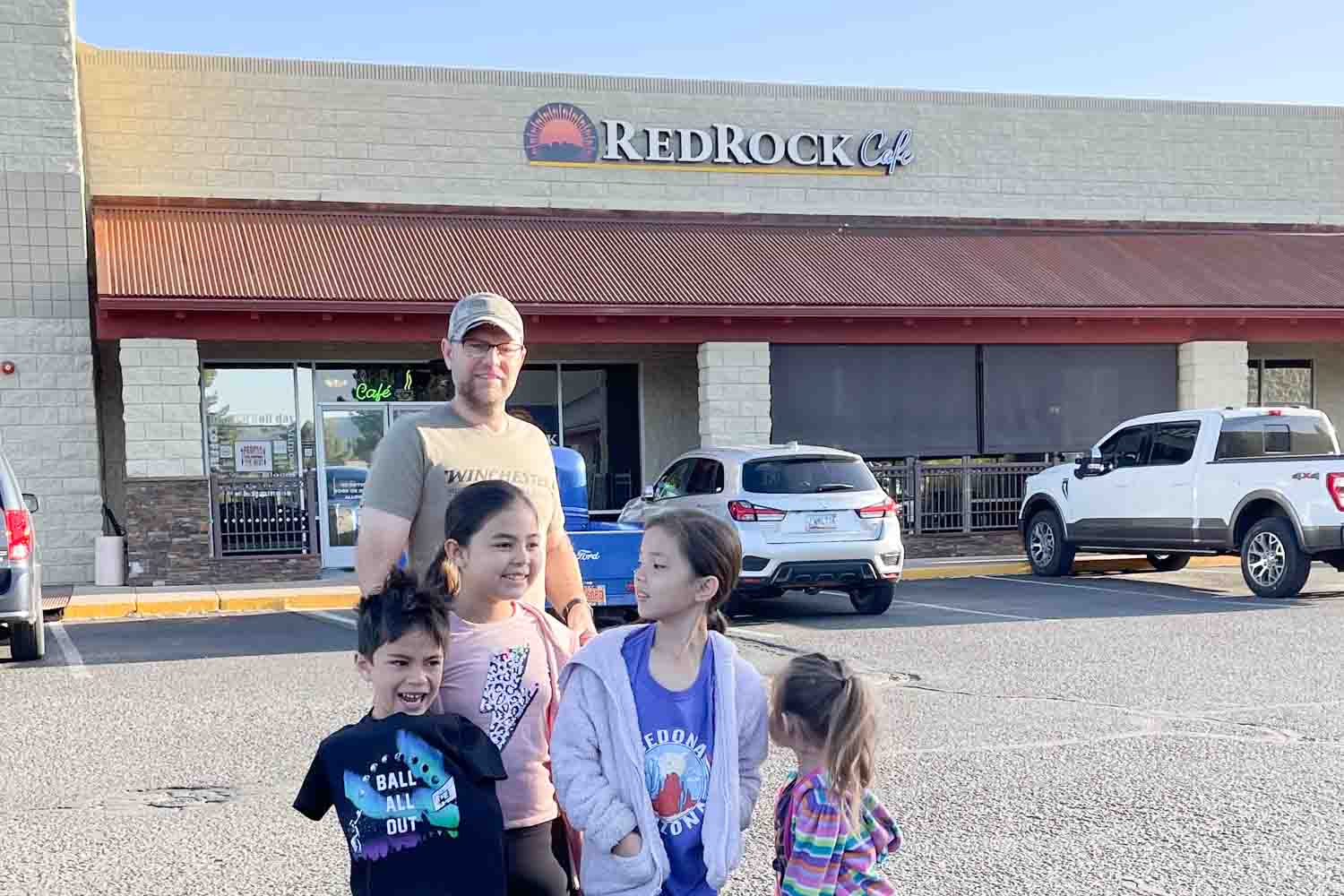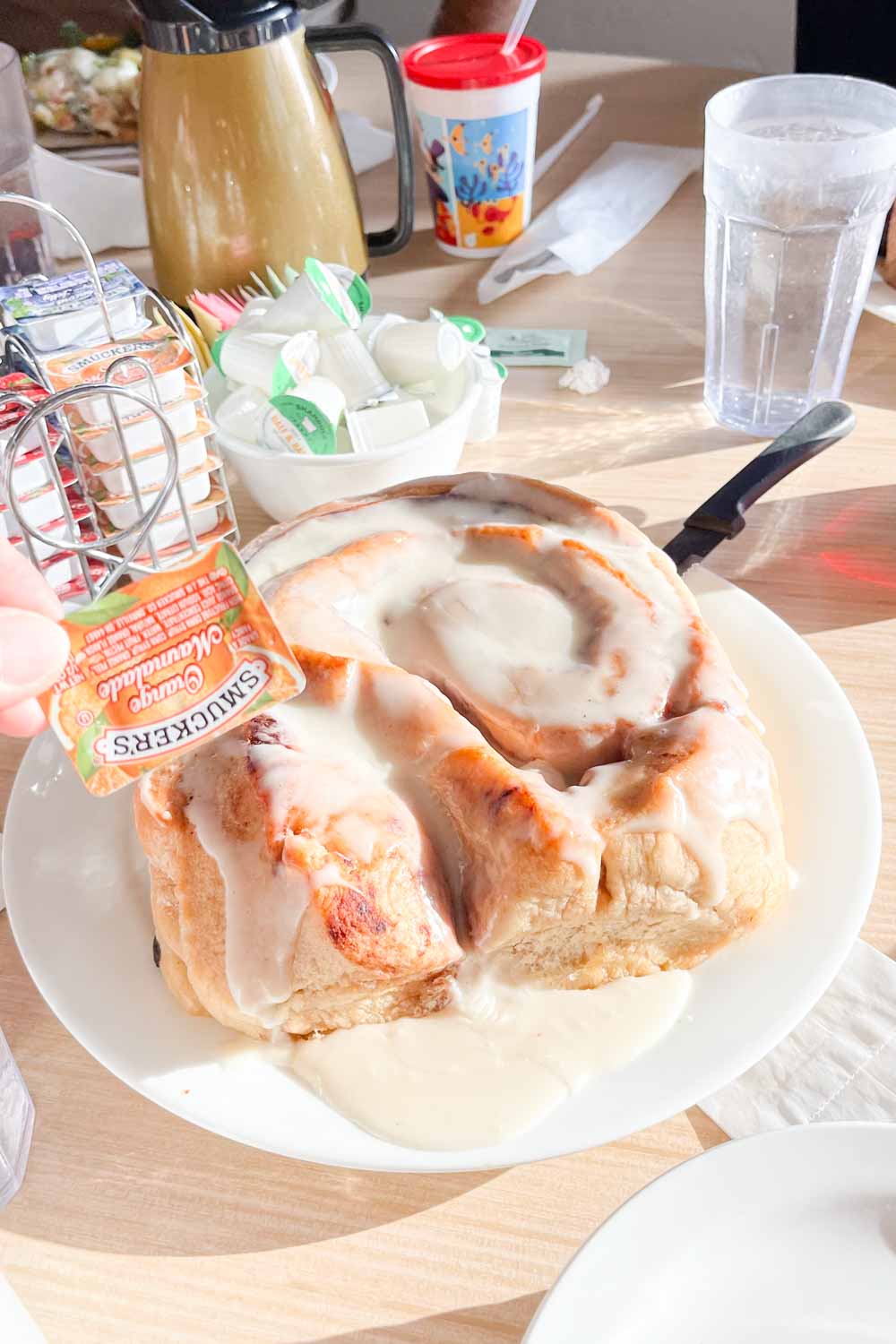 Baldwin Loop Trail
This is a fun 2.5 mile trail that your kids would absolutely love! It's pretty flat in most areas, just make sure you go counter clockwise on Baldwin Loop.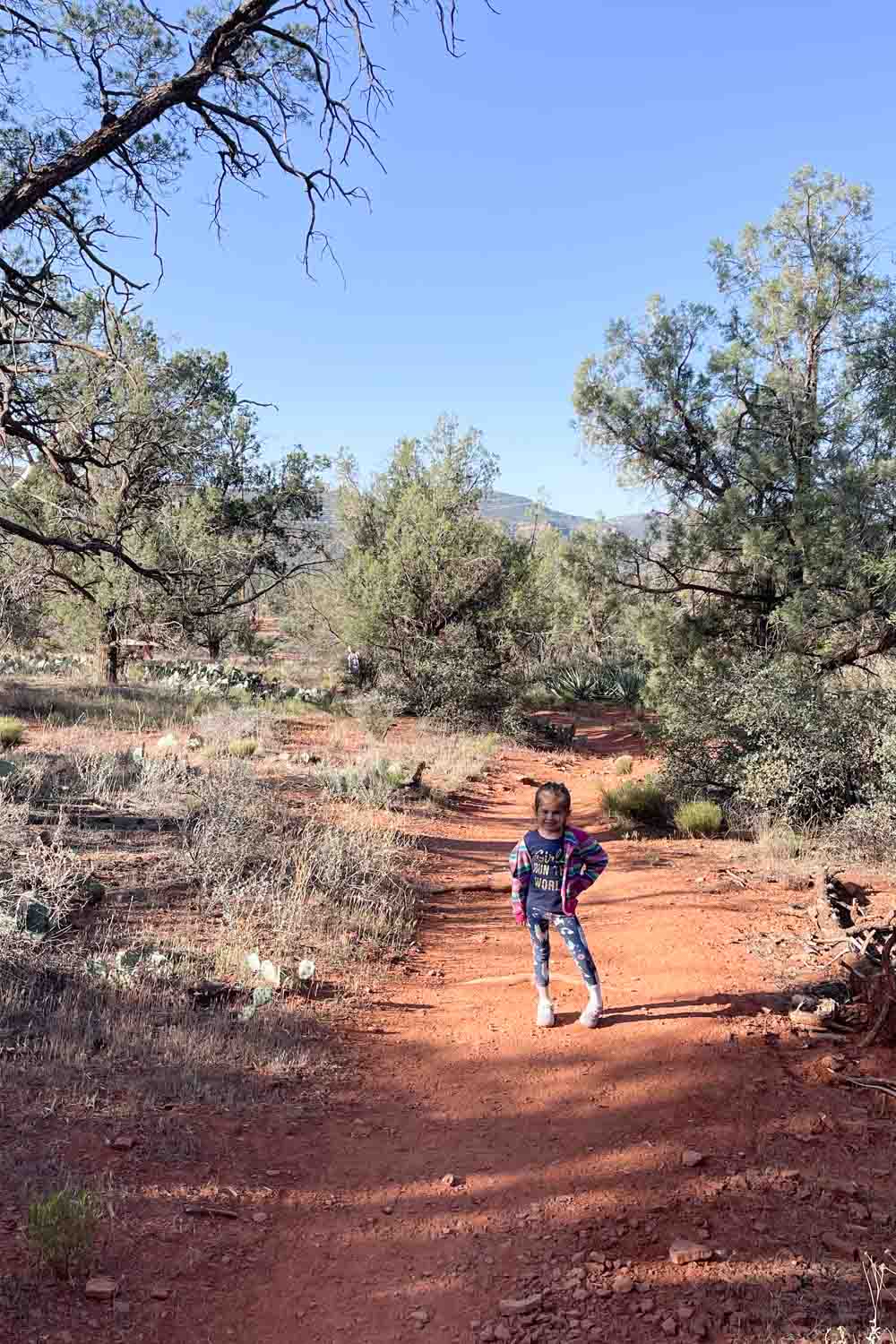 Lunch at Pump House Station Urban Eatery and Market
This is a newer eatery that we've heard great things about. Read more about the reviews here and the menus here.
Son-Silver-West Galleries for Fun Photo Ops
In my research for Sedona, I never saw this as a place to visit. We saw this on the side on the road and decided to stop by, and were so glad we did! This was an awesome shop with some cool stuff inside. We bought a few Christmas ornaments there and got some fun photo ops as well.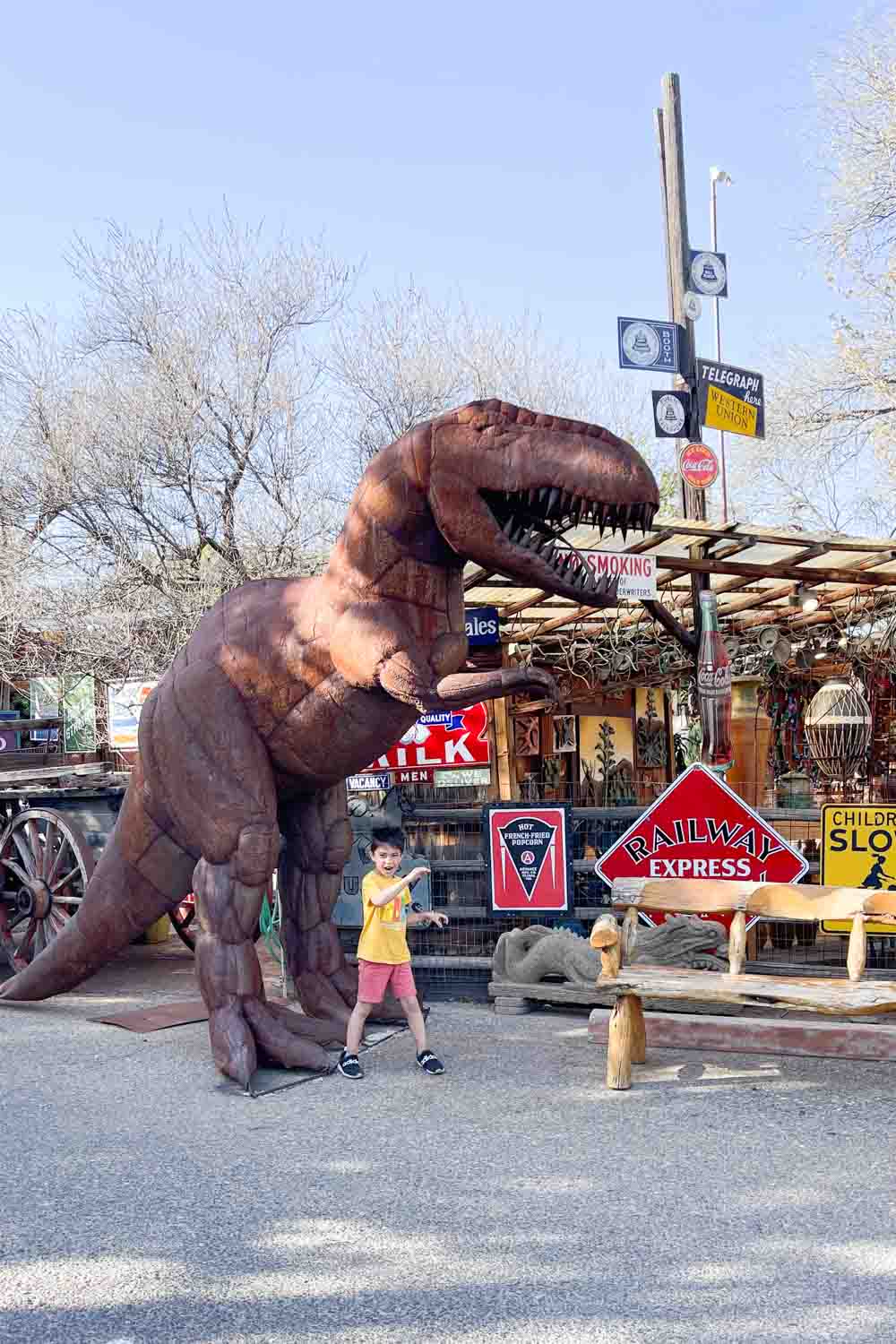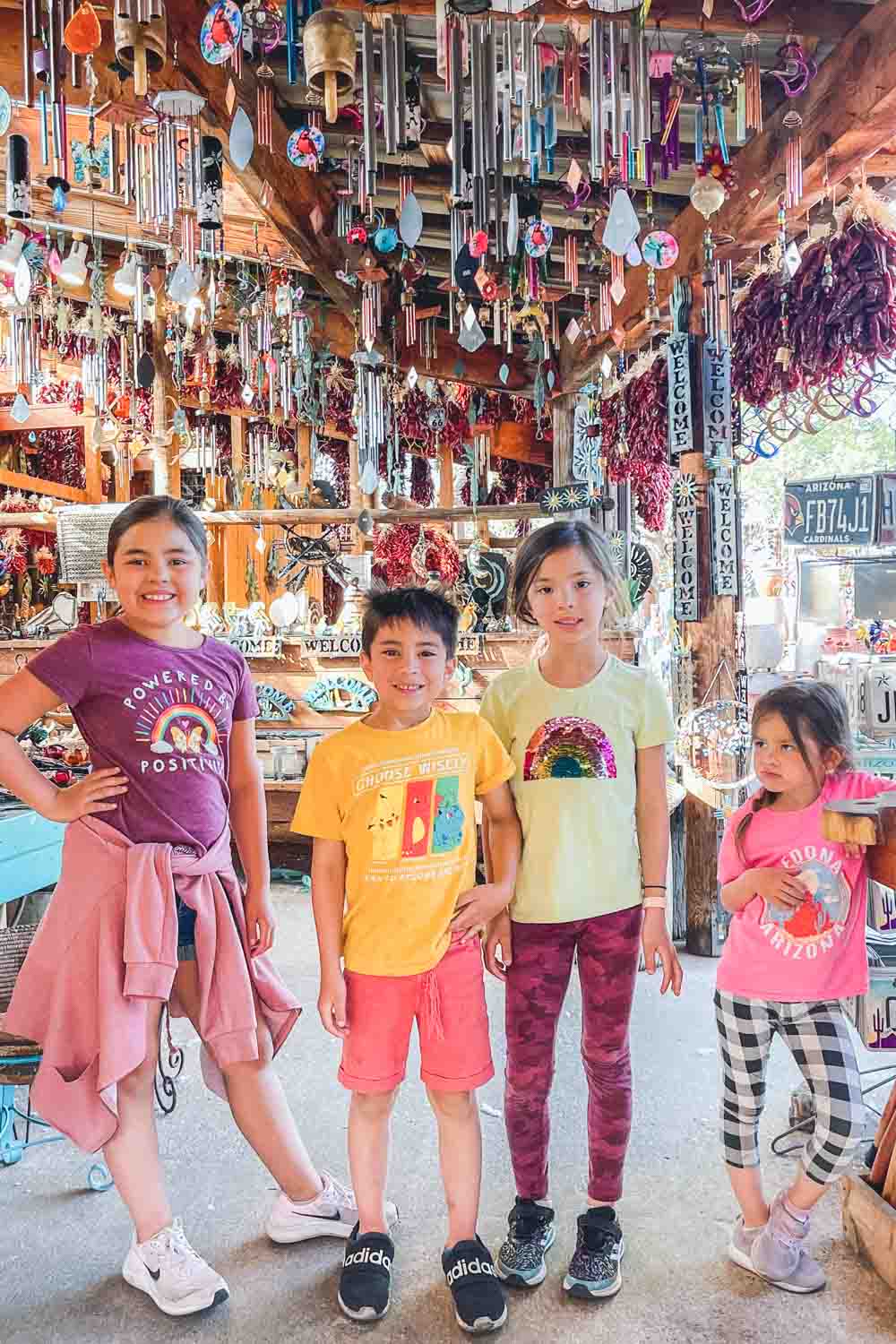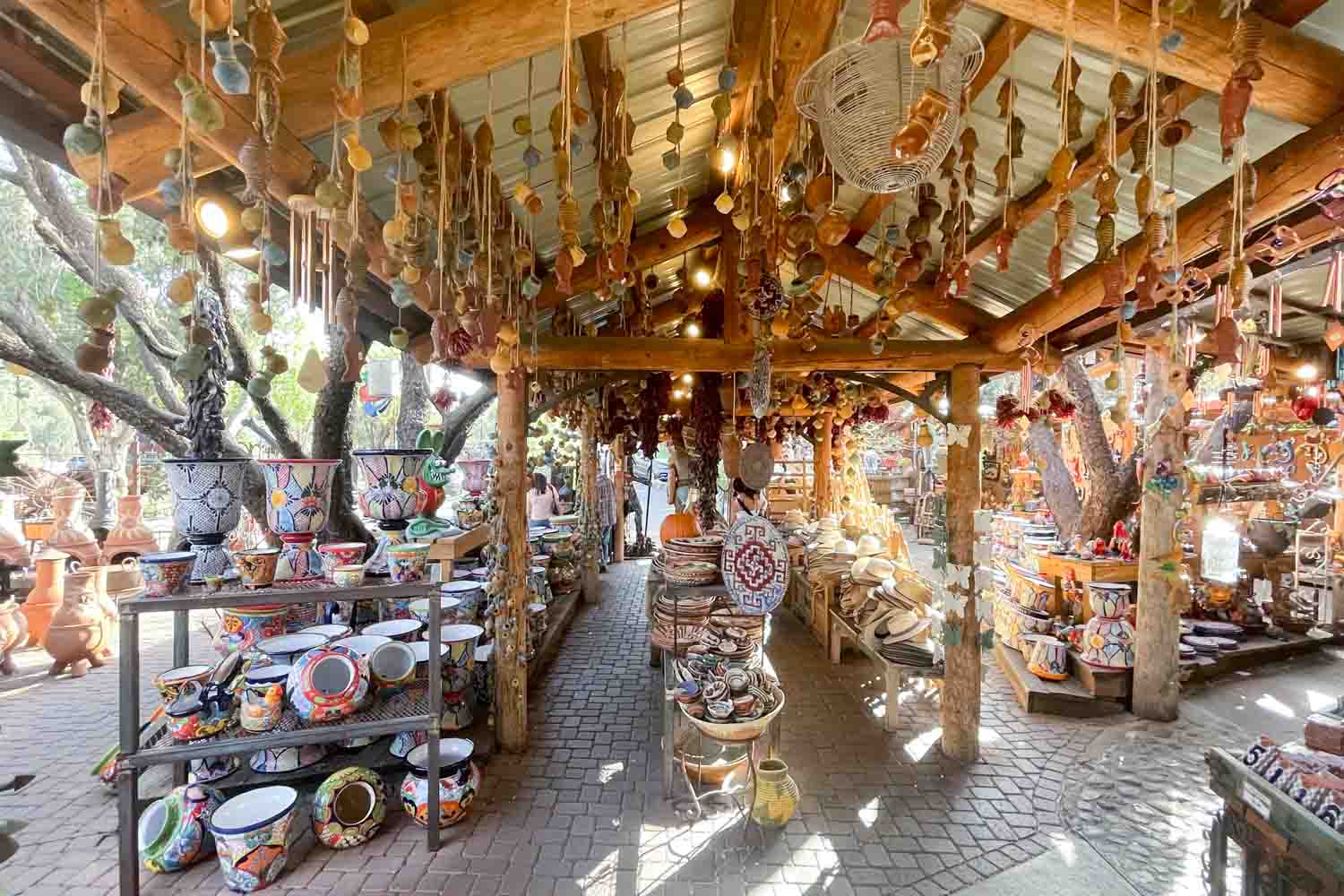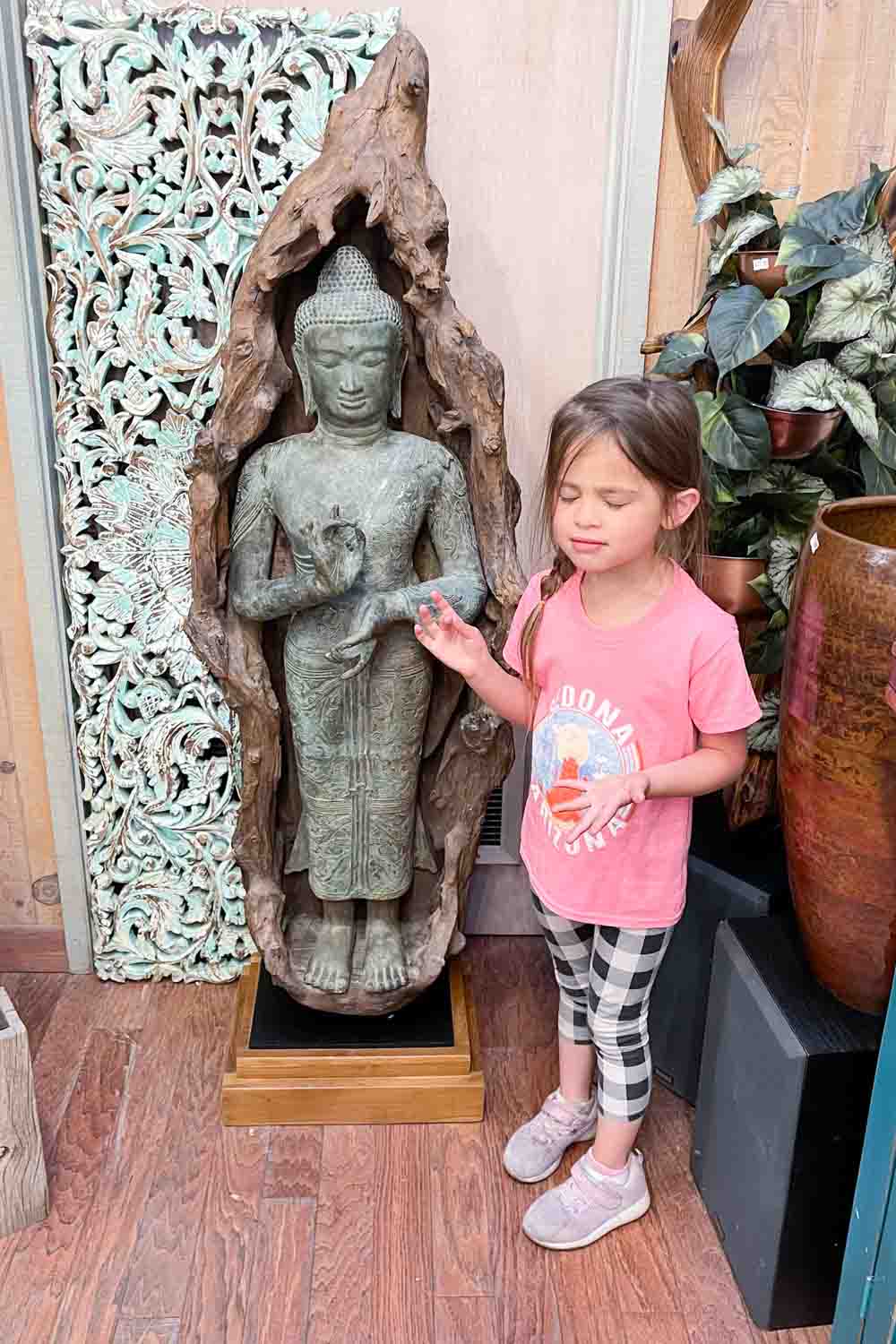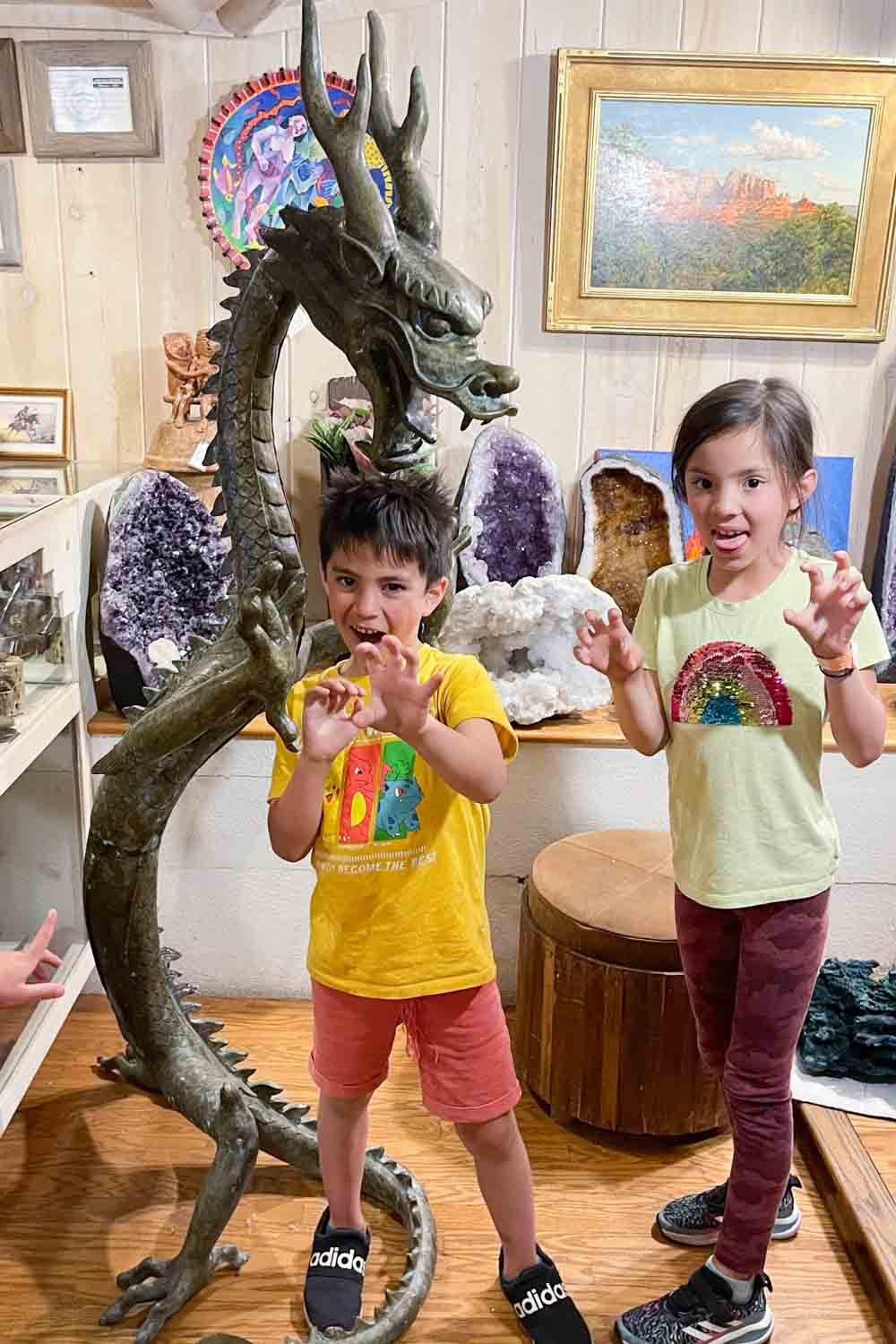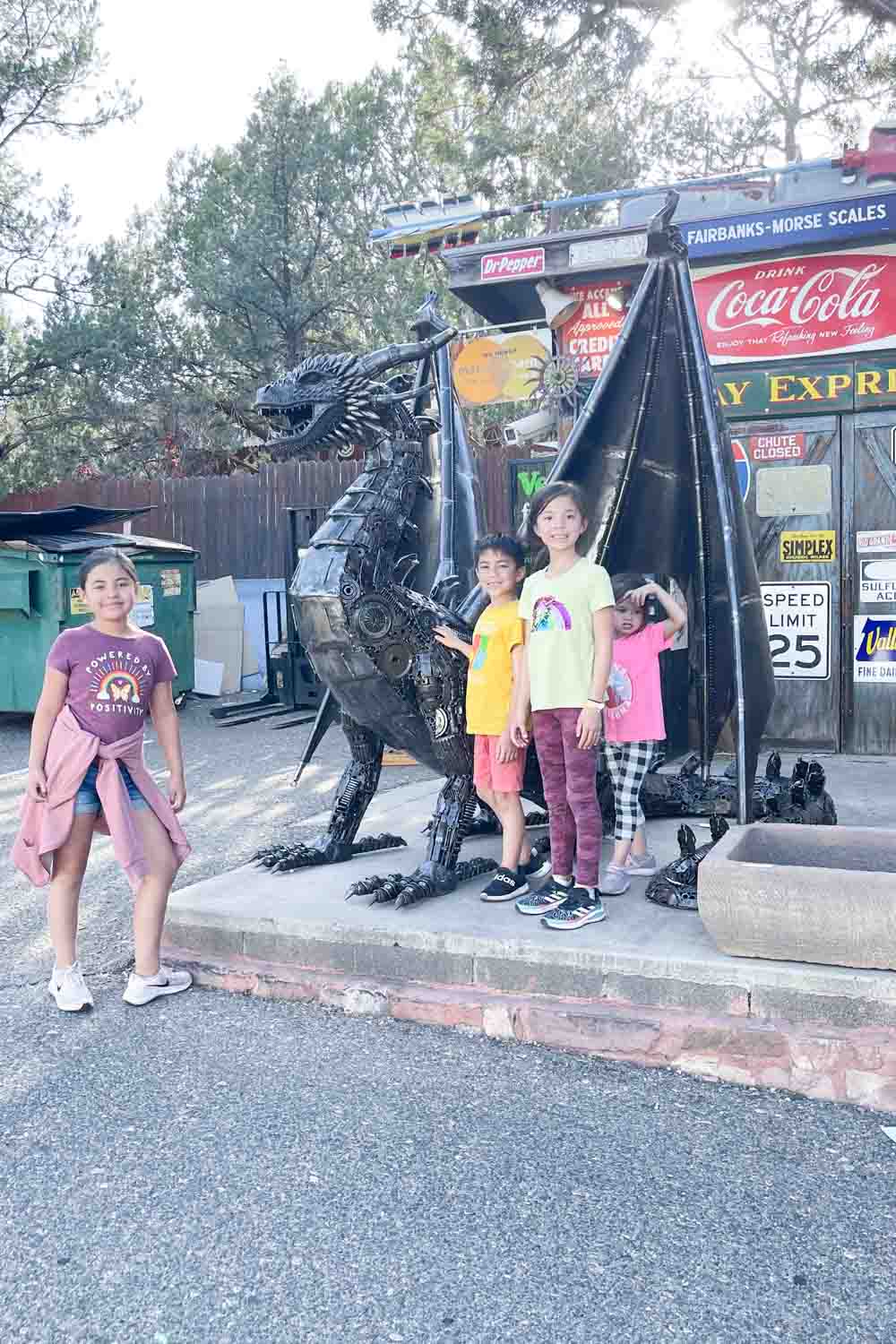 Airport Mesa Overlook
After dinner or before dinner, this is a great place for #3 where you climb up the side of the mesa that offers just stunning views. Your family should expect to arrive at least 30 minutes before sunset and make sure you get a pot near the fence.
Other Sedona Tips for Families
While these aren't itinerary related, here are some of the best tips for visiting Sedona for families. I know how hard it can be to plan a trip for big families with young kids so I wanted to share what I learned as part of our trip to this gorgeous town.
How to Get to Sedona
You can fly into Flagstaff or Phoenix. Our family chose Phoenix since we have direct flights. If you want to visit Phoenix (I would recommend max 2 days there), it's a two hour drive where you can also visit Montezuma's castle on your drive down.
Best Time to Visit
Spring Break was a great time for us. While they say that's high time for Sedona, we didn't find that the crowds were that bad in March. Summer is great for early hikes. August is known for random downpours of rain. Winter provides colder hiking conditions, where you might want to pack thicker jackets for morning activities.
Where to Stay
Hilton Sedona Resort at Bell Rock
While not in the main part of town, we stayed in the Hilton Sedona Resort at Bell Rock. The distance from the city didn't bother us too much. They had great amenities and a pool that our kids loved to hang out at after dinner.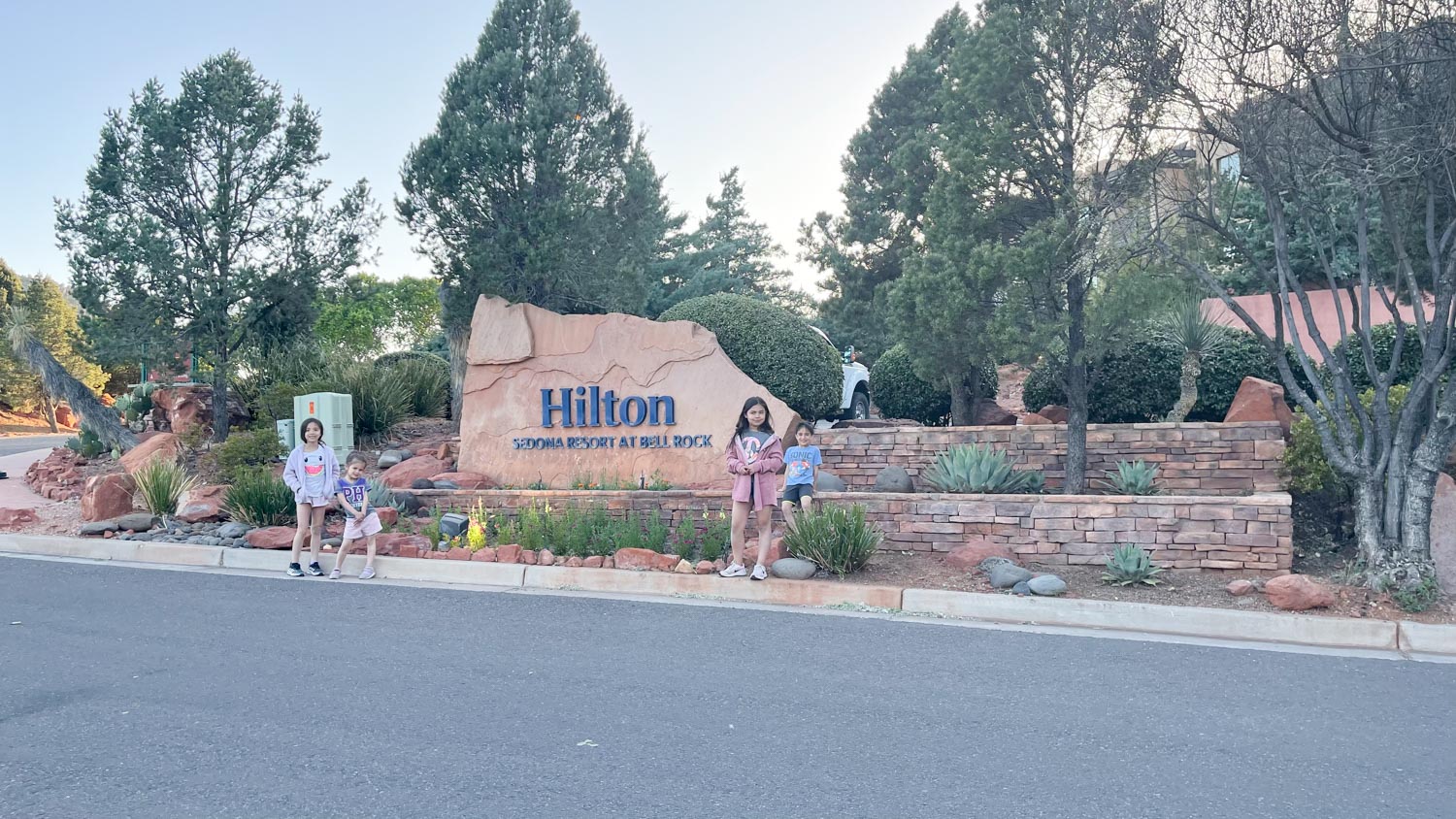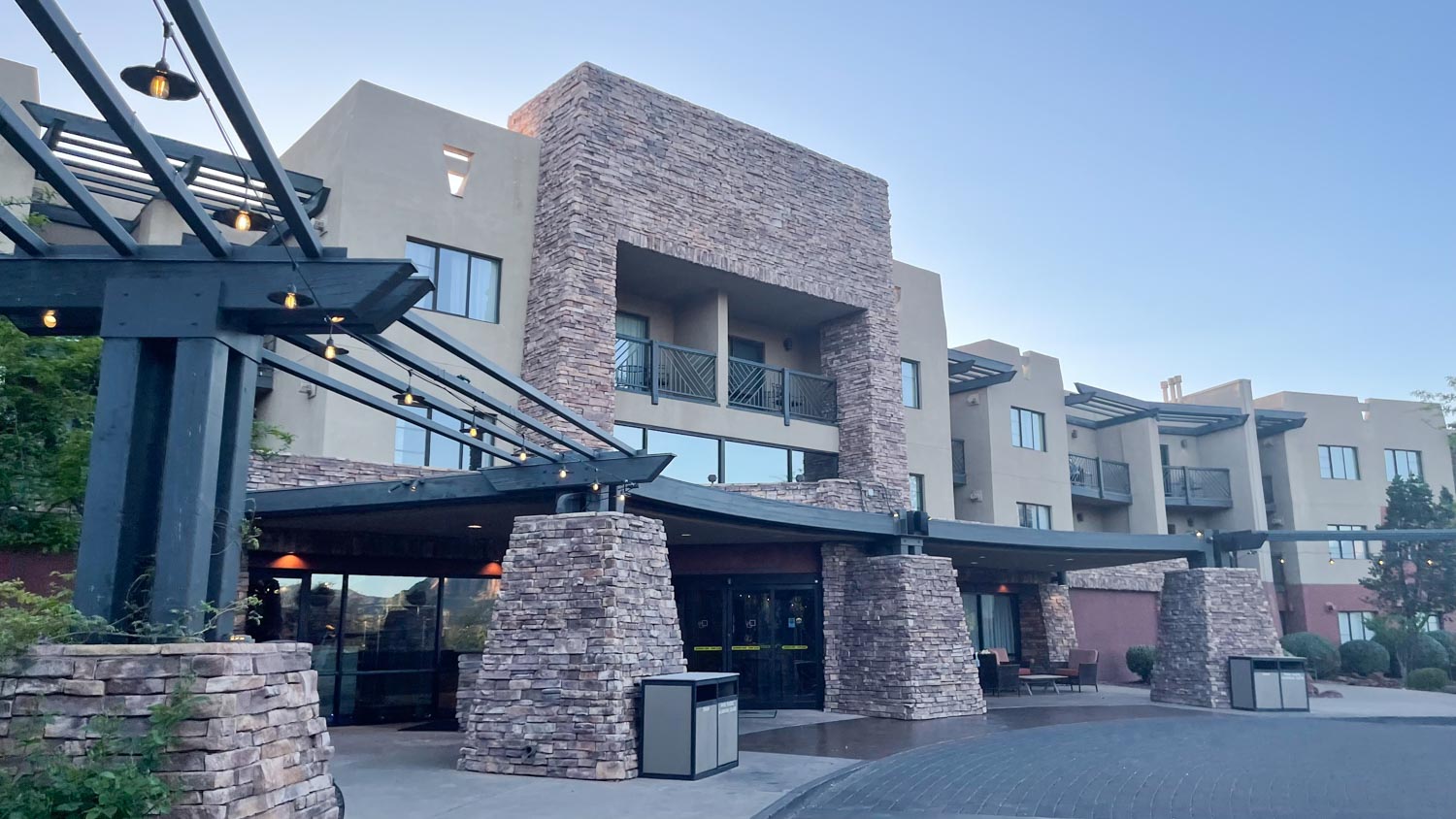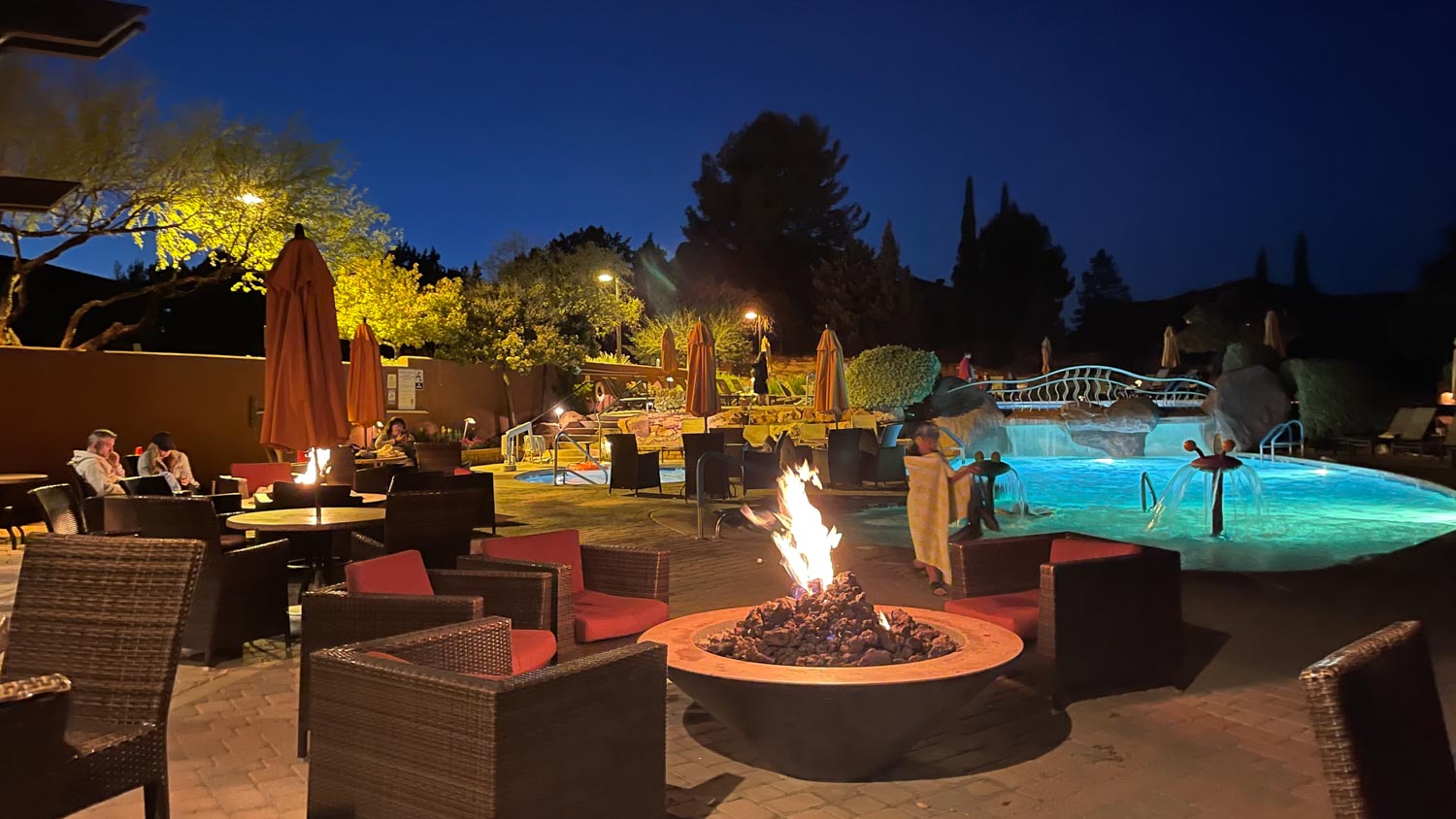 El Portal Sedona Hotel
If you want to stay by the shopping area so you can be in walking distance to shops and food, this is a great hotel that was located caddy corner to Oak Creek Brewery and Grill.
Things to Not Do in Sedona with Little Kids
Devil's Bridge
I know that there are reviews that say you can do Devil's Bridge with kids and that the bridge is wider than what it looks in the image. However, my mother-in-law went and she said she would not have recommended it for our family with kids, and she's generally one to choose adventurous routes for her grandkids.
Summary
If you are looking for a spring break or summer destination, I would highly recommend adding Sedona at the top of your list for your family with kids as your next Southwest bucket list vacation. Below are some other posts where I outline some other favorites in Arizona, especially Phoenix and Sedona!
Sedona Vacation Tips