We stayed at the Hilton Phoenix at the Peak Water Resort with our family of six and wanted to provide an honest review of our stay at this hotel. This was part of our 5 day trip to Arizona, half spent in Phoenix with the other half in Sedona.
The hotel choice was an important one for our family because as snow birds from Missouri, we wanted a place to stay that was warm in April where we could have the kids play in a pool.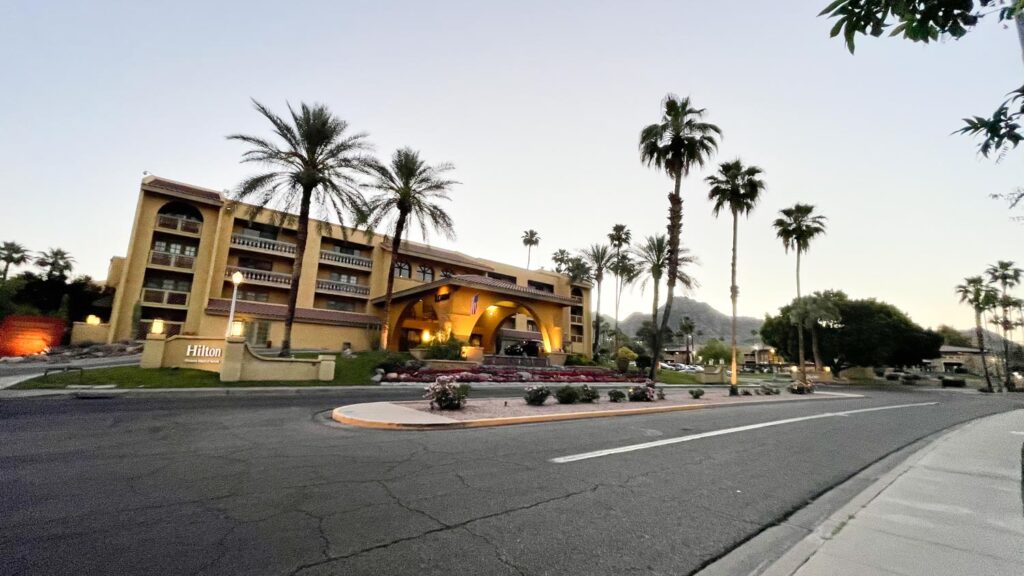 The reviews we read here had amazing reviews as compared to the other resorts, so we decided to check it out for ourselves.
I wanted to share an unbiased review of our 3-night, 4 day stay at Hilton Phoenix at the Peak, formerly known as Pointe Hilton Squaw Peak Resort.
Overview of Hilton Phoenix at the Peak
The resort looked beautiful as you come onto the property. It seemed as though everything was spread out. The rooms were "outside" (like a motel), but the property had beautiful yellow stucco outside with beautiful outdoor landscaping.
As you drive in, you can see the red stucco convention center that was right next door.
The lobby was nothing to write home about, but situated inside was a convenience store that featured anything you could need including alcohol, swim gear like goggles, toys, snacks, and a Starbucks.
The Starbucks also featured similar, but not quite the same, snacks as a regular franchise. For example, the banana bread wasn't quite the same, but it was thicker and richer and still just as delicious. The front desk concierge were friendly enough.
Previous Name of Phoenix at the Peak
The Hilton Phoenix Resort at the Peak was renamed from Pointe hilton Squaw Peak Resort in 2020 because the term squaw is offensive. In recent years, Squaw Peak mountain, the backdrop of the HIlton Phoenix resort, also recently updated its name, to Piestewa Peak to honor Lori Piestewa, the first Native American woman to die in combat and a member of the Hopi Tribe in April 2023.
Price of Hilton Phoenix Water Resort
Below were the charges for our 3-night stay. Over Easter weekend, that averaged out to $403 a night for our family of six. This included 5 water resort tickets and resort fees that were included.
As compared to our stay at Disney World, it seemed a little pricey for everything it included. I don't think I would ever pay over $200 for a room here ever again.
Room Availability
They had a variety of rooms to choose from. For our family of six, we realized that it would be hard pressed to find a single room that could accommodate all six of us. As we tried to do website reservations online, it appeared that there were only single rooms that could accomodate up to 5 people. After a quick phone call, we realized that there were rooms that had two queen beds with a pull-out sofa bed which could easily fit two adults and four kids. The pull-out sofa bed would be the concern if you had two adults that you had to fit on it.
Room Overview
When we got into our room, we saw mosquitos flying (like ten of them) around the room. I assumed it would be expected because it was Phoenix. The furniture appeared dated. Inside of our room, there were two rooms, including the bedroom and the living room. The living room featured a television, a desk, a pull-out sofa, two side tables, an accent chair, a refridgerator, and coffee maker.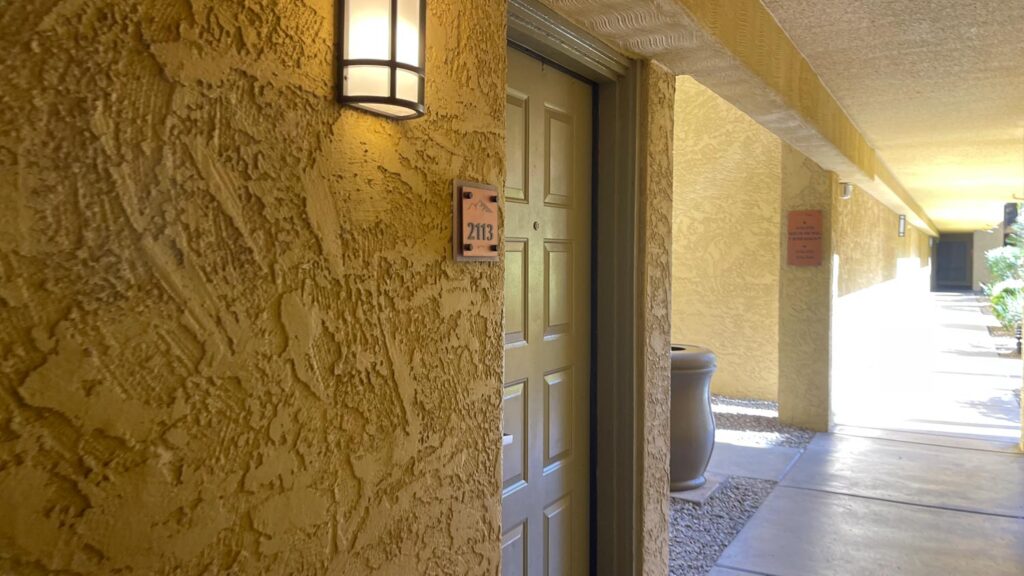 The next area was a bathroom that featured a sink to get ready. A separate room for the toilet and the bath/shower.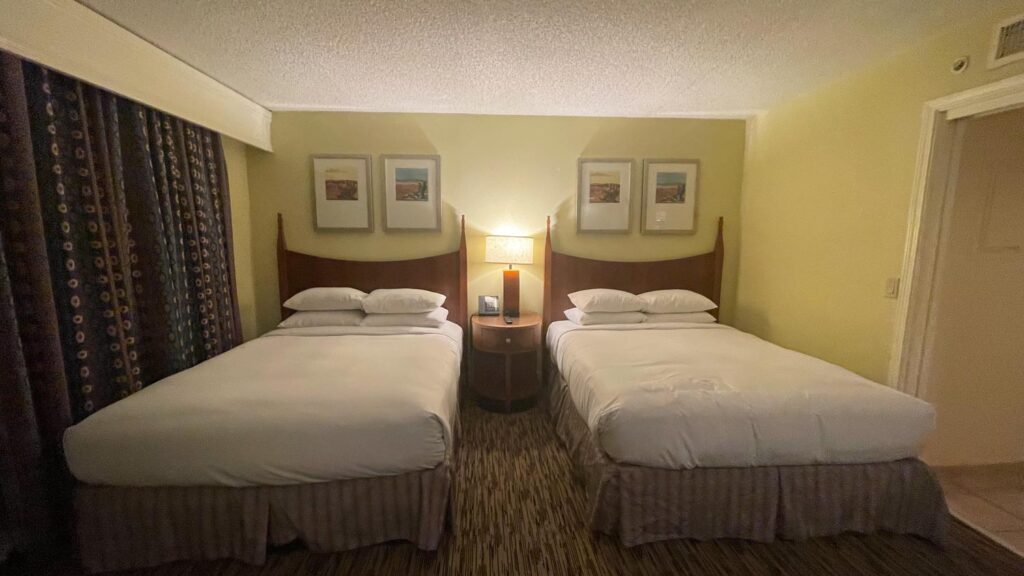 The next room was the bedroom that featured two queen sized beds (that were not comfortable), a television, drawers, a closet, and a sliding door that led out to the patio. The patio was a small space that we just used as drying racks for our swimming clothes, which was nothing to write home about either.
Overall, I found the room severely lacking in modernization and it just seemed really outdated.
Courtyard
There are a ton of courtyards that have beautiful fountains. If you wanted to start off your morning here, you could definitely do that because the patio that you get with your room will not be a great way to start off your morning.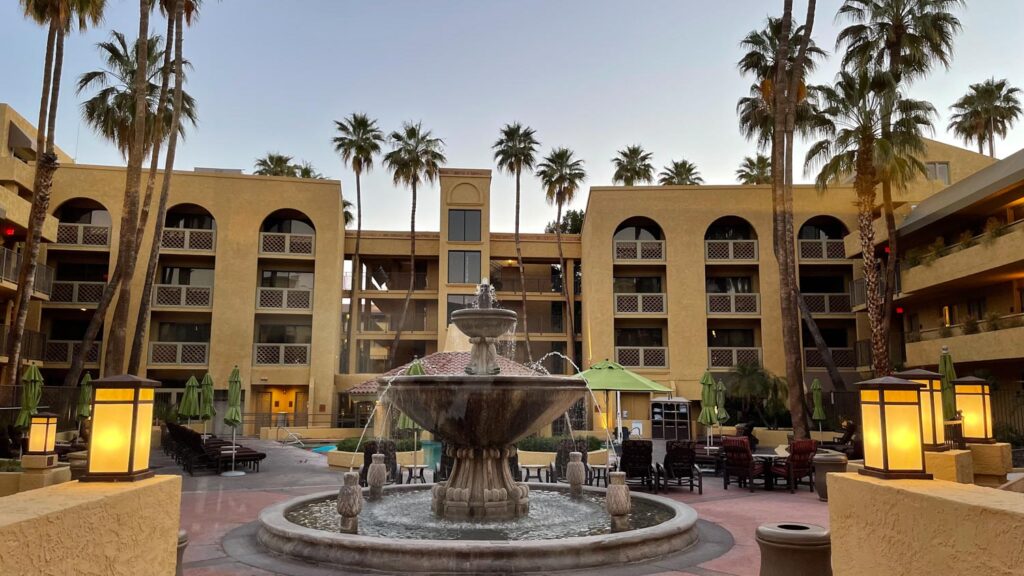 Room Service
We did not order any room service. However, daily room cleanings were not included during our stay. We had to request towels frequently for our family of six. The complimentary shampoos and soap weren't the best quality (I didn't expect much anyway).
Coffee and Breakfast
Coffee and breakfast were not included. There is a coffee machine in the room, but it just looked basic. Breakfast could be had at either the restaurant on site called Hole-In-The-Wall BBQ, the convenience store, or a restaurant in walking distance down the street called Aunt Chilada's.
Resort Pool
The resort pool has a heated pool that goes about 3 feet deep all around. There are also two hot tubs that are quite warm.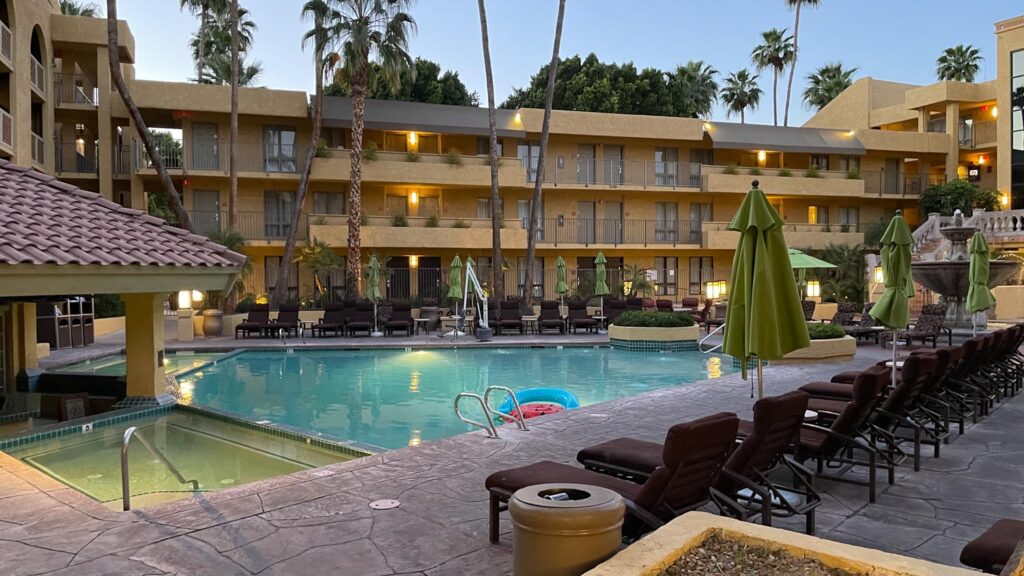 In the image below, you can see that they have free towels on the bottom left that you can use at the resort.
At night, the hot tub gets kind of rowdy. So if you have kids, I would recommend getting their swimming out earlier in the day.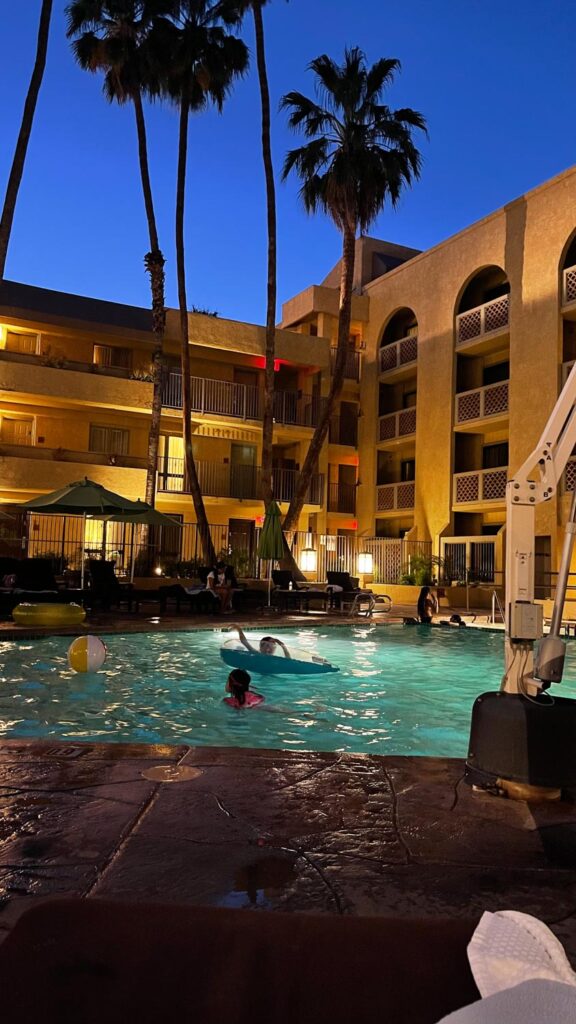 Water Resort River Ranch
River Ranch is situated in the center of the resort, and is open to anyone willing to pay the fee to come in. As guests of the resort, you are able to go into the water resort by just giving your last name, room number, and the number of the party.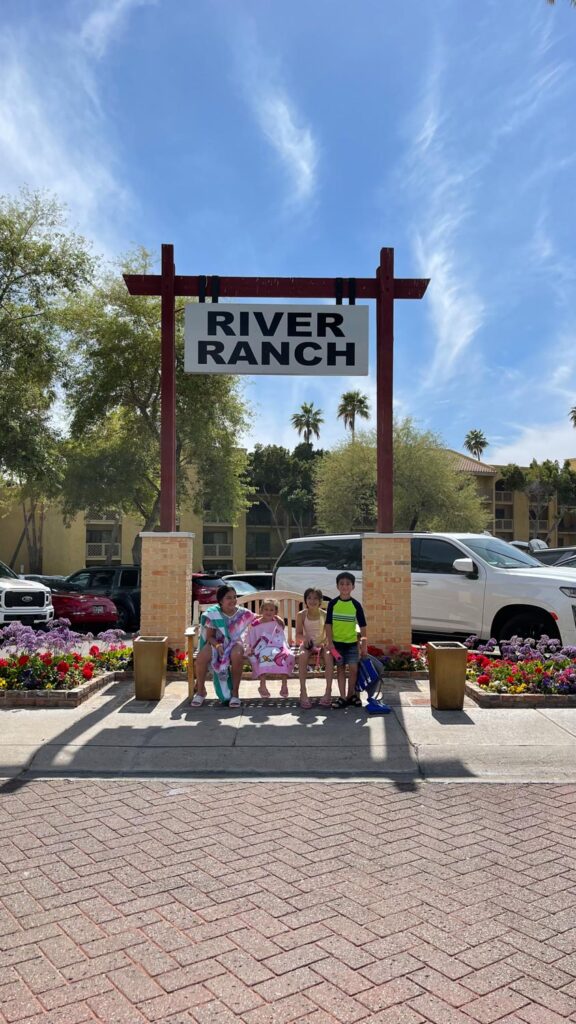 If your kids do not know how to swim, you must bring life jackets because they do not have any to rent. They do have round floats that can be brought over from the lazy river, but there are no life jackets you can even rent, be forewarned.
They do provide towels, so you won't need to bring any of those.
Heated Pool
The heated pool sprawled the main entrance and featured a shallow end, a volleyball net, and a waterfall with a gratto. The pool at it's deepest was three feet, so it was great for families swimming back and forth.
Water Slide
The water slide was amazing and splashed into a 3 feet deep pool. For my 4 year old and 6 year old who could barely swim, I was able to stand at the bottom and catch them.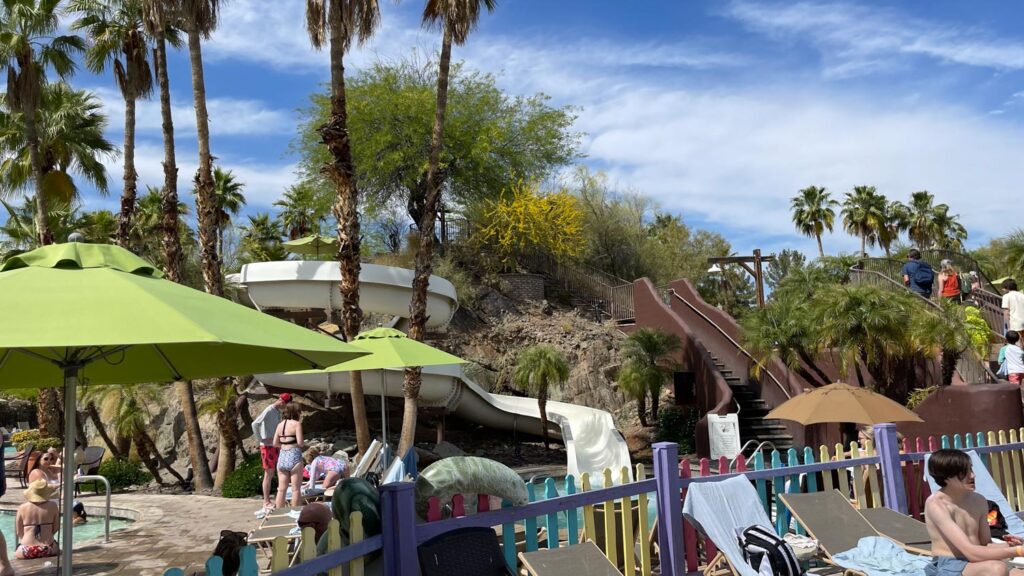 Kids Pool
There was also a pool that was less than 1 foot deep that was small enough for infants and toddlers to play in that featured a zero entry.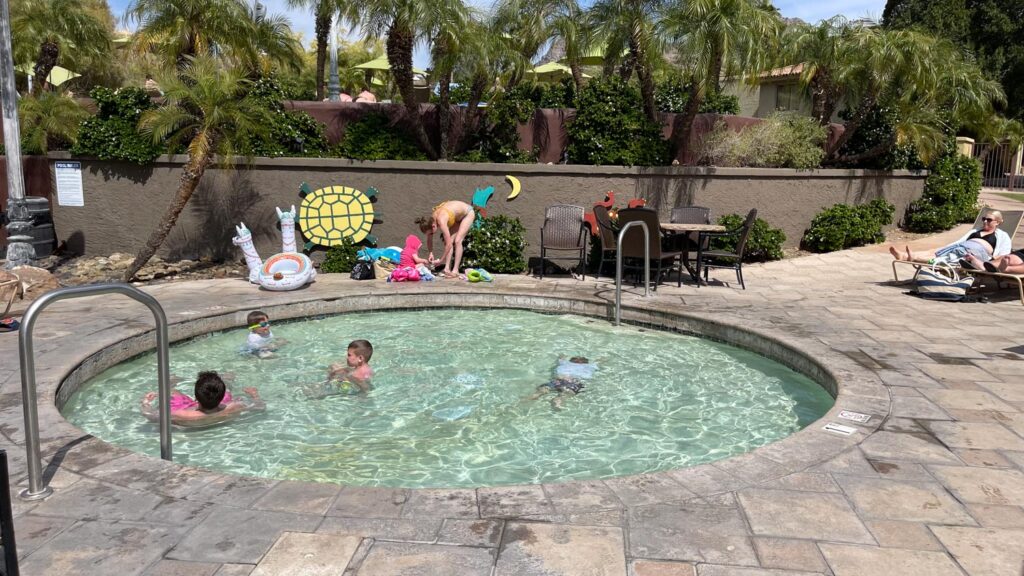 Sports/Adult Pool
There was also an adult pool that featured a deeper pool with a volleyball net. We didn't visit this area much.
Lazy River
The lazy river was cold in April and we did not venture into this area while we did see other people do it though. I thought that the lazy river was beautiful, but it was just way too cold. It was a large lazy river that went through the resort.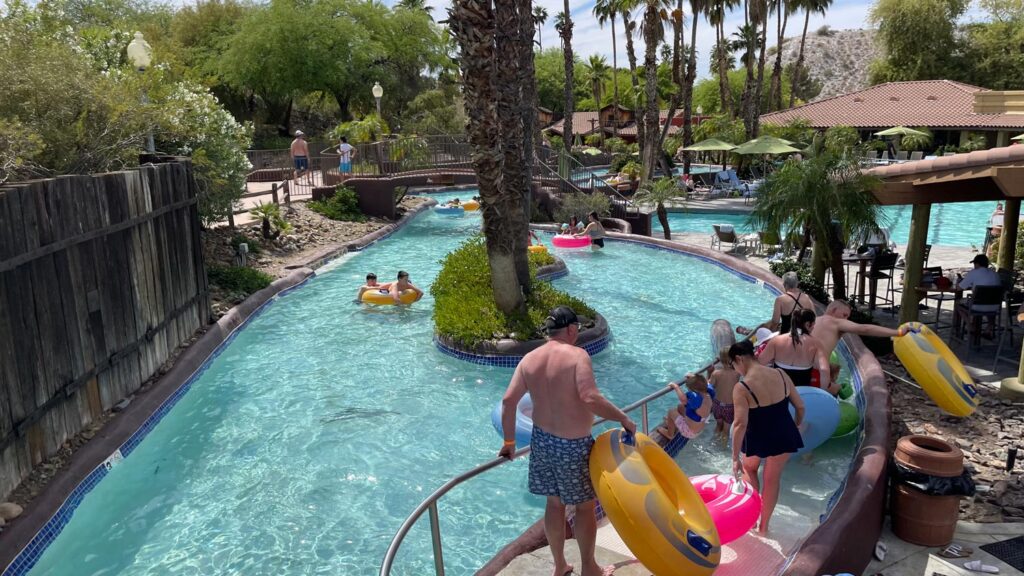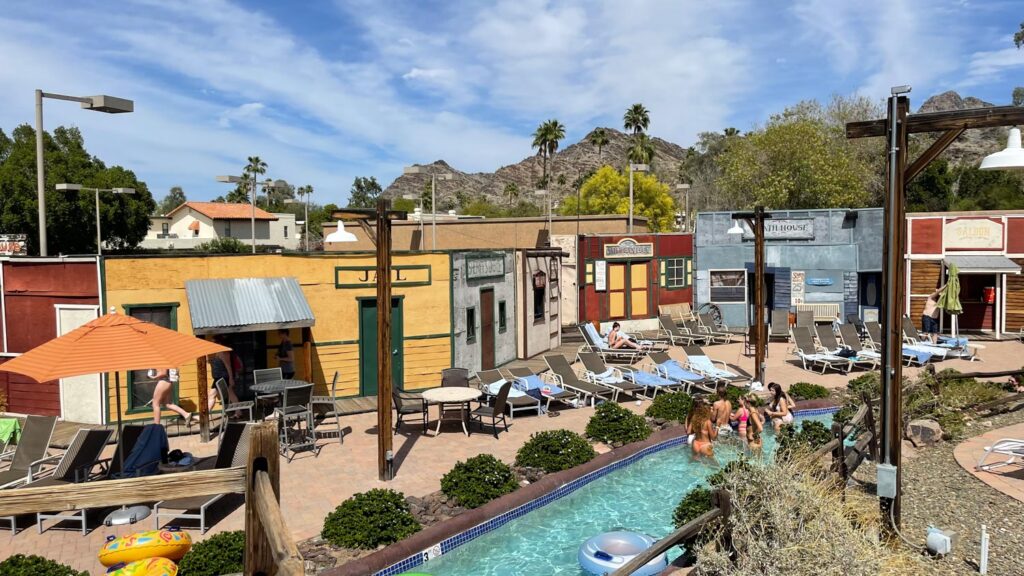 Restaurants Inside Water Resort at Hilton Phoenix at the Pack
There are two bars located within the resort along with a restaurant called Slim Picken's Café where you can order food. We didn't ever order any food there, but the people that we saw taking carry out doors in styrofoam containers looked content with the food.
Put Put Golf
They had a 14-hole put put golf course that was also included as a fee to admission. I would say that this so-so. The kids had fun up until hole 5.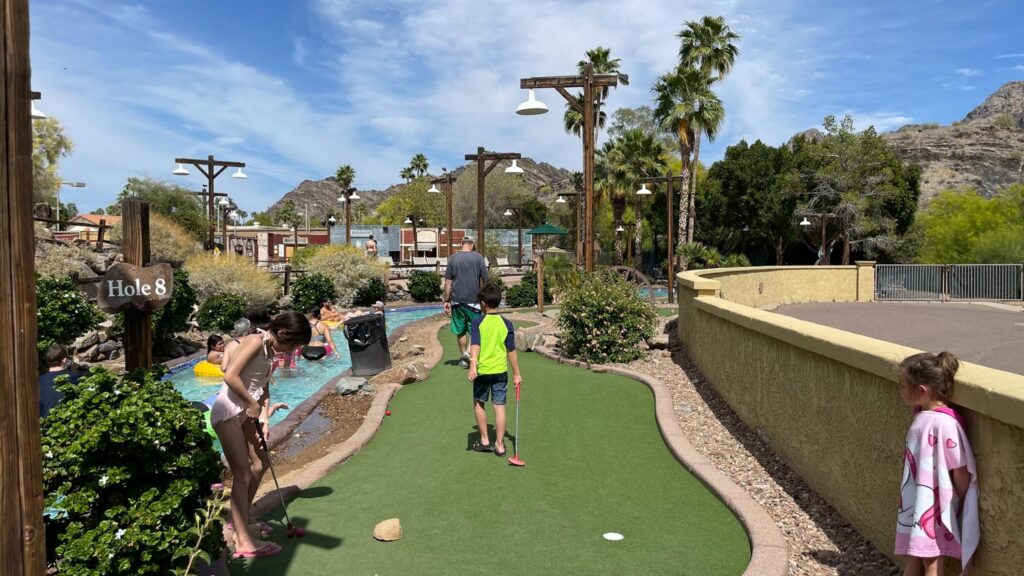 Final Thoughts on Hilton Phoenix at the Peak
If your family does not plan on swimming, I would recommend choosing a different hotel. However, if you are looking for a warm getaway that doesn't require a lot of effort, Hilton Phoenix at the Peak is a great option for those that just want to swim, float in a lazy river, play mini golf, and just have a place to lay your head without too much effort. Check out more reviews on this resort here.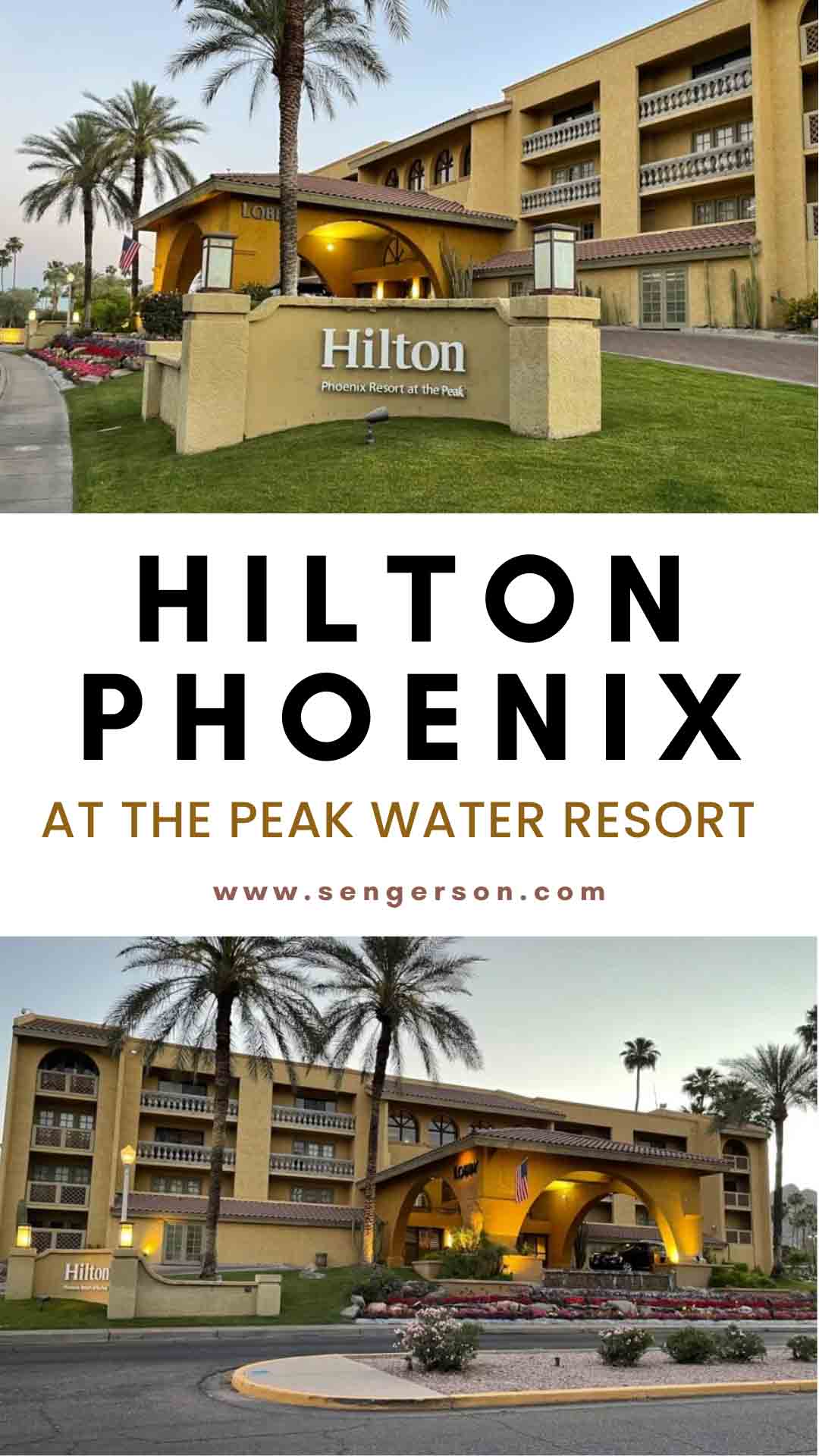 Phoenix Tips and Tricks