I'm sharing an article on the best disney fastpass hack and fastpass loopholes (some free, some cost money, some controversial) and how you can avoid and skip lines at Disney World!
DISCLAIMER UPDATE: This process does NOT work anymore with the introduction of Genie Plus and everything else. I would not recommend this moving forward, but you might be able to extrapolate some other tips and tricks from this site.
DISCLAIMER: This is what worked for me, and may not work for you based on the changes Disney often implements. I understand that this may lead to high expectations for not waiting in line. Some of these things are loopholes that aren't "allowed", so there is a potential for you to try and it may not end up working for you. Proceed with caution. This blog and I are not responsible if it does not work.
How Much Does Disney Fast Pass Cost
First, I want to level set and let you know that there is NOT a cost associated to a Disney Fast Pass. There are scenarios in which you can "pay" to skip the lines with additional Fast Pass purchases. In this scenario, you need to be staying at a certain resort for over 3 days in order to receive additional fast passes.
Overall, Disney Fast Pass does not cost ANYTHING. You just need to schedule the Fast Passes using your ticket number online or in the app.
If you look past all the picturesque images and photos from Disney's marketing team and compare that to friends' photos who have gone to the parks, you'll notice a stark difference in what the crowds actually look like.
This is a view of Magic Kingdom at night on Main street heading out of the park and away from the castle.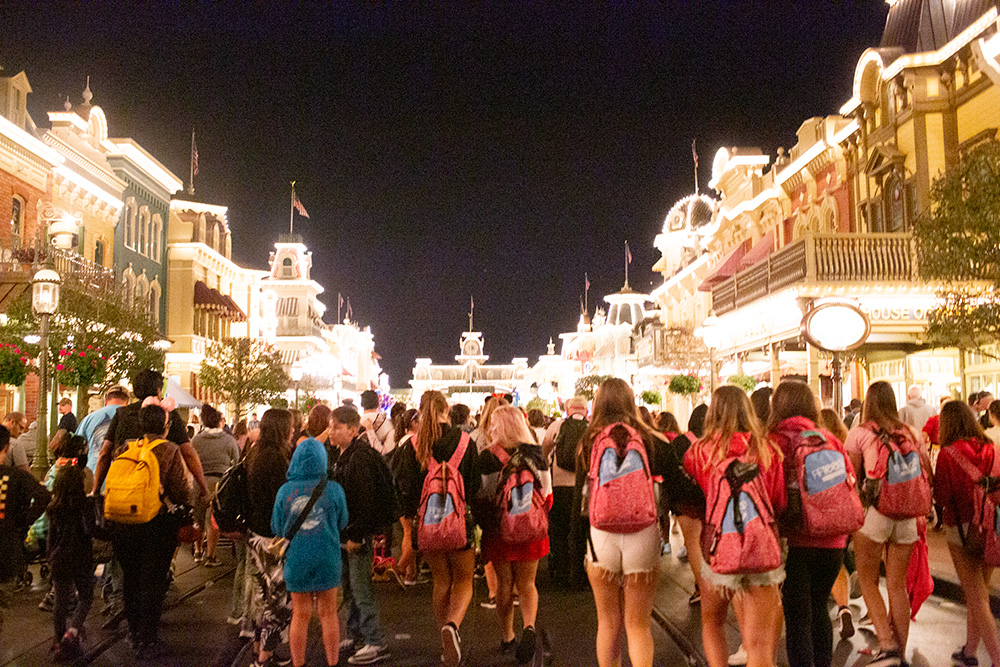 This is what Hollywood Studios looks like mid-day.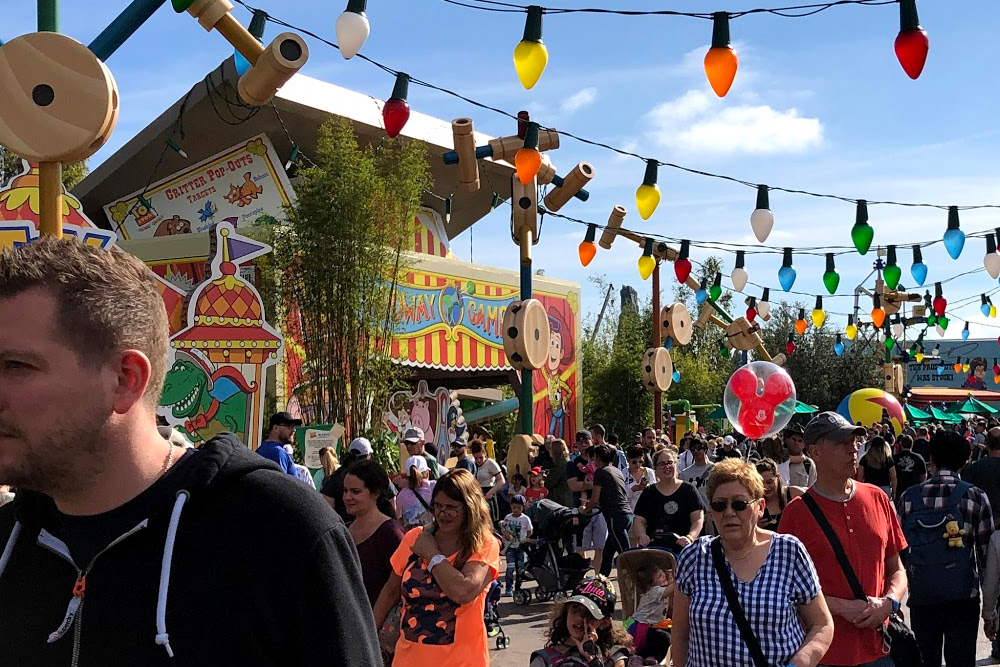 Disney World is getting quite popular and is a huge revenue generating machine these days. This can be evidenced by their latest change in ticket pricing - pricing is by day (e.g. demand). As a business myself, I completely understand Disney trying their best to sell out of rooms every chance they get by having the festivals, the race weekends, the cheer competitions, but that is at the expense of their guests being able to maximize their experience at the parks (such as being able to ride all the attractions without long waits). Quote from a guest, "Every year it gets harder to ride any rides. FP are few and far between. You spend 8 hours at a park to ride 3 -4 rides. Its just not fun anymore! You pay a fortune for multi-day passes and only ride ½ the park. No time is a good time to go anymore when people can purchase multiple FP months in advance."
Disney FastPass Hack and Fast Pass Loopholes Overview
Personally, I knew I was going to spend a small fortune on this trip for our family of six (which I break down on our trip costs here). Knowing that, I wanted to make the most of our vacation and maximize our time in line because we wouldn't be back within the next decade. Because the Lord only knows if I can convince my husband to go again anytime in the near future after our trip with four kids under the age of seven!
After planning for over a year and a half, scouring forum after Disney forum, and listening to a ton of podcasts, I've found some amazing ways to SKIP LINES using a variety of methods. You may need to "pay" for some of these methods and strategies (you can't buy time, but you can always make more money). And this is not just your ordinary post on "make sure you reserve your Fastpasses 60 days in advance" post. This is a "raise your eyebrows, is this allowed?" type of post that might get you kicked out of Disney World. It's a post listing out every available advantage while planning your trips at the park in an effort to maximize your experiences at the park. And some of it is controversial.
Don't say I didn't warn you. And I'm not liable if you do.
NOTE: This is NOT about buying Disney's VIP Tour Services Experience that allows participants to skip the lines of their choosing at around $700 an hour with a minimum of 7 hours (this momma doesn't have that kind of budget). For a fraction of the cost, I'm sharing with you tips on how you could get this type of experience without the extra zeros at the end of your trip cost!`
My prerequisites for you to understand all the things I'm about to tell you.
You should know what FastPasses are.
You should know the standard rules for when to schedule FastPasses.
You should know what Same Day FastPass Drops are.
You are staying on Disney Property to maximize your date threshold on when you are able to book FastPasses.
SECOND DISCLAIMER: If you get kicked out or banned out of Disney World, I am not liable for it.
Disney World Skip the Lines PROOF
Below are photos of us at each of the four parks. As you can see, they are pretty much completely empty. From experience, I can tell you that when the official park opened to the general public, there was a WALL of people rushing towards the popular rides. And when I say a WALL, I am not kidding. I remember finishing our breakfast in Animal Kingdom, taking a stroll to Kilimanjaro safari, and just quickly thinking, "I figured there'd be a longer line", then looking at my watch transitioning to 8:55 and seeing a WALL of people heading towards our end (which wasn't even the Pandora end). The wall of people running towards us was an indescribable experience.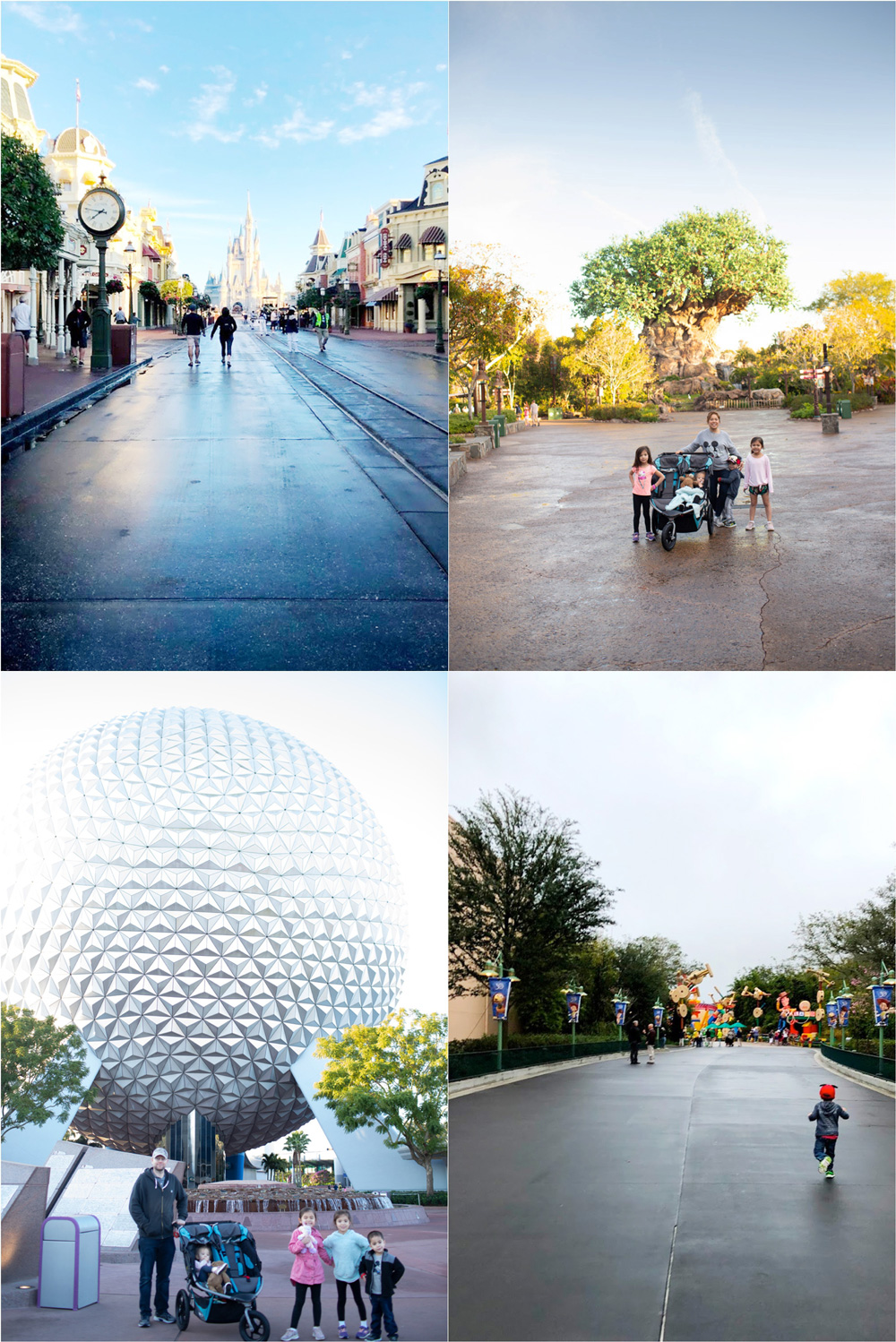 Directions for Avoiding Lines at Disney World
As of February 2019, these are the steps that a Disney park visitor could take to maximize their number of FastPasses and Rider Swaps. In the next section, I break down a description of how this all could work.
Schedule vacations when there isn't a convention going on (e.g. cheer competitions, large conventions) and when kids are typically in school.
Schedule a "leading reservation" at the camp sites 14 days before the visit, but overlapping the stay at the parks.
Figure out when Early Morning Magic for your parks will be. Schedule the itinerary based on that.
Schedule park visits OUTSIDE of Extra Magic Hours.
Schedule the "Pre-Park Opening" breakfast reservations. Figure out which ride you'll be "rope dropping" right after breakfast. Make a bee line to the first ride without a FastPass.
On your actual tickets, schedule FastPasses for rides you want (and would not want to lose). On your extra "after 5pm tickets" schedule your next set of FastPasses.
If you are going to have the ability to make use of Rider Swap, I would recommend only using 2 FastPasses for your group (knowing that you'll be able to get three additional passes added for your group).
At the park, make use of Rider Swap.
When leaving the park, schedule FastPasses for rides that often break down from the hours of 5:00pm and 7:30pm on your actual park tickets.
Once you are done with that park, reuse that "after 5:00pm tickets" to schedule another set of FastPasses.
Look for Same Day FastPass Drops while in park.
Schedule Parties.
The BREAKDOWN and Explanations of Skipping Line Hacks for Disney World
Scheduling Your Disney Vacation. There are tons of crowd calendars out there (the one I relied on was Undercover Tourists Crowd Calendar). Most crowd calendars will tell you when the best times to go are. Typically, the best times to go are (1) early in the year after the holidays followed by (2) when kids are most likely to go back to school. However, based on recent Disney chat forums and trip reports I've read, I don't think you'll ever find a non-busy time for Disney these days. Why? It seems as though Disney has become a revenue focused machine as of late, as evidenced by the recent release of brand new pricing structure for park tickets. You are no longer paying by the day, but rather you are now paying for which days you are planning to head to the parks. Pricing for park tickets mirrors that of airline tickets, based on park demand. While I would highly recommend trying to pin point low season (this MouseSavers.com post provides a great list of best times to go to Disney), I don't think low season will necessarily mean low crowds. We went in February, and it was packed! Even if you don't mind crowds, what this could impact in terms of FastPasses is your ability to snag ones for rides you want to experience (based on the higher volume of people in attendance).
Leading Reservation. The strategy here is to be able to have the opportunity to snag FastPasses for the times you want. This is totally standing in the grey line between your personal principles and ethics, so take it or leave it.
When you stay off property, you get to schedule your FastPasses 30 days out. By staying on property, you get to schedule your FastPasses 60 days out. This is important because there are a limited number of FastPasses per ride that are allocated. So once that "lot" of FastPasses for the attraction is gone, it's gone (with the exception of a few "Same Day FastPasses" that I will be covering shortly).
In theory, a leading reservation will help you snag the FastPasses you want 74 days in advance. Let's say your stay is between February 20th to February 25th. You have that reservation in the books. In order to schedule a leading reservation that will allow you to book 74 days in advance, you'll need to schedule a reservation for 14 days before February 20th all the way to the last day of your trip. That would be between February 5th through February 20th. In principle, Disney will let you schedule 60 days in advance once the first day of your reservation hits.
With a leading reservation, you'll be able to snag a FastPass at the earliest time possible on December 7th for your visit on February 20th.
Without a leading reservation, you'll be able to snag a FastPass on December 22nd.
In short, a leading reservation booked before a real stay opens up a FastPass window. When the leading room only reservation is cancelled, FastPasses are still in tack!
Disney allows you to reserve a "room only" camp site reservation for around $75-100 deposit. Which means there will be an upfront deposit investment that will be needed. However, you can cancel and get a refund of this within 30 days of the day of the first stay of the leading reservation! Booking the leading reservation at the campsite is the most cost effective deposit cost, and it's fully refundable.
There has been mention of this type of loophole being closed, but it is only for those that cancel their leading reservation and do not not have a real "on-site" reservation bumped against it. Do not get this confused with "throw away rooms". There are two types of throw away rooms:
Visitors who are staying off property, but booking a room in order to take advantage of getting FastPasses at 60 days versus 30 days. They actually pay for the room/campsite.
Visitors who are staying off property, but booking a room in order to take advantage of getting FastPasses at 60 days versus 30 days. They cancel the reservation at the 30 day mark for a refund of the deposit.
The loophole fix covers the second bullet (you can read all about that here). As long as you have continuous nights between your real reservation and the leading one, you'll be able to book all the FastPasses at once (max 74 days out).
In short for this hack, you can in theory maximize your FastPass reservation times starting at day 74 of the trip.
Early Morning Magic. I'm not going to lie, this is going to get quite pricey. These tickets are purchased on TOP of the regular park tickets and include breakfast. At the time of this writing, they were priced at $79 for adults and $69 for children. These tickets provide early entry to certain attractions (popular ones) an hour and 15 minutes before general park opening times. As of now, it's only available for two of the four main parks (Magic Kingdom and Hollywood Studios). And it was WELL WORTH IT.
In my experience at both of the parks, we were able to ride ALL of the available rides multiple times with little or no wait. Just to give an example, at Hollywood Studios, my kids got to ride Slinky Dog Dash three times. At Magic Kingdom, they rode Seven Dwarves Mine Train four times. In terms of our schedules those mornings, we had quick, "to go" light breakfasts in the morning, rode all the available rides until around 9:30 in the morning, and lastly ate breakfast at the restaurant (which was included). For our four littles, this whirlwind of fun followed by breakfast perfectly timed for a much needed break. Having Early Morning Magic alleviated us from having to hold hostage our FastPasses for these rides, which then allowed us to schedule FastPasses for other rides, and afforded us the feeling of a more "leisurely" day in the park, and alleviated us of the guilt of needing to rush around for FastPasses.
Early Morning Magic is only available on certain days. You can check dates for Early Morning Magic for Hollywood Studios here and Early Morning Magic for Magic Kingdom here. We planned our dates based on when Early Morning Magic was available for that park.
Extra Magic Hours. This is not to be confused with the above Early Morning Magic. Extra Magic Hours allows resort guests to either have earlier entry or later stays inside the park. These tend to be more crowded days because other people are trying to also get those extra hours in! We scheduled our park visits outside of these extra hours, and we were still able to ride all the rides we wanted to without these additional hours. Remember: Do opposite of what other people are doing in order to avoid crowds and avoid lines! So instead of going to the park that has extended hours (which means more crowds), go to the parks that have less people! That means you avoid lines at Disney World parks.
8:00 AM Breakfast Reservations. If you having a dining plan, use them on this! Icing on the cake - try to schedule a character breakfast. This will get you in the parks early and IN LINE earlier! So this is a rope dropping must! What the heck does this all mean? Let me break it down.
Typically (during non-Early Morning Magic mornings), the park opens at 9:00 AM to the general public. If you have an 8:00 AM breakfast reservation, you get into the park EARLIER than other guests.
Don't schedule a 9:00 AM FastPass. You should schedule a 10:00 AM FastPass instead. This means that you can finish breakfast, quickly hop in line before the park opens to the general public, and be one of the first ones on the rides. Note: If you do schedule a character breakfast, make sure you tell the Cast Member that you'll want your ticket as soon as possible!
If you want more details on this strategy, read this Pre-Park Opening Breakfast at Disney World strategy post here.
For all of the parks, I had a strategy on how to get into the parks BEFORE the general opening time. Since Early Morning Magic wasn't available for Epcot and Animal Kingdom, this is what we did:
Epcot: We had breakfast at Akershus Royal Banquet Hall (character meal) scheduled for 8:00 AM. We roped dropped the Elsa and Anna meeting and had plans to ride Frozen (but it was closed). We were able to get on Living with the Land and Spaceship Earth without FastPasses.
Animal Kingdom: We had breakfast at Tusker House (character meal) scheduled for 8:05 AM. We roped dropped Kilamanjaro Safari, which I was told that the animals are more active in the morning than later in the day - which turned out to be totally true! We then were able to use our Navi River Journey FastPass after that.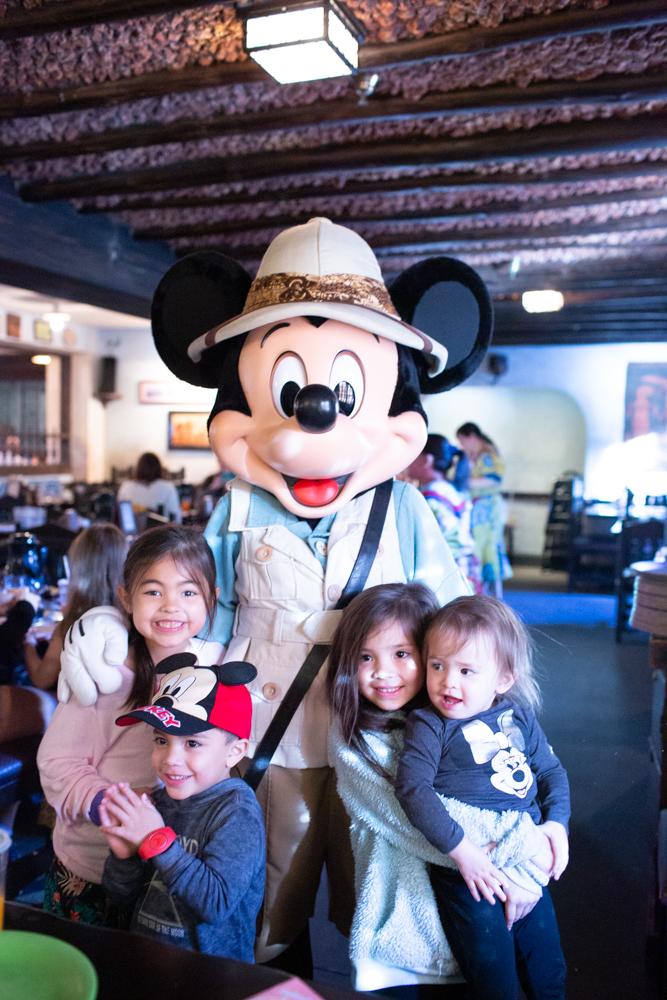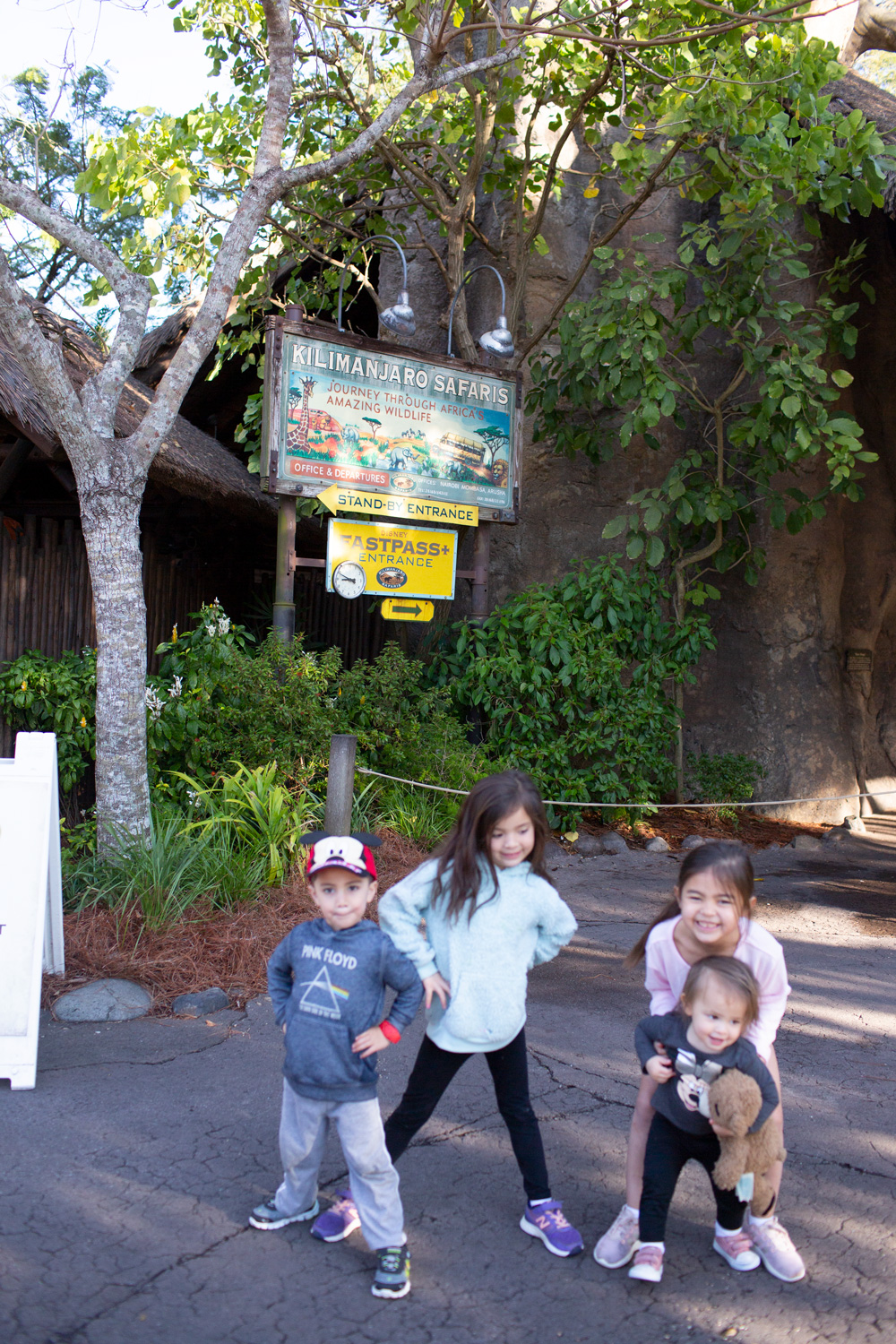 Buy After 5:00 pm tickets. Each park visitor has the opportunity to book 3 FastPass in advance of their trip per day. What you can do technically is buy additional park entry tickets called "After 5:00 pm Convention Tickets", which are approximately 30-40% less than all day park tickets. For these "spare tickets", you can create some "dummy" people on your My Disney Experience Account (Bob and Joe). Assign these park entry tickets to Bob and Joe, and schedule 3 FastPasses for them. Do not link any Magic Bands to them. When you go to use it in the park, DO NOT scan these cards at entry. You'll scan only when you are getting in line to ride the rides with FastPasses. I have heard rumors of Disney cracking down on "shutting down MDEs where a FastPass was used without a park entry scan", but it never happened to me. As someone who doesn't plan on going to the parks on a monthly basis, I was okay with this. To mitigate this, what a visitor could do is create a separate MDE and link the accounts as Friends and Family to avoid the potential of the MDE getting shut down. In my experience in late February of 2019, my account was never shut down.
Another option: If you have an old iPhone (like super old), the Disney app will allow you to use a function for "Change Party". During the trip, you can use this feature to "Change Party" and move the FastPasses from Bob and Joe to the profile that you actually want to use it on. That way, you aren't even using that Disney "entry" ticket for FastPasses at all, you'll be scanning your Magic Bands. Essentially, you are "harvesting" FastPasses on it from fake person to real person. This way, you entirely avoid the possibility of your MDE getting shut down for not having a park entry scan.
On top of all of this, I've heard rumors of people trying to go back to Guest Services, telling Cast members that they aren't going to be able to use the convention tickets, and being able to get gift cards for the unused entry tickets. I know, that's going to the extreme!
In our experience, no one ever asks you about convention tickets when you scan. We also purchased our regular park tickets this way, which saved us a couple hundred dollars for our family of six. If you Google "mydisney group convention March" (in place of March, put whatever month you plan on going), you can purchase convention tickets for the after 5:00 PM. (Hint: You can also use this method to buy all day tickets that you can USE at a discounted rate as well!) Here's a post from Touring Plans on how to also find these convention tickets!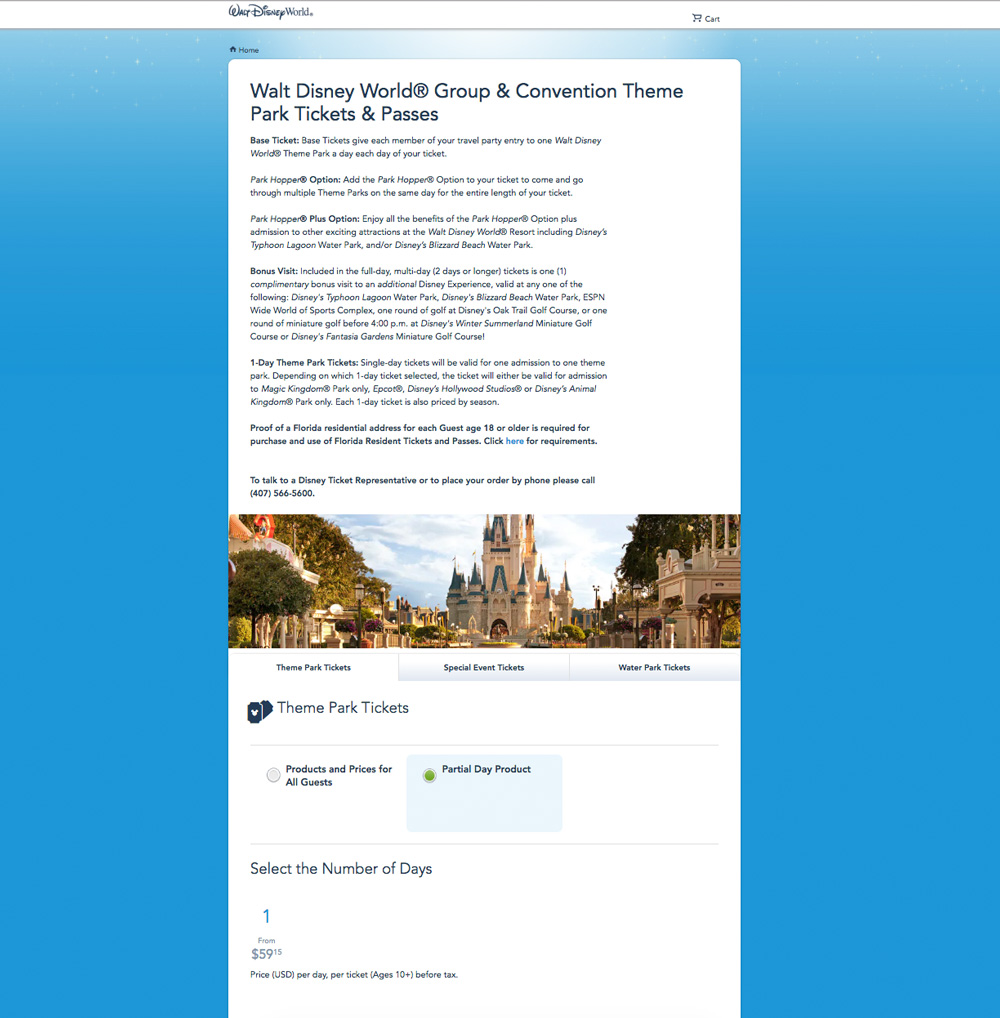 Using Rider Switch efficiently. Rider Switch allows parents who have littles to both ride. If your family is like mine, there will always be a situation for us on this trip where one of us stays back with the kids. If that's the case, this tip is for you. When you go to the FastPass line with a FastPass for the parent, they will SCAN three additional tickets (e.g. Rider Swap tickets) onto your band (or card) for the other people that will be riding next. Now, here are some strategies:
If you only have one person with a FastPass, tell the Cast Member that you have a FastPass. They will scan the band of your spouse (pay attention to who got scanned as the "adult waiting back with the kids") and two additional people riding with you. Leave the area for about two minutes (it will be busy with people in the area). Now, the people that can ride initially is the person with the FastPass and the "adult". Based on my experience, it seems like the "adult" Rider Swap has to be scanned before the other two can be used. Then, the other two people with the "Rider Swap passes" can ride again. You're probably wondering, "Who is going to watch the kid if both adults are going?" They really don't check your face or who is coming in. As long as Mickey turns green, you are good to go. So in summary for this strategy: Problem: I had one FastPass, but really wanted to ride with one of my kids. Solution: Go up and get three Rider Swap, one of which I could use with my single FastPass.
You can get a Rider Swap for a Rider Swap. Eyebrow raise? At one point, I had a Rider Swap ticket that I noticed on my MDE for Everest that somehow didn't get scanned. It was only for me. I have four kids and my husband, I wasn't just going to go by myself. So, I went up and scanned, and Mickey turned green. I told them I needed a Rider Swap. They added three FastPasses for our family.
FastPass Late Night Lotto. This is what Backside of Magic Podcast coins as late night lotto. This is when you book a FastPass at the end of the night for an attraction that goes down, Disney will often convert those tickets into multi-day, multi-park "anytime" FastPasses (with ride exceptions). Two strategies
The night before your trip, try to grab a FastPass for one of these attractions (so it converts for you for the next day).
When you are done with the parks for that day, as you head out, try to schedule a FastPass for rides that experience downtime at night. You can use this attraction downtime data link to increase your odds for your schedule the next day! This way, you can essentially are able to increase your odds of scoring one of these coveted types of FastPasses!
Rides that this occurred for me on were: Epcot's Frozen (early morning) and Magic Kingdom's Haunted Mansion. I've also heard Epcot's Test Track often closes late as well!
"Reuse" Your After 5:00 PM tickets. Once you are done using harvesting FastPasses with these After 5:00PM tickets, you could essentially "reuse" those tickets to score any available FastPasses for your next park. For example, let's say I purchased FOUR "After 5PM" tickets. At 74 days, I was able to schedule Bob and Joe for Magic Kingdom and Animal Kingdom. Once I used the FastPasses there, because I didn't use the tickets for park entry (only to get in the FastPass line), I scheduled FastPasses for what I could at Hollywood Studios and Epcot. Yes, it's a lot to keep track of, but it works!
Same Day FastPass Drops. These are also known as SDFP. Disney holds back some FastPasses and drops them at certain times. For example, the ones I am aware of are for Seven Dwarves Mine Train and Flight of Passage, all of which drop at 11:01, 1:01, 3:01 - and they drop a ton of FastPasses that you can gobble up if you are refreshing your MDE on the dot! Here's the most recent drops that I'm aware of:
Animal Kingdom - Flight of Passage: 11:01, 1:01, 3:01, 5:01.
Toy Story Land - Slinky Dog Dash, Toy Story Mania, Alien Swirling Saucers: 9:31, 12:01, 2:31, 5:01.
Epcot - Frozen: 11.30, 1.30, 3.30.
Magic Kingdom has no specific drops.
Parties. They are typically double the price of Early Morning Magic, at $125 and are typically at night! I have no experience with this, but if you have older kids, I know this is a strategy I would add as well. I did not use this strategy because my littles could not stay up past 8:00 PM.
ADDITIONAL COSTS for these Hacks for Skipping Lines at Disney World
Here are individual price tags for some of the strategies I used above. You could essentially mix and match what I listed above and save some money. My own personal strategy was to mitigate kids going psychotic waiting in line and minimizing my stress level while in the park as well as maximizing our experiences at the park. After all, time is money! And if I can throw some money (and a few strategies) around to save a few headaches, I did. Okay, here goes:
Early Morning Magic: $79 per person
Convention Tickets: $59 per person
Early Morning Breakfast Reservation (Tusker House Example): $38 per adult, $29 per child
Leading Reservation: $90 hold (refundable)
Parties: $125
These prices are way better than the VIP Experience that you'd be shelling thousands of dollars for!
I hope you find this helpful. While some of these tips on how to avoid lines at Disney World are NOT free ways, they are ways you can spend money to save time on your precious vacation.If you are planning a dual trip to Disney World and a Disney Cruise, check out my post on what to pack on your Disney trip! Check out my post on our Disney character dining experiences and a review on most of the character meals. I hope this helps! Check out my other Disney posts Below!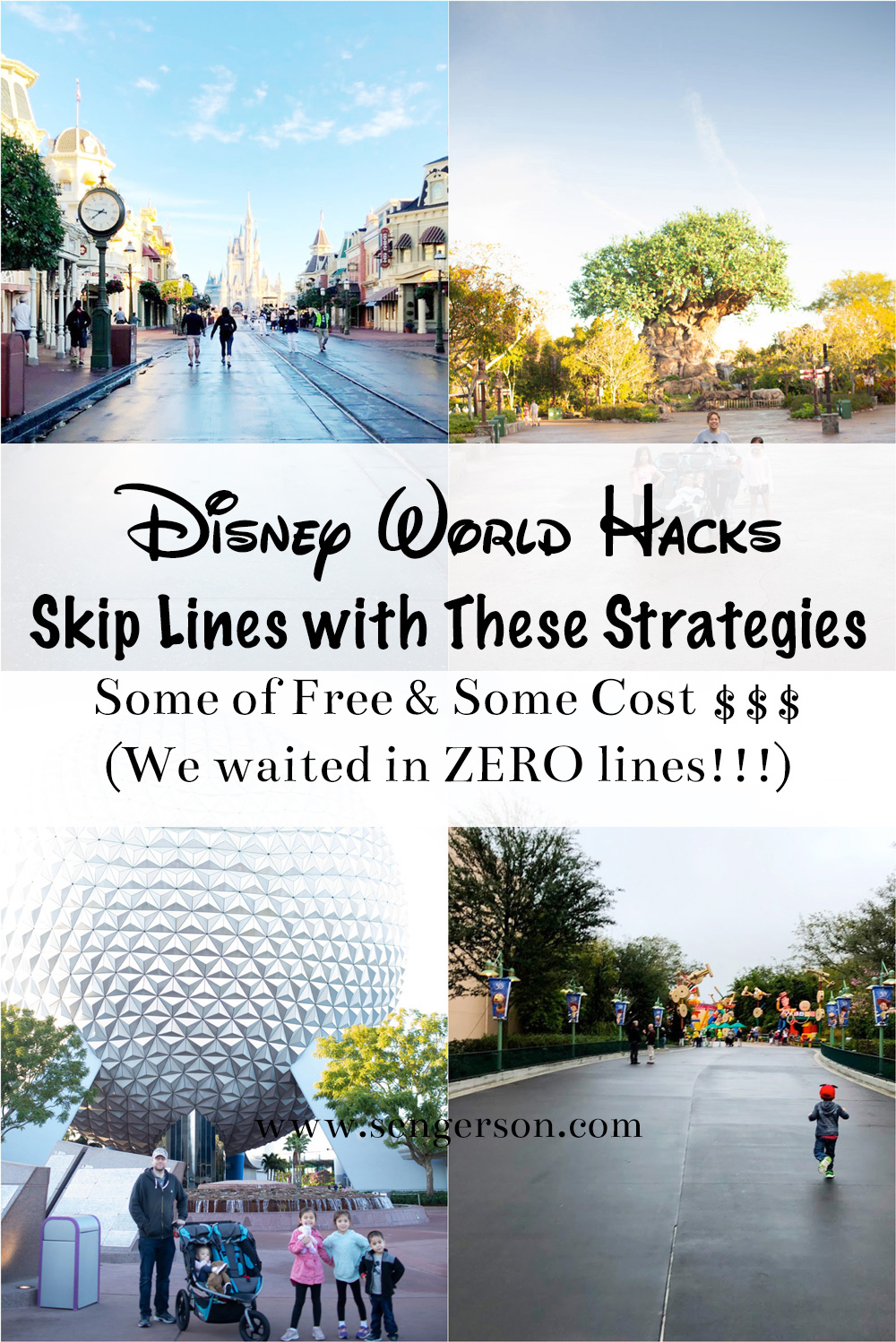 Disney World Tips
Disney Hotel Specific Reviews
Beach Club Resort and Villas