Our family is getting excited about our Disney land and sea adventure (going to both to Disney World and a Disney Cruise on the same trip)! As our first family vacation as a family of six, you know I'm going to be very strategic about what I'm bringing with us. Let's face it, packing everything is definitely not a possibility.
My worst fear is us becoming the scene in Home Alone 1 and 2 where the McAllisters are running through the airport. In addition to that, I've read horror stories about having kids get sick on vacation, so minimizing the potential to having my kids getting sick is super important, especially during cold and flu season!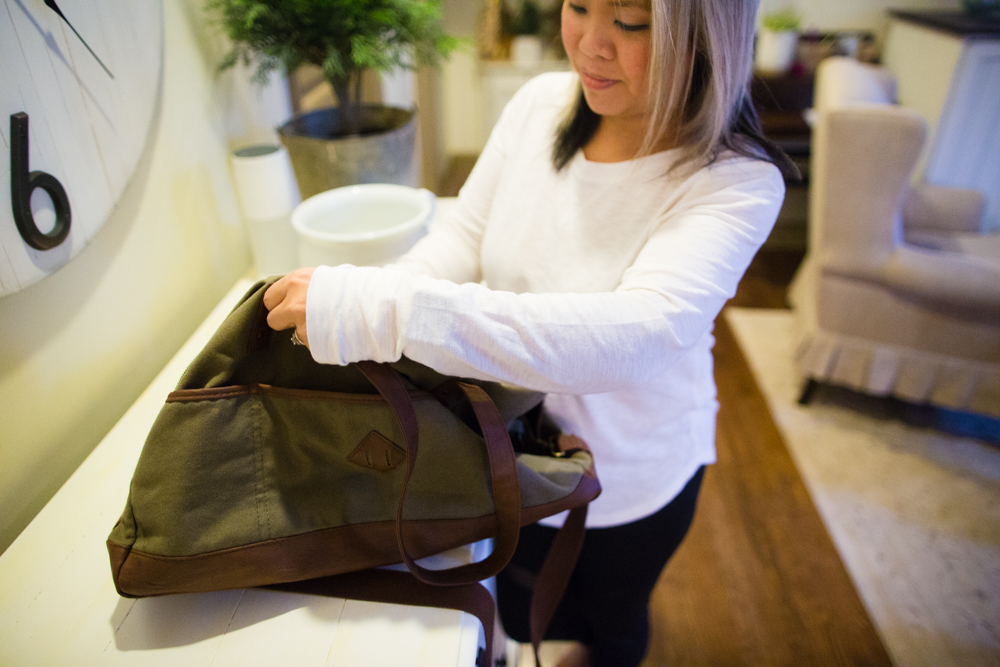 After soliciting tips and tricks from my worldly traveling friends and family who have skipped across Disney and the globe, I've curated the ultimate packing list for families with littles to make sure we have everything we need so that we don't have unnecessary baggage AND so we don't have emergency trips to stores while on vacation.
I've broken this guide up into four distinct categories: first day bag, family bag, parents bag, and kids bag in an effort to help you "capsule pack".
The Ultimate Disney World and Disney Cruise Packing List
FIRST DAY TRAVEL BAG
You'll want a bag/purse that you know all your essential documentation is in AS WELL as some of your first day's activities. There will be a delay when you first arrive at Disney World or to your Disney Cruise to when your luggage will be delivered to your room. With luggage being delivered later, you'll want to pack some items so you can be prepared for having fun as soon as you get there, but before your room is ready.
Travel Documentation
I would suggest getting a small accordion like binder to store all of these documents for ease of reference! I would never rely on wi-fi, especially ify ou are doing a Disney Cruise and have foreign ports you are arriving at!
Passport and/or Birth Certificates for Kids (and copies of them)
Drivers License
Online Check-In Documents
Flight Boarding Passes
Travel Insurance Info
Hotel and Transportation Confirmations
Pen
Coins for potential toll roads
Small bills for tipping
Valante Premium Family Travel Document Organizer Capacious RFID Passport Holder Wallet (Large, gray)
DESIGNED BY TRAVELERS FOR TRAVELERS unique, Smartly designed, elegant high capacity document holder. Removable wristlet and cross body straps allow choosing the desired type of wearing and usage
THE MOST SPACIOUS Letter Sized TRAVEL ORGANIZER EVER. Designed specifically for large families or groups of travelers. 6 passport pouches, 2 pockets for boarding passes for passengers flying with connection, 2 zippered big pockets for cash, 2 latter size stash pockets for documents, external zippered phone pocket… Totally 21 pockets and slots
MIDOLA Headphones Bluetooth Wireless Kids Volume Limit 85dB /110dB Over Ear Foldable Noise Protection Headset/Wired Inline AUX Cord Mic for Children Boy Girl Travel School Phone Pad Tablet PC Pink
(Switched 85dB :Kids to 110dB :Aldult )(12-month replacement warranty)Hearing Protection: MIDOLA Kids' (Age 2 Years+)headsets protect your kids from hearing hurting when they play for a long time with 85dB of limited volume(the level the World Health Organization considers safer). The volume can be switched from 85dB (Kids)to 110dB (Aldult ) when you press and hold pause/play button 3 seconds. (Age 1-3 Over Ear; Age 3+ On Ear)
Multifunctional Bluetooth Headphones: 16 hrs playtime Bluetooth headphones(hands-free calling) / TF card music player (Not including TF card) /AUX-IN.Your little ones can listen anytime in both a wired and wireless capacity. The wireless design is handy for avoiding tangles, a favorite feature of the big-kid panelists. However, the cord is detachable, minimizing a toddler's risk of getting snagged, but the volume restriction of wired headphones is normal.
First Day Activity Essentials
You will definitely want a set of "fun wear" so that you are able to hit the resort or cruise quickly without having to worry about where your bag is.
Swimsuits for everyone
Beach towel
Gum (they won't have any at Disney World)
Reading materials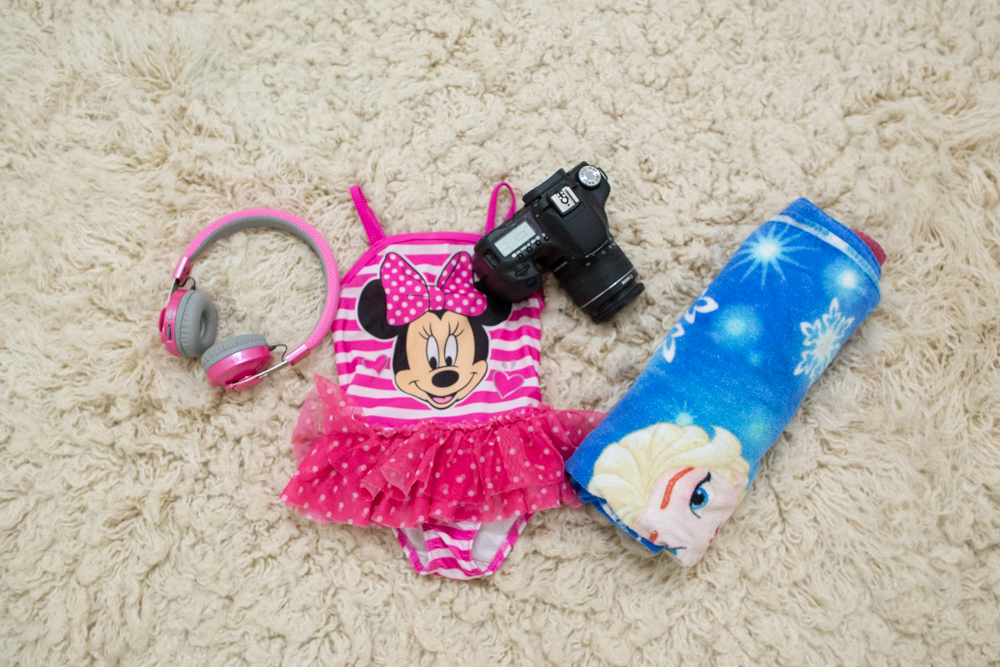 Sale
Disney Toddler Sunhat, Minnie Mouse Kids Bucket Matching Girls Baseball Cap for Beach, Size 2-4, Bucket & Baseball Hat, 2-4T Red and White
2 BUYING OPTIONS: This adorable Kids Sun Hat is available for purchase as just the Bucket Hat or can be bought together with a matching Toddler Baseball Cap. Both options are for toddler Girls age 2-4.
PREMIUM QUALITY & SUN PROTECTION: The Toddler Sun Hat fabric is soft, durable, and lightweight with UPF 50+ protection. And will protect Your little one's head, eyes, face and neck from harmful sun UV rays. The inner sweatband will absorb any excess sweat. He'll Feel at ease with a lightweight cover that's perfect for all daily activities and some fun at the park.
FAMILY PACKING CHECKLIST FOR DISNEY
This is a list of things to pack for the entire family and is not specific to a single individual!
Baby Specific
Baby diapers, wipes and creams
Sippy cups or bottles
Baby food and formula
Baby carrier
Favorite stuffed animal
Baby nausea and fever remedies
Sale
Sale
Toiletries
Sunscreen
Sea sickness remedies
Daily lotion and moisturizer
Lip balm
Small hand sanitizer
Feminine products
Razors and shaving cream
Convenience Kits International Women's Premium 20-Piece Kit with Travel Size TSA Compliant Essentials in Stylish Cosmetic Bag
TRUSTED: Family-Owned, Convenience Kits International has sold Beauty/Grooming/Hygiene Women's-Men's-Kids Travel Kits with Essential TSA compliant Travel-Size Toiletry Products, Since 1985.
KITS INCLUDE: National Brand Grooming, Hygiene and Oral Care Travel-Size Toiletries in Reusable Zippered, Clear, Dopp and Cosmetic Bags. Popular Brands Inside Kits Include: Hair Care: Loreal, Panten, TRESemm, Herbal Essences, John Freida Frizz Ease, Giovanni, Axe, Dove Men & Care, Suave Natural Skin and Body Care: Dove, Nivea, Jergens, Eucerin, Palmers, Axe, Dove Men & Care, Nivea Men, Dude Products, Degree, Secret, Schmidt's Natural, Andalou, Old Spice Swagger, Barbasol, Gillette, Edge Oral Care: Crest, Colgate, Dentek, Oral B, Tom's of Maine and Preserve.
Sale
Non-Essentials
Refillable mugs and water bottles
Ponchos
Water Shoes
Plastic Bags
Alcohol
Snacks
Shoe Organizer
Fish Extender
Sale
The Fish Extender is an amazing Disney fan created/managed gift exchange where other passengers sign up to deliver and exchange gifts throughout the cruise. I would look up to see if a Facebook group has been created for your specific cruise line date and sign up immediately! It's a really fun and special way to get your kids more excited about the trip!
Sale
MOM/DAD PACKING CHECKLIST FOR DISNEY
Clothes
Outfit for Palo or Remedy on Disney Cruiseline
Pirate Night Outfit
Outfit for every day
Swimsuit
Flip Flops, Dress Shoes, Sandals
Costumes
Jolly Roger Pirate Flag | Skull & Crossbones Caribbean Cruise Costume Unisex T-Shirt-(Adult,L)
MICHIGAN ARTISTS & PRINTERS | this design was drawn and screen printed with pride by our skilled illustrators and printers in Ann Arbor. If you're ever in the area, stop by for a free tour and see how we make your apparel! Tagless tag is printed on fabric inside collar, you can't feel it.
UNISEX MODERN FIT SIZING | this shirt is slightly tapered to be a little less boxy than the old style of mass-market t-shirt. Nothing drastic, and most people wear the same size in our shirts as they do in all of their others, but you might go one size larger if you're on the fence. It is pre-shrunk, but like any high-cotton product, will still shrink slightly in the wash. Our model photos are the real thing - the actual shirt on our salesguy, Rich. He's 6' 2", 200 lbs and wearing a large
Sale
Plus Size Women's Pirate Costume Jolly Roger Flag Pirate - 3X Black
PRODUCT INCLUDES: This Jolly Roger Flag Pirate Costume comes with a blouse, corset, skirt with underskirt, leggings, scarf, belt, and harness.
FROM THE FUN COMPANY: Pirates are one of the top costume themes which is exactly why we made this exclusive Women's Plus Size Pirate Flag Costume. This detailed ensemble is artfully and expertly crafted by our own team of artists and designers.
While you may be tempted to pack just shorts and t-shirts, there are various restaurants in Disney World and the Disney Cruise that require a little dressier clothes. I would recommend taking just a single set of nice slacks or a dress to wear.
Toiletries
Toothbrush / Toothpaste / Floss
Deodorant
Makeup and makeup remover
Hair Products and Styling Tools
Feminine Products
Wrinkler Release Spray
Electronics
Camera (DSLR, GoPRo)
Laptop with Charger
Cellphone with Charger and Portable Charger
Headphones
Extension Cord
I would highly recommend the portable charger. You are going to be using your phone a lot to grab FastPasses in the parks, so having 2 sets of this would make it very convenient for you to not worry about draining your battery while at the parks!
KIDS PACKING CHECKLIST FOR DISNEY
If your kids are three and older, you should consider rolling luggage for them as check-ins! My goal is to avoid checking any bags as much as possible.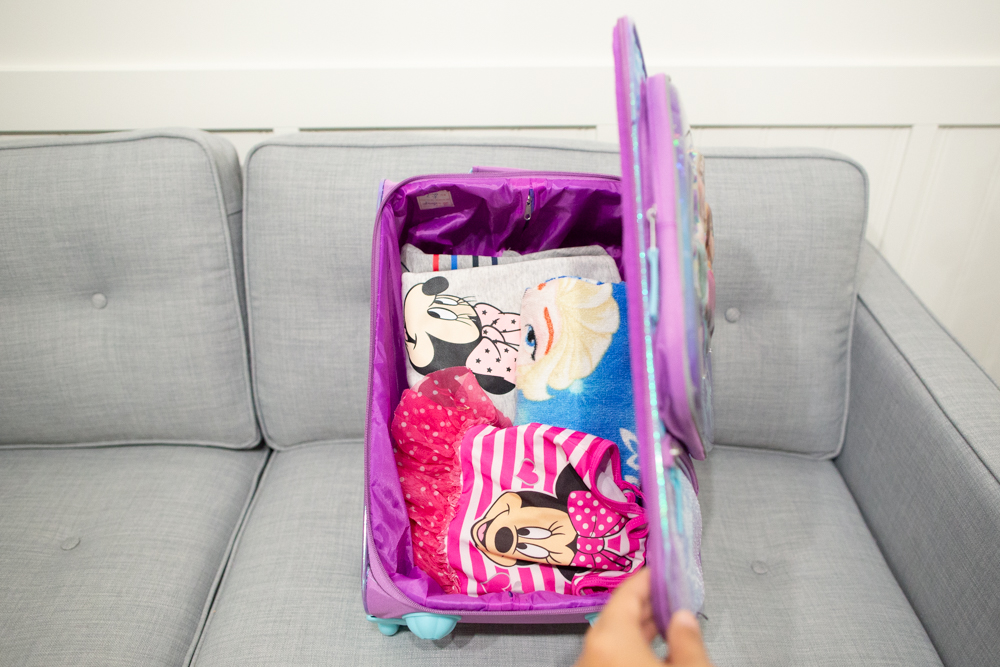 Clothes
Shirts and Shorts
Pants and Sweaters
Socks
Underwear
Sandals and Sneakers
Pirate Night Outfit
Disney Costume
Hat and/or Visor
Mickey Ears
Sale
There are a ton of places online where you can get custom Mickey ears. Trust me when I say everyone will be wearing them! In addition, Disney fans are literally fanatics, so you'll see A LOT of people dressed up. Make sure your kids don't feel left out, get them a costume of their favorite Disney character to wear in the park and on the cruise!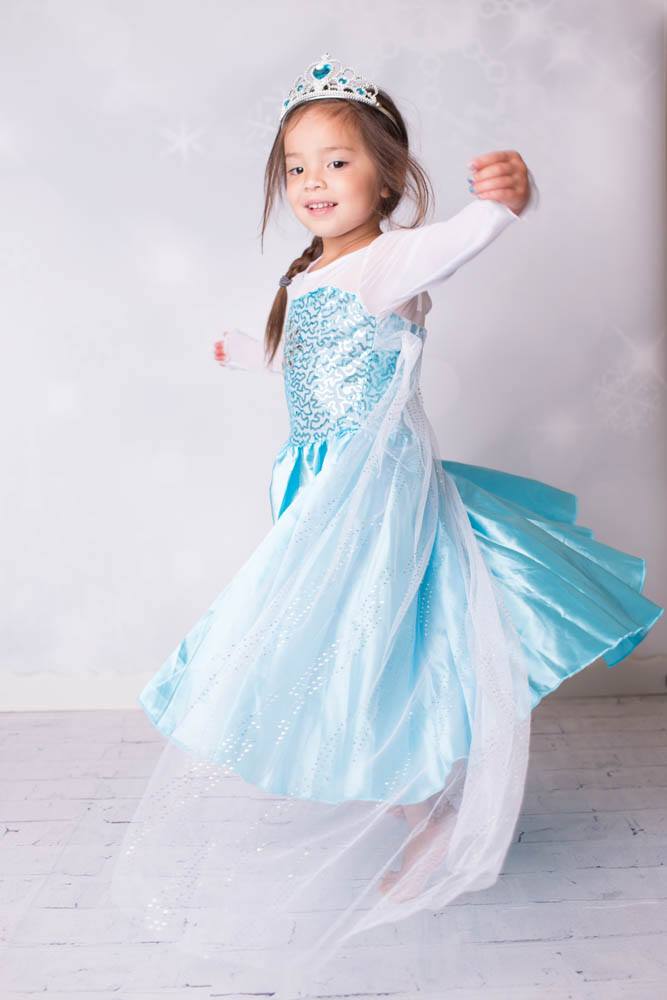 Accessories
Toothbrush / Toothpaste / Floss
Deodorant
Sunscreen
Hairbrush
Hair ties/Headbands / Clips
Sunglasses
Hat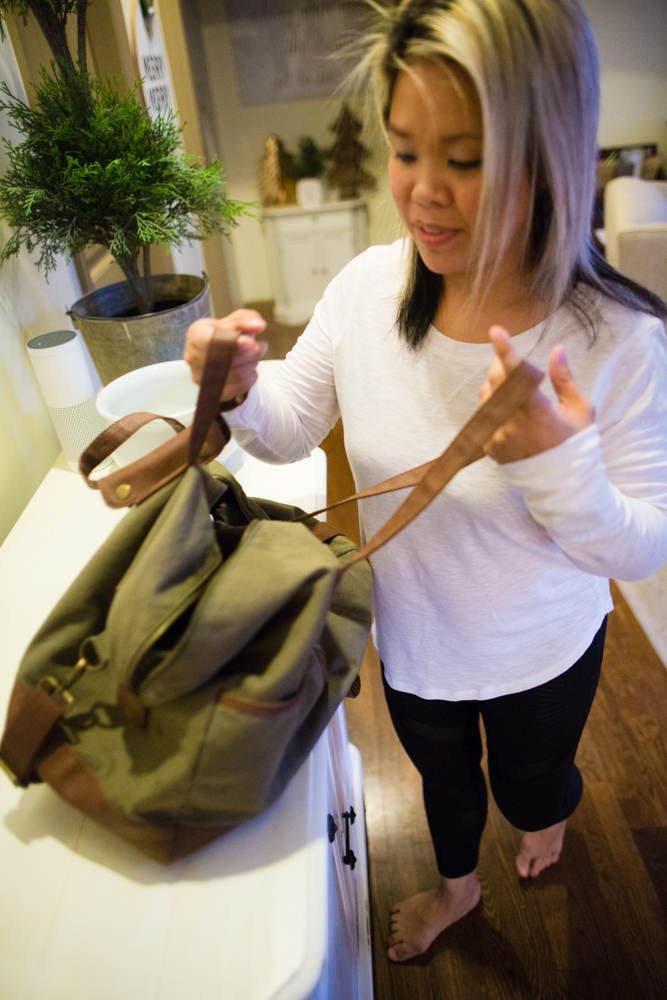 Electronics
Tablet
Headphone and headphone splitter
I hope you enjoyed this comprehensive guide on what to pack for a Disney World and Disney Cruise ship! There are so many posts on this topic, but I wanted to share one coming from a mom of four. What tips do you have on traveling with little ones to Disney? Check out my other post if you are "gifting" to someone who is Disney bound!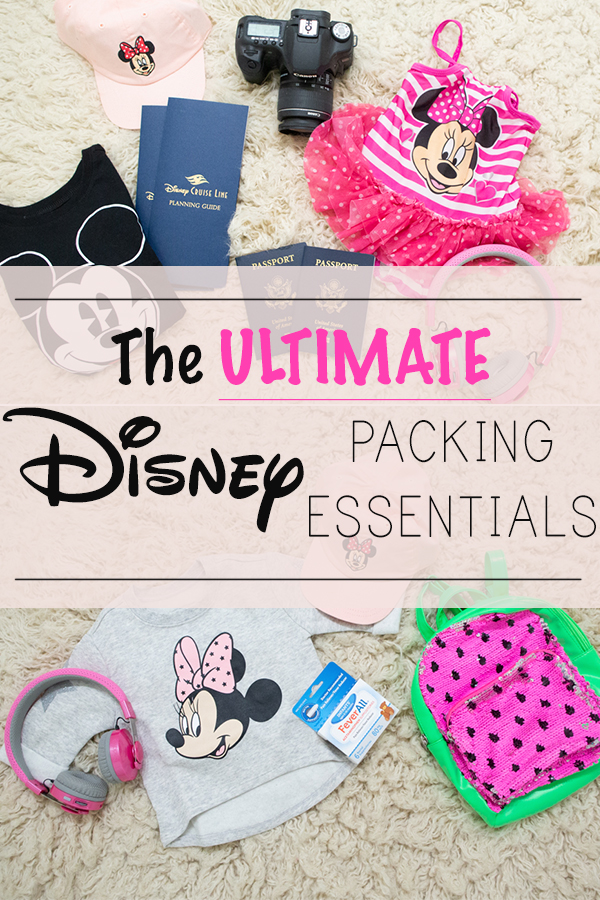 Disney Dream Inspiration