This is an unbiased review from my 5 day stay at the Aventura Hotel at a Universal Resort in Orlando, Florida. I'm sharing with you what the hotel offers as well as comparisons to the other hotels in the same family.
I am really surprised that I have not seen more reviews on the Aventura Hotel, which is one of Universal's resorts. With a last minute booking for my stay in Orlando, I was able to book a room in a Deluxe King for a little over $200 a night. Compared to that of Disney World's Moderate Hotels, that is an absolute steal, especially for its amenities that it offers.
Universal Studios in Florida has three parks, one of which is a water park. With its focus on growing the number of attractions offered, it is definitely increasing the number of visitors to its parks, which means an ever expanding portfolio of on-property hotels. Universal Aventura is a fairly new hotel to the Universal Resort's property line, and it does not disappoint.
My review is based on my stay on the highest floor that a guest could stay on, the 16th floor, in a Deluxe King in Room 1645. It's a 17-story hotel, with the top being an open-air bar that provides a gorgeous 360-degree view of Orlando with a delicious bistro menu that I frequented two nights of my five stay night there.
Before getting into the details, for those of you looking for my short recommendation, here it is: I would highly recommend staying at Aventura Hotel in Orlando primarily because it is literally steps away from the dock that takes you to CityWalk, which is where the entry to al of the Universal Parks are. In addition, the cost of this hotel compared to the other higher-end hotels that are part of Universal's property line is an incredible value for what you get. Lastly, there is a REAL Starbucks on premise. The end. Kidding.
If I haven't sold you yet, read on down below! As someone who stayed at all four of the neighboring Disney World Deluxe Resorts, I will tell you that the in-room amenities at Aventura Hotel is superior than that of it's Mickey Mouse-themed counterparts. However, I will give Disney the credit of having an overall themed experience that provides that cohesive theming all around.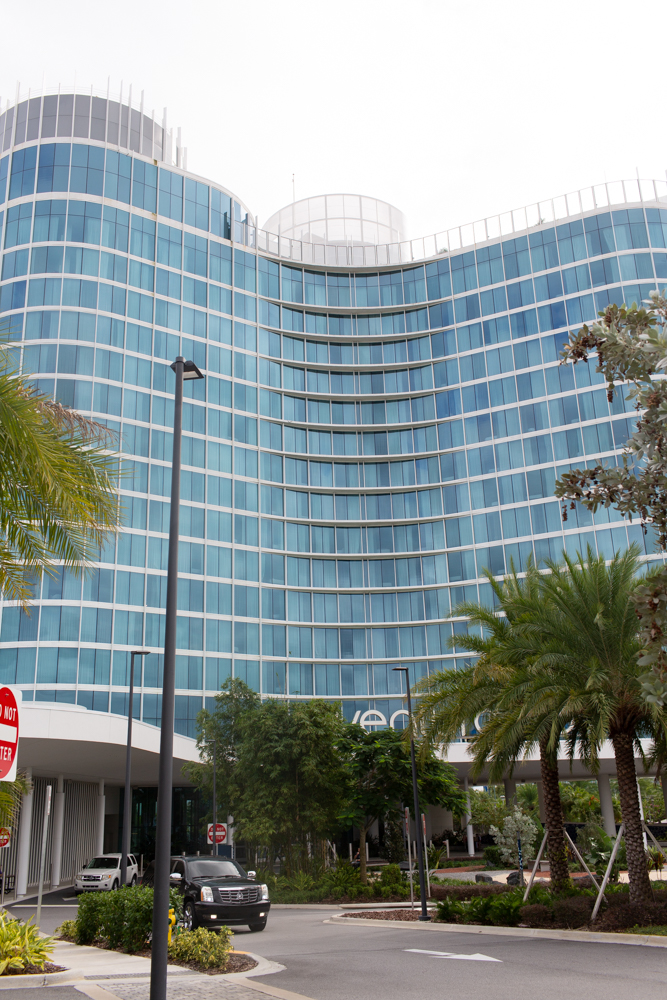 Aventura Hotel in Universal Orlando
Aventura Hotel first opened in 2019 and added to the Universal on-property hotel line. It opened as a neighbor next to Loews Sapphire Falls Resort and across the street from Cabana Bay. It is the sixth hotel for Universal to be built.
It is a 17-story hotel that has 600-room occupancy. Universal's hotel properties can be categories as Value, Prime Value, and Premier (going from least expensive to the more luxurious properties). Universal's Aventura Hotel is considered to be a Prime Value hotel.
During my stay, I was going to a work conference that shuttled us from hotel to hotel, and I was able to see Cabana Bay up close. Cabana Bay is also considered a Prime Value hotel. In talking to some of the other conference attendees, they mentioned that it seemed like a cheap motel. If you are looking to choose between two Prime Value hotels, I would pick Aventura based on all the feedback I got.
As a mom of four kids who went on this trip SANS kids, I will tell you that there is not a lot of immersive theming that serves the kid atmosphere. The thing is, after going to Universal Studios, I think I can understand why. In my eyes, Universal Studios is geared towards kids who are at least 8 years old and older. Sure, there are areas that kids can go to and ride toddler rides. But in all honesty, I would not be taking my kids here until my youngest is at least 8 years old.
This hotel does not have any type of theming, except for the modern design look and feel. There aren't any characters or waterslides like you would find at Disney World resorts. On the flip side, there is a beautiful rooftop bar with delicious food and a food court that has sushi, stir fry, pizza and ice cream. It also has a Starbucks in the lobby area.
Aventura Hotel is pretty visible from the highway. It is one of the taller buildings at Universal because of it's all glass 17-story tower that reflects light kind of like a mosaic.
Proximity and Location of Aventura Hotel to Universal
Aventura Hotel is so close to EVERYTHING Universal. It is incredible. Unlike Disney World resorts, Universal's resorts are so close together that everything is in walking distance. It was actually quite a relief. Compared to the amount of planning around getting point A to point B at Disney, Universal makes it incredibly easy especially if you stay on property.
For those that don't know, Universal has three parks: Volcano Bay, Universal Studios, and Islands of Adventure.
Volcano Bay is a water park. You can literally walk to Volcano Bay by leaving the hotel from the pool area and walk around Aventura to an underground walkway that you can take to get to Volcano Bay entrance.
Universal Studios and Islands of Adventure can be accessed via taking a water taxi/ferry from the Loews Sapphire Falls hotel. This is literally a three minute jaunt from Aventura Hotel to Sapphire Falls.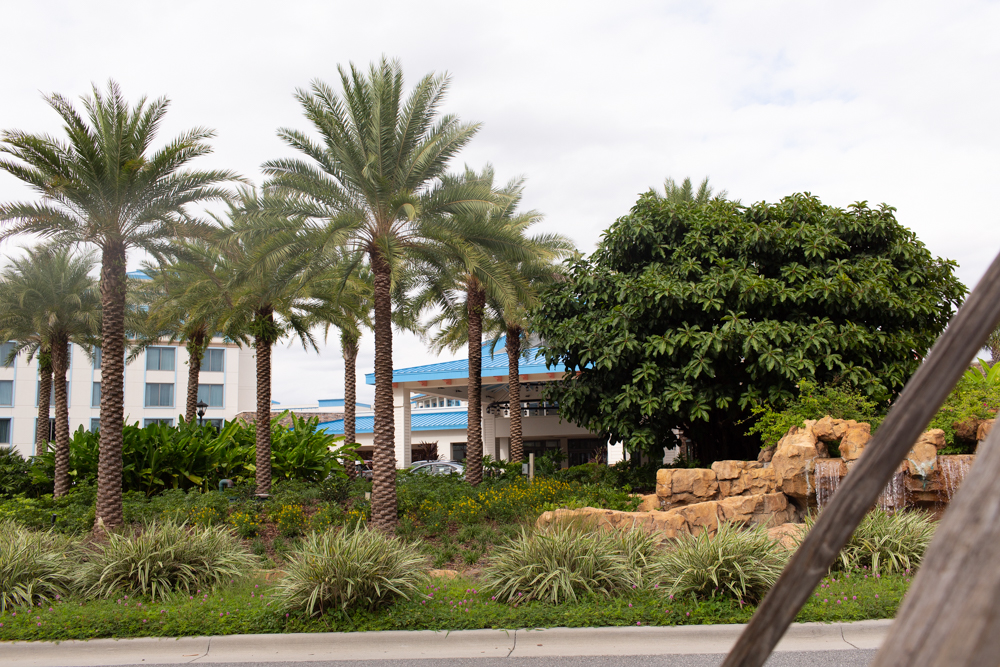 You walk down a corridor and literally are taken outside to the security area that you go through, then take the water taxi/ferry over to CityWalk. Once in CityWalk, you'll see signs for the entrances to Universal Studios or Islands of Adventure. I could not believe how easy it was to access all of the parks!
If you wanted to go try out another on-property restaurant at one of the other hotels, the other Universal hotels are literally less than a 5 minute walk. It was pretty incredible.
[mv_video key="lfunibywbexgxu6vgrmr" volume="70" aspectRatio="true" title="Universal Aventura Hotel Deluxe King Room Tour" thumbnail="https://mediavine-res.cloudinary.com/v1573970870/pg1gvujkzxn1xprvyetj.jpg" doNotOptimizePlacement="undefined" doNotAutoplayNorOptimizePlacement="false" sticky="false"]
Booking a Hotel Stay at Universal Orlando
There are three main types of rooms you can choose at Aventura: standard, Deluxe King, or the Kids Suite. For any of these rooms, you can request a "skyline view" which provides you a room on the upper floors of this 17 story hotel. I had the privilege of staying in one of these skyline views, and the view was absolutely breathtaking.
Standard Room
The standard rom is 314 square feet. These rooms feature two queen beds. These room start at $115 a night.
Deluxe
The deluxe king is 395 square feet. These rooms start at $150 a night.
Kid's Suite
The Kids Suite has 575 square feet with two twin beds and 1 king. The suite contains a separate sleeping area for the children. There are a few connecting rooms available in the hotel. Instead of one television, there are two televisions in this room that are controlled by a tablet. They also have double vanities, which is a plus when you have people fighting for bathroom time. These rooms start at $216 a night.
My Experience
For my stay, I actually had to book through my corporate account, which ended up providing me a rate of $209 a night for a Deluxe King. I actually booked 7 days out, and I think I could have gotten a better deal if I was able to book earlier.
In generally, a standard room would cost around $120 a night. A Kids Suite at Aventura Hotel is about double the size and also costs double the price.
You can generally book this room through booking.com, hotels.com as well as expedia.com pretty easily especially if you have a few weeks until your trip.
As a last night trip, I wasn't able to find anything directly on Universal's site that was open, but I was able to on those other sites.
Parking at Aventura Hotel
The parking garage is right next to the hotel and has an elevator that takes you to the lobby area. It costs about $19 a night, and to get in and out, you must have your room key.
Check-In and Lobby Experience at Aventura Hotel
When you enter into the Aventura Hotel, I would not expect anything grand like you would at the other resorts. It's a very open lobby that is inviting, airy and your standard hotel registration area. There was nothing that popped out at me other than the Starbucks that I saw right past the registration desks. There's nothing wrong with the lobby area, but there isn't too much excitement, design or anything that made it stand out. Underwhelming is the word I'm looking for. Literally, it's a large open space with glass dividers, almost like a modern airport.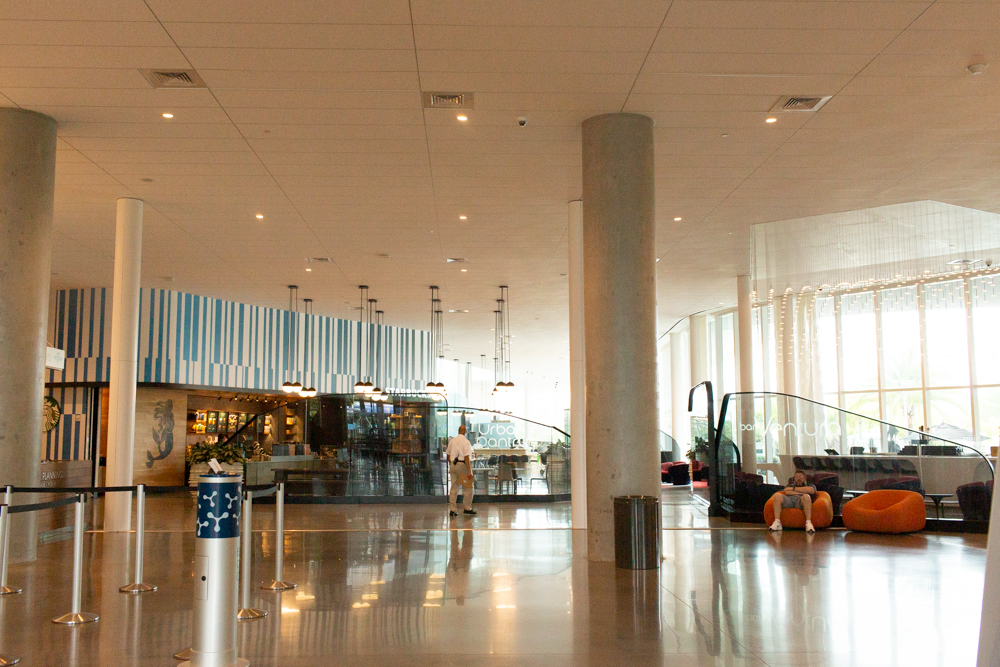 I arrived at around 11:00, but my room was not ready. The bellman was able to hold my bags for me while I explored the resort. They offered to text me when my room was available. When I asked bellman of places to eat, he literally said, "I'm not sure, the hotel has some food over there. I'm not from this area, I live an hour away."
I ended up asking a few other guests that were checking out. They were the ones that told me to take the free water taxi/ferry to CityWalk for better and more delicious options, which I am so glad I did.
After about two hours, Aventura Hotel finally texted me to let me know that my room was ready. After showing my bag ticket, I grabbed my bags and picked up keys to head to the 16th floor.
Check in is 4 p.m. and check out is 11 a.m.
Heading to my Aventura Hotel Room
The elevators to all the rooms face the opposite side of the registration desks. There is one elevator during certain hours that is designated only for Bar 17, which is Aventura's rooftop bar.
There was never a long line to getting on the elevator in my week long stay at the resort. The elevators had a touch keypad, which was a really nice, modern feature.
Stepping out of the elevator, there were three long hallways that had signs pointing you to the room. The carpet reminded me of the 80s and had logos similar to the shape of the hotel. The hallway had nothing really to stand out. As I headed to my room, I notice that it was all the way at the end of the hallway, likely because all of the Deluxe Kings are situated at the end of the hallway.
Aventura Hotel Room Review
When I first entered my room, I had no idea what to expect. I didn't do any research on it initially, and the only thing I was preparing myself for was my experience at Disney Resorts a few months back.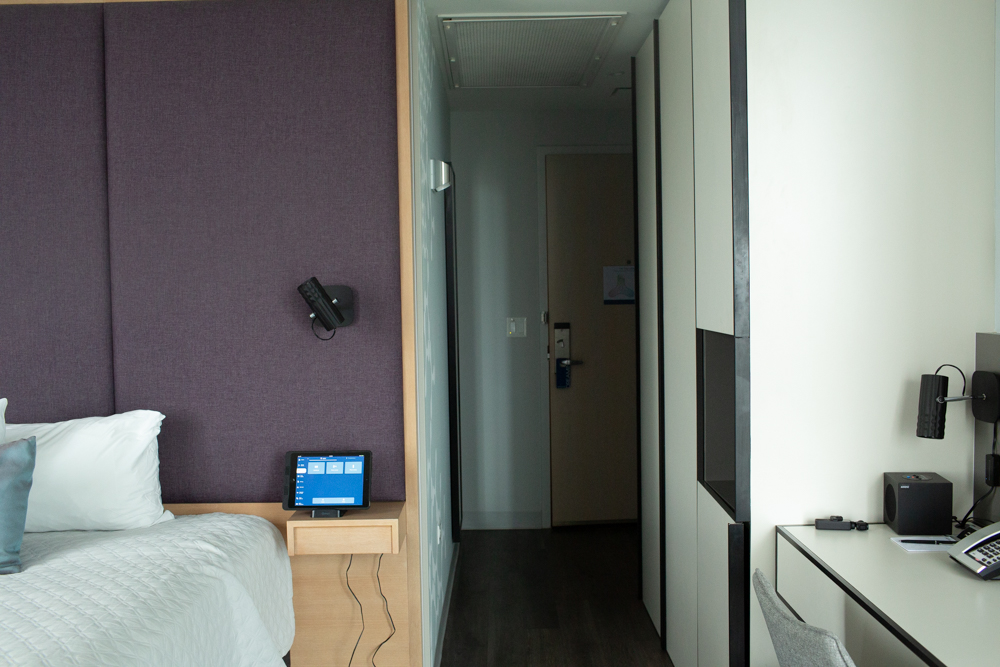 I was actually quite smitten by the room. It was on the 16th floor, and as I entered, the first thing I saw was the television that was hanging from the ceiling followed by all the curtains hiding the view.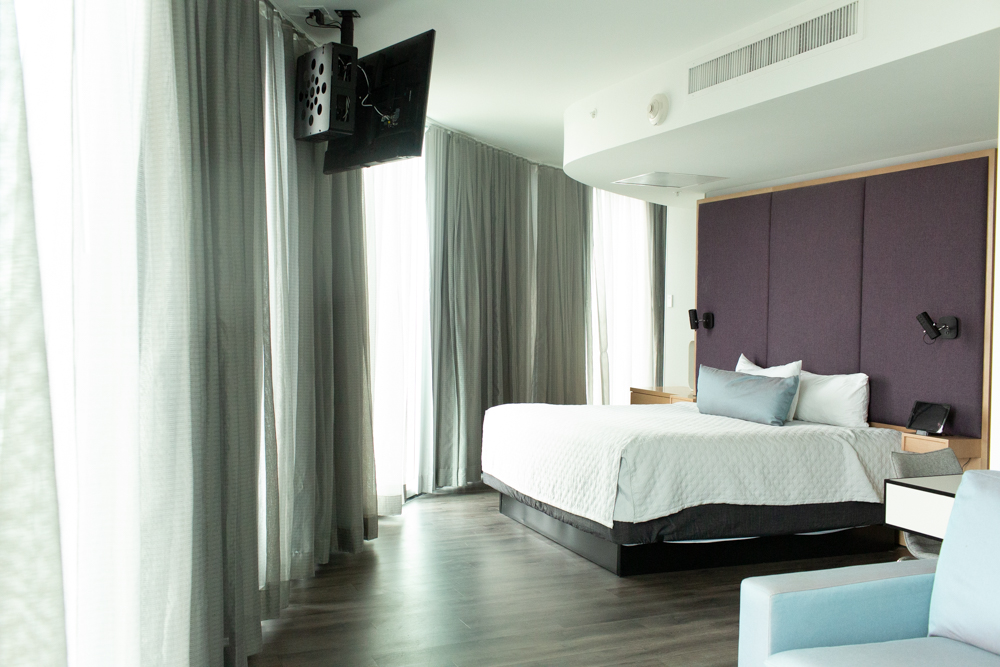 As I started walking around trying to figure out how to turn off the television, I noticed there was a Peloton sitting in the corner.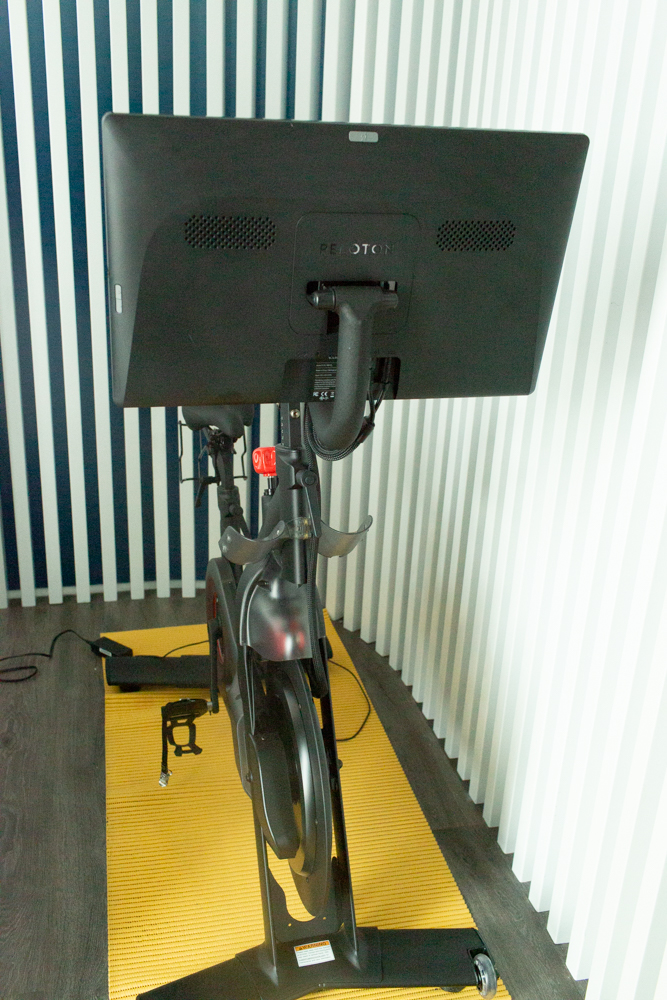 I had always wanted to try one, but unfortunately, I actually still never had a chance to try it out on my trip. That was a pleasant surprise having one in the hotel room.
I finally figured out that there was tablet that controlled the room temperature, lights and television for the entire room. The Wifi was free for up to four devices and was really strong. There was any charge if you wanted to do more than streaming. I was uploading blog photos during my stay and still had no issues with the free plan. The tablet cannot be removed from it's base.
If you had a Netflix or YouTube account (which who doesn't these days), you can sign on with your own account and watch on the television, which may be a big plus for those with littles who just need time to breath.
All of the marketing that Aventura does positions this hotel as a technologically advanced hotel. I guess if having a tablet and Peloton counts as technologically advanced, you could put it in that space. While it is an innovative feature that, I found it challenging to use for simple things like adjusting the television volume or even turning it off.
The bathroom vanity was outside of the room that housed the shower and toilet.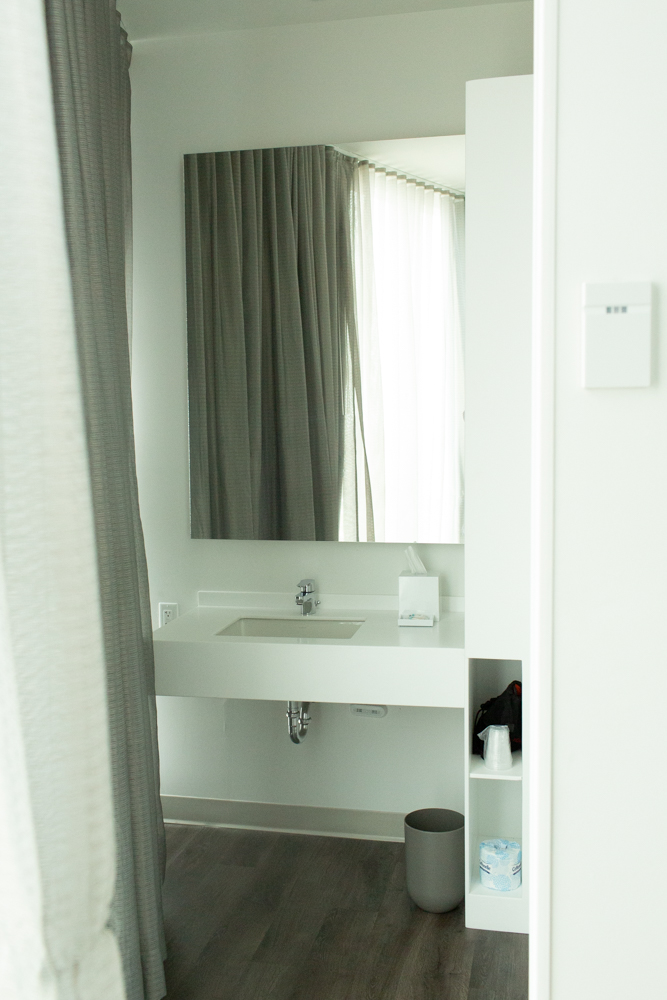 There wasn't a tub, but the shower head was strong and actually had hot steaming water at all times, which is a must for me. The vanity had a blow dryer and the usual necessities like bar soap, shampoo and conditioner.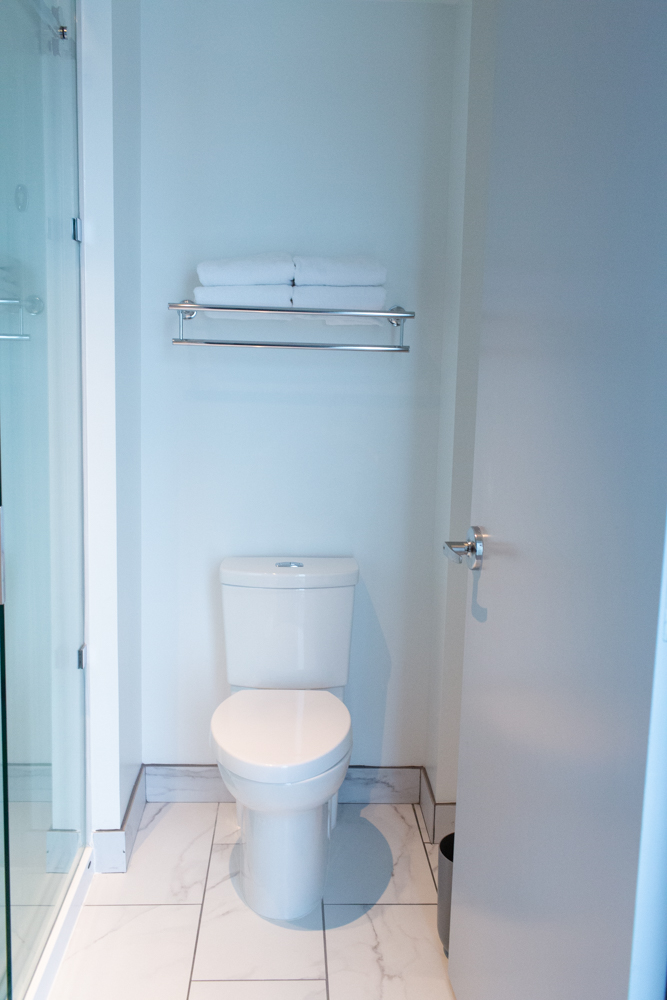 Nothing out of the ordinary.
The desk area seemed a little cramp. Even with me being 5 feet 2 inches and barely over 100 pounds, my legs would not fit underneath the desk with the height of the chair. This was pretty annoying.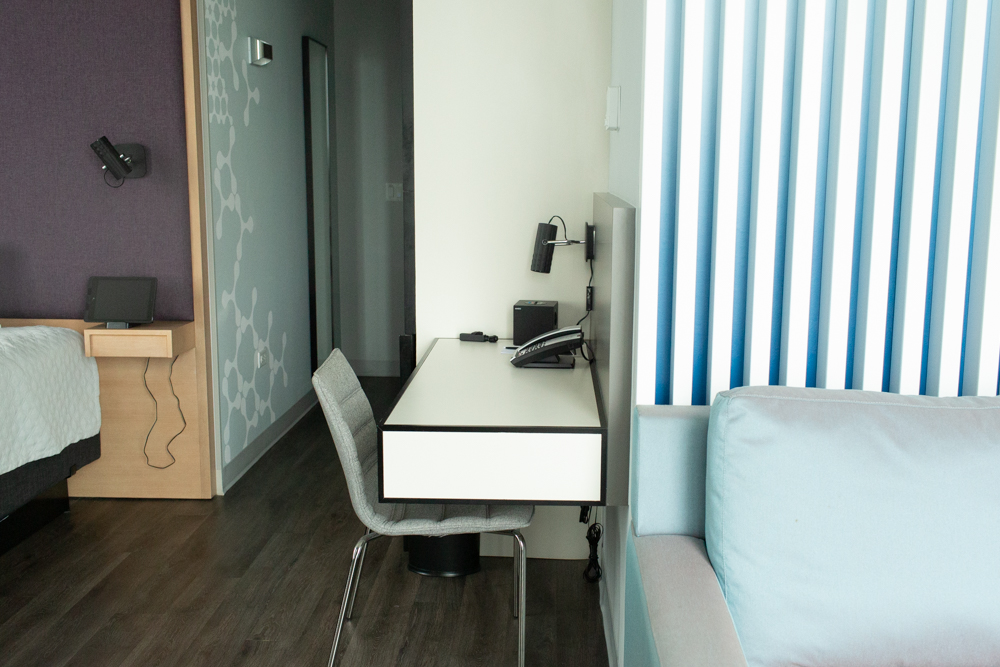 The closet area had what you typically expect in a hotel room, which is an ironing board, mini fridge, and room safe.
They also had a small 6-drawer dresser that you could put clothes in.
There was a sofa that faced the gorgeous view of Orlando that was a plus.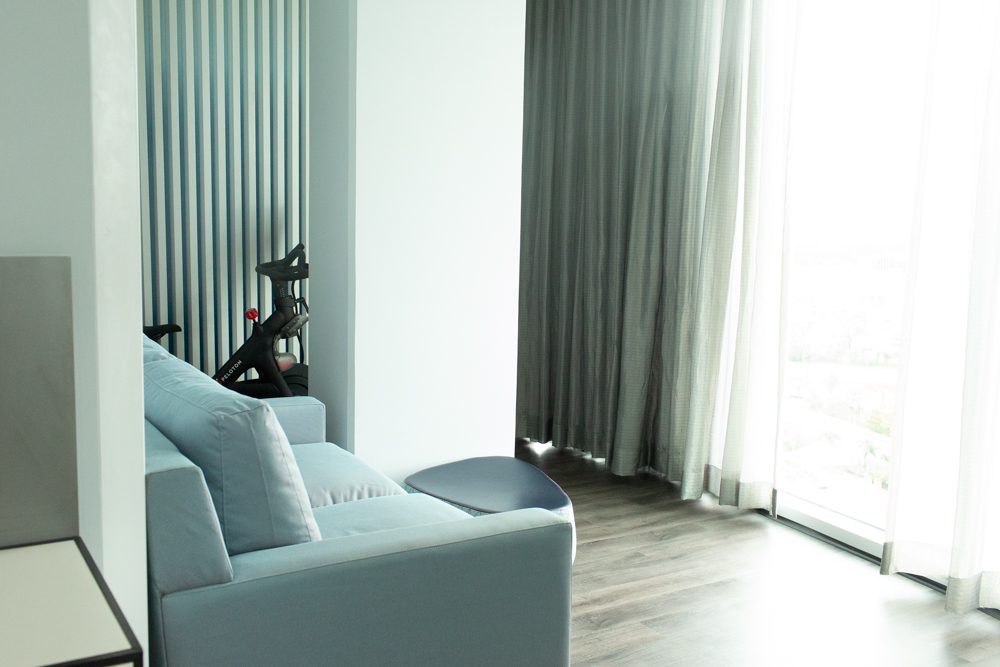 The bed was nothing to write home about. I honestly did not sleep that well. It may be because it was my first time being away from home in eight years without my family. I didn't think the bed was comfortable. I also didn't really care for the bedding at all.
It was nice having the USB Ports and plugs right next to the bed.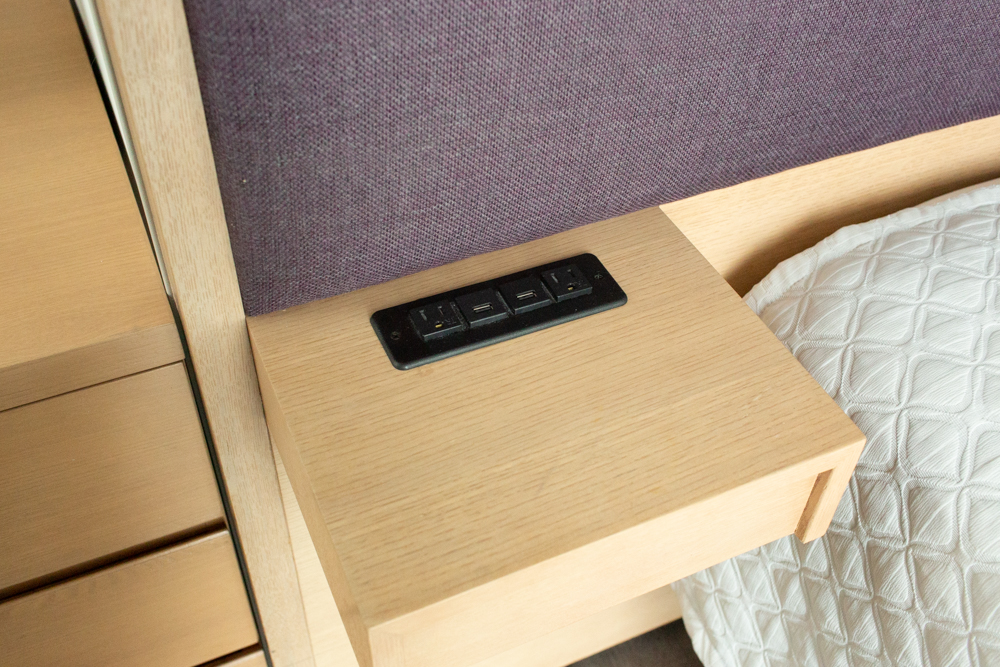 All in all, the room is uncluttered and has a contemporary, but comfortable feel.
Restaurants and Room Service at Aventura Hotel
If you are looking for a traditional sit-down and serve you restaurant, Aventura does not have that. You can certainly head over to the nearby hotels which are only a few minutes away or head over to CityWalk for something like that. They don't offer a full room service menu either. The hotel has an incredible high-end food court that has delicious food. There is also the rooftop bar that has a delicious bistro menu to choose from as well.
I honestly didn't order any room service during my stay, but the prices were quite reasonable. There aren't any extra fees other than the cost of the food and discretionary tip.
Is there a real Starbucks at Aventura Hotel
Yes, this is a full real Starbucks at Aventura Hotel and it also offers the same menu. This is a solid on their part. They accept the Starbucks app as well as Starbucks gift cards, but you cannot redeem points there.
Urban Pantry
In the morning, they offer the general staples like eggs, biscuits, yogurt, waffles, and sandwiches.
For dinner, they have sushi, noodle station for your own stir fry, burger station, and pizza station. If you arrive anytime past 5pm, you may find that sushi is not available because the chef may have gone home for the day.
Bar Sol
Bar Sol is a pool bar that has several beers on tops and cocktails, which is amazingly convenient.
Bar 17
Bar 17 is open at 4pm. Their bistro menu had these delicious chicken wings that were sweet and delicious. The $4 bao tacos were also delicious, one night I had 4 of them (pork belly and shrimp were top notch). The sangria I ordered on the two nights I visited were also delicious.
The view was incredible. In November, it was a bit chilly, so I recommend wearing long sleeves if you get cold easily.
There were sofas, small bistro tables, and larger tables if you were with a group.
It was a "seat yourself, and a waiter will come find you" type of place. The first night, I sat near a corner, and it took a while for the waiter to come find me (I actually had to flag them myself and order on the spot because I was starving). The other night, I sat in a prominent spot where they could see me and they served me right away.
The food was hot and delicious. The drinks were cold, and stout. I ended up here more often than I thought I would.
Hours of operation are 4 p.m. through 2 a.m.
Amenities at Universal Aventura Hotel
Outdoor Pool
On the main level, there is a pool with a pool bar outside. There are lifeguards there, but there was nothing that made the pool stand out. There is also a splash pad for younger ones with little splash water coming up from spouts, but no toys or anything.
Virtual Reality Room
I didn't get a chance to check this out, but this is available if you are into that sort of thing.
Fitness Center
I actually visited all five days when I was there (so proud of myself). If you are wanting to do your own thing like I was (re: I was doing the Beachbody program at the time), there isn't really a lot of room to really work out if you are needing space for lunges and squats.
The Aventura's modern fitness center is open from 5am to 10pm It includes multiple treadmills, elliptical machines, stationary bikes, free weights, and Technogym resistance machines.
Transportation from Aventura Hotel
There are two main ways to get around to the parks: using the bus or walking. I touched on the walking part, which I would highly recommend.
In order to ride the bus, you just wait right outside of the hotel and it picks you up at regular intervals and drops you have at CityWalk. You'll still need to walk to get through CityWalk to get to the park entrance.
Transportation to the parks and Universal CityWalk is complimentary and departs every 15 minutes from Universal's Aventura Hotel between 7am and 2am.
Park Benefits of Staying at Aventura Hotel
By staying at Aventura Hotel, you get access one hour before the park's scheduled opening to the Wizarding World of Harry Potter and Volcano Bay.
However, if you stay at the other three Universal Premiere Hotels like Loews Royal Pacific Resort, Hard Rock Hotel or Loews Portofino Bay Hotel, you'll receive Express Passes without having to pay additional. If having Express Passes is important to you, I would highly recommend staying at one of those hotels because the difference might be a little less than paying for those Express Passes individually.
The normal price for an Express Pass is $70 to $100 and that's just nuts, but makes the deluxe resorts very justifiable.
You'll need to pick between Early Park Admission versus Express Pass when considering the other Universal properties.
Overall Recommendation for Aventura Hotel in Orlando
If you are looking for an incredibly convenient, yet affordable stay to make the most out of our Universal Studios and Islands of Adventure Park visit, I would highly recommend checking out the Aventura Hotel.
While it is catered towards older kids and adults, it is a beautiful, sleek and modern hotel that is not only affordable, but also highly accessible to almost pretty much anything Universal. If I'm comparing Aventura to any of the Disney resorts I stayed it previously, the amenities are well-worth the prices and in line with the Disney Moderate Resorts (which are double in price).
All of Universal's properties are pretty compact, so overall, you'll find it really easy to navigate and get to pretty much anything. The icing on the cake is that Aventura Hotel has everything a family needs to have a great time.
The only reason why I wouldn't recommend booking at Aventura is if you are already set in buying Express Passes (which I would recommend). The other on-property hotels may cost a little more, but will be overall less expensive because the passes are built in.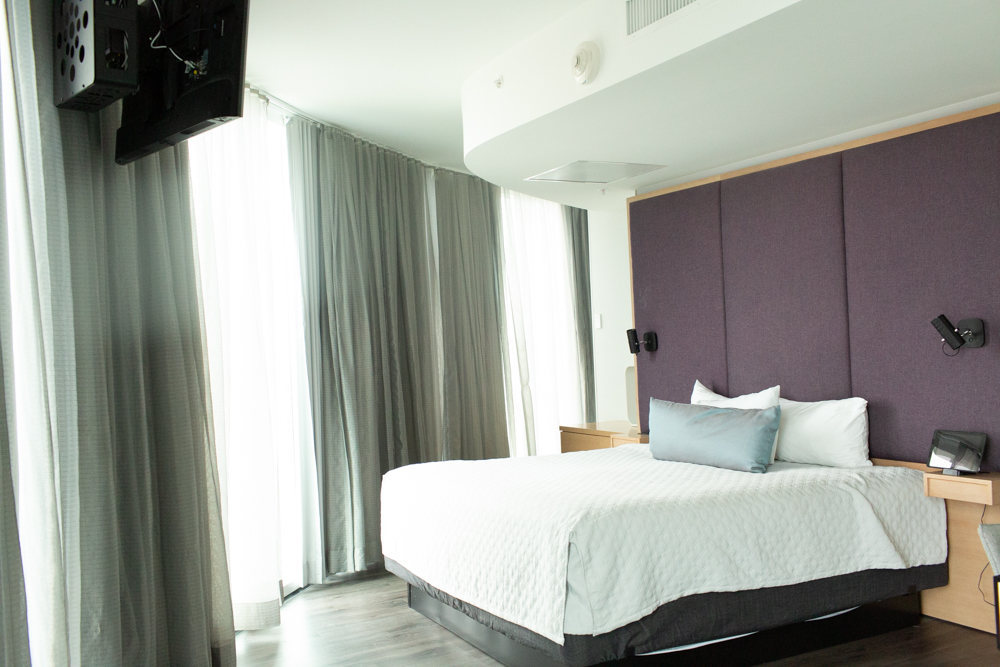 Disney World Tips
Disney Hotel Specific Reviews
Beach Club Resort and Villas