If you are looking at a one day getaway in Omaha, Nebraska with your family that includes visiting the Henry Dooly, I wanted to share with you or tips and tricks for getting around town as well as things you could visit for a short stay.
Our goal as a family was to check off Henry Doorly Zoo & Aquarium in Omaha, Nebraska from our bucket list since most of the parents we know raved about their own visits to the zoo.
In this post, our goal is to share our experience with only one night in this little town that boasts so much to do in our little time we had. I wanted to share with you where we stayed with our family of four kids (all under the age of ten), places to eat breakfast and grab takeout pizza, and other free activities that we were able to do.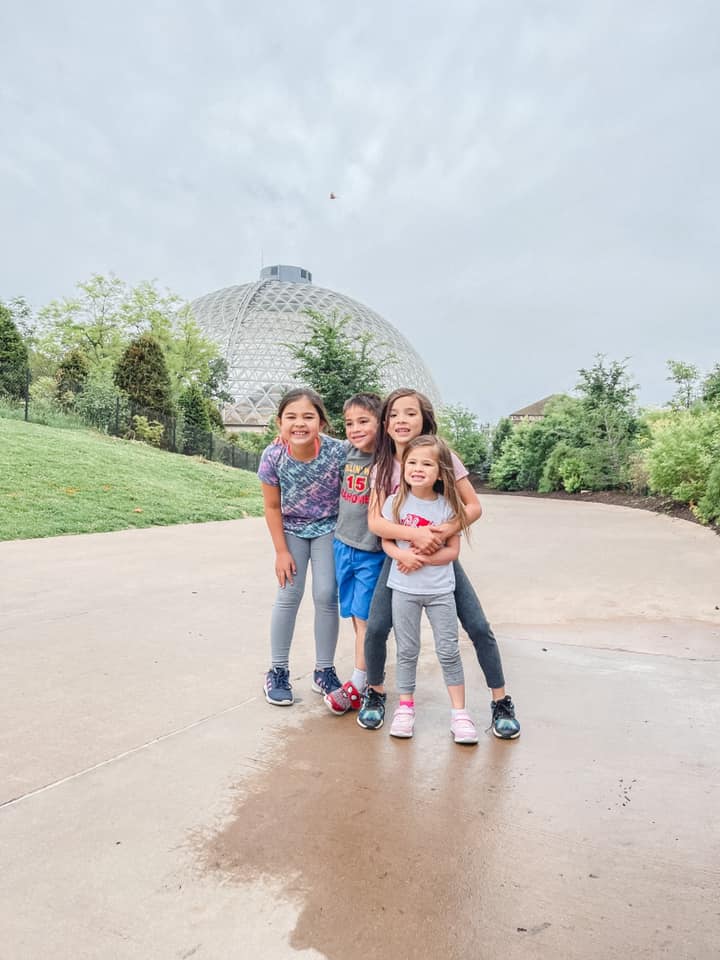 Overview of Omaha Nebraska with Kids
If you are looking for a short getaway, I would definitely recommend 1-2 days in Omaha. It's a great college town that boasts a lot of things to do with kids. We spent under $500 for this trip, and it gave us so many memories for an affordable price. We were able to squeeze in the zoo, a trip to a bridge that allowed us to straddle two states, and a visit to a historic train monument that was really neat to visit.
Both parents and kids had a blast on this quick trip, and it provided us memories that will cherish a lifetime.
If you only had 36 hours in Omaha Nebraska for a family of little kids, here's my suggestion:
Stay at Hilton Inn with a waterpark
Take a whole day for the zoo, grab pizza on the way back to the hotel
Pedestrian Footbridge that takes you from Nebraska and Iowa
Kenefick Park (Union Pacific Train Park)
Breakfast at Early Bird
Things to Do in Omaha with Kids
We went on Memorial Day weekend as a family and only had less than 36 hours in the city. The weather wasn't to terribly hot, and the lines on a weekend at the zoo weren't bad at all.
When we visited, it was pretty quiet for being a college town. I think the end of May is when everyone graduates and start moving back home. It was great which meant that there weren't a lot of lines or waits anywhere.
Henry Dooly Zoo Review
The Omaha zoo (known formally as Henry Dooly Zoo) is normally open 9 a.m. - 5 p.m. daily with last last ticketed admission reservation time at 5 p.m. (check specific hours here).
We were coming in from Kansas City, and were able to do the 3.5 hour drive and get there just in time for when the zoo opened.
Navigating Omaha Zoo
The Omaha zoo reminds me of IKEA the way that it is setup. Generally, they want you to go from entrance through the loop. I would recommend going backwards through the loop, which means that the Desert Dome will be one of your last stops.
When we visited, the Desert Dome had a long line in the morning and had no wait near the end of the day. I would highly recommend visiting it last.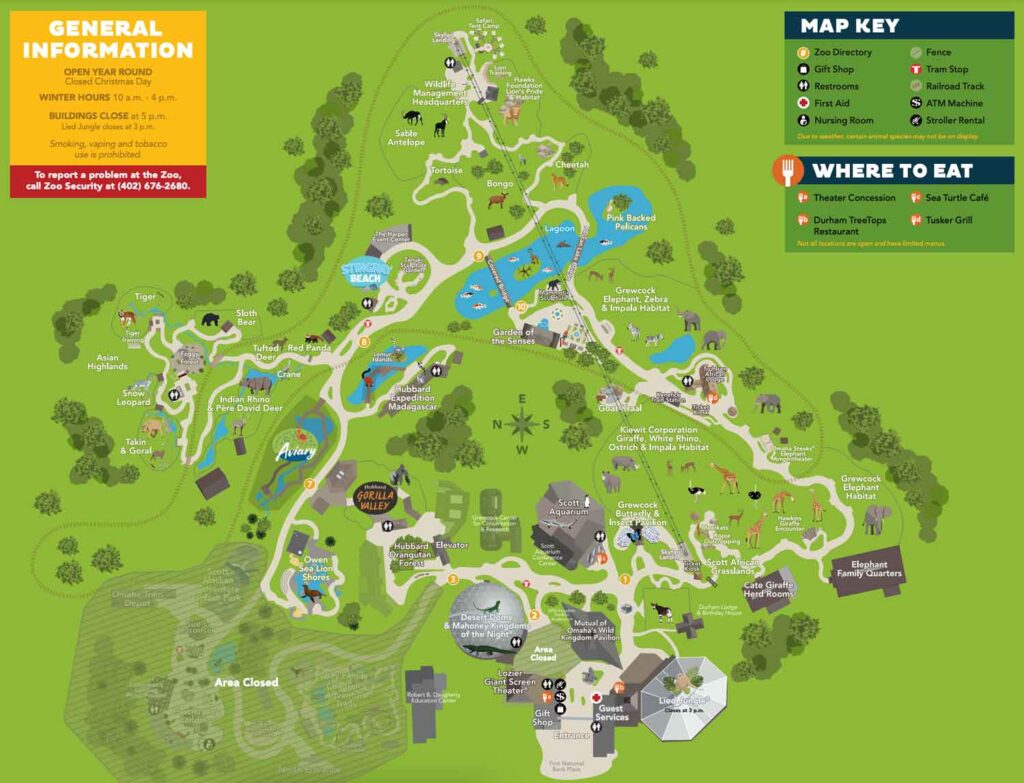 The Playgrounds
Bay Family's Adventure Trails is an area that you might also want to skip in the beginning because our kids LOVED the area. They didn't want to leave. While it's a great playground that only one entry way, if you have kids under four years old, they may get lost in how busy it is and how many nooks and crannies there are. I would recommend visiting this last.
There were also fun locations where kids could climb into a jungle truck or a helicopter for free, which was a neat suprise.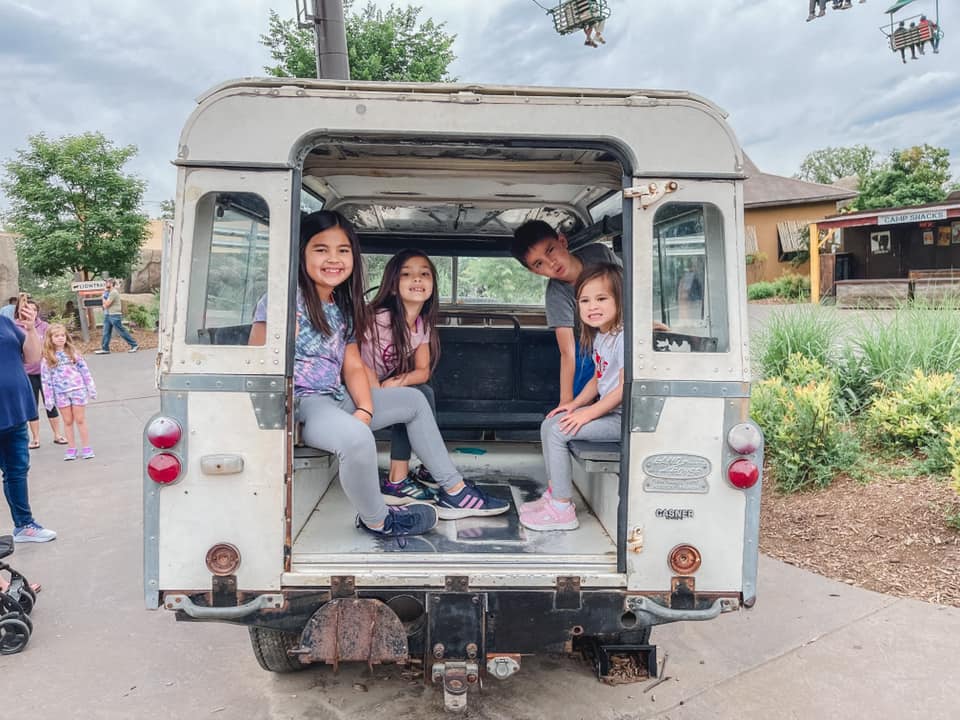 Animals
The animals that were on display were very similar to the Kansas City zoo. We loved how much are was taken to setup the habitat and the environment.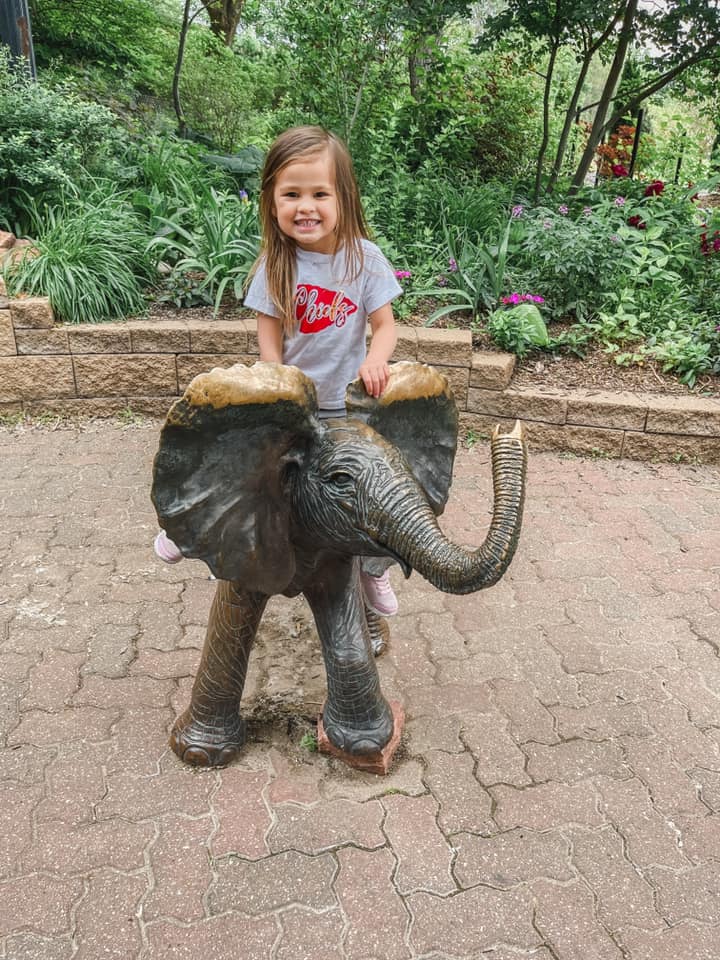 Feeding the Giraffes
Feeding the giraffes is an awesome experience. We waited in line for about 15 minutes to get the opportunity to do so. It was around $5 for a branch to feed the giraffes. The kids loved this experience.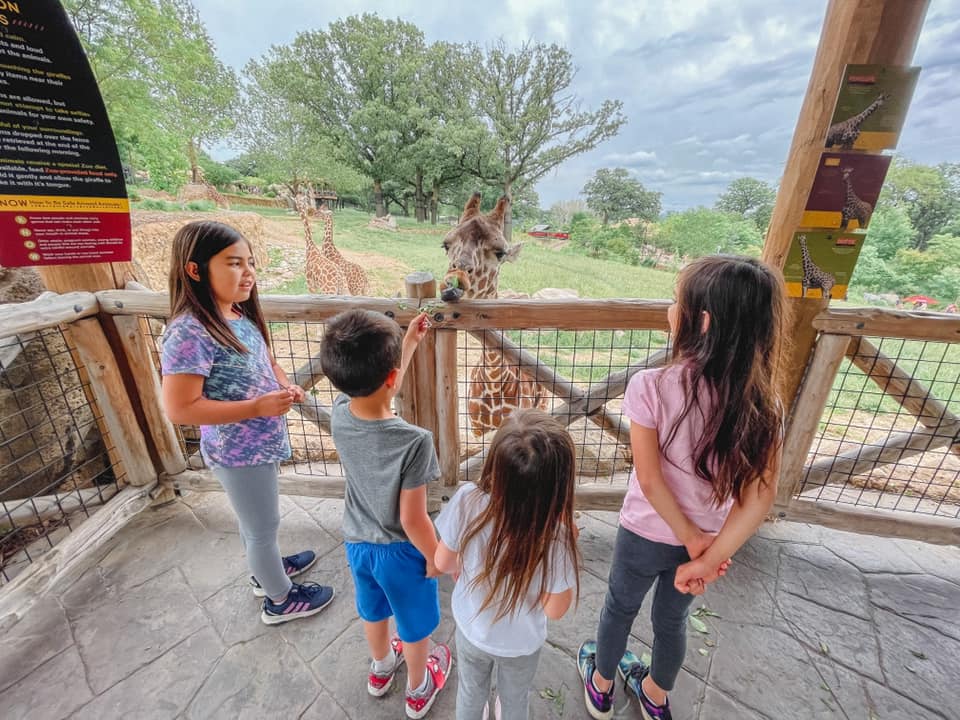 The Lied Rainforest Jungle in Omaha
The Lied Rainforest was absolutely amazing. There were stories and stories about trails to go with the kids. Some were swinging bridges, others were rock formations. It was such a thorough and beautiful experience!
Themed Areas
Like most zoos, each area was themed based on the animal's native geo-location. The Asian highlands was a fun themed location that was full of beautiful backdrops for the animals.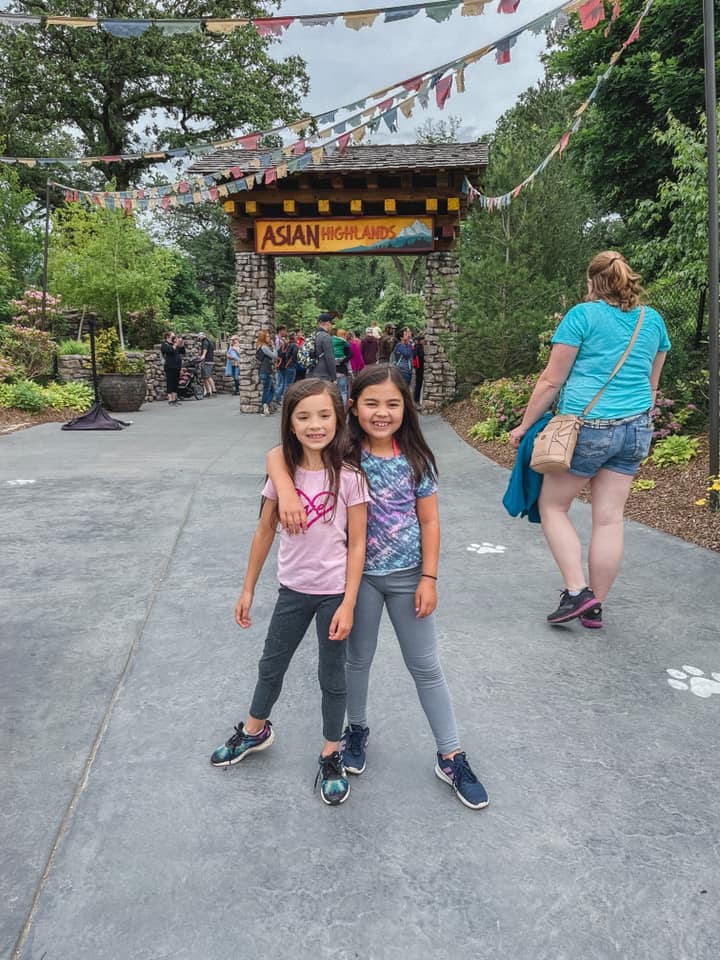 Desert Dome
The Desert Dome also felt like it was organized like IKEA, there was pretty much one pathway that walked everyone in. It was just great to see all the habitat set up. It was definitely very warm!
Seeing the botanical life and the animals was amazing.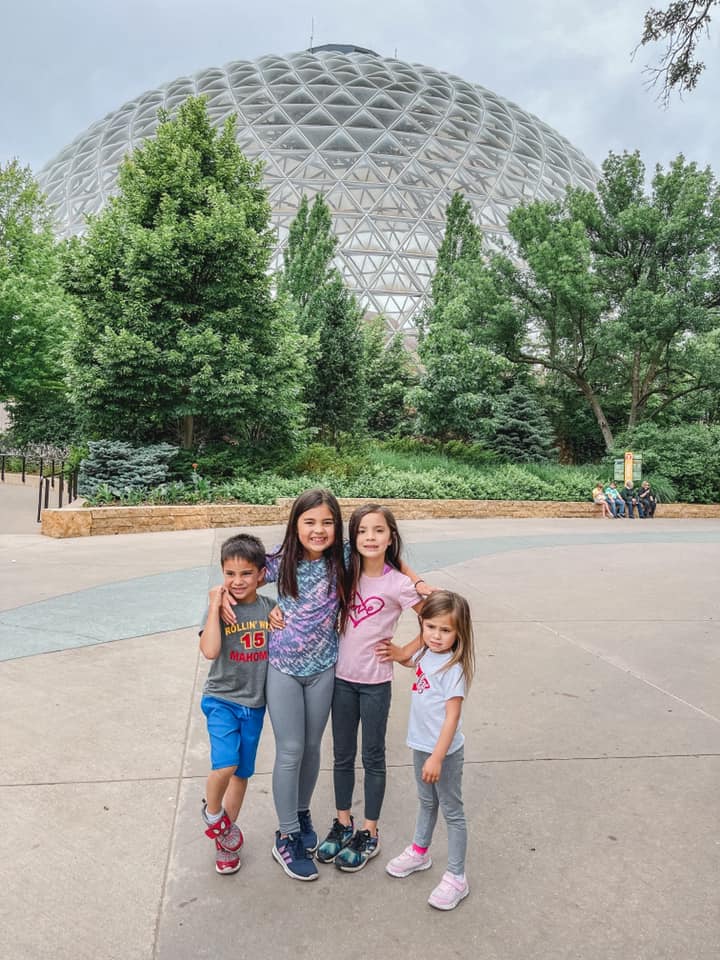 Aquarium
The Scott Aquarium is absolutely amazing and is really large!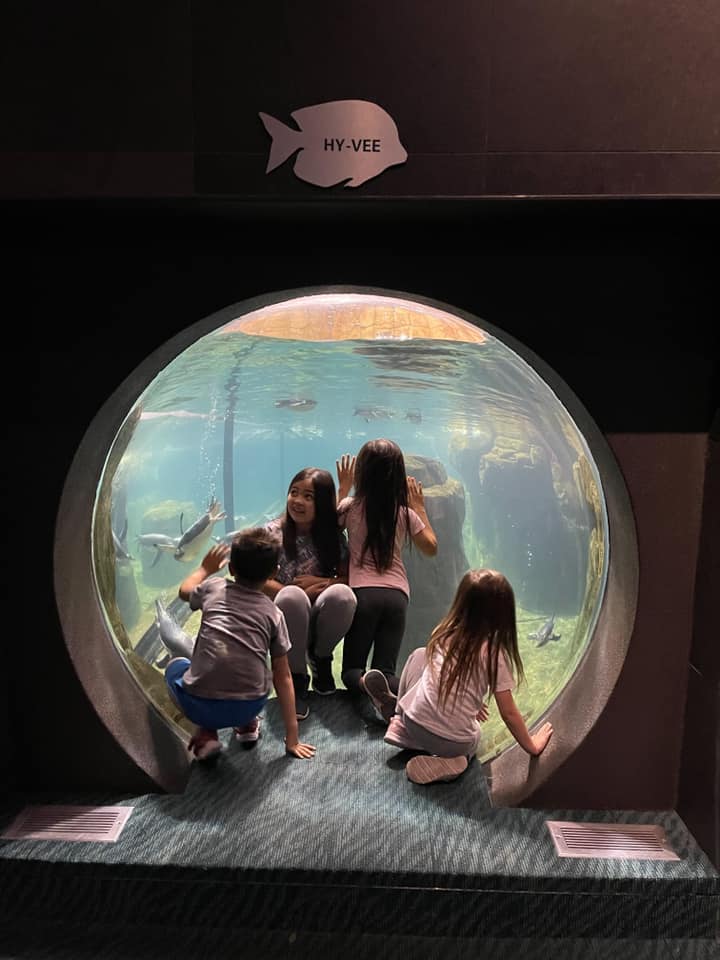 Food
There were a lot of food locations, but as you can imagine, the lines were long and food was overpriced. We backtracked to Glacier Landing Bay where there were plenty of seating locations, food stalls, playground, and ice cream store that our family was able to visit.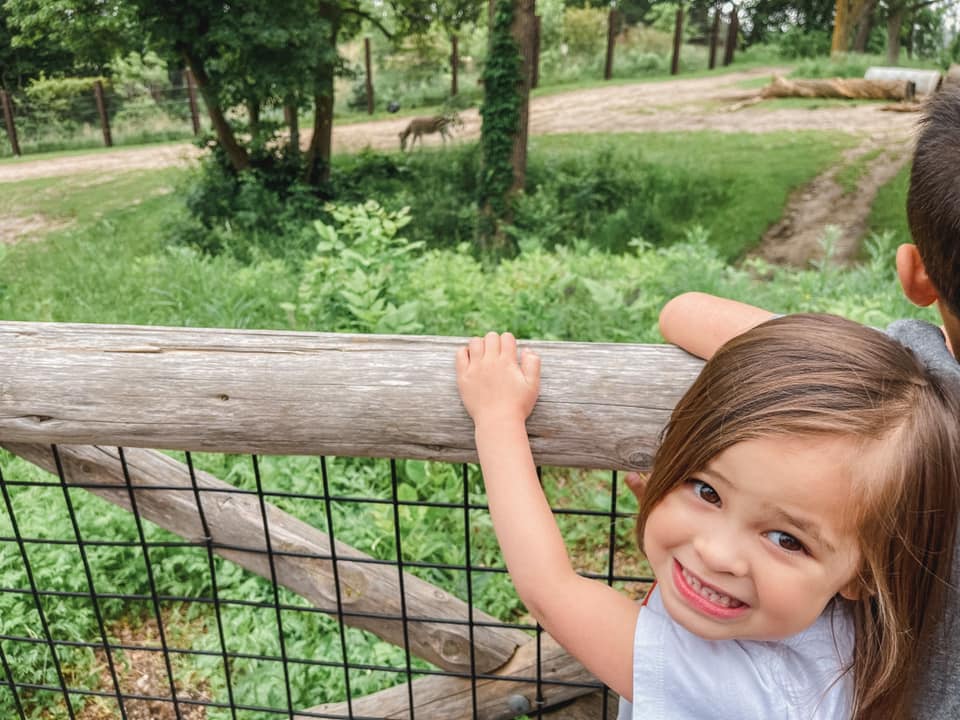 Overall Review of Omaha Zoo
We loved the zoo, but we did find it to be quite similar to our own Kansas City zoo which was 3.5 hours away.
Family Hotel with a Waterpark in Omaha Nebraska
After a really busy day, we headed to the booked Holiday Inn that I was able to reserve 4 days prior to a holiday weekend. I called directly, and they didn't have any rooms available. However, we used booking.com for a stay at the Holiday Inn Omaha Downtown that is on 1420 Cuming Street. This is not to be confused with another downtown Holiday Inn (trust me, I went to that hotel thinking that we had a reservation there).
For our family of six, they actually didn't have rooms that would fit all six of it. Since our kids were all under the age of ten, we did like most parents would, snuck the two into a room that had two queen beds. The cost including tax was $201.
The kids were able to sleep on one queen and the husband and I on the other. For a one night getaway, they were fine.
The hotel did not have any sample shampoo, conditioner, or soap, which was outside of what I expected for a Holiday Inn. There weren't too many amenities that I could call out that stood apart from any other stay.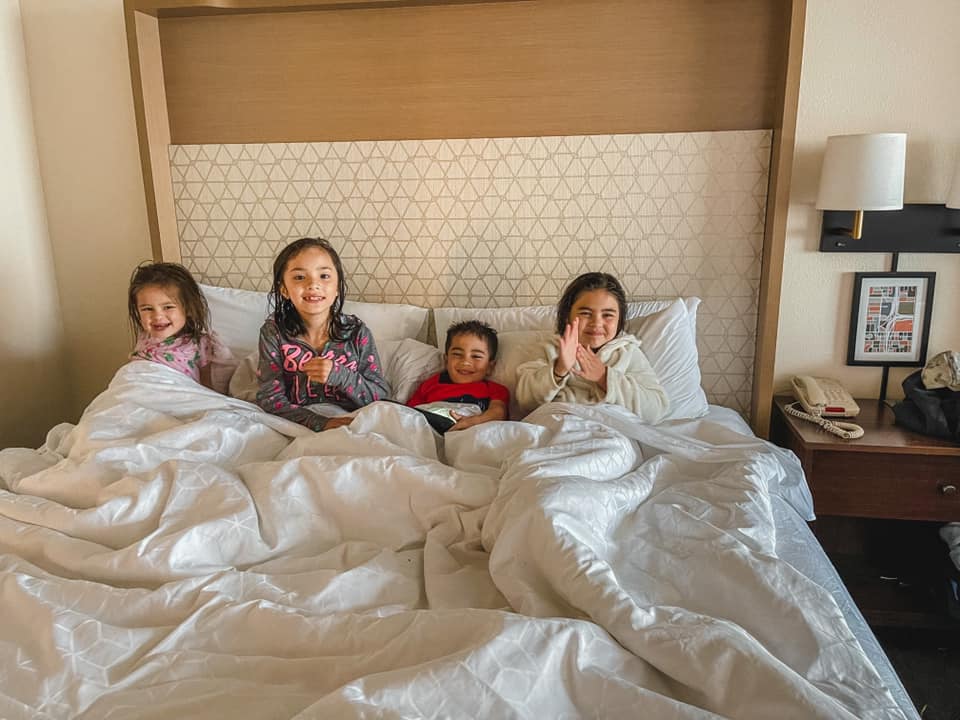 The Holiday Inn boasted a waterpark indoors for the kids. This included a splash pad, a hot tub, and a swimming pool. The kids absolutely had a blast and loved it. While it did appear to need some upkeep and maintenance, for a one day getaway, it wasn't bad.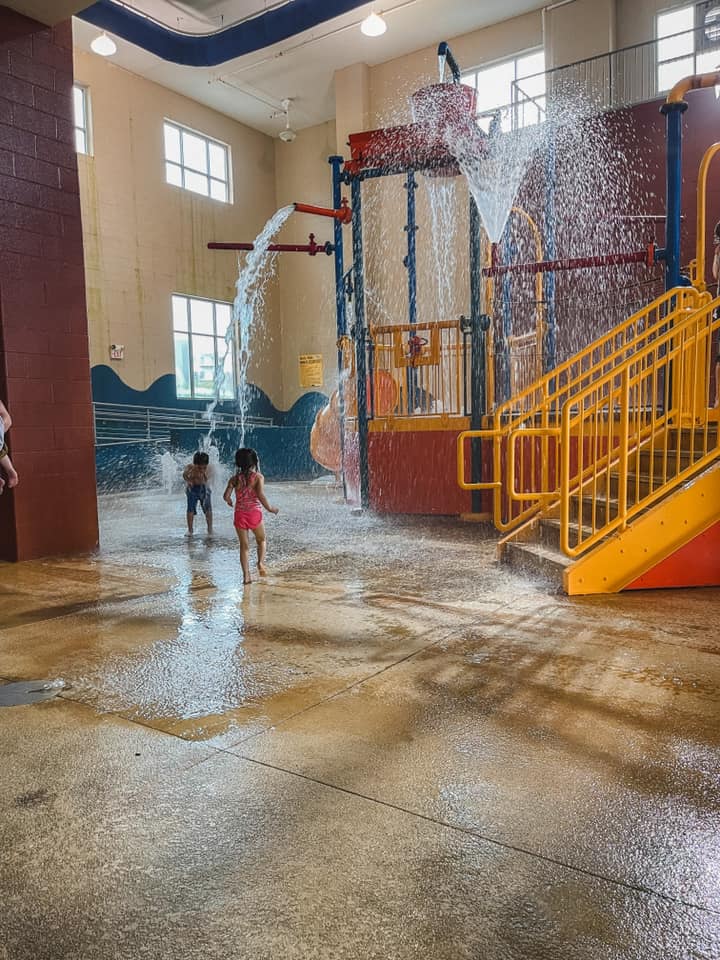 The hotel's waterpark is only open starting around 10am, so if you are trying to get a quick swim in on the last day, just make sure you are aware that it is closed until then (we unfortunately didn't realize it and the kids were deflated that morning). The waterpark price was included in the hotel stay.
Quick Pizza Takeout
We got brick oven pizza at a local pizza restaurant . It was good (not great). We loved that we didn't have to clean up the kids to go out to dinner. Having the ability to order pizza on the way out of the zoo and pick up on the way to check-in to the hotel was awesome!
We spent most of the rest of the night swimming and playing in the splash park.
Breakfast at Early Bird
The next morning, we decided to make a day in Omaha before we headed back in the afternoon.
We had a friend that lived in Omaha recommend us some of his favorites for breakfast, and his recommendation did not disappoint.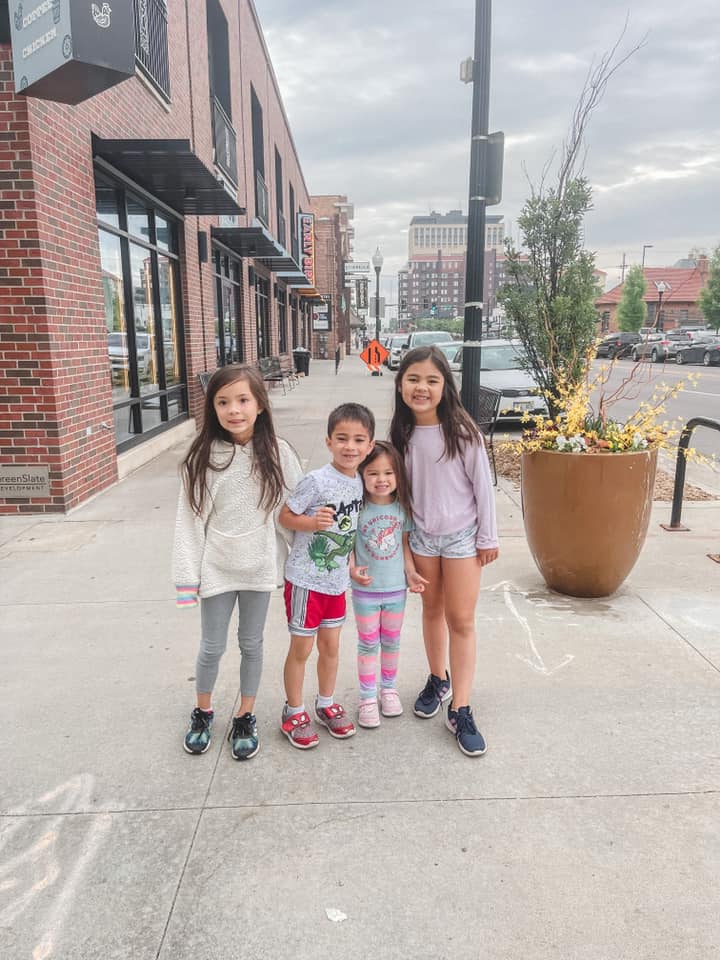 Early Bird was absolutely delicious and the kids loved their meals as well.
I got the eggs benedict and it was absolutely divine!
Bob Kerrey Pedestrian Bridge
Next, we went to Bob Kerrey Pedestrian bridge (also known as the Footbridge), which is a 3,000 foot long, 15 foot wide bridge with an s-curved cable-stayed bridge that's an easy walk. It's the first ever pedestrian bridge to connect two states, where kids can have one foot in Nebraska and another foot in Iowa. Whether you are a pedestrians or a bicycle rider, you can travel from the Port of Omaha's Miller Landing in Omaha to One Renaissance Center in Council Bluffs, and connects more than 150 miles of nature trails.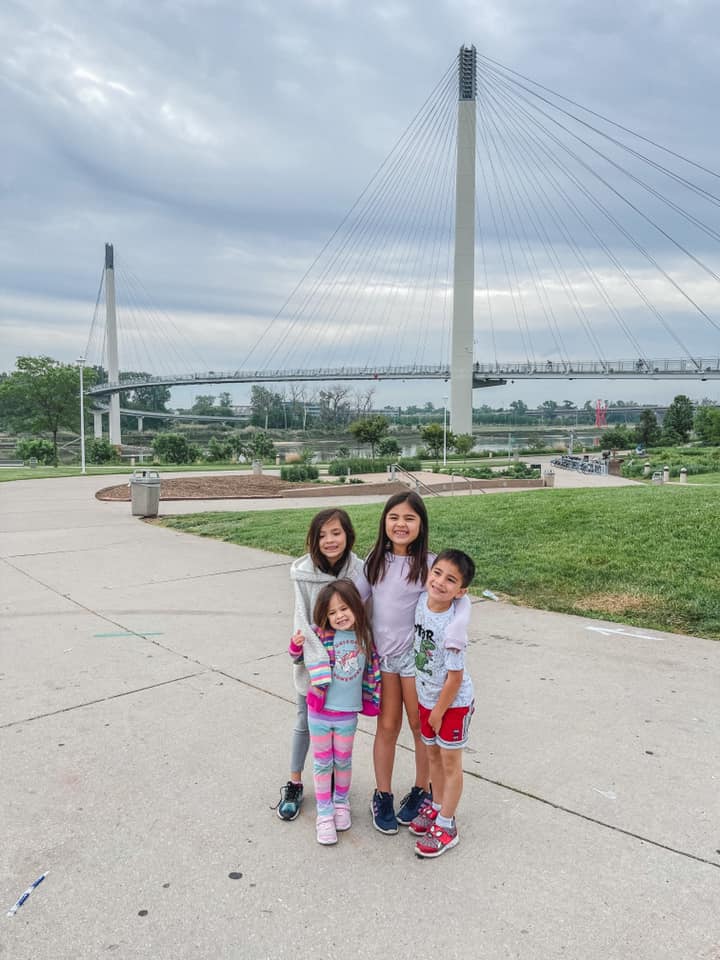 Kenefick Park (Union Pacific Train Park)
When you head into Omaha, on the rock bluff you may see a few trains well positioned from the highway. To get to it, you'll be directed into what seems like a neighborhood to 100 Bancroft Street. It's located in the parking lot of Lauritzen Gardens. So if you have time, you can time your visit so you can visit the gardens at the same time.
There is a tall staircase with an accessible ramp for those that need it. The staircase lines up the history of the railroad, which is super educational and fun to read.
Kenefick Park is home to Union Pacific's Centennial No. 6900 – the most powerful diesel-electric-powered locomotive – and Big Boy No. 4023 – the world's largest steam engine. The locomotives showcase the area's rail history, as well as serve as greeters to people driving by on Interstate 80.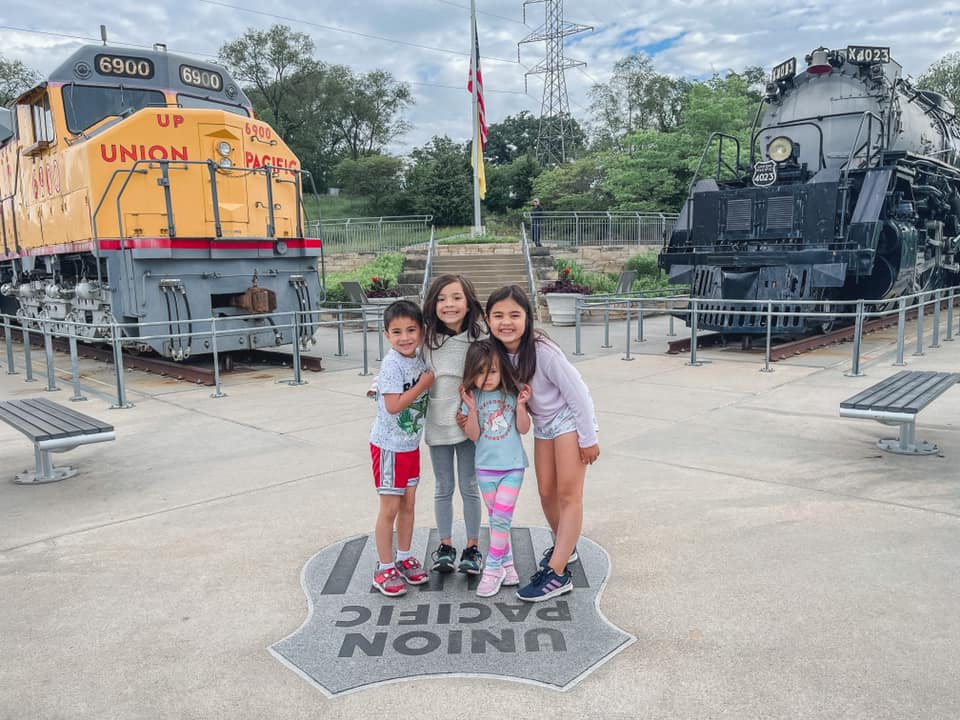 Summary
If you ever hear about visiting Omaha, Nebraska, give it a chance because it's a city worth exploring just for a day with delicious restaurants, fun activities, and a lot of history.