Still Waters Resort in Branson, Missouri is listed as one of the best places for families with kids to stay. I'm sharing with you my best tips with our family of 2 adults and 4 kids of our amazing stay at this resort.
A few months ago, I asked my Facebook friends on the best places to stay with kids in Branson. There were two resorts that came up time and time again: Still Waters Resort and Big Cedar Resort. In 2019, we had stayed at Big Cedar, and this year we wanted to try out Still Waters on our own as well.
Our family is from the Kansas City metro area, so a trip down to Branson wasn't a big thing for my husband and I, but it felt like a big vacation for our kids who at the time of the stay were 4, 6, 8, and 10.
I'm sharing with you my honest review of the resort and the amenties they had to offer. The best part of this resort specifically is that it's less an 3 miles from Silver Dollar City!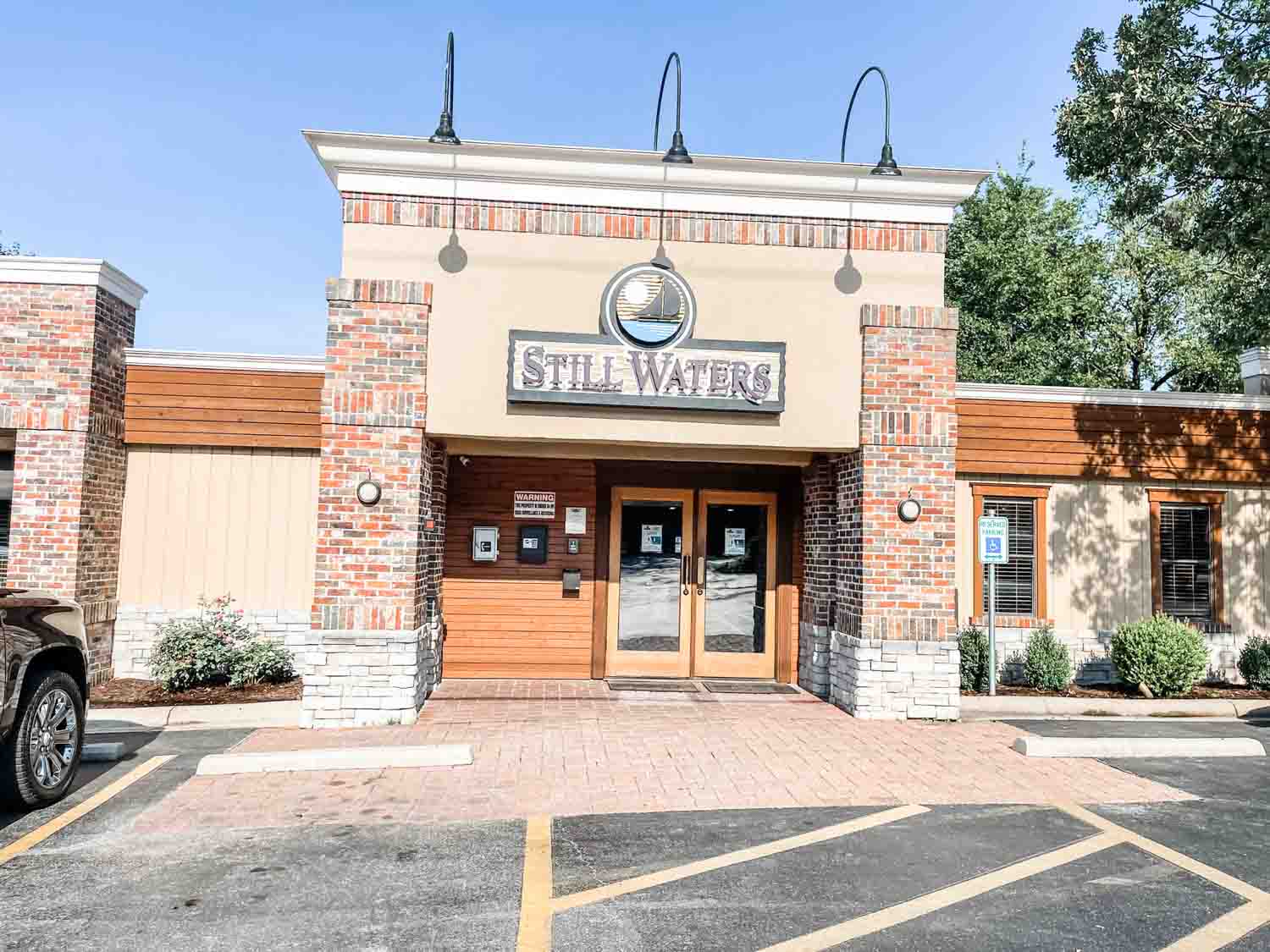 Essential Tips for Making the Most of Your Stay at Still Waters Resort
When to Book a Stay at Still Waters Resort
Many Kansas City and St. Louis natives will make Branson a year round vacation spot. Summer obviously for swimming at the lake and winter for the over one million beautiful Christmas lights at Silver Dollar City. I would recommend booking at least three months in advance.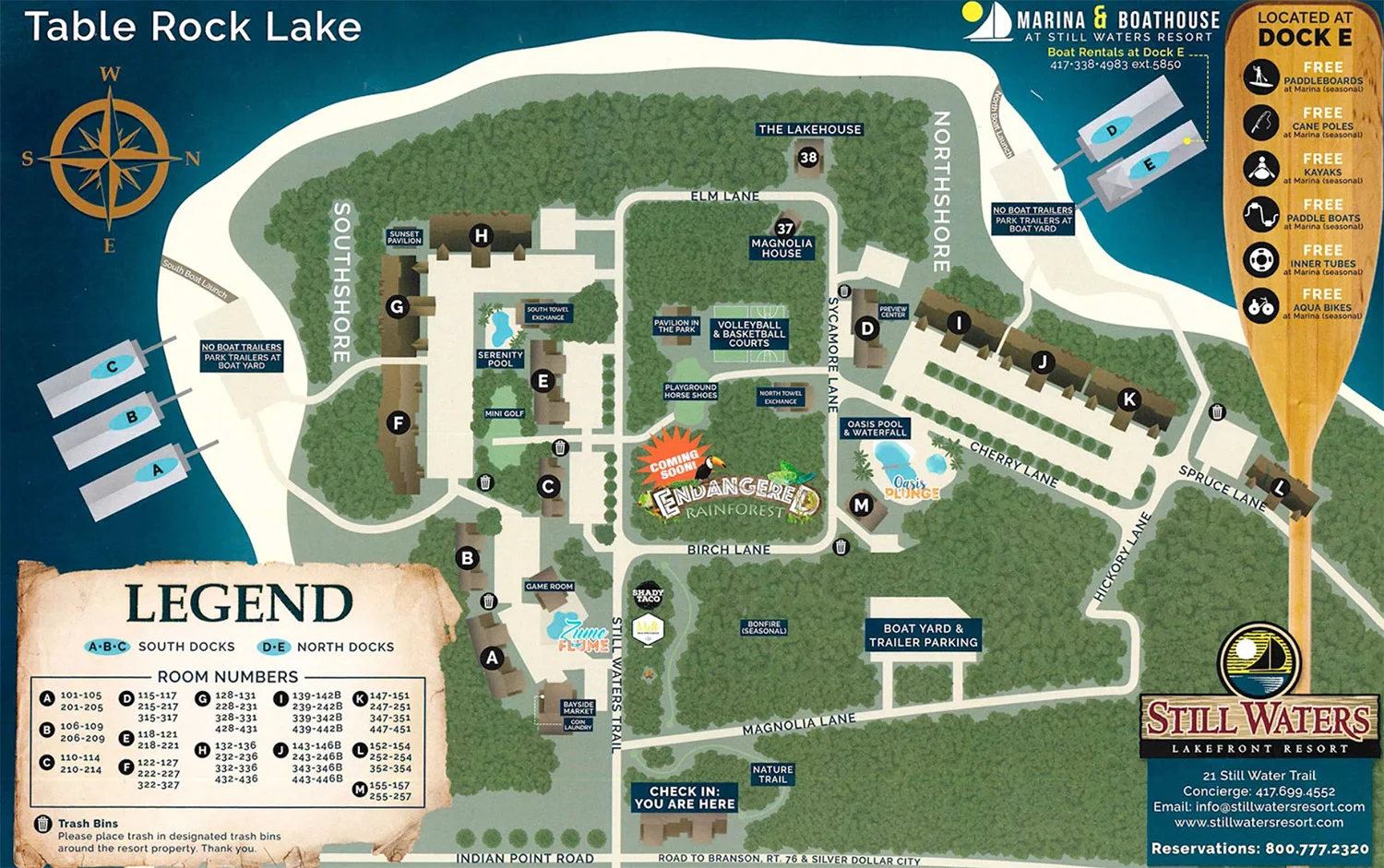 Room Options Available
These are the room options available at Still Water Lakefront Resort:
2 Bedroom Lakefront Condo
2 Bedroom Lakefront Condo
2 Bedroom Building D
Luxury 1 Bedroom Lakefront Building G
1 Bedroom Lakefront
Studio w/ Jacuzzi and Kitchenette
The Lake House
The Magnolia House
Yes, there are "houses" that you can rent that feel like an amazing deal. We booked the 2 Bedroom Building D on the third floor and it was an amazing stay.
Some of these buildings do NOT have an elevator, so if you are in need of one, just be aware that they do have accessible rooms, you'll need to ask to see if they are available.
Still Waters Resort Room Amenities for 2 Bedroom
For the 2 Bedroom in Building D, this is what we had when we arrived:
Master Bedroom with a king size bed
I didn't get a picture of this space, but it looked pretty much very similar to the one below for the secondary room.
Secondary Bedroom with two queen bed
The beds in the second bedroom were pretty comfortable and spacious. I was able to fit my nine and ten year old in this bed. I don't think it would be comfortable for two adults per bed though.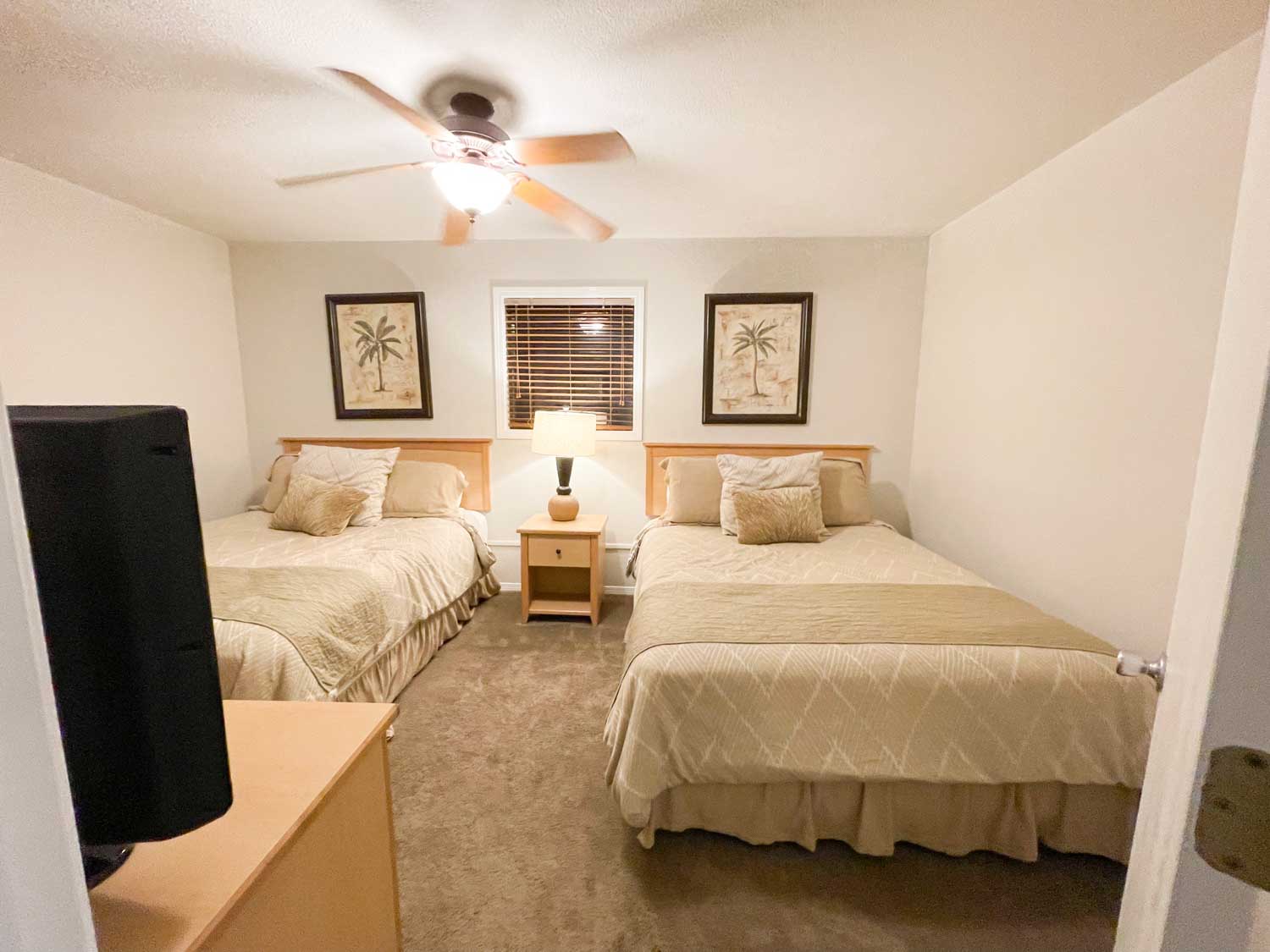 Sofa with Pullout Bed
The kids absolutely loved the sofa will a pullout bed below. It was almost like having movie night all over again. I will say that the internet was not the greatest at this resort. If you are looking to work while you stay here, you might want to confirm the network latency because it was not able to handle me checking work via VPN.
Refrigerator, Stove, and Washer/Dryer
In the image below, you can see that there was a stove, dishwasher, and refridgerator. On the far left white door, you'll notice a bathroom. And the door next to that was a washer and dryer, which came in super handy!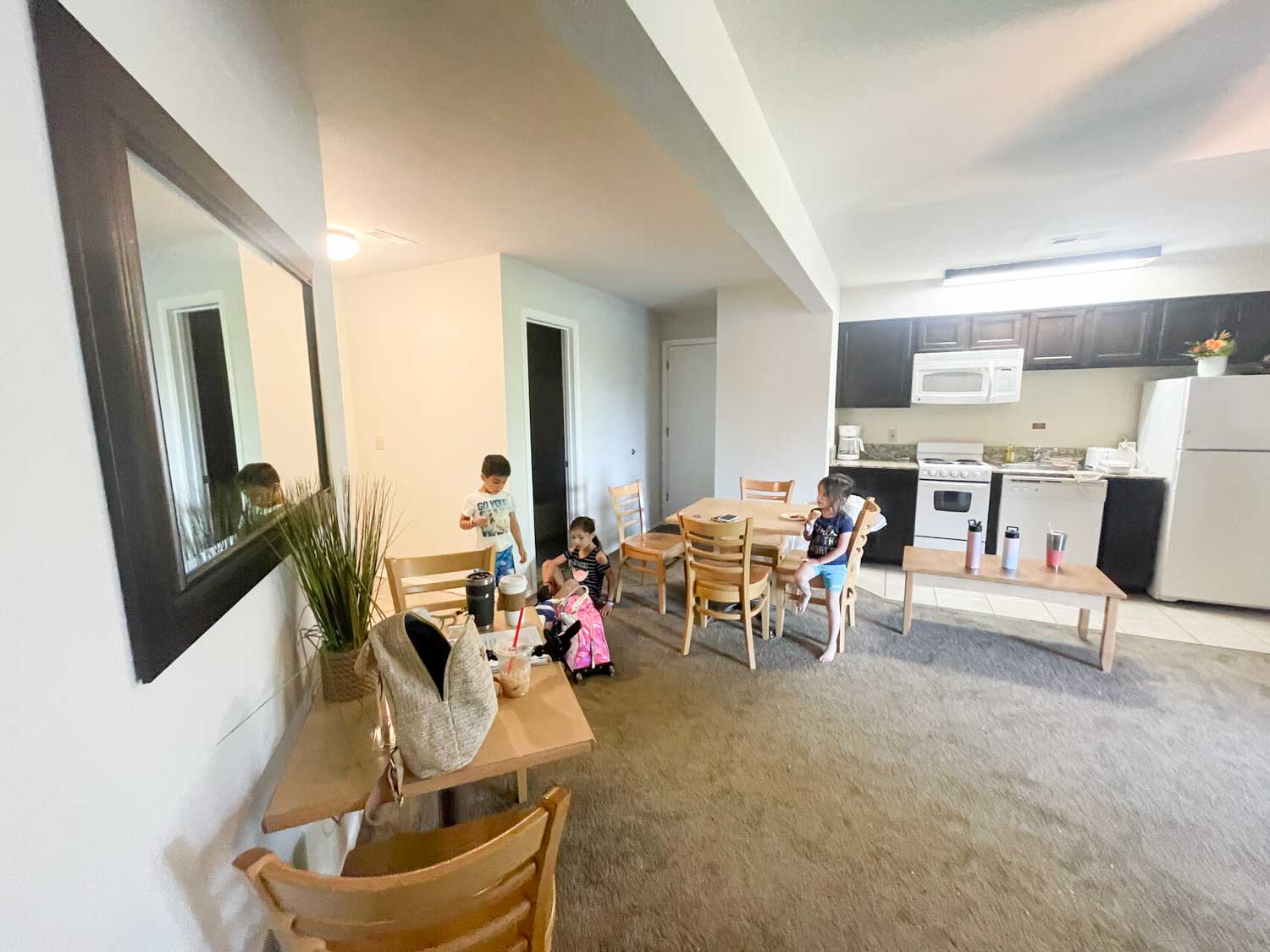 2 Bathrooms (one of them in Master Bedroom)
The bathrooms were well stocked with towels for the six of us. It was spacious and clean.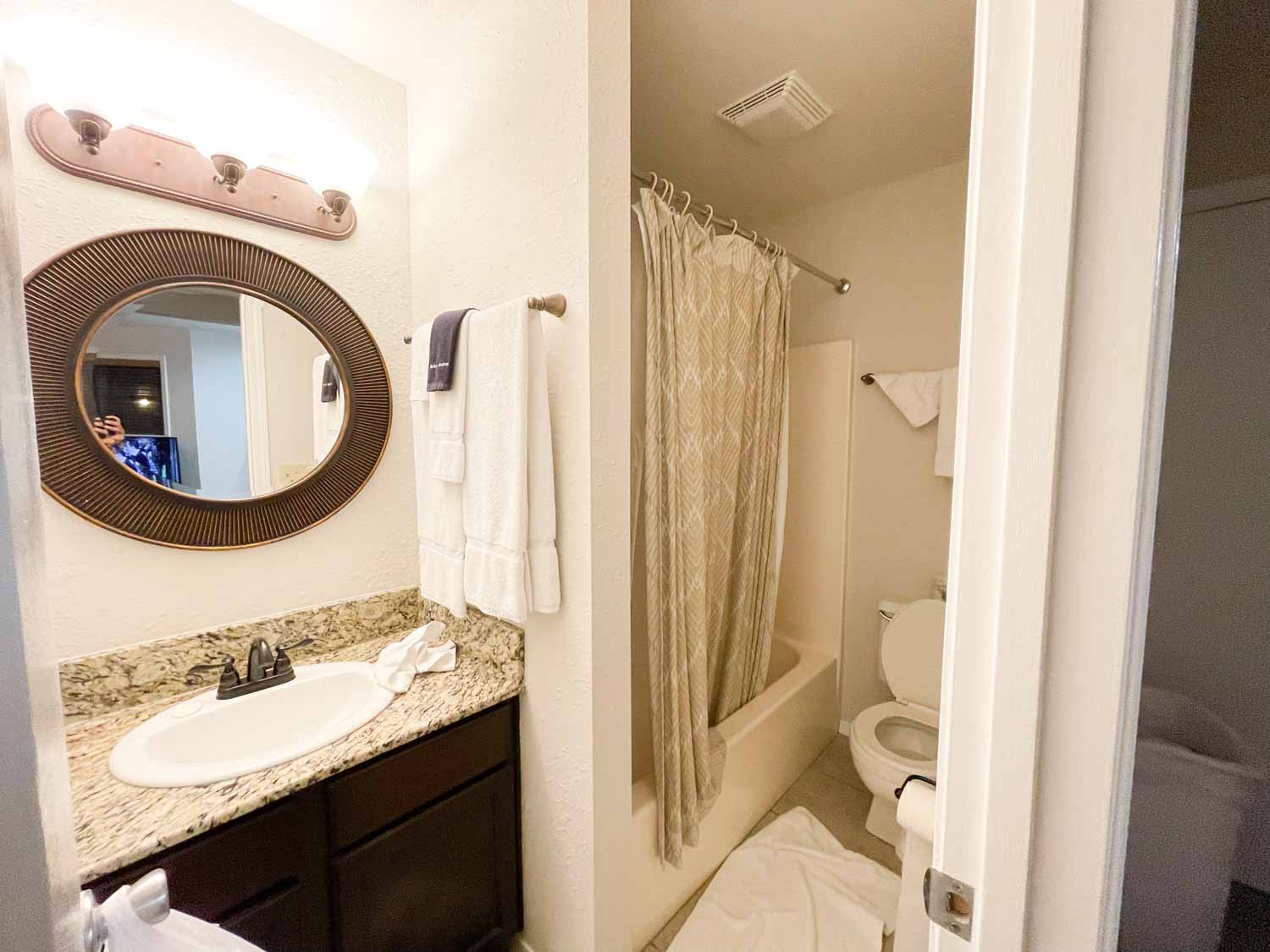 Wide Outdoor Verandah
You can see the verandah's in this pool picture.
Booking at Still Waters Lakefront Resort
Still Waters Resort requires a deposit of the first night including tax and a $20 resort fee for any stay three nights or less. A deposit of the first two nights including tax and a $20 resort fee for any stay longer than three nights is required to secure a reservation. You also must be 25 years of age to rent accomodations.
Rooms are non-smoking
Must be 25
Visitors of registered guest must have a $30 day pass
No fraternities or sororities are allowed
Cancellations are refundable less a $25.00 fee as long as there is a 21 day advance notice. Here was a partial screenshot of the booking so you have an idea. This was in June of 2021.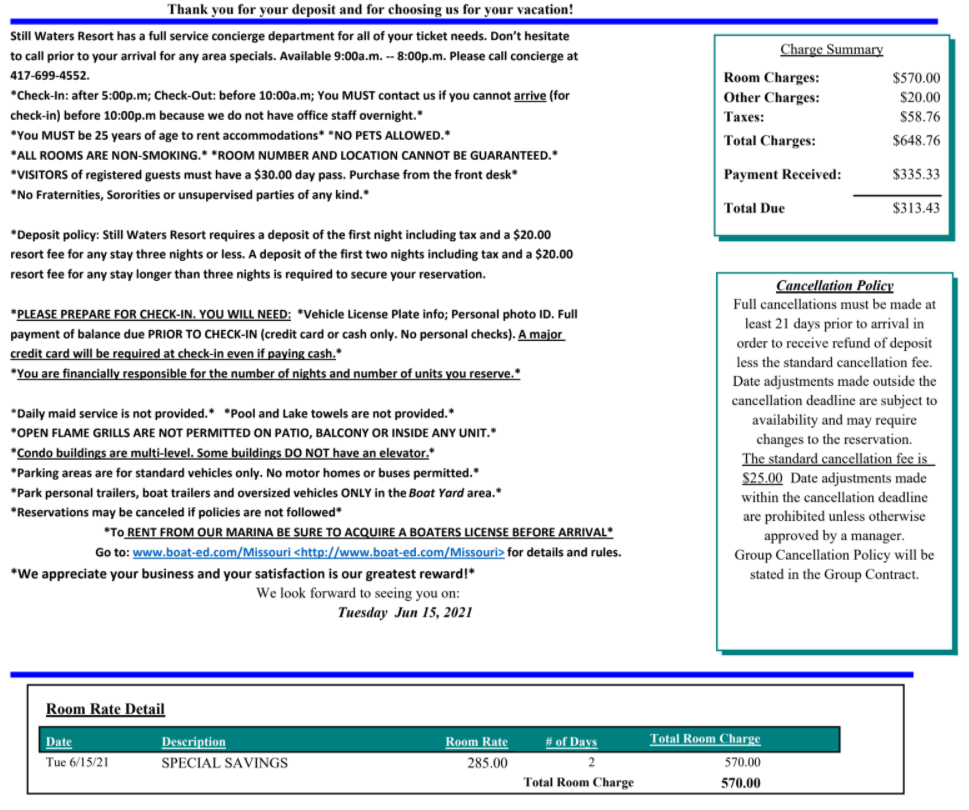 Checking In
Make sure you bring your credit card, ID, and take a picture of your license plate (trying to save you time here!). Resort check-in is 5pm - 10pm. Checkout is by 10:00am.
What Is Not Provided at Still Waters Resort
Maid Service is not provided, so you'll have to exchange towels in the linen exchange area. We didn't do this because we didn't have a need - even with 6 people, we were able to use the towels that were previously provided.
Food at Still Waters Resort
There are two options for food at Still Waters Resort and we tried both, and both were DELICIOUS. I normally don't say that about on property food, but it was delicious.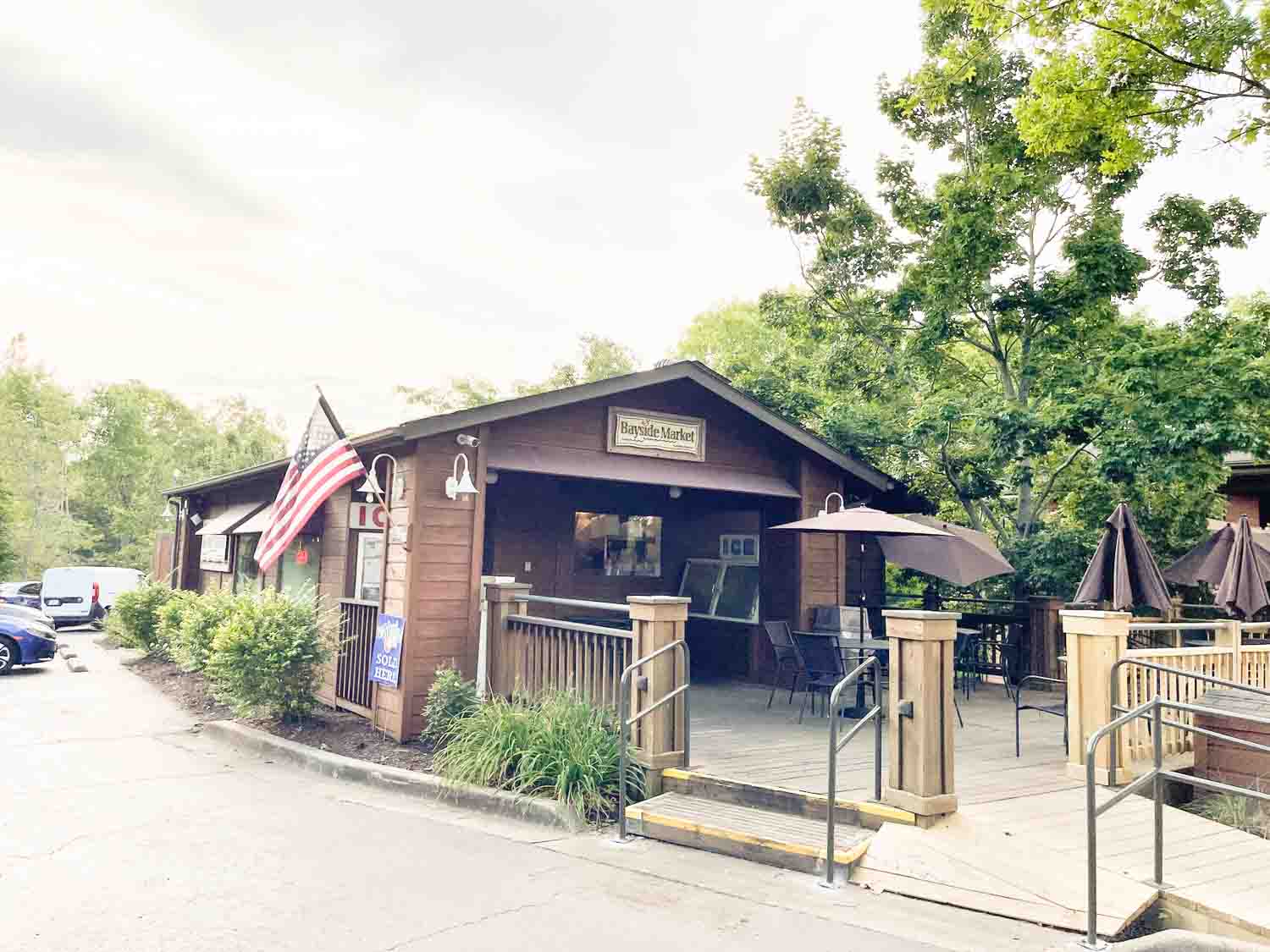 Pizza World (inside Bayside Market)
It takes them around 10-15 minutes to bake a pizza and our family loved it. They also had chicken wings that were also delicious. You can't really go wrong there. Pizza World is located inside a convenience store that has basic essentials you could buy if you forget anything.
Bayside Coffee
Okay, this is my biggest gripe. I'm an early riser (5:30am most days), which means that I really need coffee before the day starts. The coffee area doesn't open until 8am!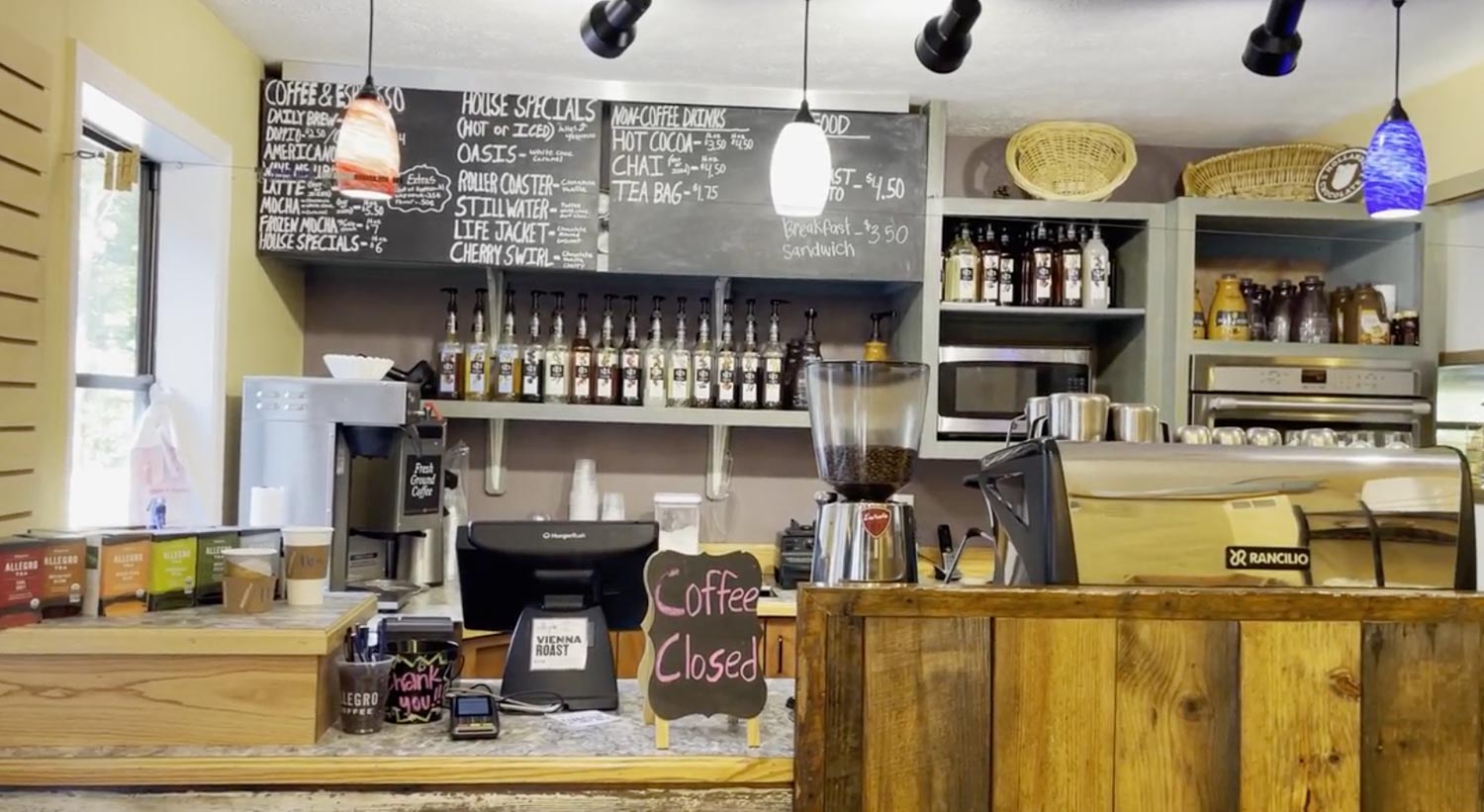 Shady Taco and Grill
This is a bright yellow food truck that you need not miss. We almost skipped out on it, but glad we didn't. We had the fish and asada street tacos, and they were out of this world. We also got the trio dip which included cheese, guacamole, and salsa. My hubs says that the salsa was 100% legit.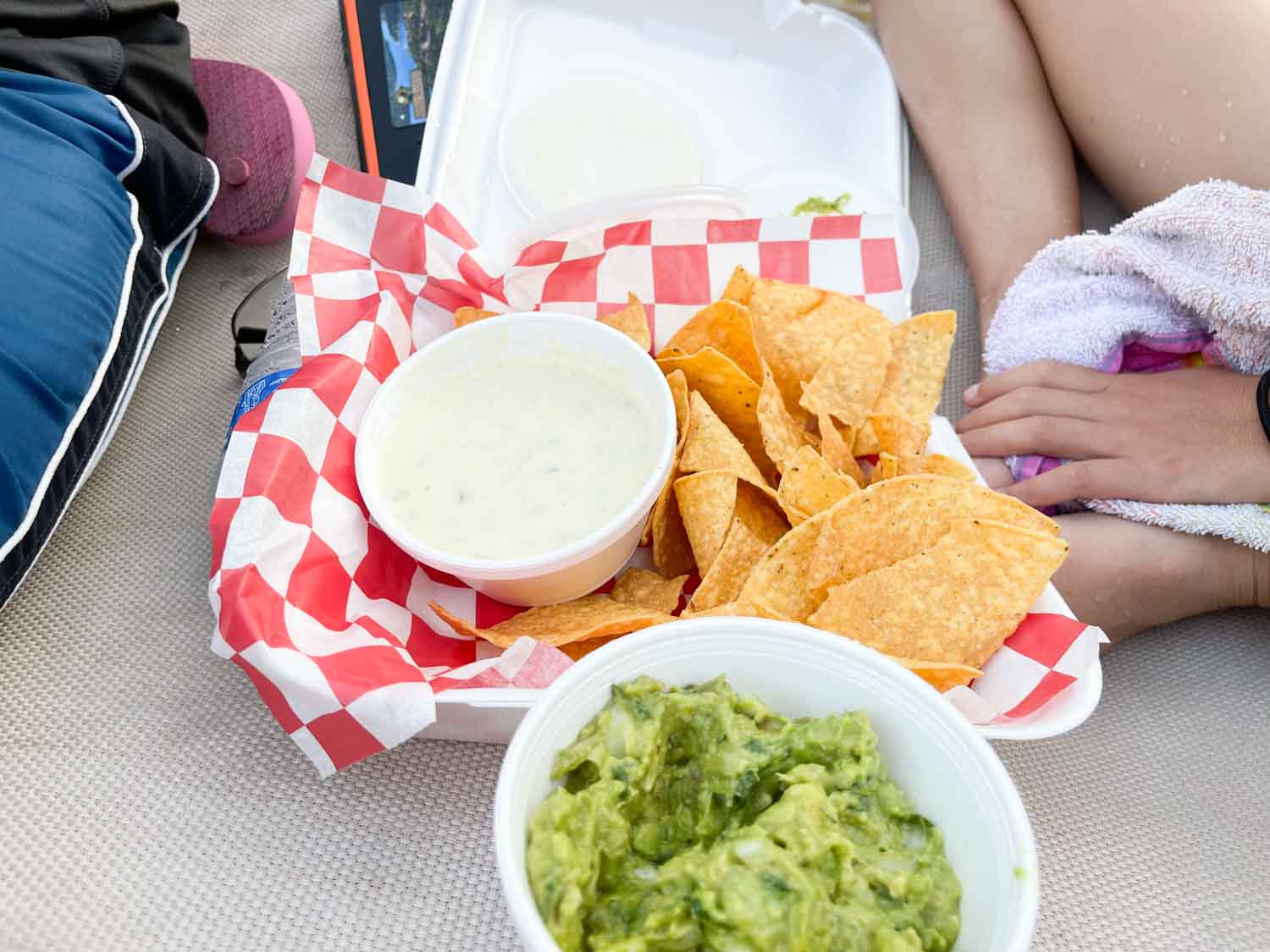 Pools at Still Water
Oasis Pool, Plunge, Waterfall, and Hot Tub
This Still Water Resorts pool is the BEST for kids who want water sides and just other kids to be around. They had the Oasis Plunge, and even my just turned four year old rode it and had a blast. The waterslide isn't one that dumps into a pool, rather there is about 6 inches of water at the bottom where the slide stops.
At it's deepest, the water goes 3.5 feet deep. The water is pretty shallow for part of it, which makes it pretty safe for your little ones. My kids absolutely loved the slides, waterfall, and bridge that they could walk over.
There is also a bar in this area as well. There were plenty of lounge chairs, so we never had to not go without one, but it was just literally a place to store our stuff. There are also day beds (a little ways from the pool) that you could use.
In addition, in that same area, they have the hot tub. It's not the hottest hot tub I've been in. It's a pretty popular spot, so you either want to be with people or you don't. I think having more than 10+ would be to many people in the hot tub.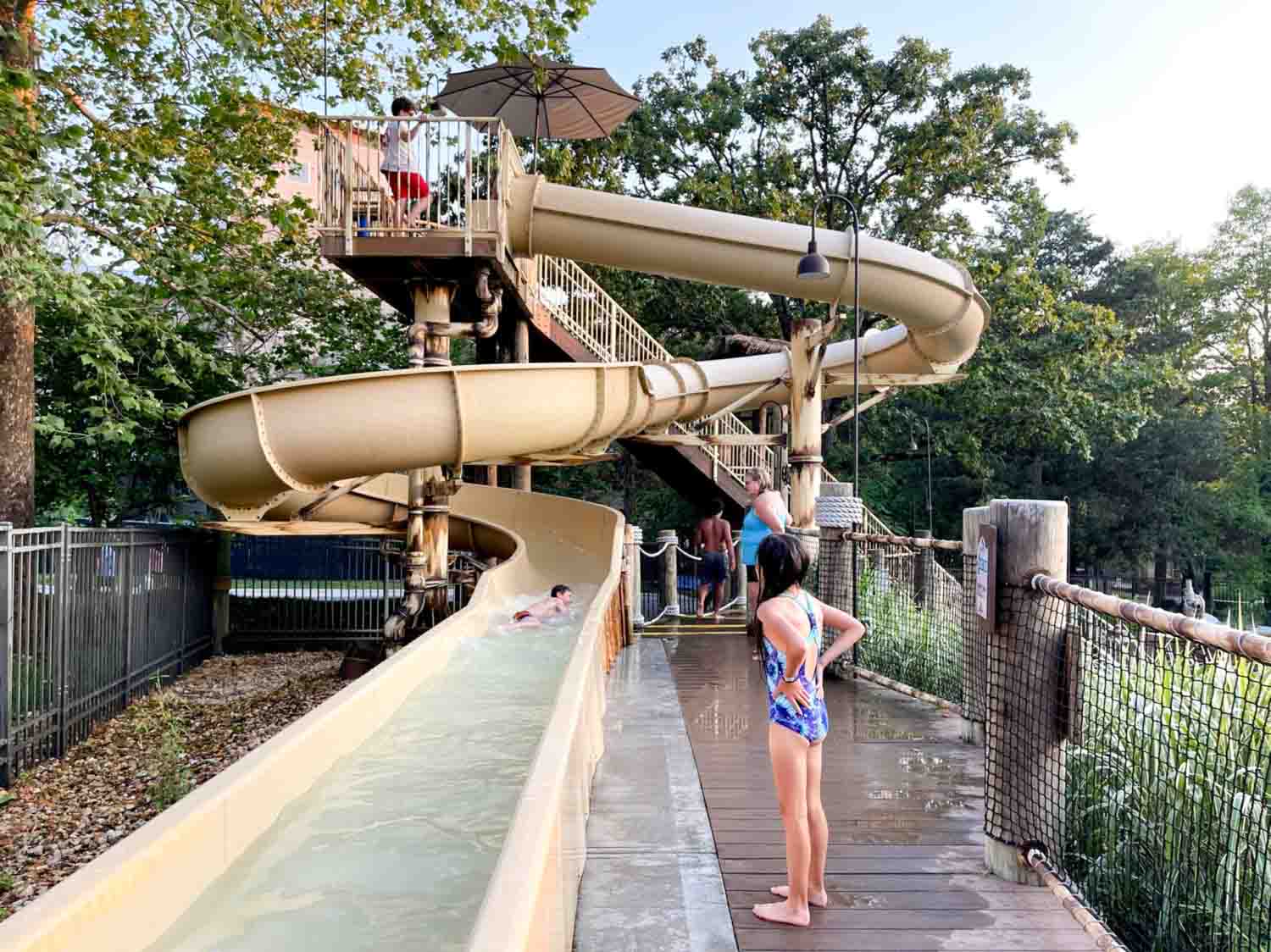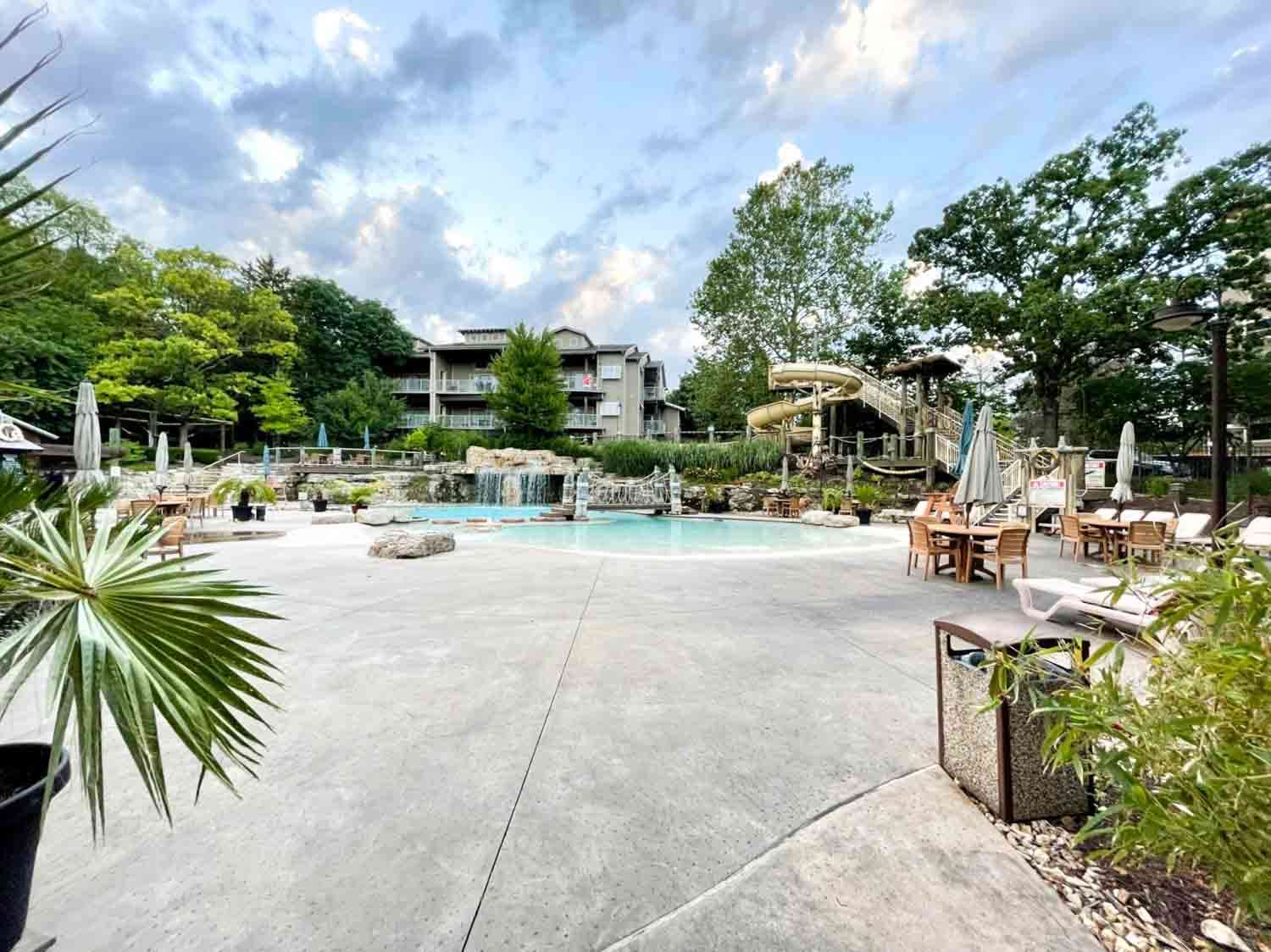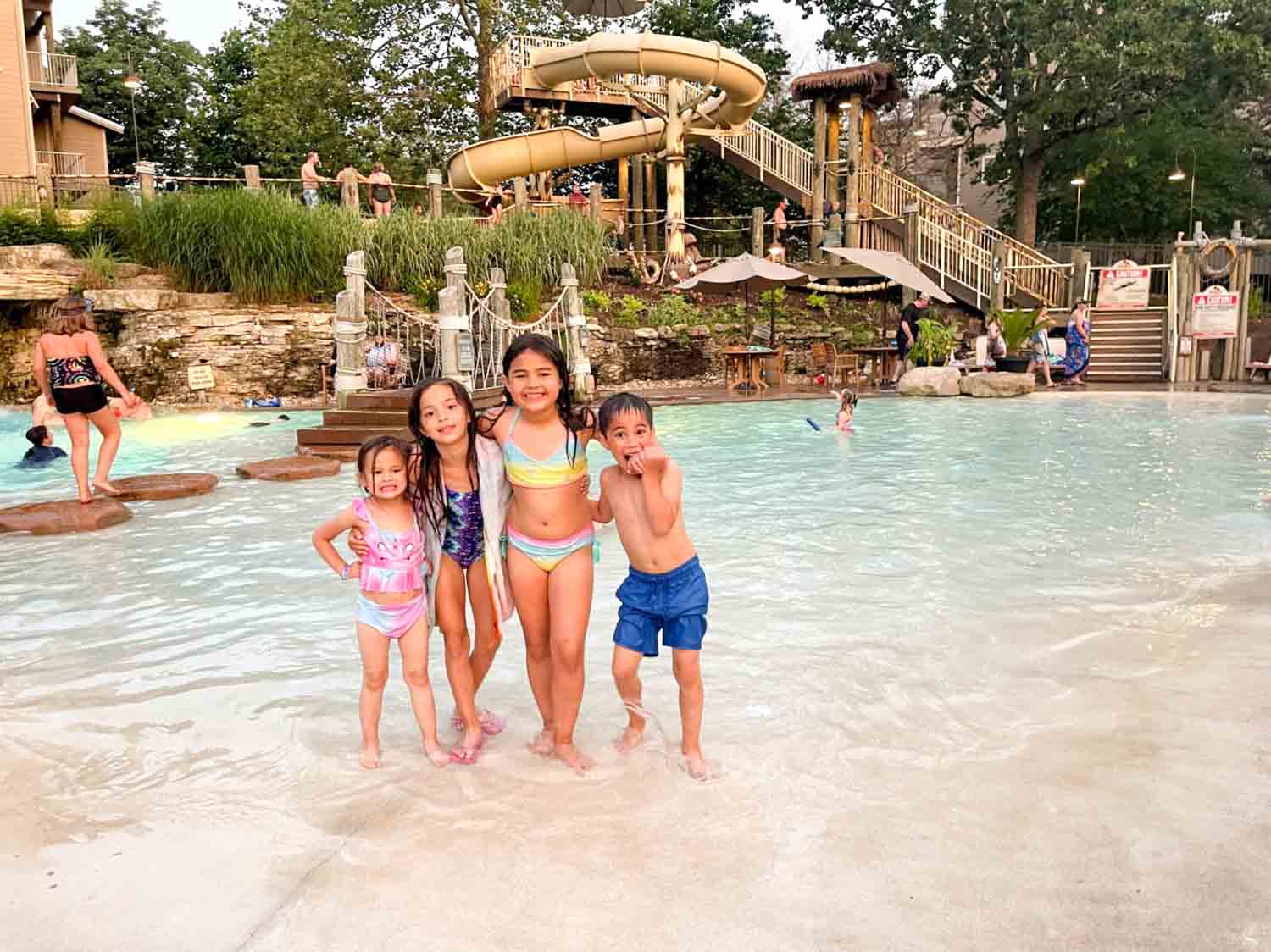 Zume Flume Pool
This is the pool across the street from the Taco truck and the small convenience store. If you wanted a place with less people, this might be it. It doesn't have anything else other than a single water slide.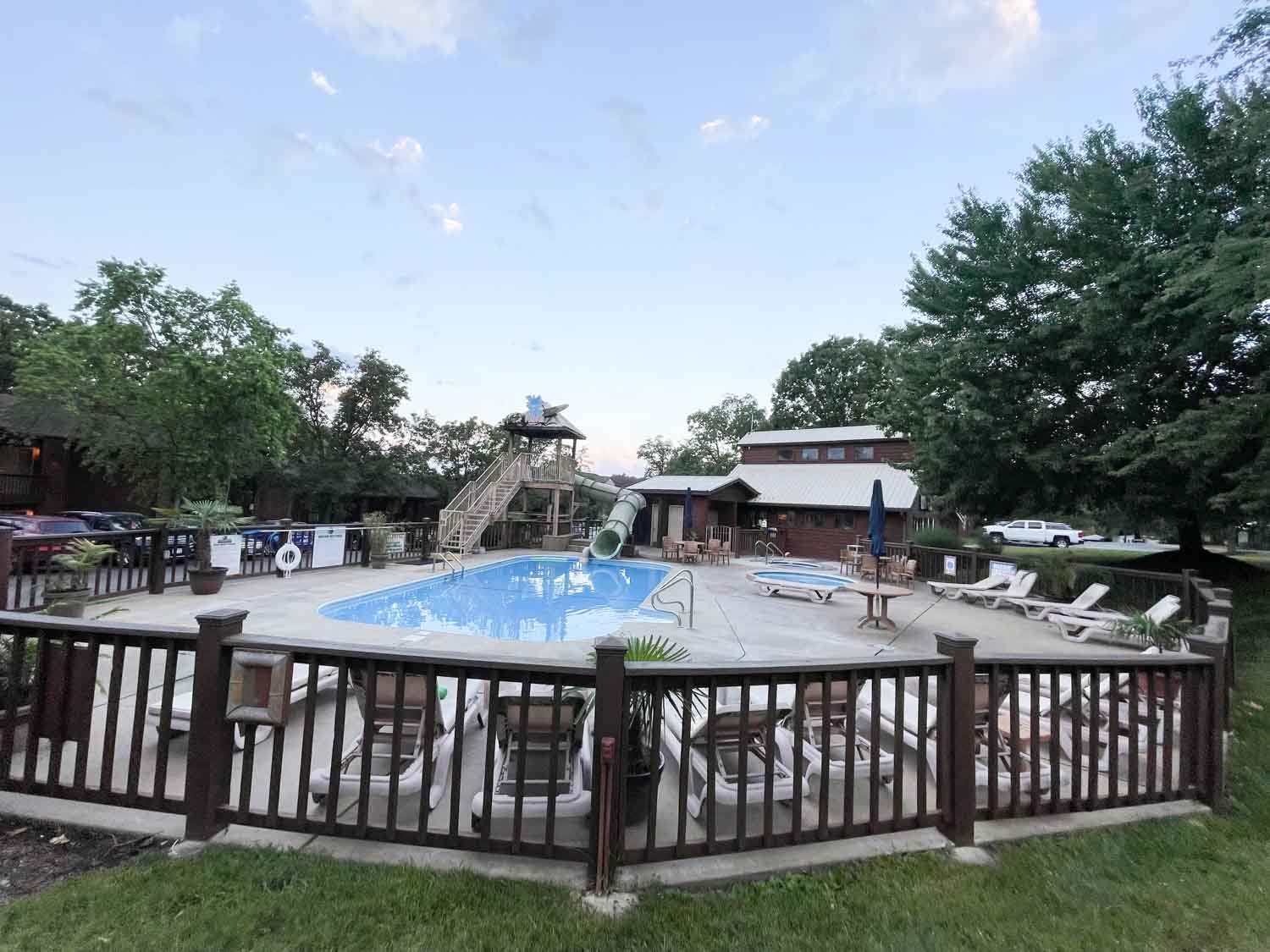 Serenity Pool
If you are looking to get away from kids, this is the pool to be at. No crazy slide, just a simple pool.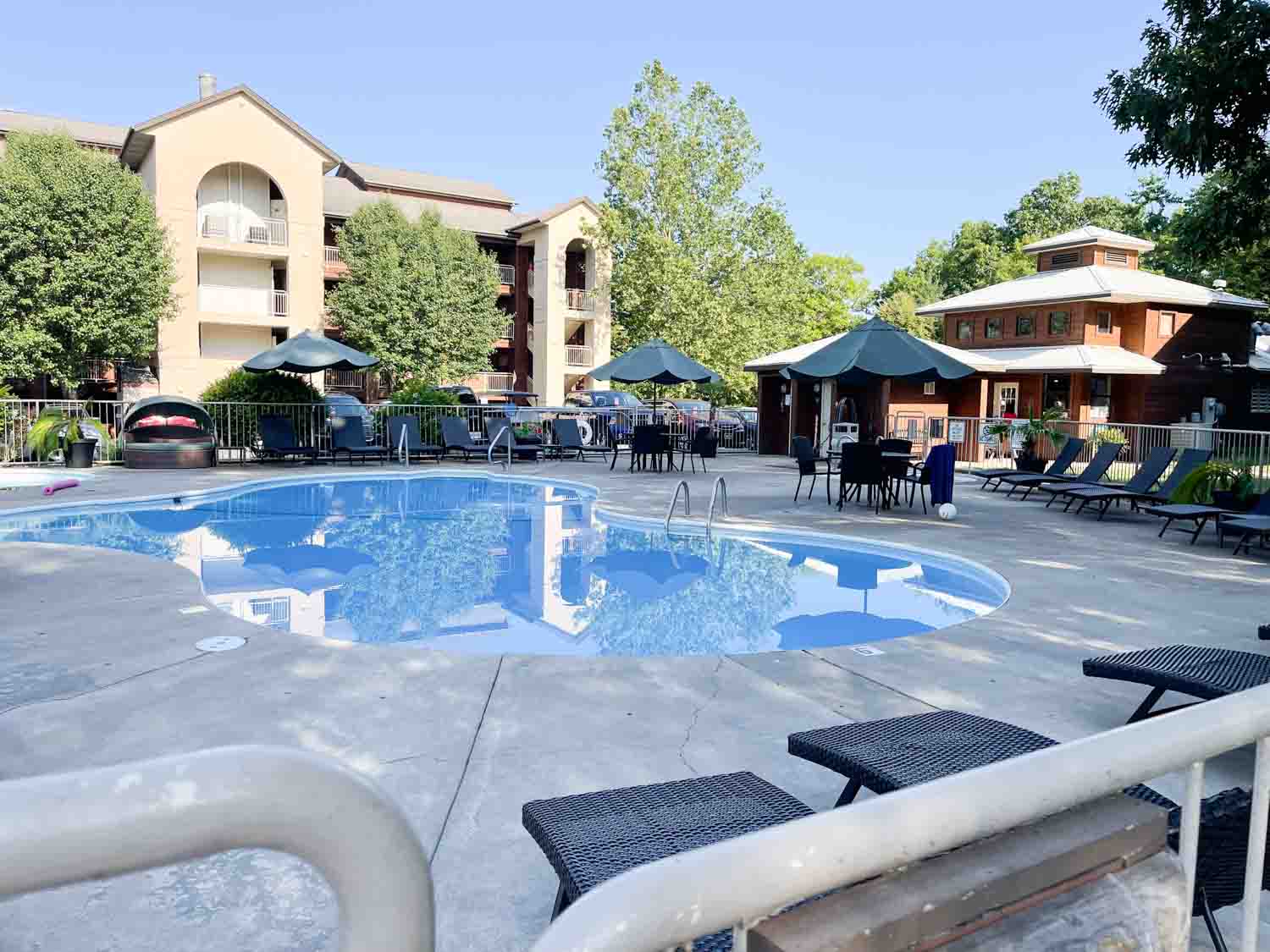 Under Construction: Indoor Pool at Still Waters Resort
This is supposed to be an indoor pool that they are building. My guess is that they are trying to get more people to stay here for the Winter Christmas festivities, which is obvioulsy a smart choice.
Marina Activities for FREE at Still Waters Resort
When we checked in, they gave us a $100 discount card for some of the activities that were available. You can check out a list of all of the amenities that are available on this link here.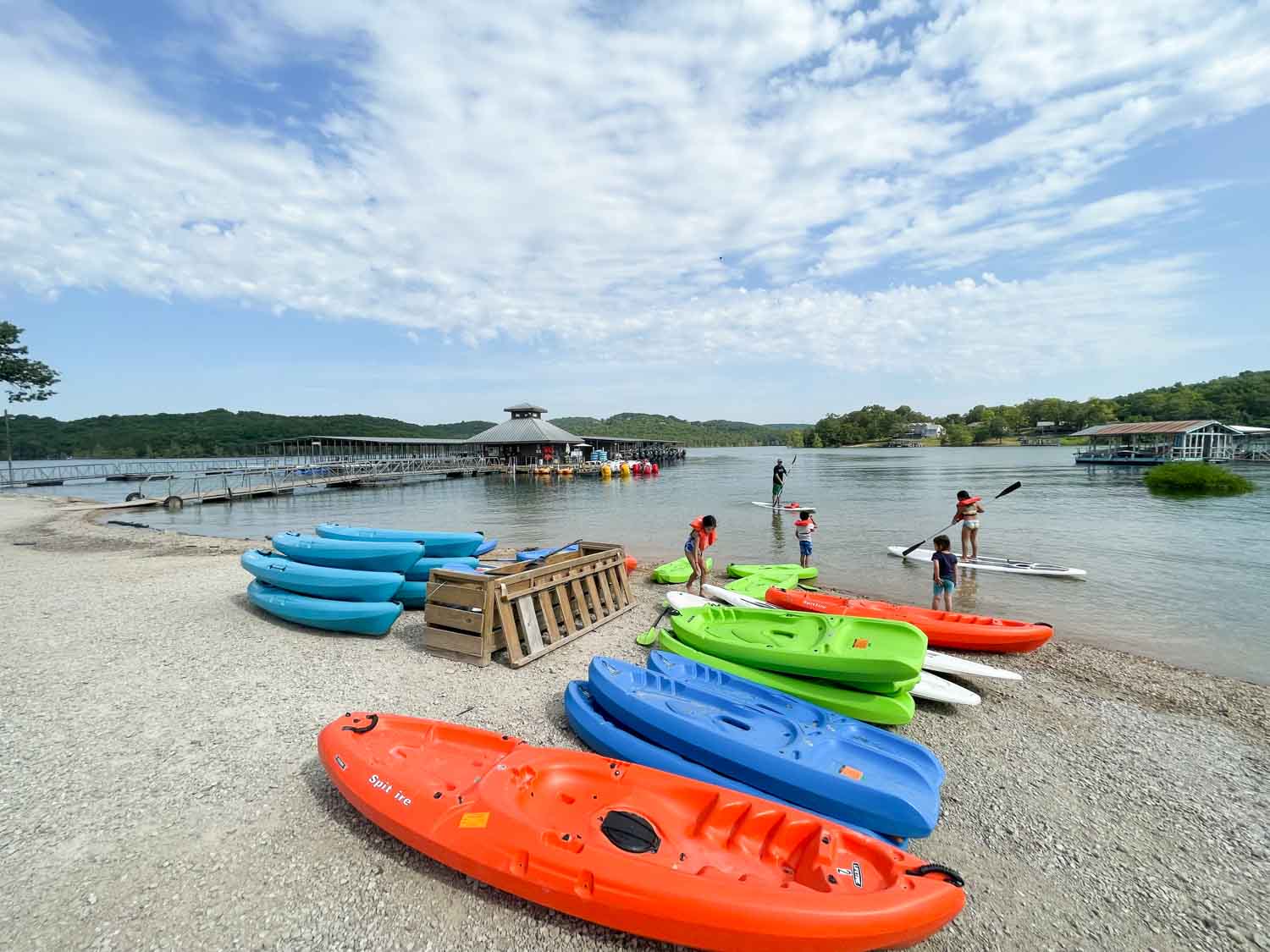 For example, you can explore Table Rock Lake using free aqua cycles, paddleboats, balance on top of the water with paddleboards, and kayaks (for free).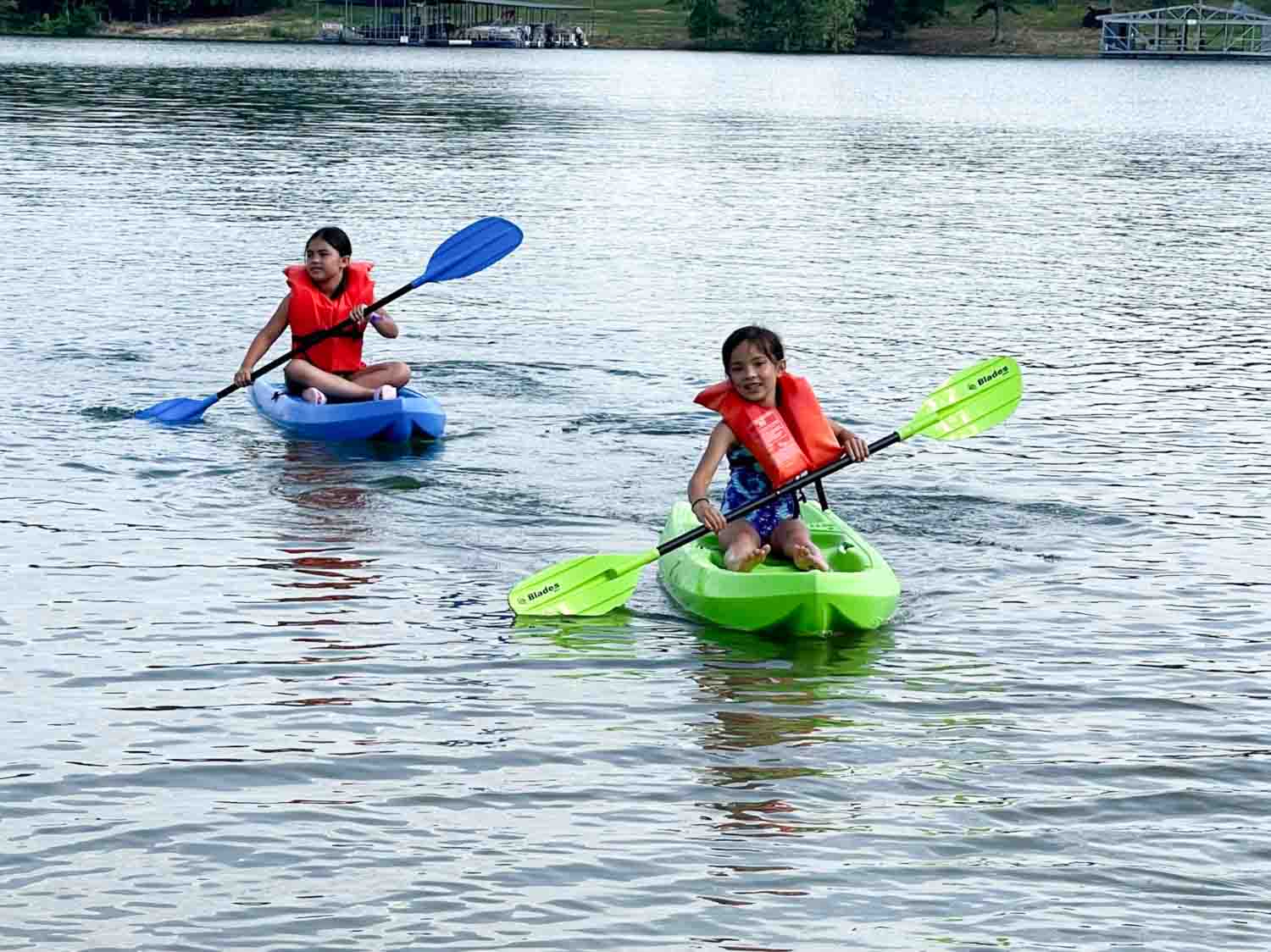 They also have inner tubes, cane fishing poles, hiking trails, and so much more!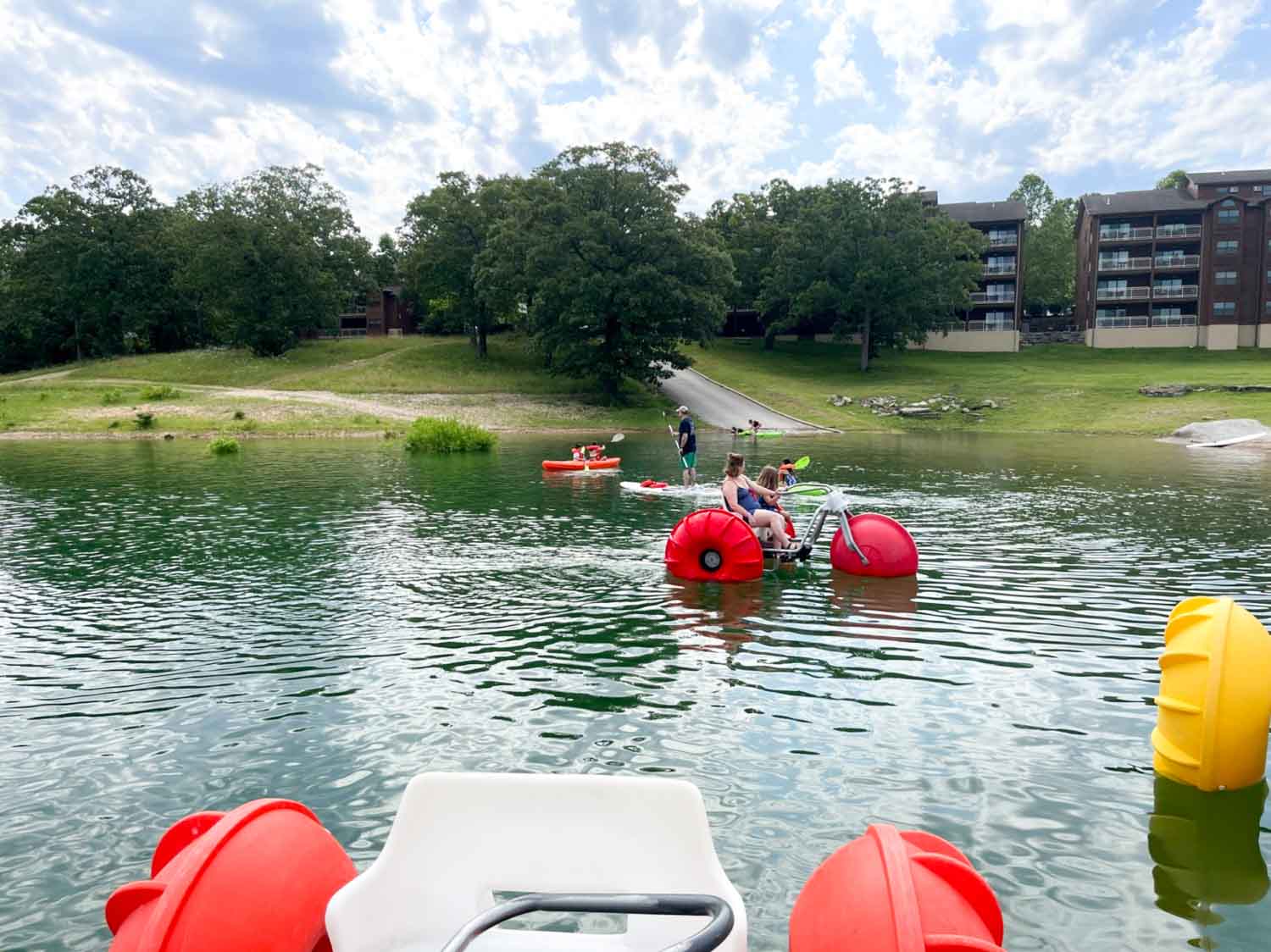 Our Stay at the Still Waters Resort
In mid-June of 2021, our family stayed in a 2-bedroom unit located in Building D. What was great about this was that the pool made for kids was literally across the street from our unit. In addition, it was only a 5 minute walk to the Shady Taco (they have delicious dip, I would recommend getting the Trio) and the Bayview Convenience Store.
When we stayed, our room total was: $648.76 for two nights. The breakdown was:
Room Charge: $285 x 2
Other Charges: $20
Taxes: $58.76
The main room had a kingsize bed with a television and it's own bathroom.
The second room had two queen beds with a television.
The living room had a rollout sofa. We had actually planned on using an air mattress, but it was not needed.
Frequently Asked Question
How far is Still Waters Resort from Branson?
Still Waters Resort is located almost 7 miles from Branson's landing strip.
How far is Still Waters Resort from Silver Dollar City?
It is literally 2 miles down the street from Silver Dollar City, which makes it really convenient.
How to check in at Still Water?
Right off of the road, there is a small building that says "Still Waters Resort." You'll need to make sure you have your license plate number available before going in, as they'll need this to provide you with a hang tag.
Summary of Still Waters Lakefront Resort
For our family of 6, Still Waters was an incredible stay. The kids had a blast, it was close to Silver Dollar City, and it seemed like all of the workers were friendly and overall helpful. I would highly recommend this resort to anyone.
More Inspiration on Branson and Table Rock Lake