If you are planning an Alaska cruise with young kids, there are a few things you should know before you fork over thousands of dollars for an amazing scenic view of Alaska. As a mom of four, there are specific ages and maturity levels for kids that I would recommend this cruise for.
Our family of six, with four kids ages 5, 7, 9, and 11 went in June on Royal Caribbean's Ovation of the Seas which stopped at a few of the popular ports, but not all of them. I wanted to share with you the ages of kids I would recommend them for now that our own family has gone.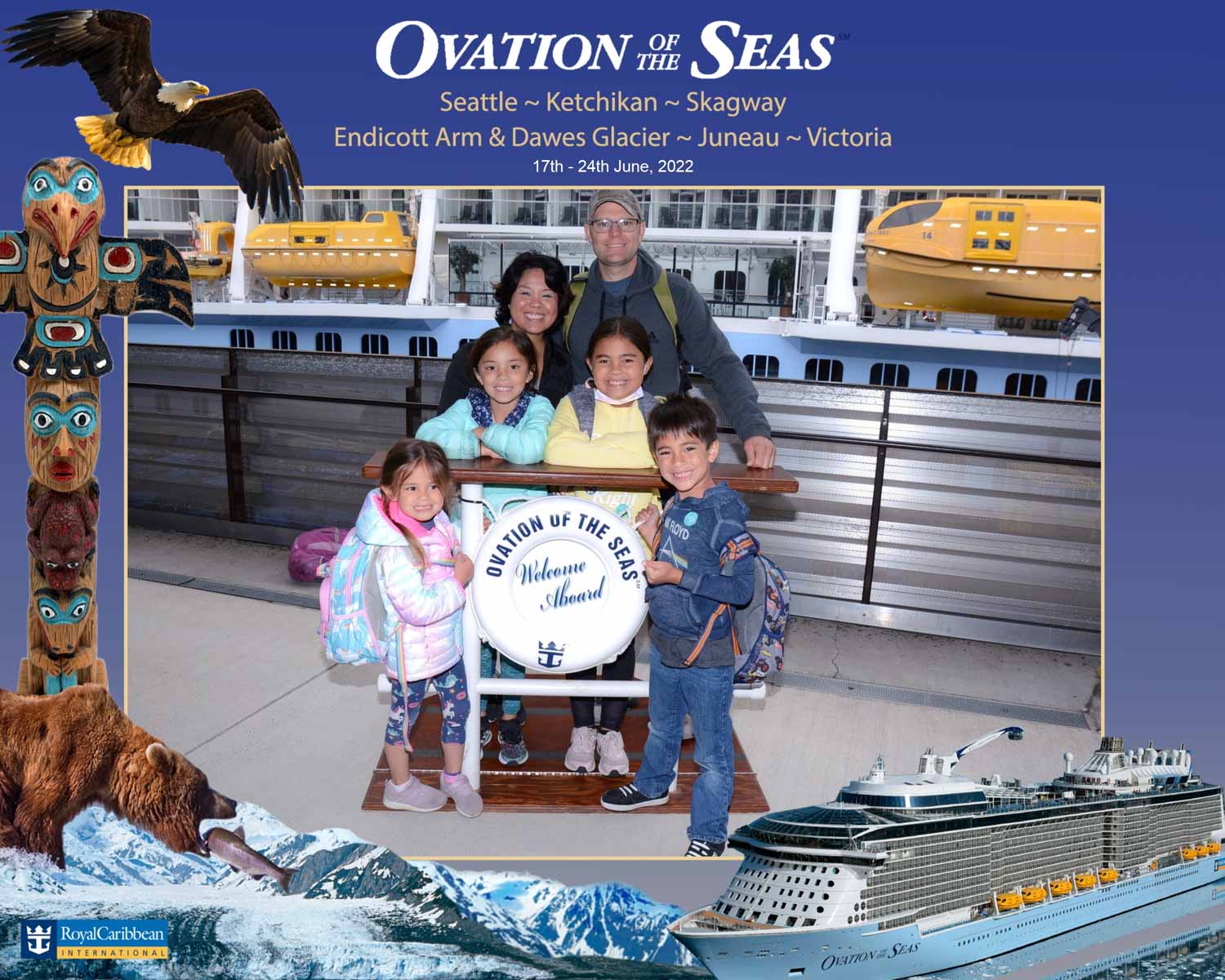 Royal Caribbean's Ovation of the Seas to Alaska Itinerary for Kids
For young kids, you'll need to make sure that the ship you choose will have a ship itinerary on sea days that will make things fun and interesting specific to the ages of the kids. I would recommend Ovation of the Seas to families in specific scenarios and age ranges.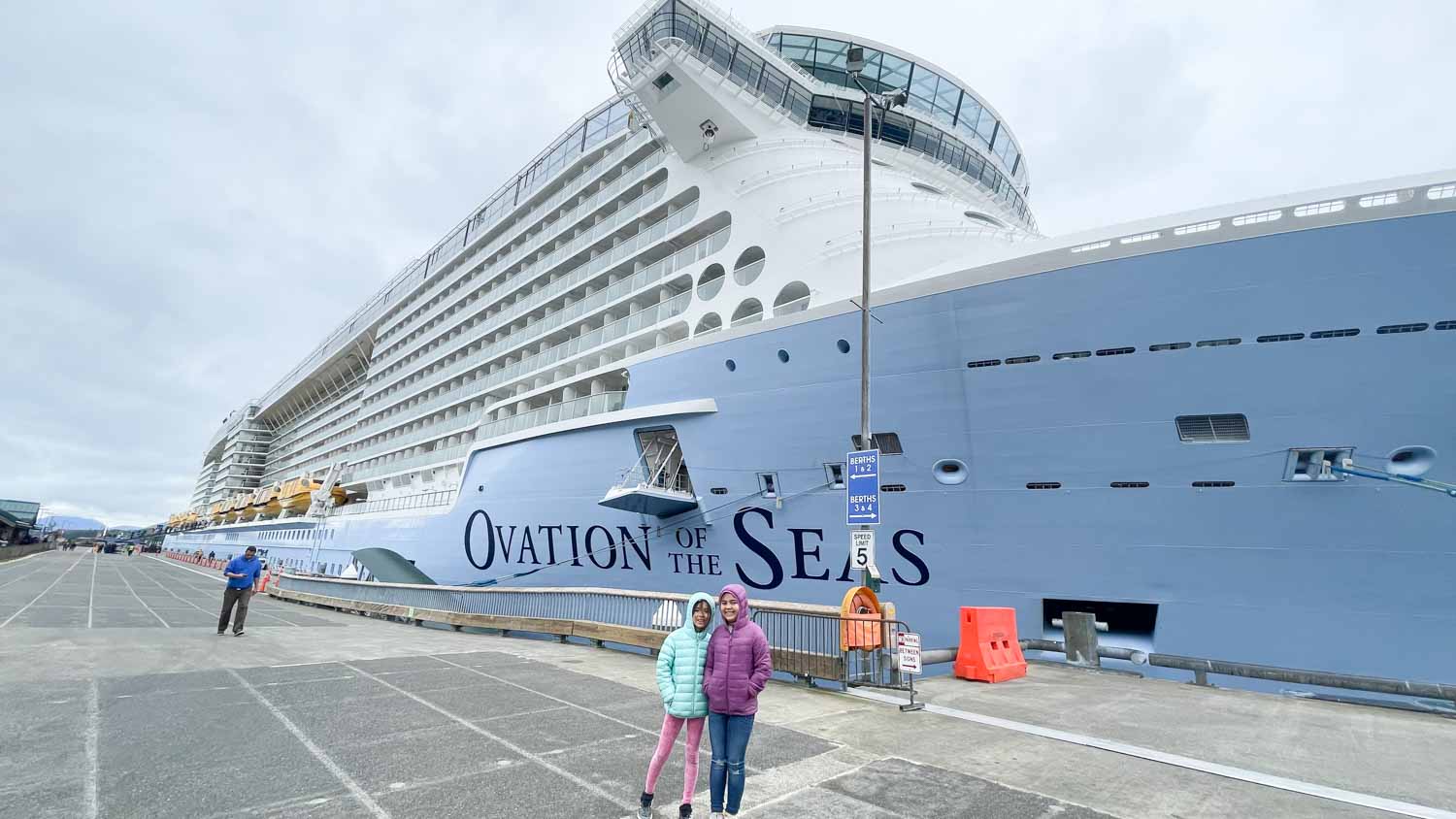 Nursery
On Ovation of the Seas, there is a cost to the nursery for kids that are under the ages of 6 to 36 months. Generally, the fees are under $10 per hour.
Kids Under the Age of 5
With Royal Caribbean cruise line, they have certain times that they open, and generally, they do not have sessions during lunch and dinner times, which can make it hard to plan activities for just adults or teeangers during that time - this includes wine tastings, rock climbing, iFly and more.
If you have kids under the age of 5, and you want to have time with yourself or your partner, I would recommend paying the price (normally double or triple that of the Royal Caribbean Cruise) for a Disney Alaskan cruise (the Wonder) so that your kids can go into the activity center pretty much anytime of day.
While our five year old absolutely loved Adventure Ocean on Royal, our older kids didn't necessarily love it.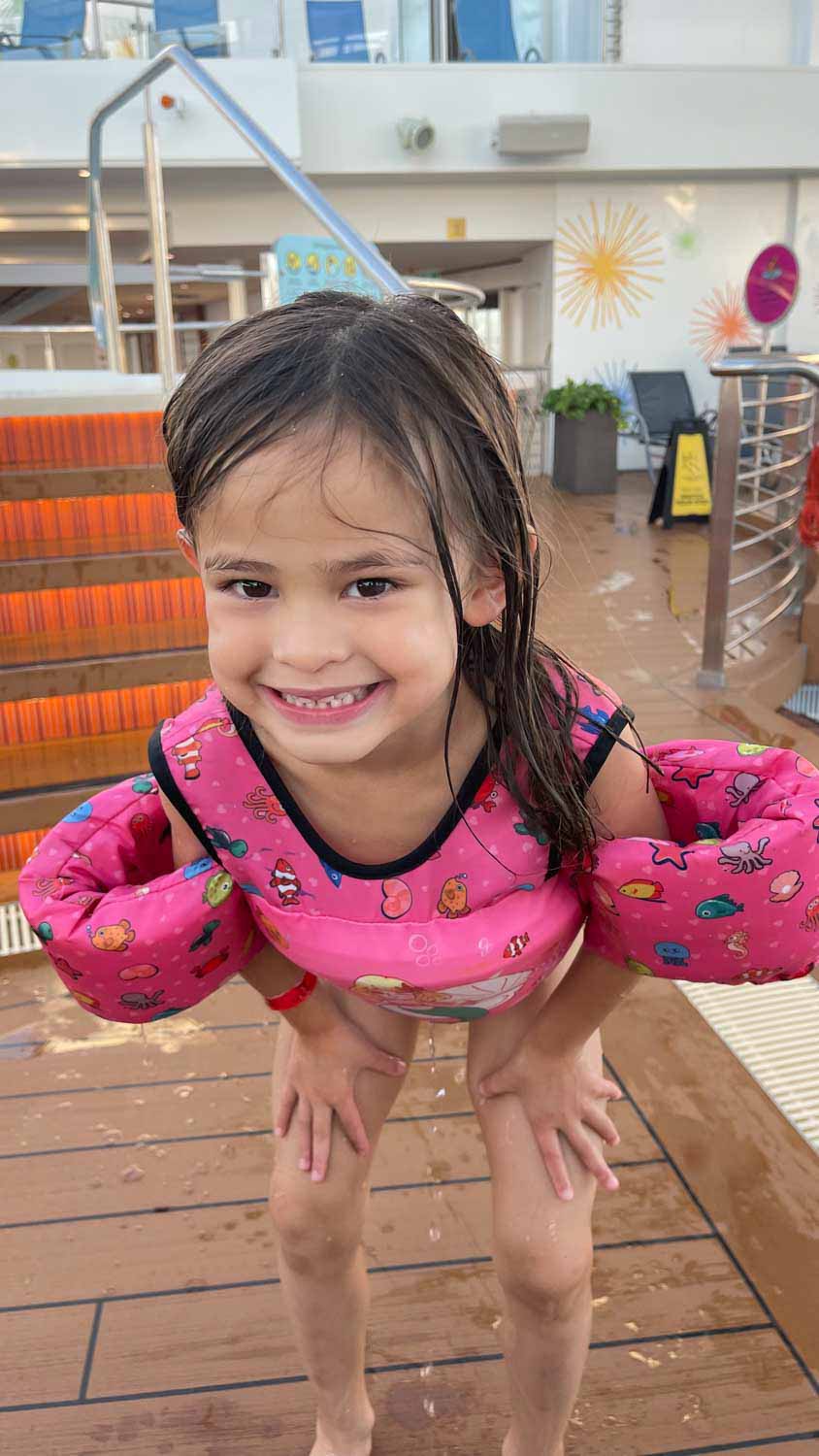 Kids Between Age 6 and 11
Our kids between the ages of 6 and 11 definitely did get a little bored on the ship amenities on Royal Caribbean during sea days where we were just cruising and there were no ports. However, had they been on the Disney Cruise, most of the things are geared towards kids.
On Royal Caribbean, some of the activities like bumper cars, pickleball, skydiving, and rock climbing were only open during certain times and the lines got long. However, they still had a blast waiting for the activities and watching.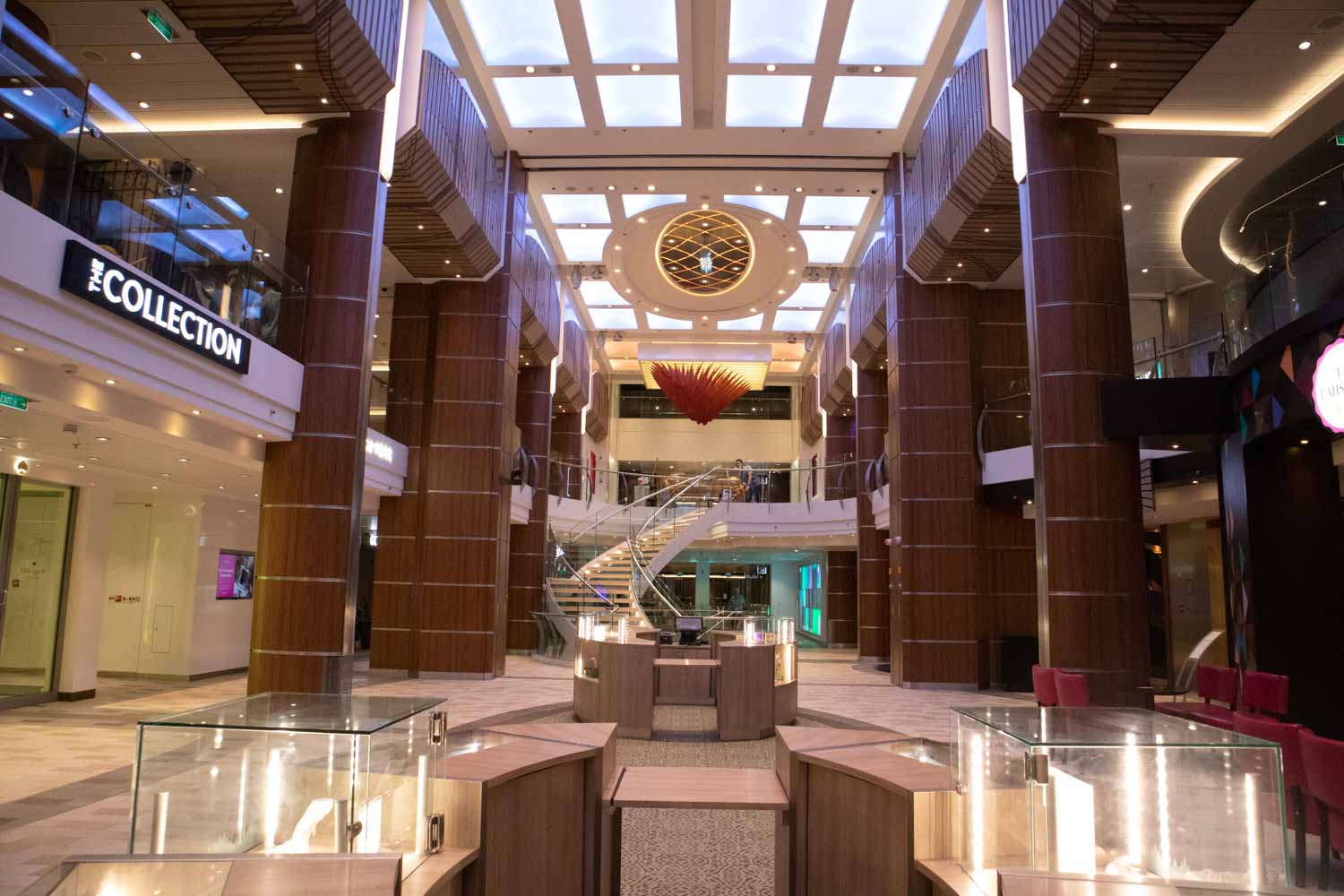 Kids Ages 12 to 17
On Ovation of the Seas, the Living Room is the space dedicated for teens to hang out out, which are only available during set times. I would recommend Royal Caribbean over Disney due to the other semi-teen and semi-adult activities that they can do that are generally geared towards adults vs kids.
Families with Mixed Ages
If you have a family with mixed ages of kids ranging from nursery to teens, I would recommend Royal Caribbean's Ovation of the Seas because there will be more to do with all the kids in the various age ranges. While Disney's Wonder can provide a bit of the magic, Royal will definitely be less expensive.
Cost of an Alaskan Cruise on Ovation of the Seas
I can only tell you what I paid on the cruise for our family of six. This prce was after about four calls to get the better prices as we got closer to the cruise embarkation day. We booked about a year in advance.
Room Costs
We booked two connecting balcony rooms, one which was a two person occupancy and the other was a four person occupancy.
The parents were assigned in one room and the kids were assigned in the other. With kids sail free, the third guests and higher who are 12 years old or younger on specific 4 night sailings are able to get a free cruise fare. The prices were:
Two Person Sailing for Ocean View Balcony Room 6138: $3,368.14
Four Person Sailing for Ocean View Balcony Room 6136: $4,251.27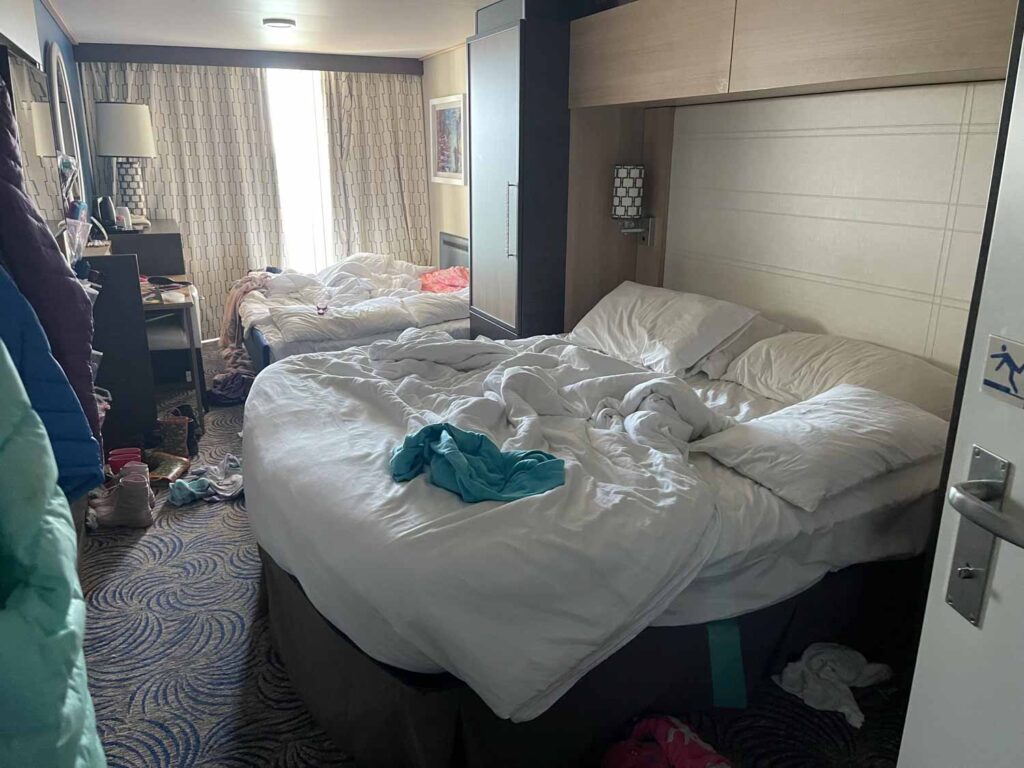 Onboard Ship Invoice
Our family generally doesn't "buy" extras on a cruise and are fairly limited in our spending. We booked a few things prior to the trip which included photo package (highly recommend) and the Wonderland meal experience (also recommend).
Our additional onboard charges total to around $1,500 after it was done.
iFly Experiences during peak times (sea days)
Wine Bar
Onboard Gratuities
Sunshine Bar
Bionic Bar
Rooms to Book
For an Alaska cruise, you should definitely get a balcony if you can swing it because it is all about the views! If it is cold the day you go see the glacier, you'll have to fight a ton of people to look at it on the top deck or in the covered portion.
In addition, do yourself a favor and do not risk an ostructed room. We almost got convinced by an agent for a 25% obstructed room, but it looked like it was more like 50%. I would highly recommend avoiding this if at all possible.
Also, make sure your room is not directly above a smoking area. We were on the 6th floor, and we could see the sights just fine. The only concern about being on the lowest floor was hearing some of the music from the Music Hall playing until 10pm, but it wasn't too bad.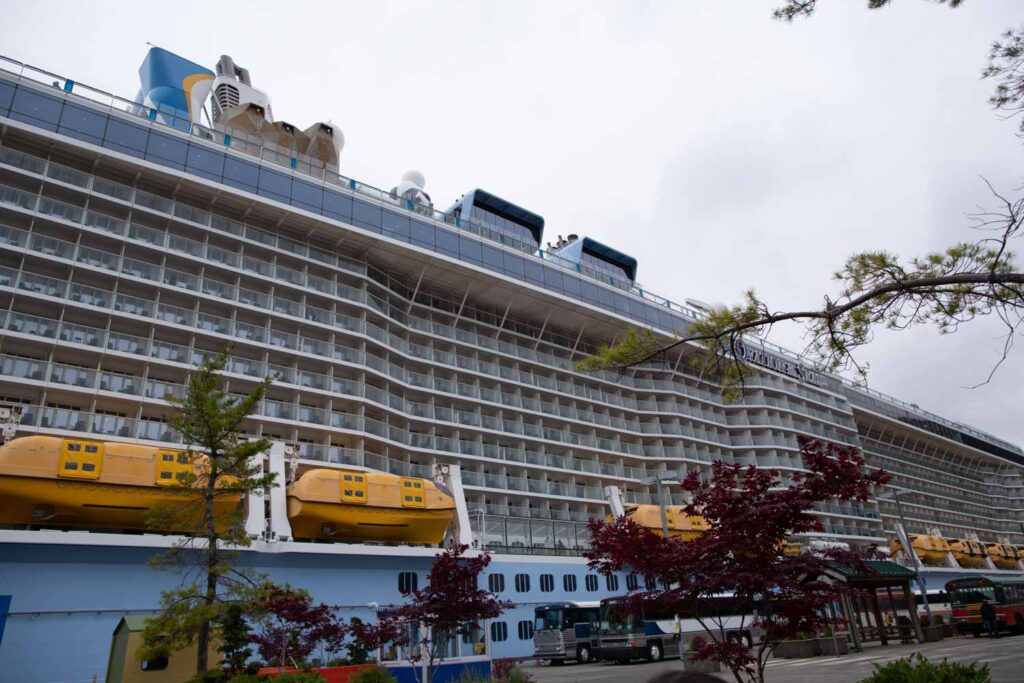 Excursion Costs
Excursions We Personally Paid For
I would highly recommend booking outside of RCL because during our trip, we heard a lot of the RCL ones got cancelled and they weren't able to rebook any excursions, which seemed pretty frustrating for some people.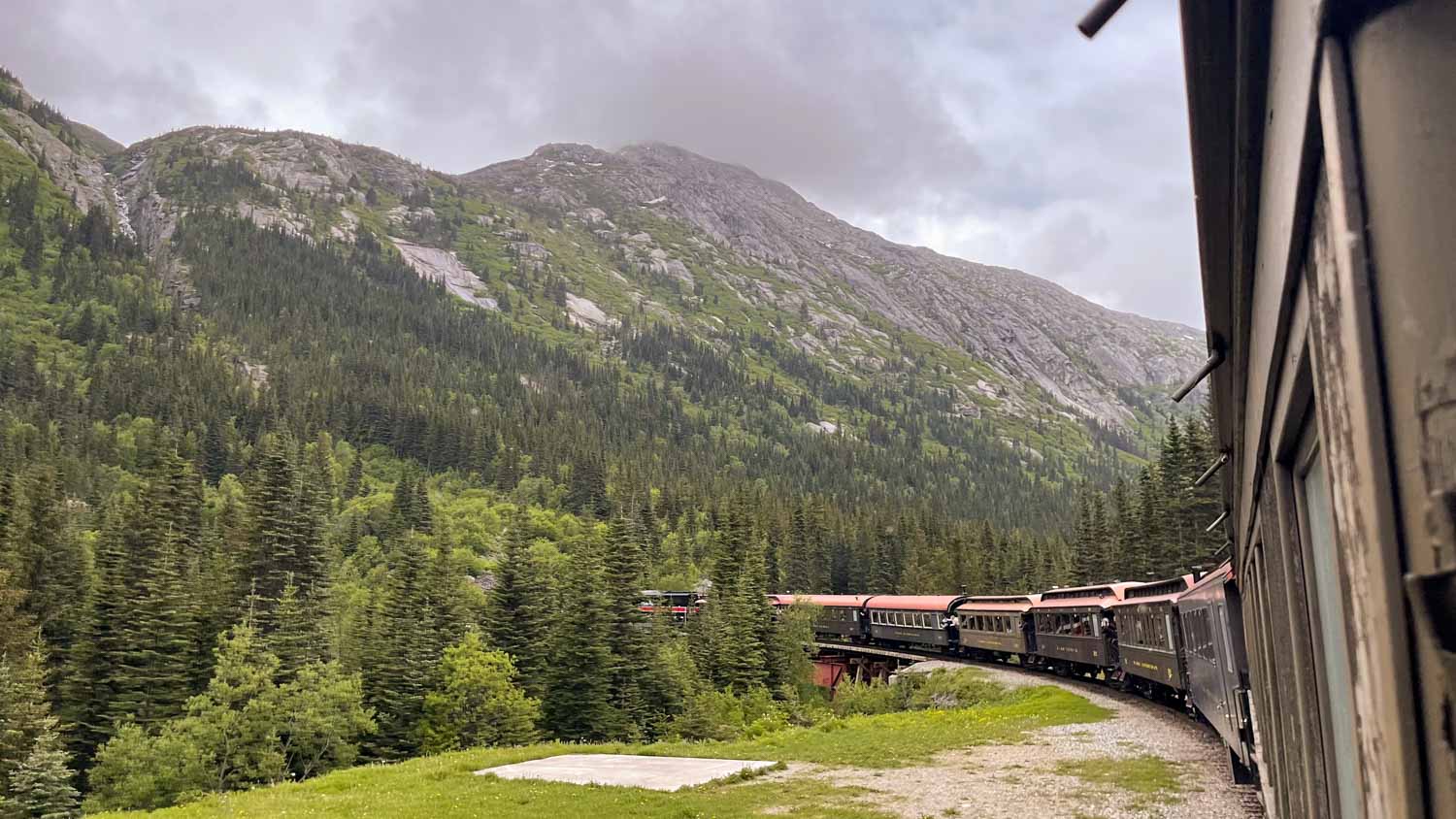 Here's what I would book:
Skagway: White Pass Summit Excursion - 2 Adults, 4 Kids cost $536.
Juneau: Whale Watching Private Party via Harv and Marv's Outback Alaska - Party of 6 was $1,042.15.
I will talk more about each of these excursions below based on our own experiences.
Other Recommended Excursions
One of the excursions that we would recommend that we weren't able to do is the one where they take you off the ship via a boat when you get to the glacier to get closer to it than the ship is able to take you. This required us to get up a 5am in the morning with an excursion in the afternoon, which we decided (thankfully) not to do because that would have been a lot for our kids.
In Ketchikan, there is a kitschy lumberjack show that everyone raves about. We decided not to do this.
If you have older kids (around 10 and 11), I would recommend doing the helicopter ride and dog sledding because we heard people had a blast doing it.
Lastly, in Juneau, there is a ride up inside a gondola that looks absolutely awesome! Just make sure you go on time because I've heard it has weird closing hours.
Booking an Itinerary for Cruising with Royal Caribbean's Ovation of the Seas to Alaska
When to Book a Royal Caribbean Cruise Line to Alaska for Families for Best Prices
We booked our Alaskan cruise about 15 months prior to sailing. Royal Caribbean has their itineraries out almost two years out in advanced. So if you have school calendars are ready available from your school district, you can bet that RCCL will have their itineraries out ready to book. We wanted to book out early because we wanted connecting rooms, and those generally sell out fast. The suite rooms also sell out fairly quickly, especially the lower priced suite rooms.
My recommendation is to book as early as you can, knowing that you can always call in for a price differential after you book (only through Royal and not through an agent). The best deal I've seen them promote is Kids Sail Free plus 30% off second guest. However, the downside of this is that you will probably need to call in and be on hold with customer service for a while when asking for a discount. In addition, the further you book out, generally the less expensive it will be. However, I've been also able to drop our prices by over $1,000 6 months from the initial booking.
The month I would recommend is mid-June because the weather is pretty mild. For us, mid-June offered a misty experience, not a lot of rain, and good weather enough that the kids didn't complain about how cold it was when walking on the open air deck during glacier days and walking in-between floors.
Should You Choose a Travel Agent or Book Directly with Royal for Families
For RCCL, we've booked an Alaskan cruise on our own as well as with a Travel Agent. Travel agents generally will offer a couple hundred dollars in a price difference and/or onboard cruise credit. For our family, we thought booking directly with RCCL offered us more flexibility, but required us to wait on hold quite a bit. I know others liked the backing of a third party travel agent that would be able to rebook or change itineraries without having to be on hold or find alternative options especially with flights being delayed or cancelled.
My recommendation is to book directly through Royal Caribbean Cruise Line instead of an agent, especially if you are seeking to benefit from a price drop on the cabins.
Departure Port Options for an Alaskan Cruise
There are so many options when it comes to choosing an Alaskan cruise. This includes ports to start from and various ports of call.
There are several ports that you can leave from including Seward in Alaska, Seattle in Washington, and Victoria in British Columbia. Depending how far you want to travel by plane, you'll want to generally travel the least distance if you have a family with young kids.
For us, we ported from Seattle because it was within the United States and didn't require a bunch of testing that was needed for the airport (since we are US citizens).
Recommendations for Alaska Excursions in Each Port for Families
Sitka
We did not visit Sitka on our itinerary, so I don't have any first hand experiences to share with you.
Seward
We did not visit Seward on our itinerary, so I don't have any firsthand experiences to share with you.
Juneau
Once you step out of the ship in Juneau, you'll think you stepped into Pandora in the movie Avatar.
We did whale watching on our own private tour because we had a total of six. It was great having an intimate venue, but it was pricey at a total of $1,000 excluding tip. I would say that you could potentially find more inexpensive tours, which also includes booking with the cruise line. However, we were able to see around ten whales, sea lions, and stopped at Mendenhall Glacier, which is breathtaking.
There are also luxury whale watching experiences where you can board an exclusive yacht that have naturalist captains. We booked with Harv and Marv's, and our captain was Graham, who was so knowledgeable and fun. The kids had an absolute blast. The only consideration I would have here is if you do get sea sick easily, you may want to take a larger boat that holds more people. A smaller boat might make you green, like I did near the end. However, I would still do it again with our family with young kids.
After our whale watching tour, they stopped at one of the glaciers for us to take a quick peek as well.
If I were not suffering from motion sickness, I would have taken Mount Roberts Tramway, where you can hop aboard a gondola to witness beautiful scenic view at 1,800 feet to a mountaintop nature center where you can visit a live bald eagle exhibit, dine at a bar, and shop. Anyone over 3 years and older will need a ticket.
I would also recommend stopping at Tracy's King Crab based on other cruisers as well as Alaskan Shirt Company, which has really inexpensive shirts that are soft that passes my t-shirt quality bar!
Since we are a big family with four little kids, we didn't experience dog sledding, sport fishing, glacier viewing, sea kayaking, helicopter rides, self-guided jeep tours, and canoeing. However, we didn't feel like we missed anything because Juneau is known for whale watching, and our excursion paid out in a big way in terms of experiences.
Skagway
Skagway is a very small town that you can roam around in. I would suggest doing the White Pass Scenic Railway. The cruise will definitely try to make you buy the tickets through them.
But trust me when I say, as long as you can walk about 10-15 minutes (to be exact, it was a 0.75 mile hike from the time my foot stepped off of the port to the door of the train depot), you can save a lot of money. The tickets on the ship were $164 for an adult, $89 per kid. For the six of us, the ticket total $500 total.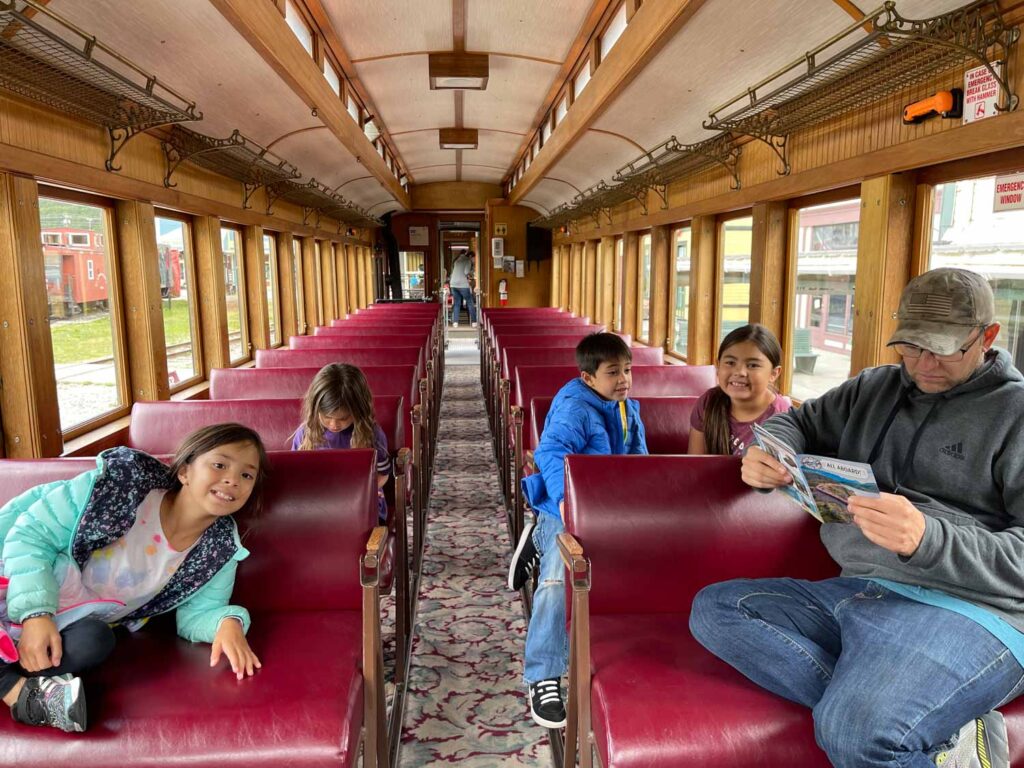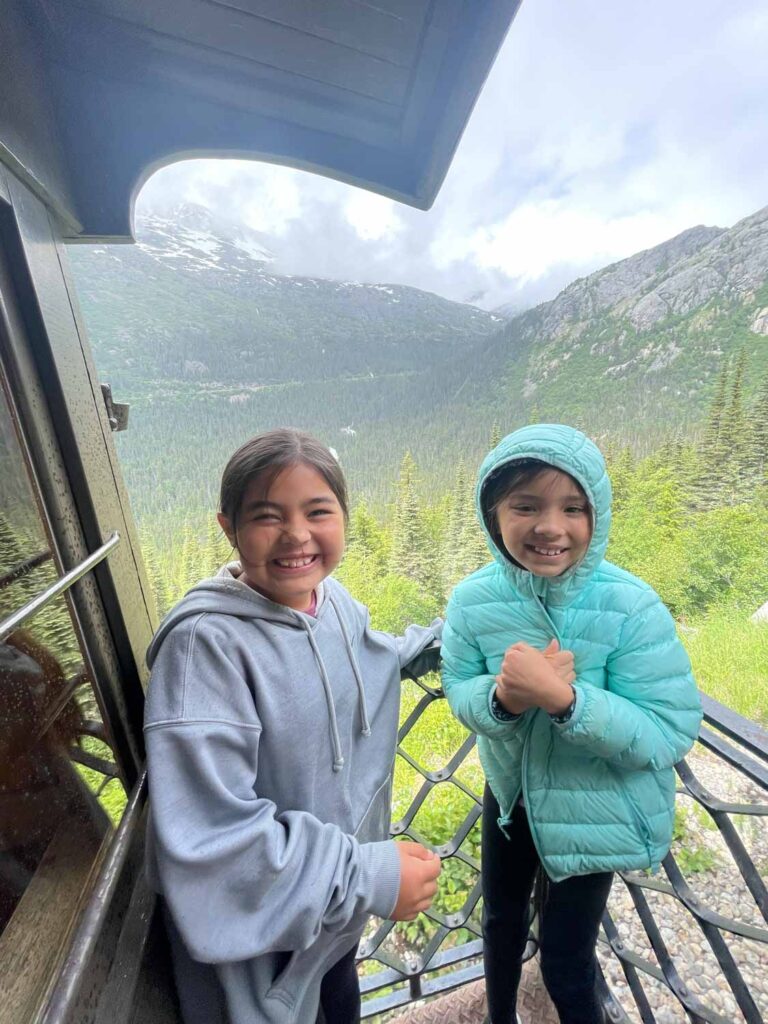 We recommend buying directly from the White Pass & Yukon Route Train depot, choosing the earliest ticket possible when you port, and having it be your very first stop. The 2.5 hours seem long, but it goes by really quickly! Also, when you board, you get to choose which train, I would recommend getting very end of the train to get the very best views, especially if you want to step out back. Our kids loved it and had an absolute blast!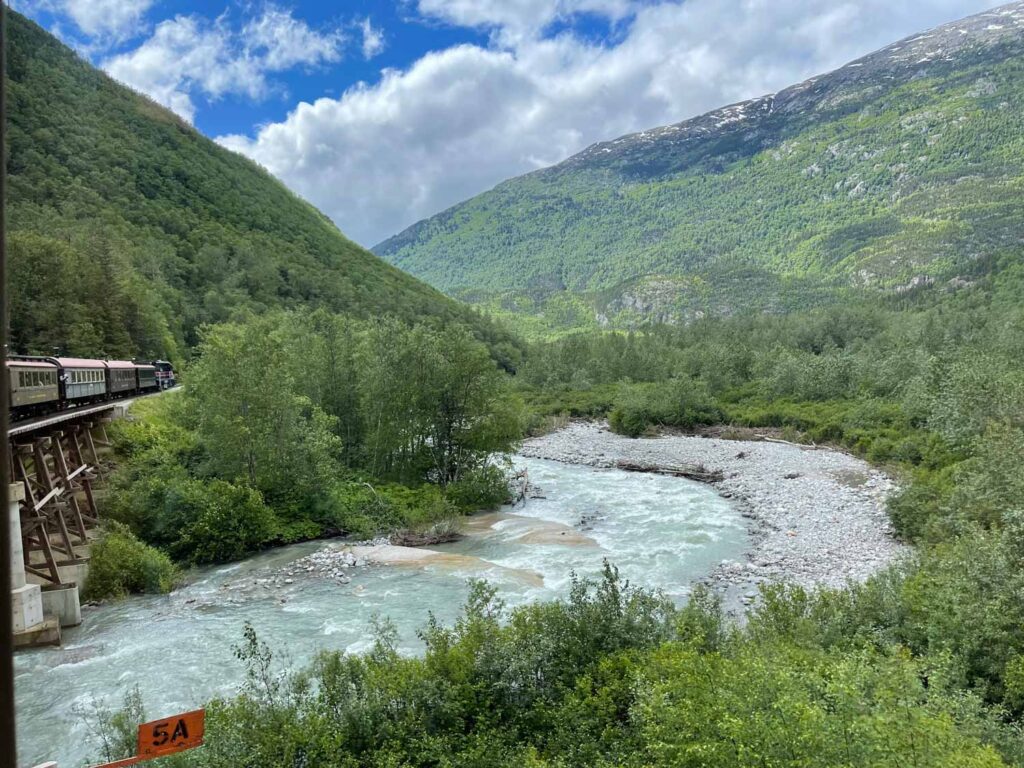 I would also recommend stopping at Doughboy for a delicious bite to eat! It was well worth the cost of $7 per cake.
Other activities that I saw, but didn't do were horse back riding, bicycle tours, rock climbing adventures, zip lining, dog sledding, jet boating, and motor coach tours, all which we didn't do with our family of kids.
Endicott & Dawes Glacier
Please set an alarm so you can get up to see these glaciers as well as grab one of the photographers to get photos right next to it!
This was right from our balcony.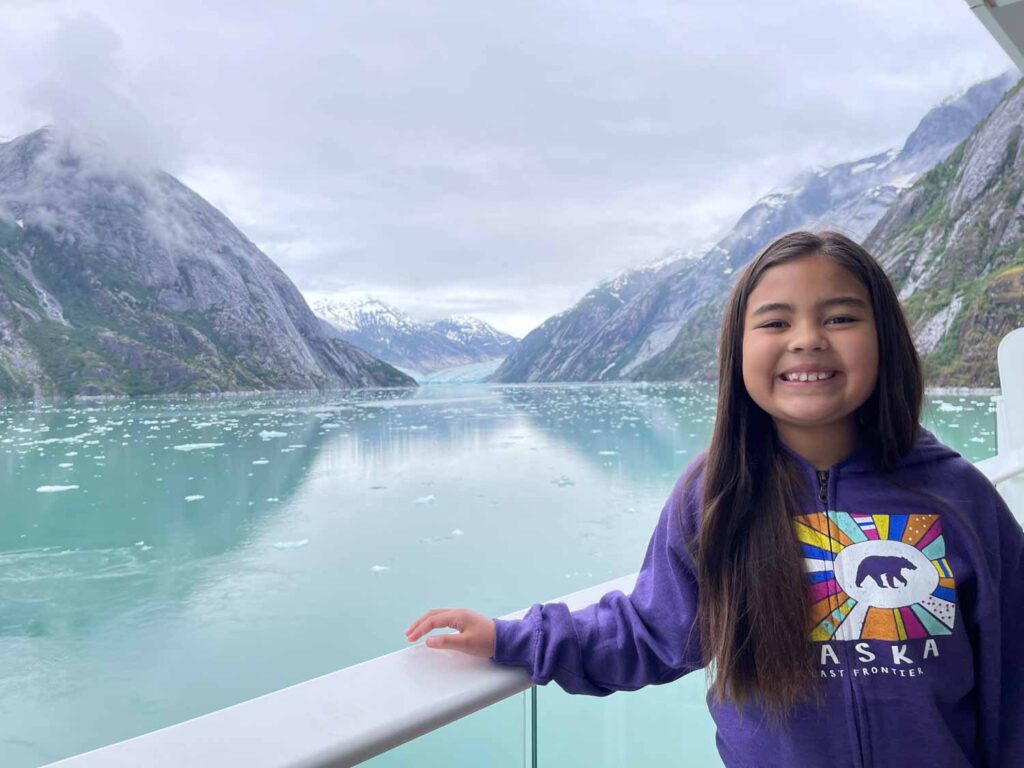 A few hours later, we were back in the Windjammer to get breakfast, and got some amazing views right by the window.
Ketchikan
Like I mentioned, we had a crab feast booked that got cancelled through RCCL. However, we still had a blast walking around town for a few hours.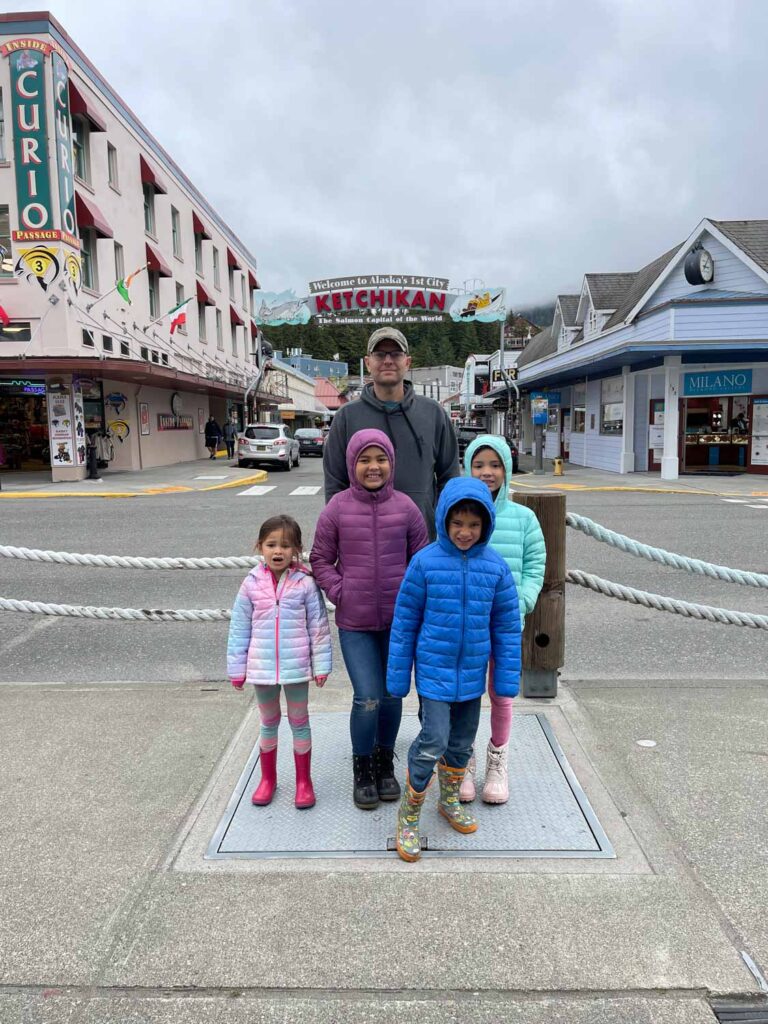 There is a crab boating expedition that is followed by a crab feast that you can sign up for a family with kids for that I think they would definitely enjoy. We had a bit of a problem with RCCL moving our reservation and cancelling it on accident, and we were not able to sign up for another one. If your family can do this, I would highly recommend it.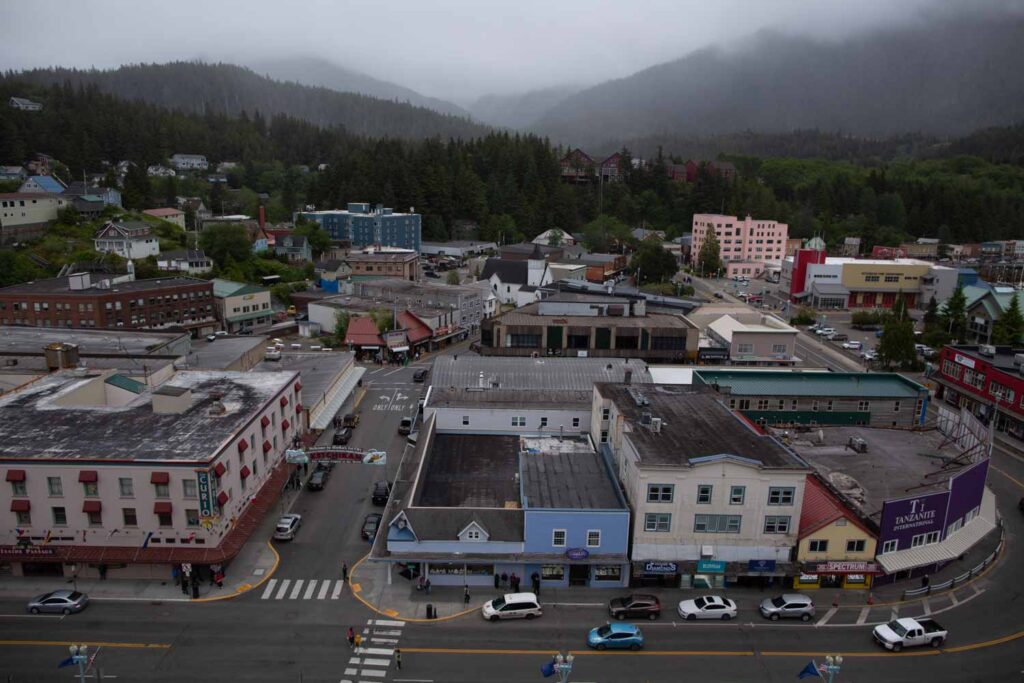 However, we didn't do anything in Ketchikan other than walk around Creek Street, visit the City Park, and checking out the sites next to the ports. It wasn't a bad way to checkout the city, but we also didn't do a lot either.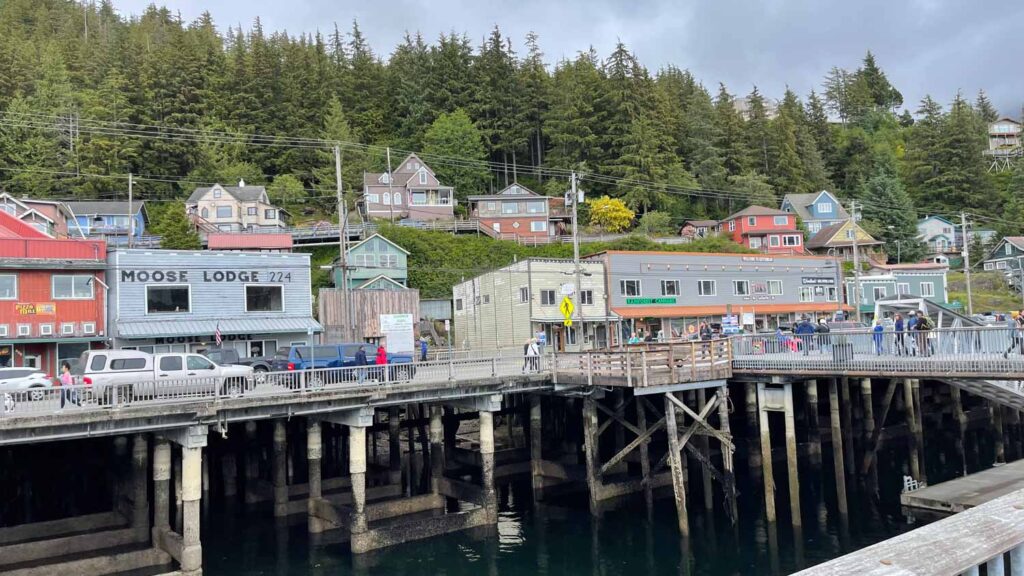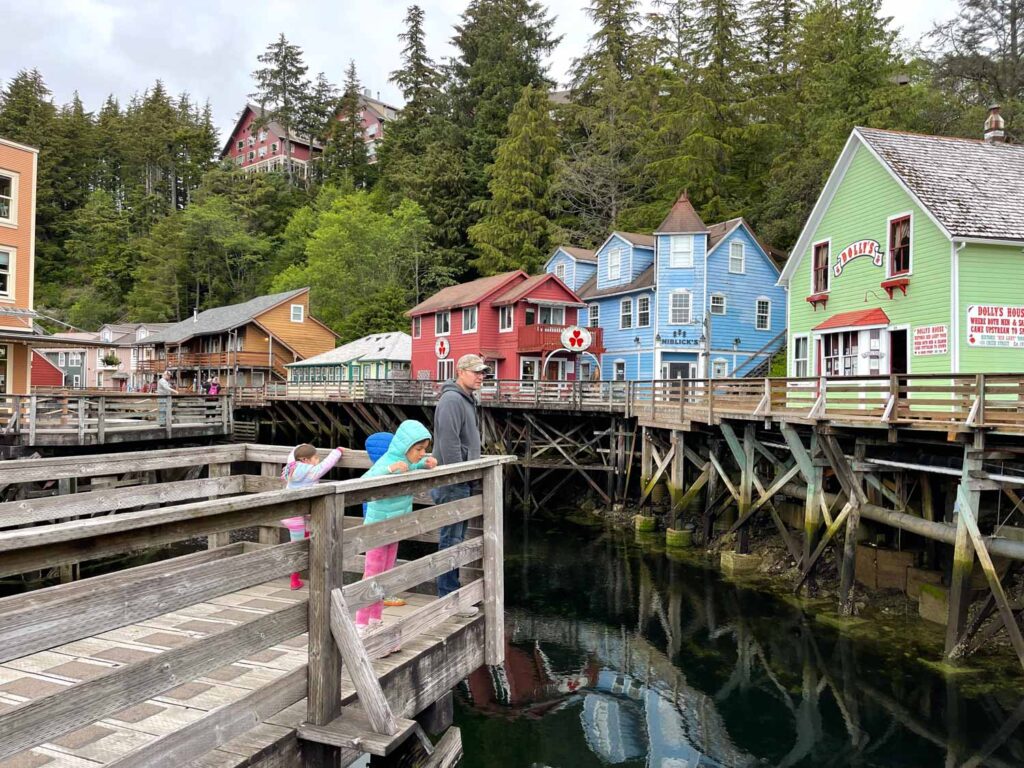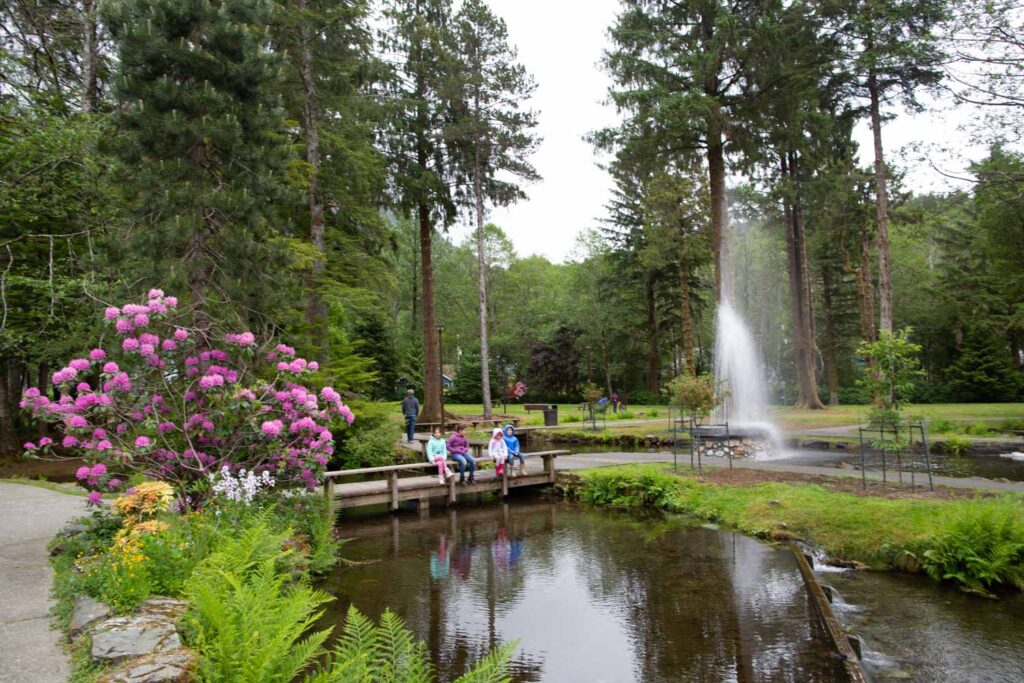 Victoria, British Columbia
We did not do any excursions in Victoria other than walking out and checking out the sites. I honestly think this was a port just to add something to our itinerary because it was literally a four hour port stop, which is not enough to do anything other than a quick walk around the cruise port. However, we did fall in love with how fun the wharf area was and how clean the city is. We might make this a stop where we spend a couple of days in the future.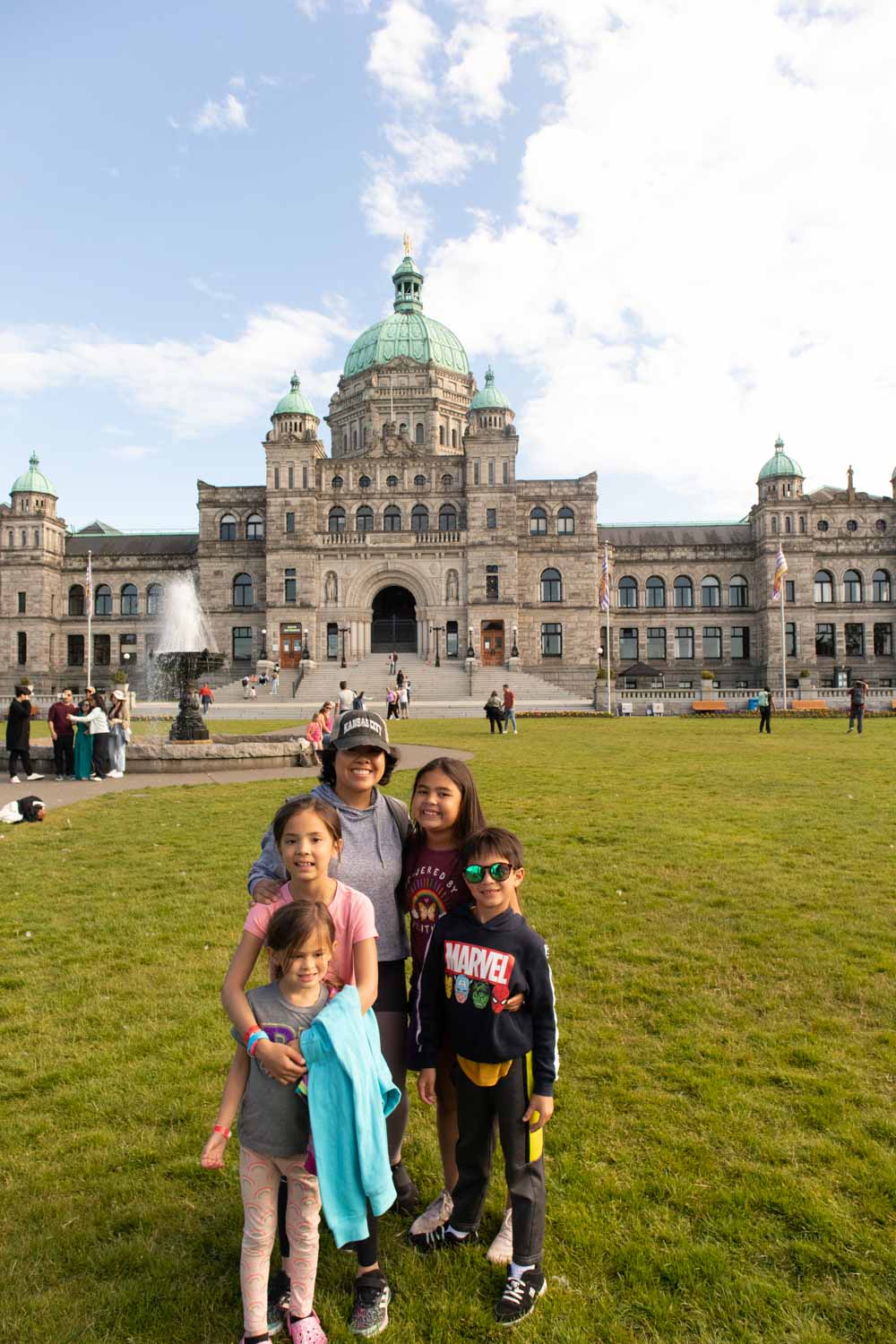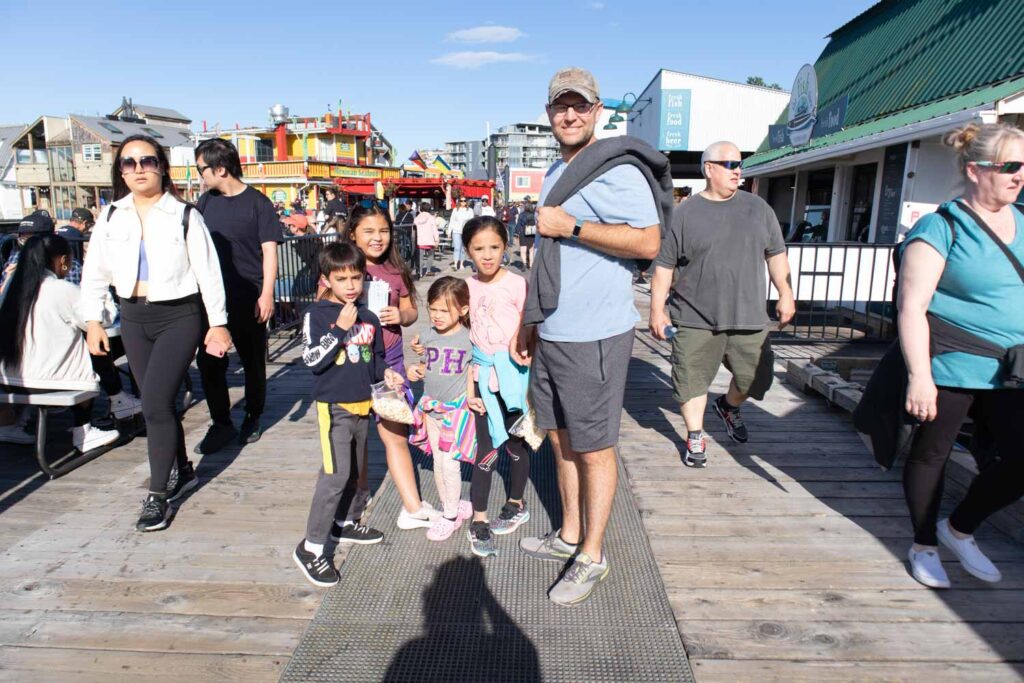 Kids Daycare and Activity Centers Aboard Ships During Port Days
Generally, during port days, the kids clubs (on Royal Caribbean known as Oceaneer's club) are open during port days and they will feed the kids lunch if the port days last throughout the day.
If you are looking for a continuous day of daycare, you will not find it on Royal Caribbean, but Disney generally has those options if you are looking for a place for kids to have fun all day with other kids their age.
Onboard Activities for Little Kids
Swimming Pools
There are three areas for swimming, but one of them is called the Solarium that's for adults. Below, I focus on the ones that kids can swim in.
Indoor Swimming Pool
The indoor pool doesn't have a wading area really. There's a sitting area, but you'll definitely want to have life jackets for your littles that don't swim on (which are provided free of charge).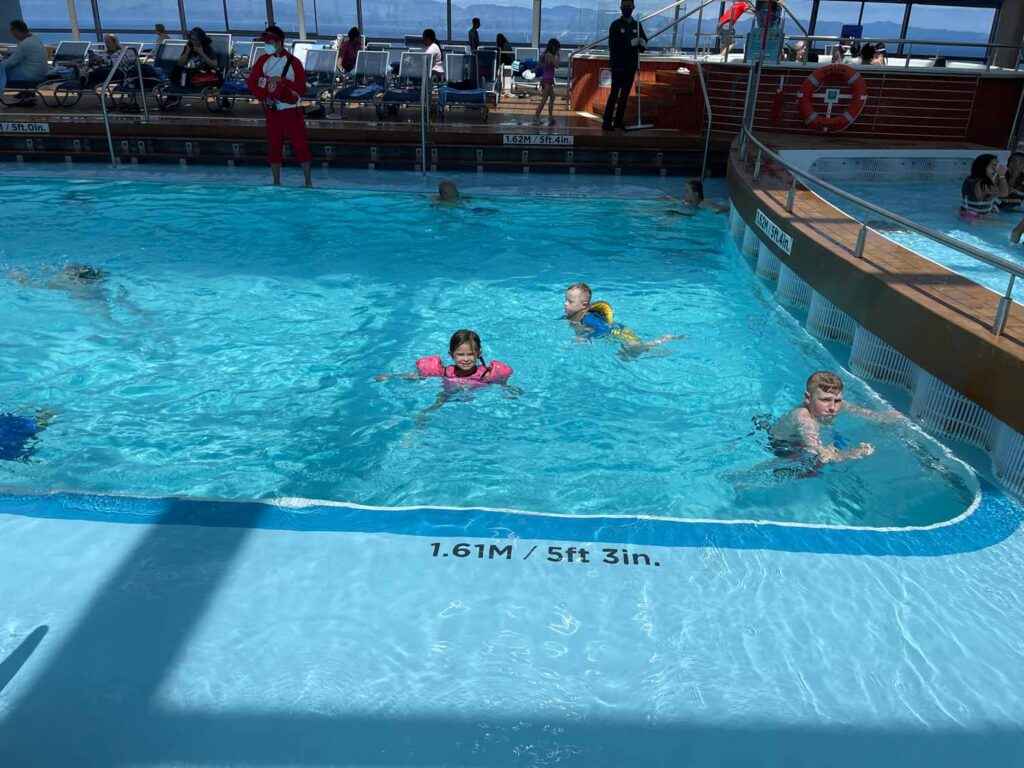 Outdoor Swimming Pool
No one really swam until after the Victoria port stop because it was just too cold.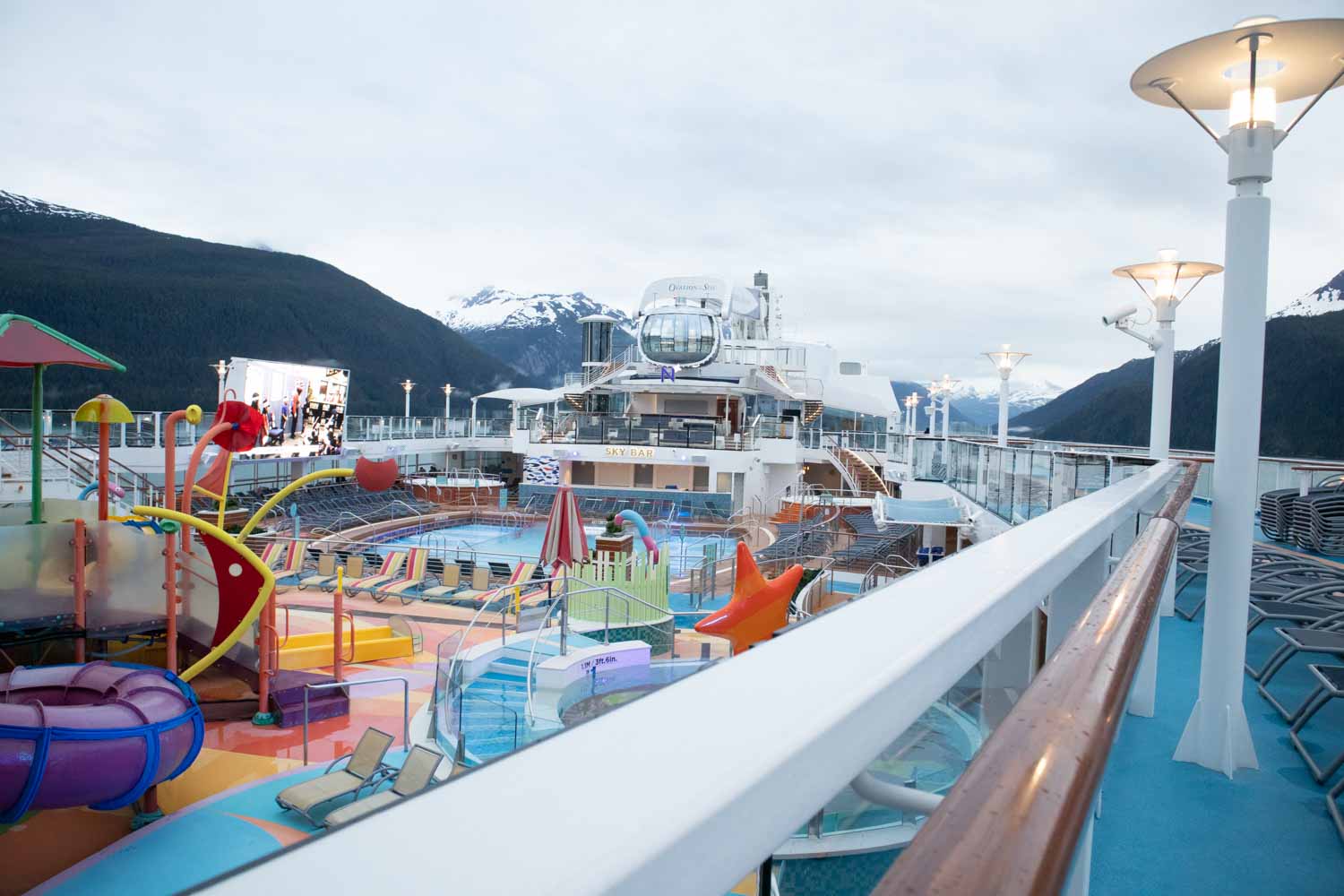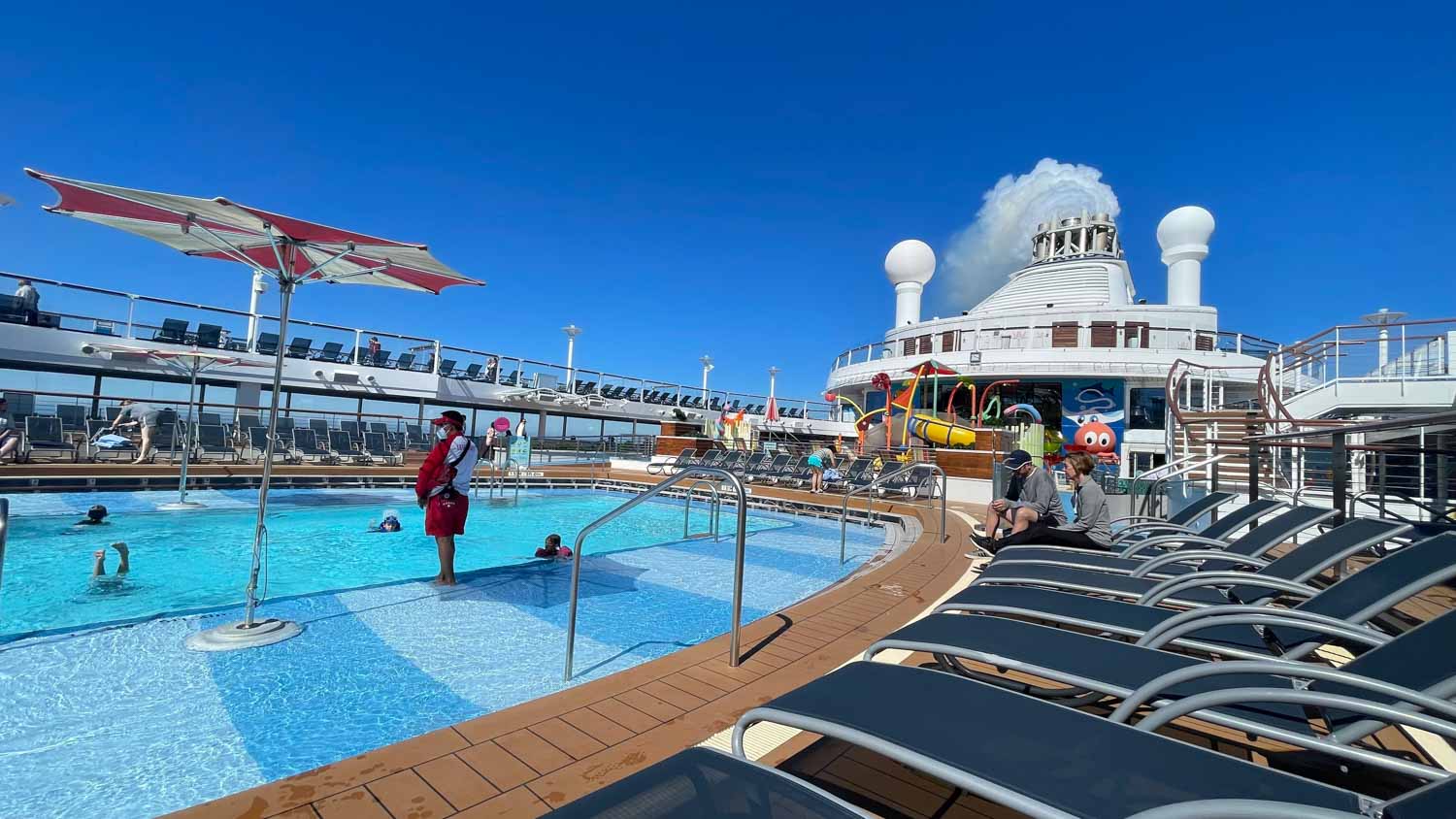 Seaplex
The Seaplex is where all of the various sports activites happen. It's pretty much the place for pickleball, roller skating, bumper cars, fitness workouts, and more.
Bumper Cars
This was an absolute blast. The lines were definitely long. You don't need to sign up in advance though for this.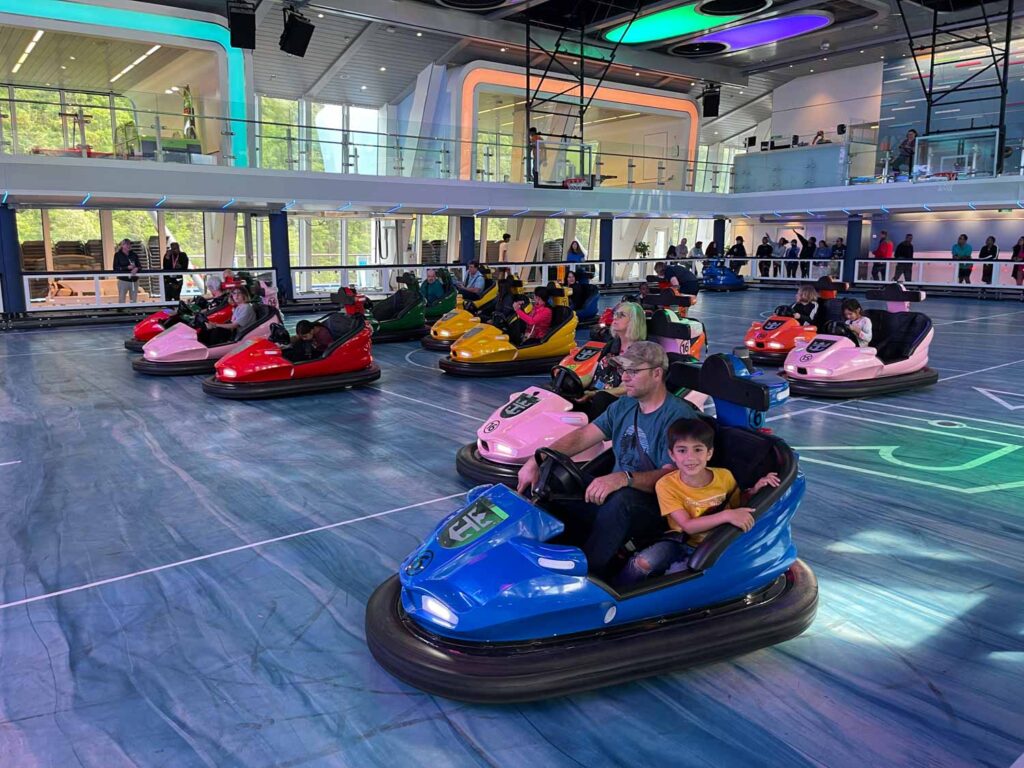 Roller Skating
You need to sign up in advance to roller skate and if you are a kid under 13 years of age, you need a parent with you.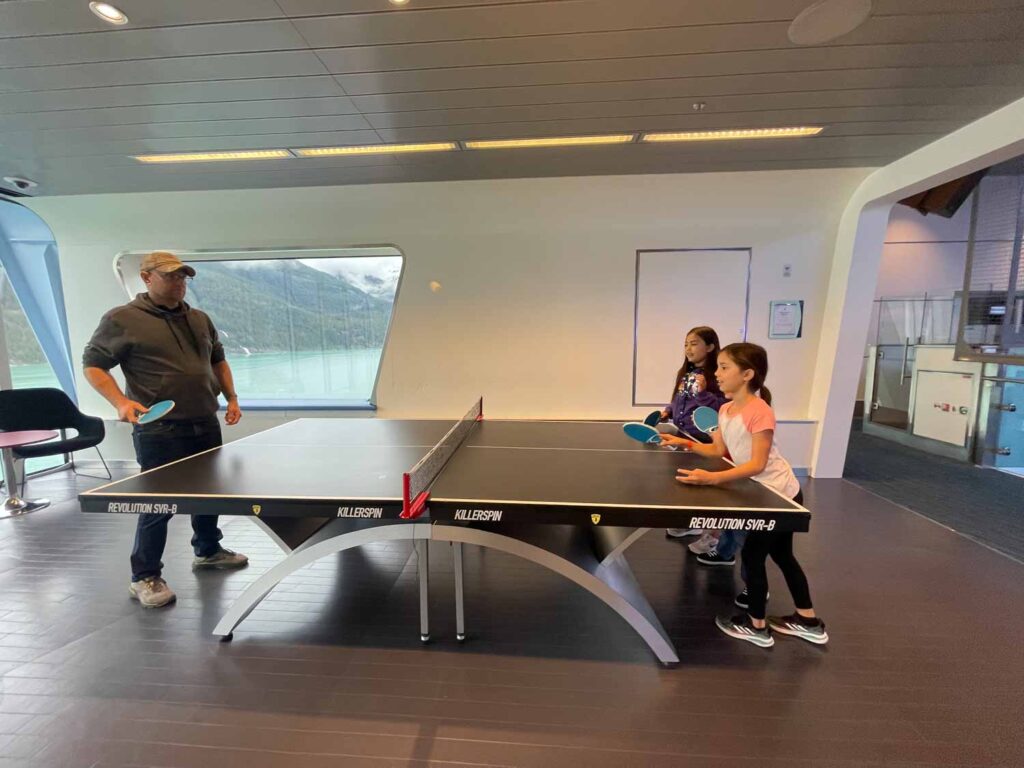 Arcade
Soft Serve Ice Cream
Soft serve ice cream is located where the outdoor pool area is. There are set times that it is open.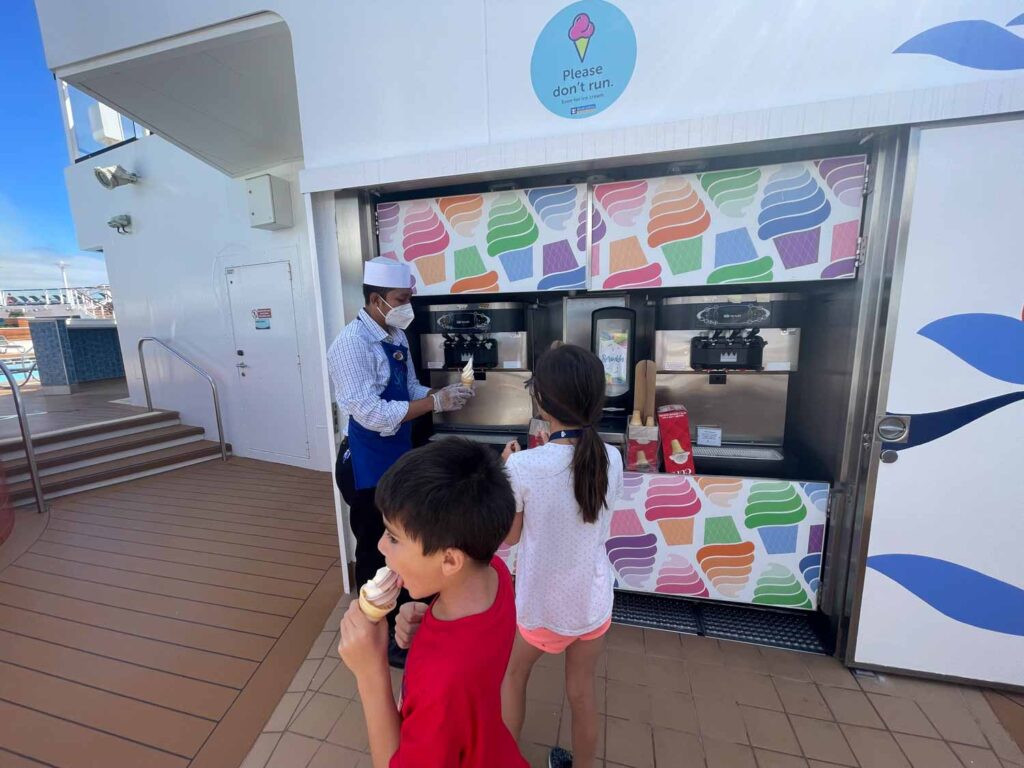 Shows
There are three shows on Ovation of the Seas. However, one of them called Legs is for only mature audiences.
Pixels
This show featured a lot of singing of modern songs with the six screens you see below moving and doing some animatronics, which was neat.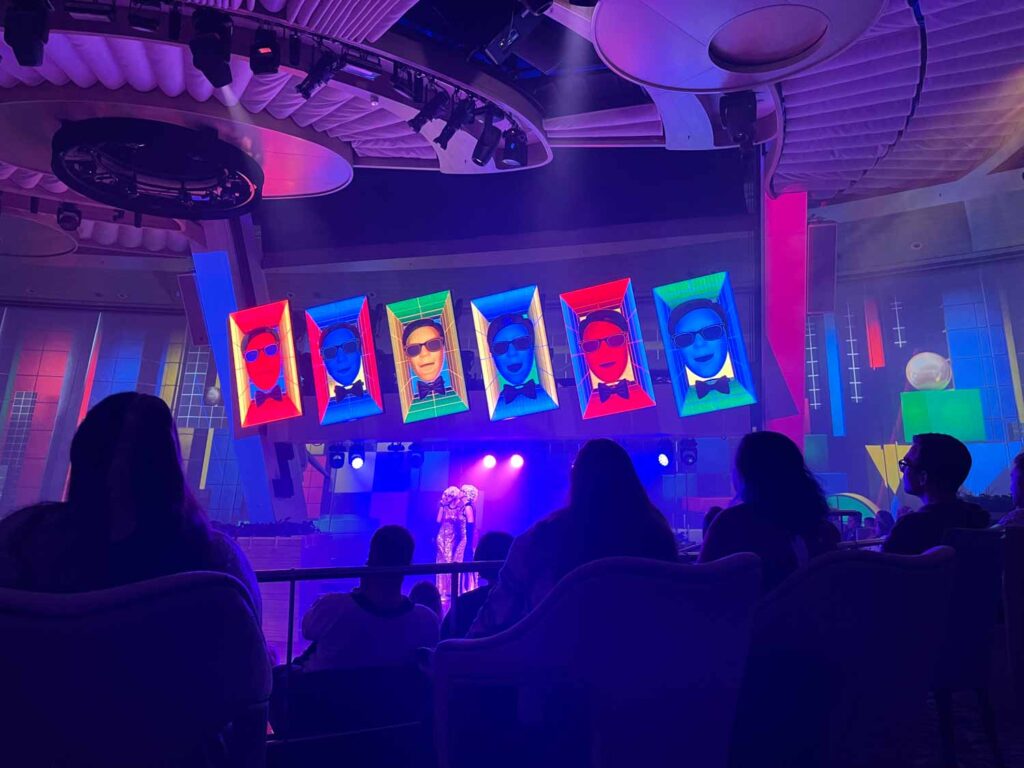 Beautiful Dream
This show had beautiful scenery, but my daughter (age 10) couldn't follow the storyline very well.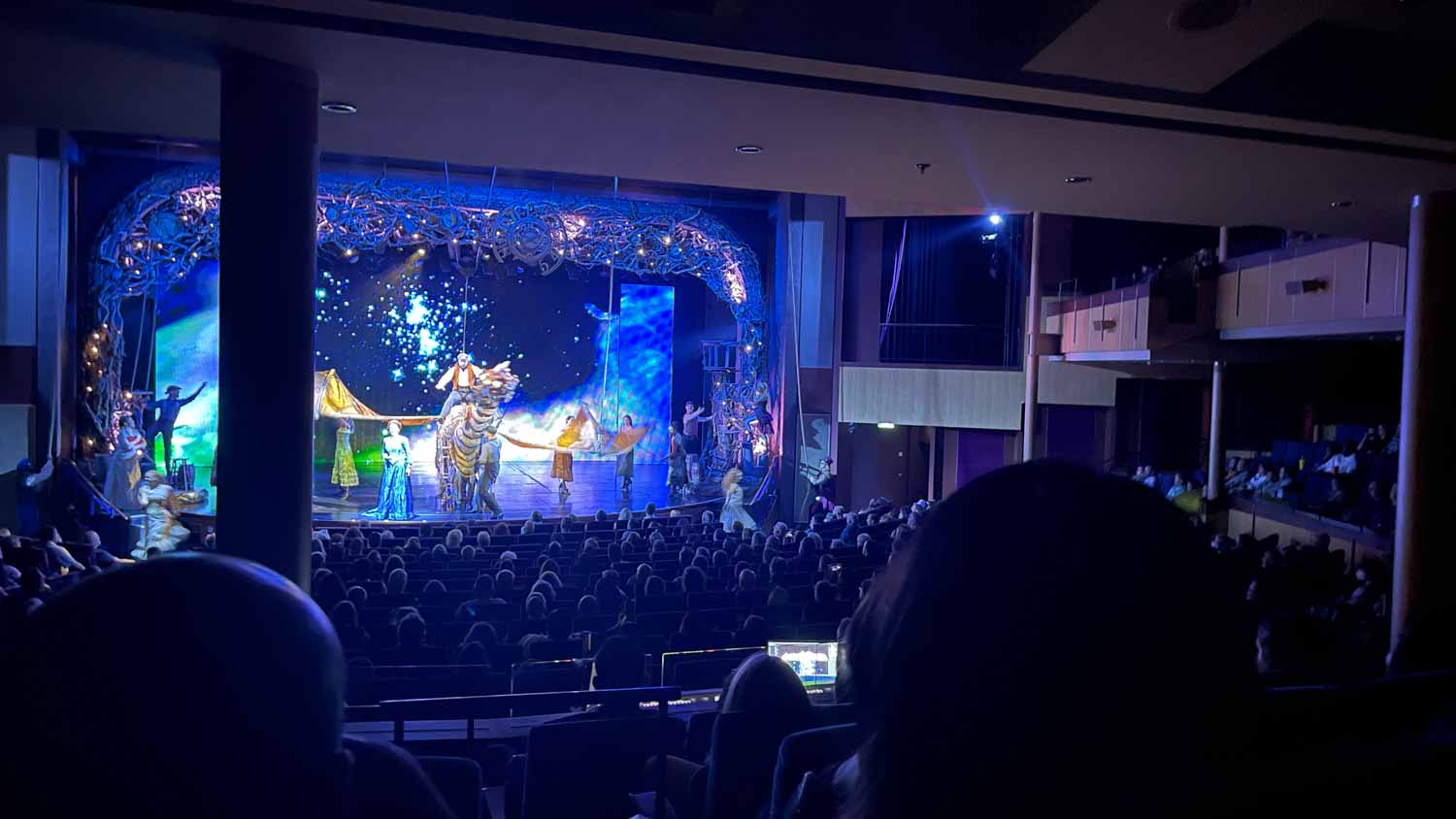 Hush Silent Party
There are two DJs battling to see who has the best songs. You can tell based on the headsets and what channel colors everyone is on. It is quite funny to hear people singing to different songs when you take your head sets off. Kids had a blast.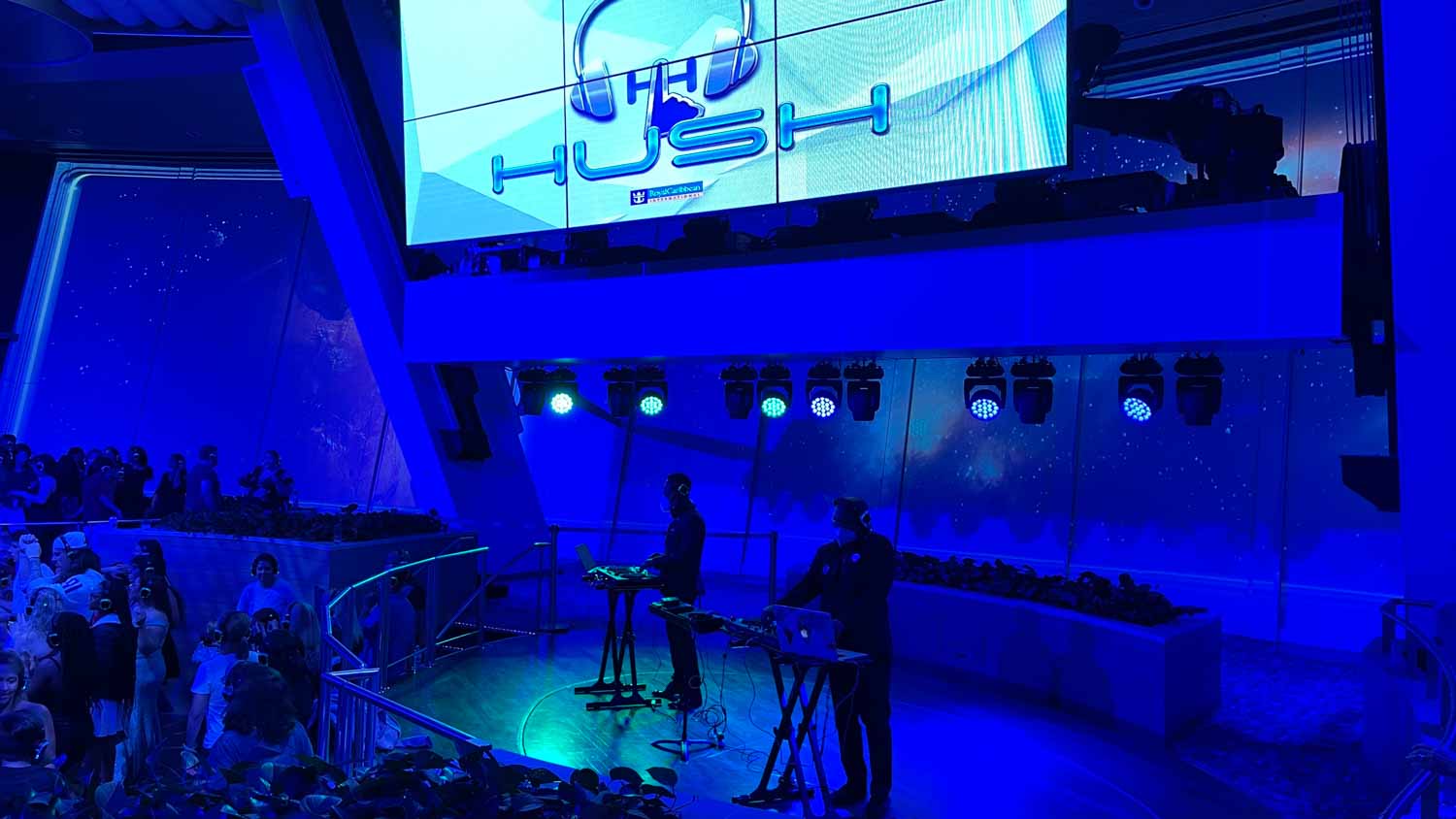 FlowRider
My two oldest daughters were scared of this initially, but they regretted not doing it sooner during the ship days!
iFly for Kids
My 5 year old and 7 year old even did this and they absolutely loved it!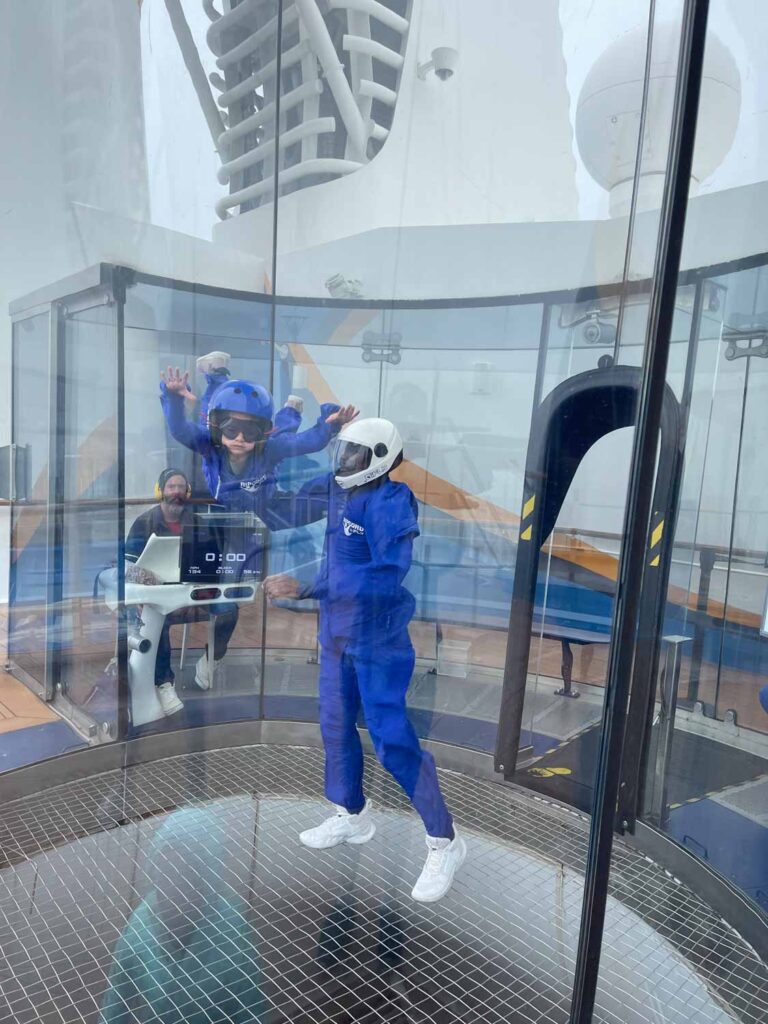 North Star
We did not end up doing this at all. If you do want to do this, I would recommend paying for the experience to watch it when you are at the glaciers. It's pretty amazing.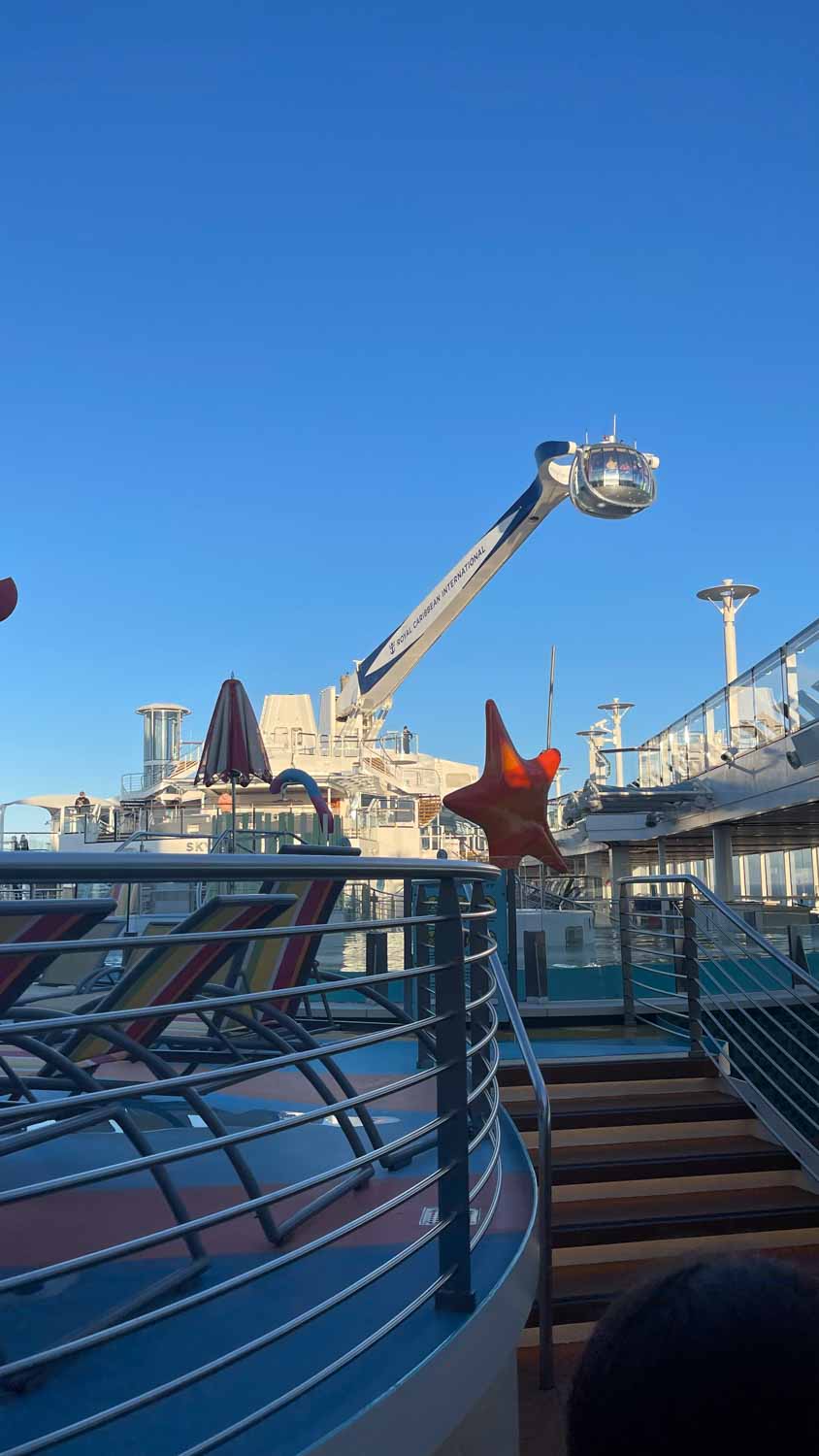 Piano Elevator
Try to find the Piano player in the elevators during the eventing around dinner time.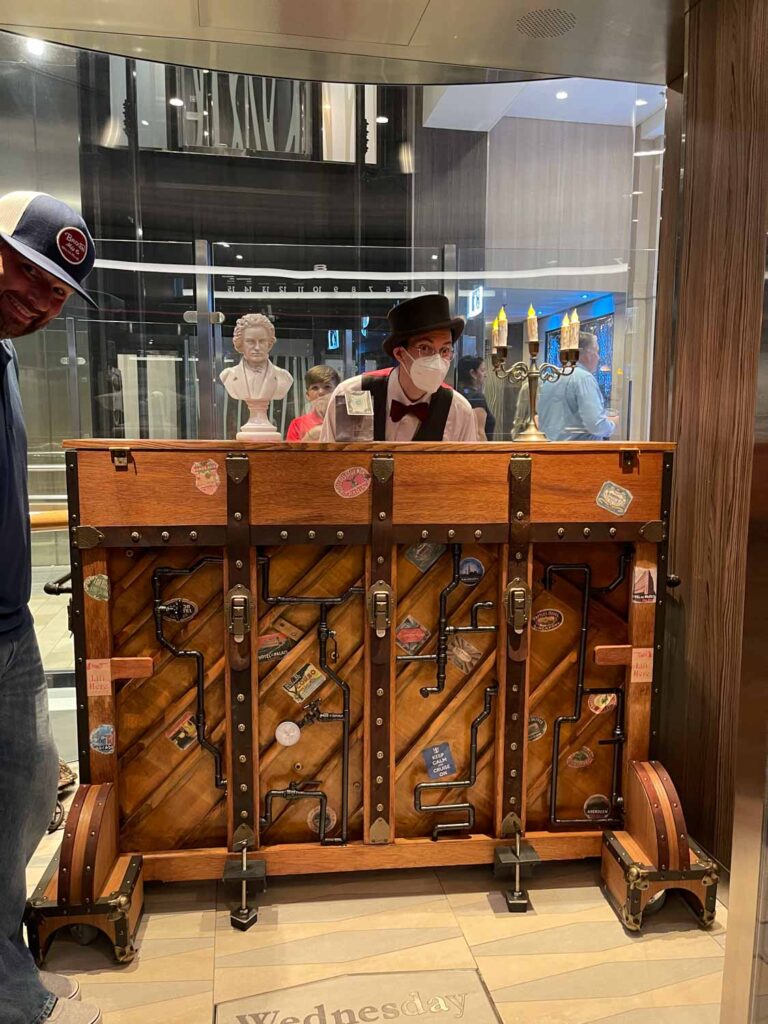 Food and Dining
Windjammer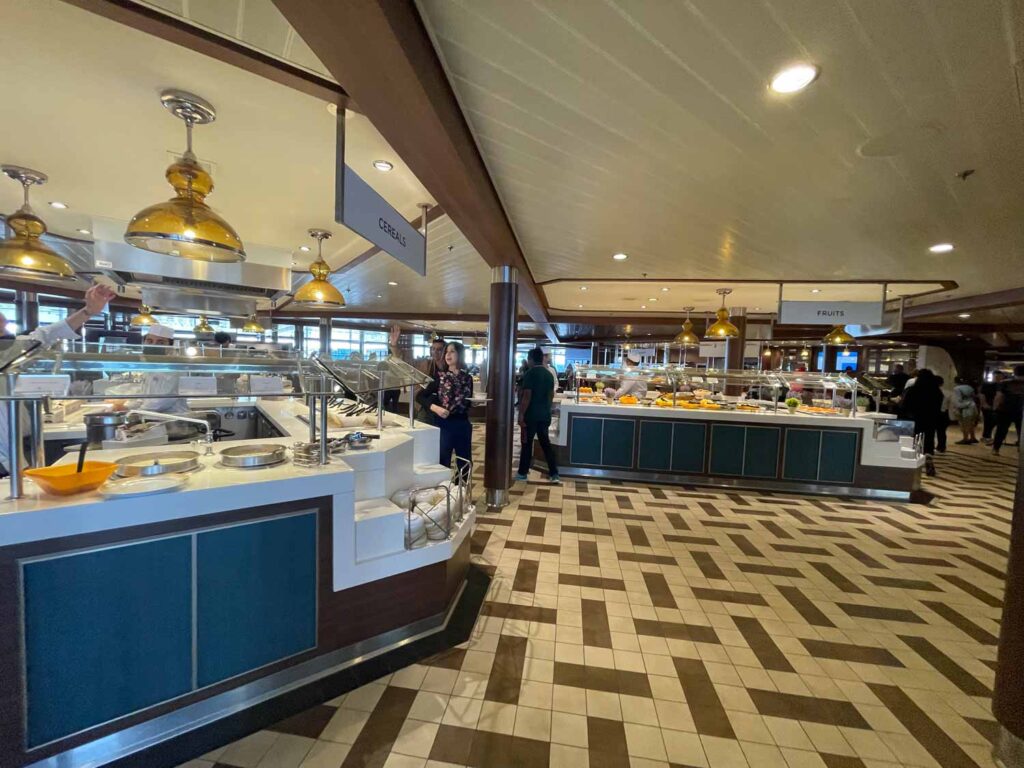 Seaplex Dog House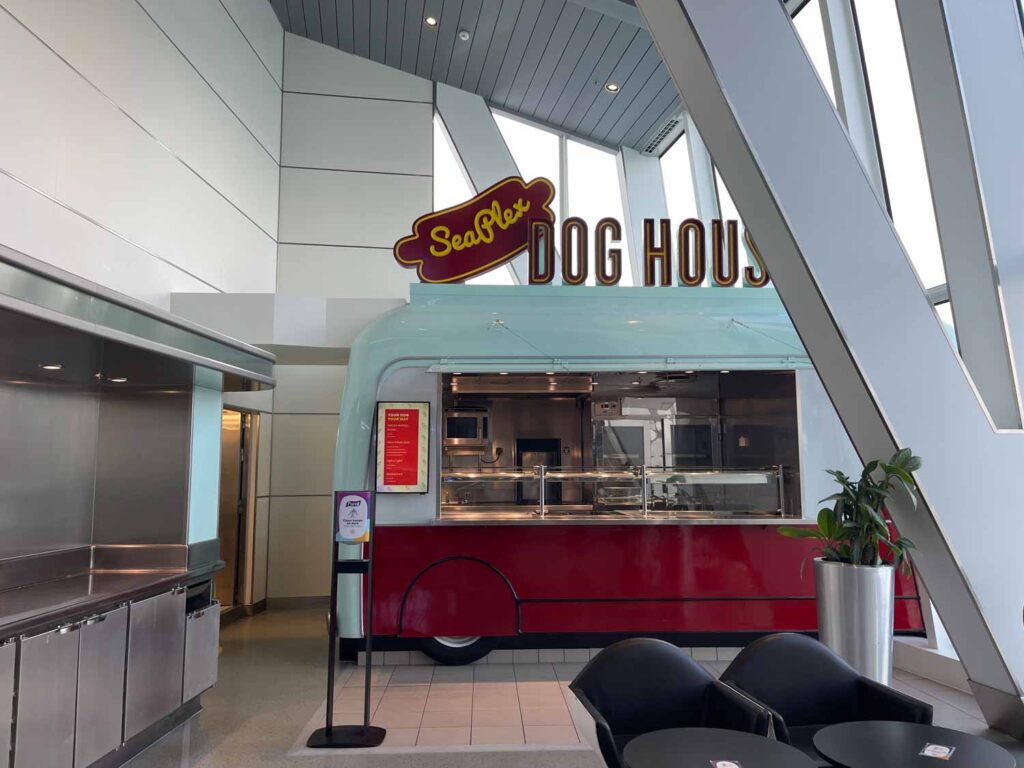 Wonderland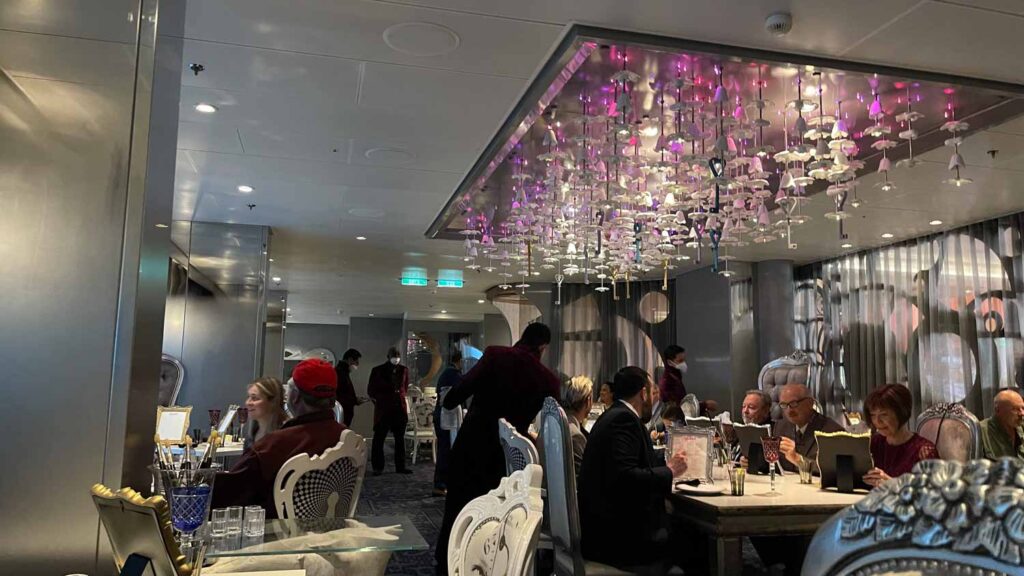 Other Alaska Cruise Tips for Families
I also have additional tips for an Alaskan cruise for kids if you are thinking about cruising.
Being Fully Vaccinated for RCCL
Fully vaccinated means that your child has gotten both doses + 14 days after final dose. Because my kid had both doses, but was still within the 14 day final dose, she was considered unvaccinated. That mean she had to undergo testing prior to boarding and during the 5th day before entering the US.
Ship Time Ages for Alaska
The ship has it's own time, and you can generally find it on their cruise app via mobile device.
Do Not Buy the Internet
Due to the way satellites are positioned and how far you are out at sea, you can expect pretty much a terrible internet connection. I had purchased the internet for four devices and ended up going to guest services to have them refund the amount. I even gave it a second chance and bought it 24 hours before debarking to check into our flights, and it was also really bad at that time. I would recommend just not messing with it at all.
Pair Early Glacier Viewings with Naps for the Kids
Our itinerary included a 5am - 10am glacier viewing and the kids did not want to nap, which meant very cranky kids later when we left for our whale watching adventure. They fill asleep on the bus towards the whale watching adventure. I would recommend pairing the glacier viewing and your port day with a nap to keep spirits high.
Finding Ducks
There are Facebook groups dedicated to hiding ducks and in order to participate to find the ducks, you should bring ducks to hide as well. The kids absolutely loved this.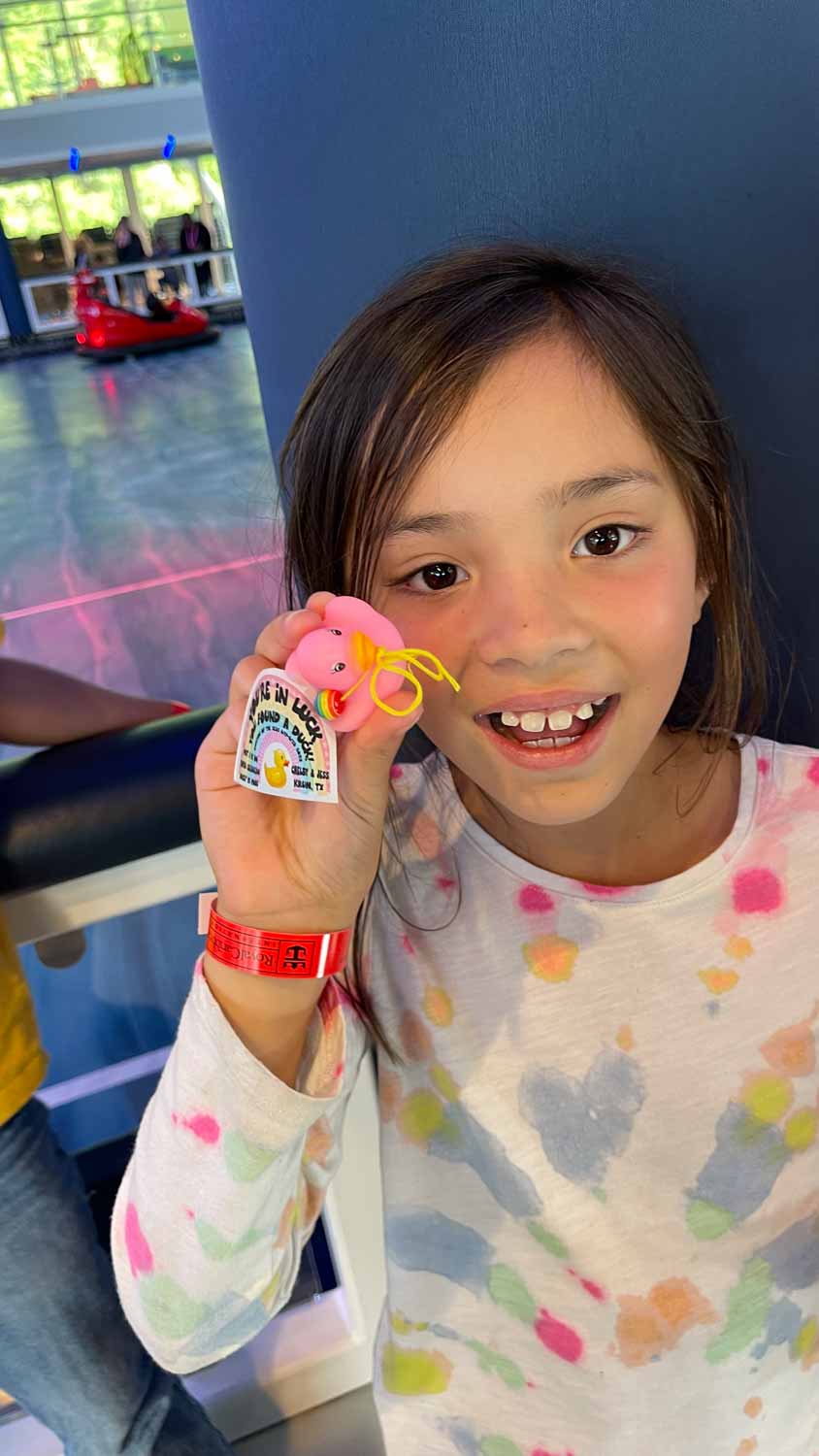 Summary
For families with young kids, the ship that you choose will be very important to your experience to Alaska. For our family, there were about 3 full sea days on our trip with short port stops at 4 locations, which we found to be a lot of sea days. Overall, we would highly recommend an Alaskan itinerary paired with the right ship, either RCCL Ovation of the Seas or Disney's Wonder). We made a lot of memories of whale watching, which was different than our typical beach vacation.
Ovation of the Seas Tips