Embarking on the Disney Wish with our family was a magical adventure, and one of the highlights was Olaf's Royal Picnic on the Disney Dream. I want to share the experience and offer some valuable tips for anyone planning a similar voyage with their little ones and what to expect in this exclusive dining experience on this new Disney ship.
What is Olaf's Royal Picnic on the Disney Wish cruise ship?
Olaf's Royal Picnic is an enchanting onboard event exclusively offered on the Disney Wish. This highly coveted experience combines delectable finger foods and desserts, a captivating show featuring beloved Frozen characters, and a bundle of exclusive merchandise for children aged 3 to 12. While you need to have a child within this age range to attend, the entire family can join in on the fun with them.
Overview
While it is definitely an expensive experience on an already expensive cruise ship, I will say that it was definitely worth it for those with kids who are absolutely in love with the Frozen characters. I did not bring my other kids because they wouldn't have enjoyed it as much (8 year old boy, 11 year old girl, 12 year old girl). Overall, I would highly recommend it if you can afford it for your kids if they truly are passionate about the Frozen characters and the movie.
What to Expect
Olaf's Royal Picnic is a dream come true and is available for kids ages 3 to 12. However, my overall recommendation is that it's best for kids between 5 and 7, as it is the perfect age to keep the attention for the fun kid swag, entertainment, and character meet.
Setting
Olaf's Royal Picnic unfolds at Arendelle, the Disney Wish's new Frozen-themed restaurant. You will be in awe of the Arendelle dining room all decorated in summer flowers with the chance to meet their favorite Frozen characters, including the lovable Olaf, Anna, Kristoff, and Sven. They decorate the space really well to differentiate it from the normal dining service, undergoing an adorable transformation during the picnic by adorning the pillars and ceiling with an abundance of summer flowers and colorful streamers.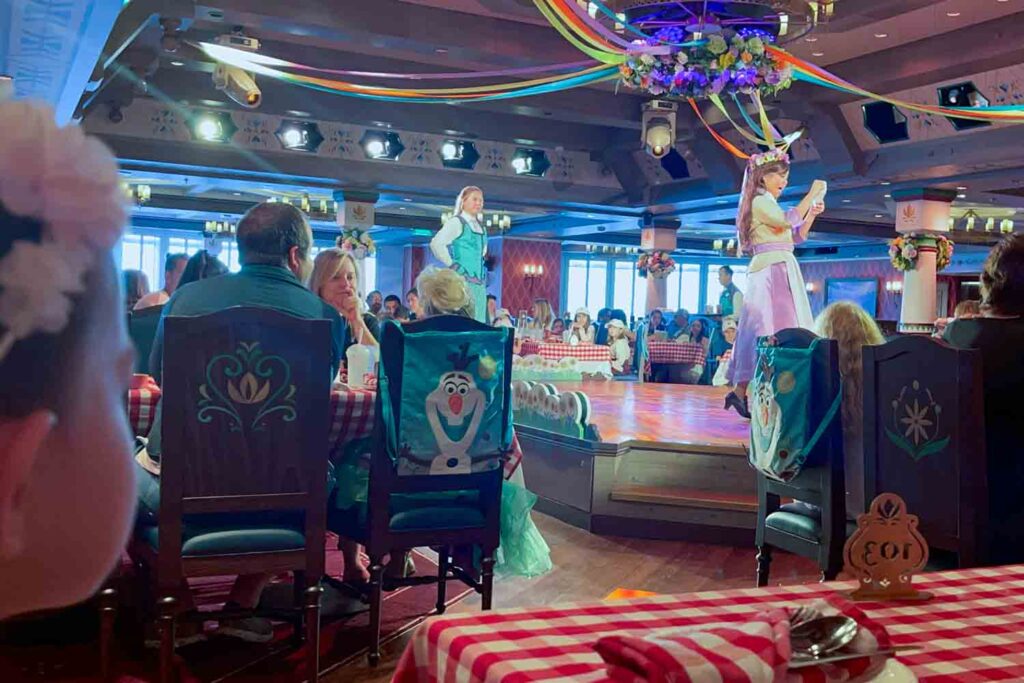 Dress for the Occasion
It's a wonderful idea to have your child dressed up in their Frozen attire. Why? Because you'll get a photo with all the characters, and there's nothing like being in character for the perfect snapshot.
The attire for Olaf's Royal Picnic leans towards "cruise casual." Most families, like mine, opted for comfortable wear such as polos, t-shirts, and shorts. While there's no strict dress code, it wouldn't hurt to dress up a bit for this special occasion. During our experience, Dags, one of the hosts, even commented on the number of guests "dressed for the occasion."
On our cruise, it happened on Day 2, which was our stop in Nassau. It occured from 3:00 - 4:00, which gave us plenty of time to stop in the Bahamas, schedule a Bippity Boppity Boutique makeover.
Arriving to Arendelle
Arriving early from your cruise cabin? Don't worry if the doors are closed; each group is assigned seats. While we initially thought our corner table away from the stage wasn't ideal, it turned out to be fantastic as we were among the first to be visited by the characters. The servers make the arrival extra fun, too.
Attendance
The exclusivity of Olaf's Royal Picnic is evident in its limited attendance. During our experience, there were fewer than 20 families present in the restaurant. While some reviews suggest up to 30 families may attend, it seems the limit is based on the total number of people rather than the number of groups. Considering the Disney Wish's over 1200 staterooms, this event truly ranks among the top-tier exclusives.
Gifts and Keepsakes from Olaf
As soon as you arrive, you'll notice a table laden with delightful gifts. The picnic tables feature classic red-and-white checkered covers, complete with sunflower-and-bee centerpieces. These include cutouts from coloring pages that will be used during the show, adding to the interactive experience.
While Olaf's Royal Picnic comes at a premium cost, children attending the event receive a generous assortment of gifts, all prominently labeled with "Olaf's Royal Picnic," making them unique Disney collectibles. These gifts include:
A spacious cinch bag featuring Olaf's cheerful face.
An Olaf baseball cap.
A domed drink tumbler with a twisty straw.
A plush rock that magically transforms into a rock troll.
A woven necklace adorned with magic crystals.
A mandolin with an attached pick.
An activity book complete with crayons, stickers, and punch-outs.
A fleece picnic blanket that conveniently folds up for easy carrying.
It's worth noting that only children aged 3 to 12 attending the Royal Picnic receive these special gifts, which accounts for the higher ticket prices in this age group. Unfortunately, teenagers aged 13 to 17 are charged the adult price and do not receive the swag.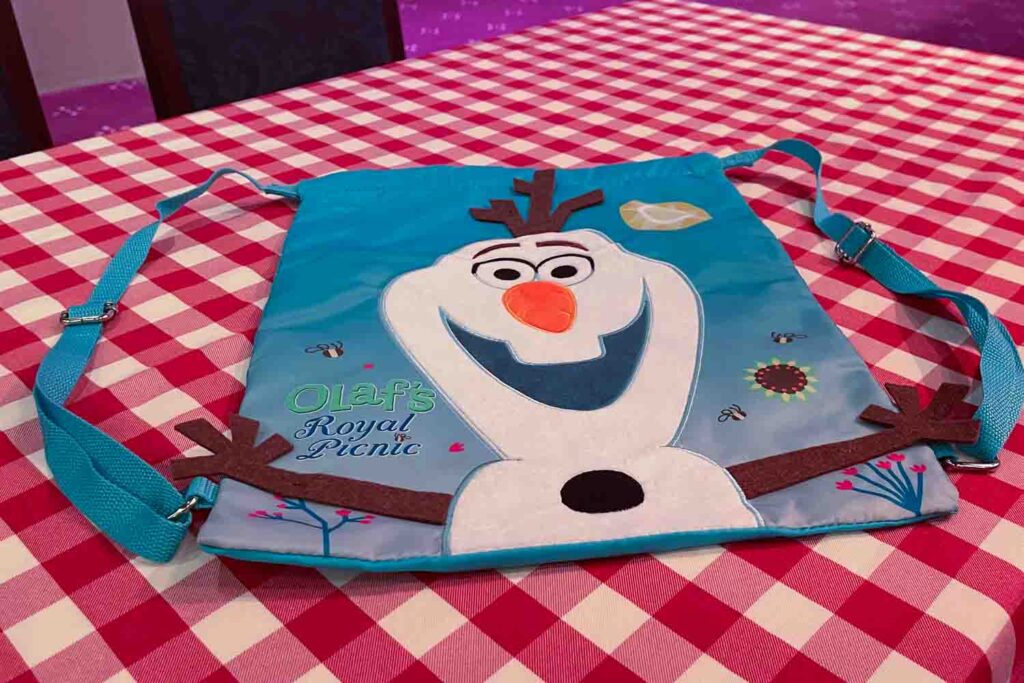 Delicious Sandwiches and Dessert
The food is a true feast, especially if you have a sweet tooth!
I recommend not feeding your kids before the picnic because there are plenty of delightful desserts to savor.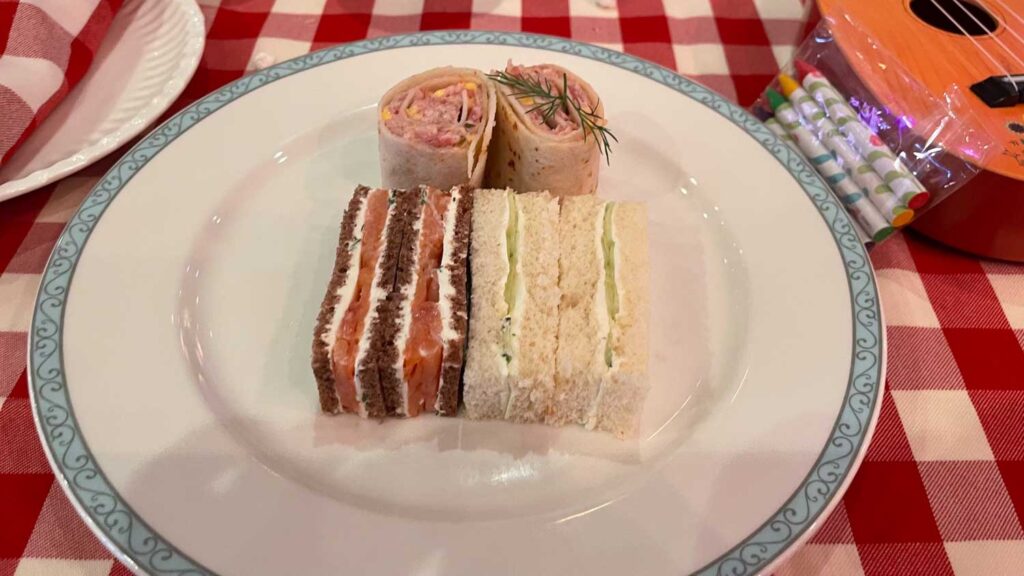 Entertainment
The picnic offers fun performance featuring several favorite Frozen songs performed by Elsa, Anna, Kristoff, Dags, and Olaf. Kristoff even engages the children in performing his reindeer song with miniature mandolins, creating an adorable, and interactive moment.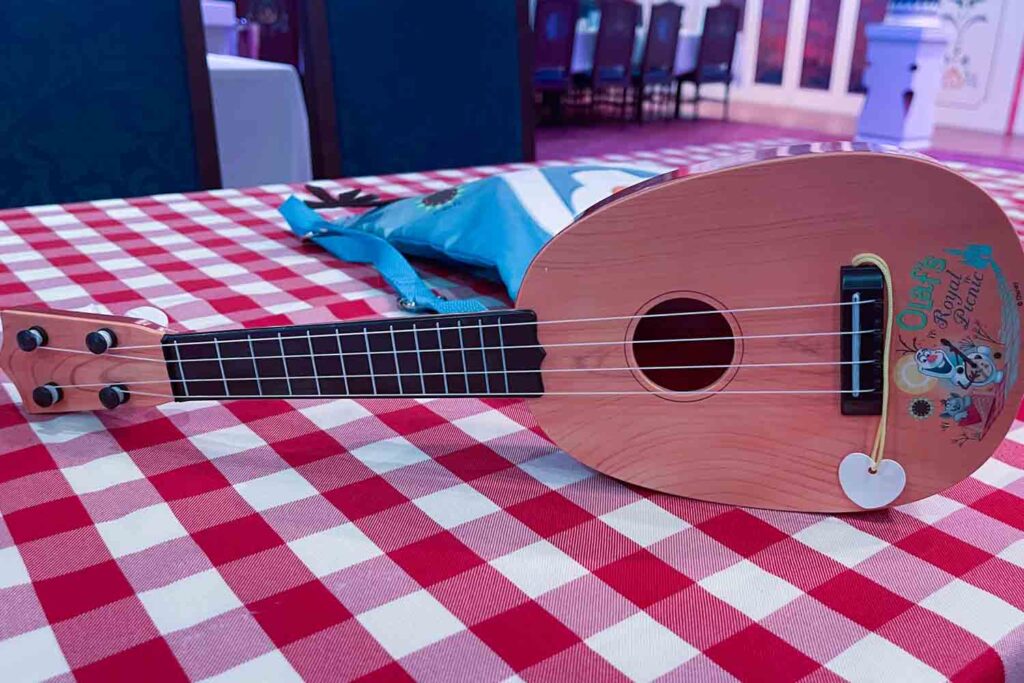 The picnic itself is a celebration of summer in Arendelle Castle, hosted by a lively Arendellian. Olaf and other beloved characters join in for a fantastic time. The setting is absolutely breathtaking, with colorful flowers adorning the castle and sunflowers transforming the banquet hall into a summertime meadow – all indoors! The story revolves around one of the castle members hosting her first event, and Olaf has an amusing proclamation to share at the end. There's singing, dancing, and a whirlwind of fun that will keep your child captivated. Be sure to check out our video for a sneak peek! The following songs are featured:
In Summer
Fixer Upper (with servers and the Rock Trolls)
Let it Go
Reindeer are Better Than People
Elsa's singing is pre-recorded, and she lip-syncs to Idina Menzel's voice during the event. The show also incorporates a brand-new storyline, and without giving away spoilers, it culminates in a special surprise for Olaf.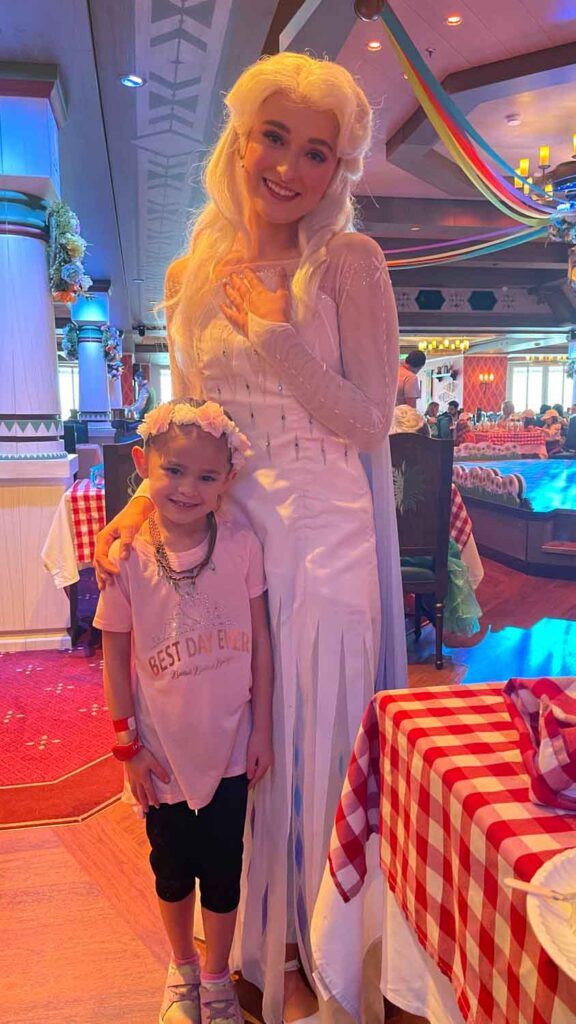 Character Interactions at Olaf's Royal Picnic
The characters featured in the picnic closely mirror those in the nightly dinner show at Arendelle. Following the performance, families have the opportunity to spend quality time with Anna, Elsa, and Kristoff. They can chat, hug, collect autographs, and take pictures. Disney Cruise Line will provide photographs, but guests are welcome to use their own devices as well.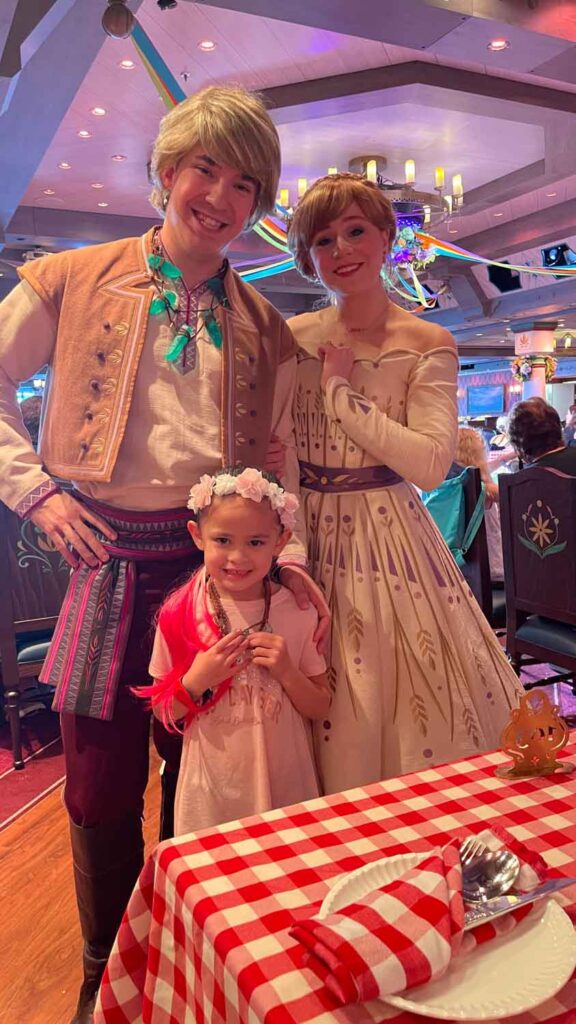 We had the pleasure of encountering Elsa, Anna, and Kristoff at both dinner and the Royal Picnic. A new character named Dagmar Birgir, affectionately known as Dags, kicks off the event. If the event goes smoothly, Olaf himself makes a grand entrance, not as a costumed cast member, but as an impressive animatronic figure atop a serving cart.
Olaf's availability can vary, and during our cruise, the picnic was the only opportunity to meet him. The presence of Olaf depends on the status of the animatronic version, as he may occasionally be replaced by a full-sized costume. The reasons behind these choices remain a mystery, so it's best to hope for the best.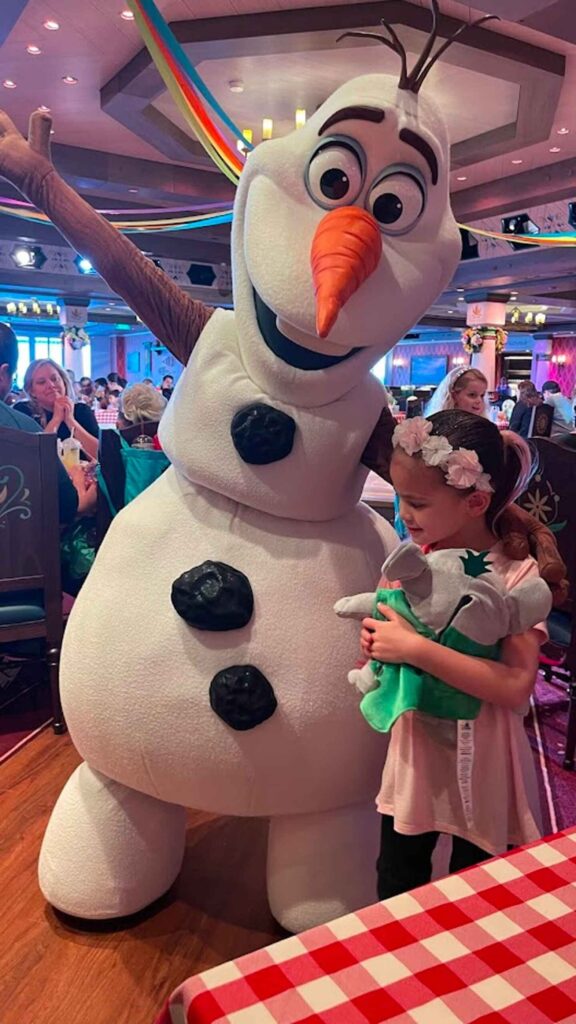 Each character interaction lasts about 30 seconds, but it's an incredibly fun experience for your child.
Food and Dining
Served Olaf's Royal Picnic offers a delectable array of food, without the need to choose from a menu. Guests are treated to an assortment of finger sandwiches, pastries, and desserts. The sandwiches include tuna salad, egg salad, cream cheese and cucumber, and possibly salami and cream cheese. Additionally, small tortilla wraps with ham, cheese, and a condiment are served.
The scones come filled with fresh berries and drizzled with royal icing. My daughter didn't like the sandwiches, but the desserts were a hit!
For desserts, guests receive a combination of brownie and custard, creme-filled cookie sandwiches with a fruity red jam filling, and a delightful surprise in the form of what appears to be an ice cream bar. Upon closer inspection, this treat reveals itself as a white chocolate-coated carrot cake, a true crowd-pleaser.
Specialty Treat
Children attending Olaf's Royal Picnic are treated to ice cupcakes, chocolate cupcakes adorned with white buttercream and a white chocolate Olaf on top.
However, adults do not receive this particular dessert.
Capturing the Moment
At the end of the picnic, you'll receive a lovely binder with photos. If you want the best lighting for your pictures, consider arriving a little later. We were at the front, which meant the photographer hadn't quite perfected the lighting yet.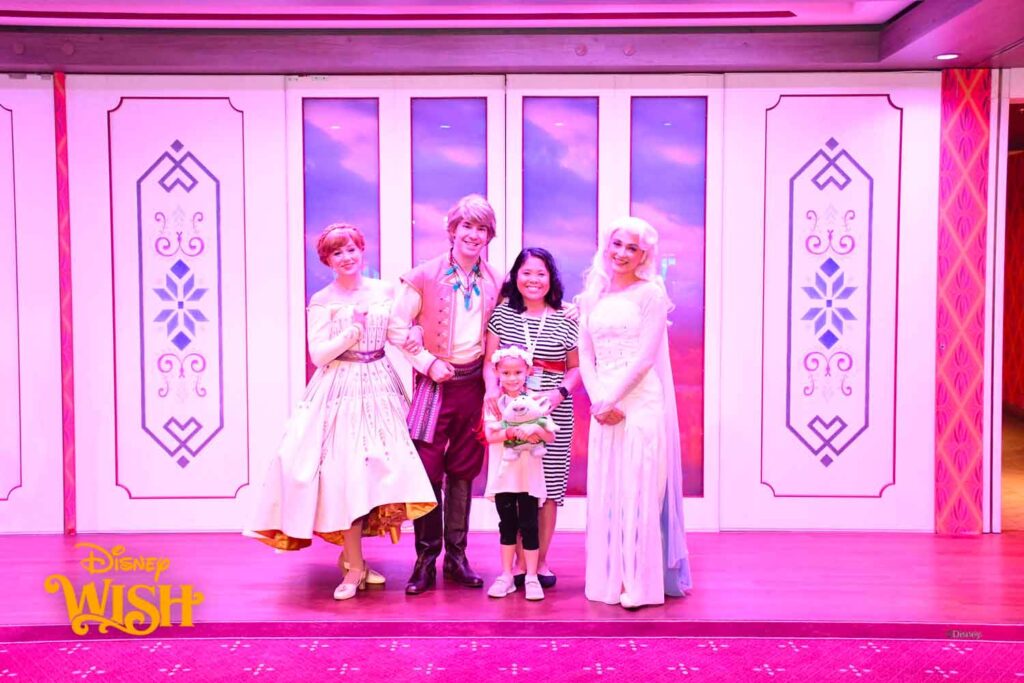 Logistics for Booking
Booking Olaf's Picnic
Securing Tickets Booking tickets for Olaf's Royal Picnic can be quite the adventure. These experiences tend to fill up quickly, so ensure you sign up as soon as you can. We had the assistance of a fantastic travel agent who specializes in Disney cruises, and that made the booking process seamless. The booking window for Disney Cruise Line Loyalty Membership (known as Castaway Club) allows some of the higher tiered members (those that complete 25 sailings0 up to 123 days in advance! Don't be disappointed when you find out that the event was sold out long before your booking window opens. If you initially find no availability, spots can open closer to your sail date as people need to pay their cruise ship in full and need to cancel or they have excursions they can't book around.
A useful tip: If your child wants a makeover before the picnic, book it at the same time. This way, you can ensure they have a makeover slot that works with the timing of the Olaf experience.
Pricing Details
Partaking in Olaf's Picnic comes with a substantial price tag. Children aged 3 to 12 are charged $220 each, while those 13 and older are priced at $69 per person. Although teenagers aged 13 to 17 can attend, they do not receive the event's gifts, and they must be accompanied by at least one adult aged 18 or over.
Is Olaf's Royal Picnic on the Disney Wish worth it?
The question of whether Olaf's Royal Picnic is worth the cost ultimately depends on personal preferences. From my perspective, I can confidently say that Olaf's Royal Picnic is absolutely worth the investment, and here's why:
Exclusivity
This show is exclusive to the Disney Wish cruise ship, adding to its allure. Olaf's Royal Picnic is a one-of-a-kind event that takes place only once per cruise. With limited attendance, it offers an unparalleled level of exclusivity.
Entertainment
The event features a charming and well-thought-out show. The animatronic Olaf, when present, is super neat!
Swag
The substantial number of gifts received at the event significantly enhances its value. Considering the items' individual retail prices and the fact that they are exclusively branded for the picnic, attendees leave with high-value merchandise.
Memories
The joy and excitement on the faces of children throughout the event are truly priceless. The characters, including Olaf and the rock trolls, captivate young hearts. Meeting Anna, Elsa, and Kristoff up close creates cherished memories.
Carrot Cake Bars
The carrot cake bars served at the event are absolutely delicious. They are a must-try, even for those who are not typically fans of carrot cake.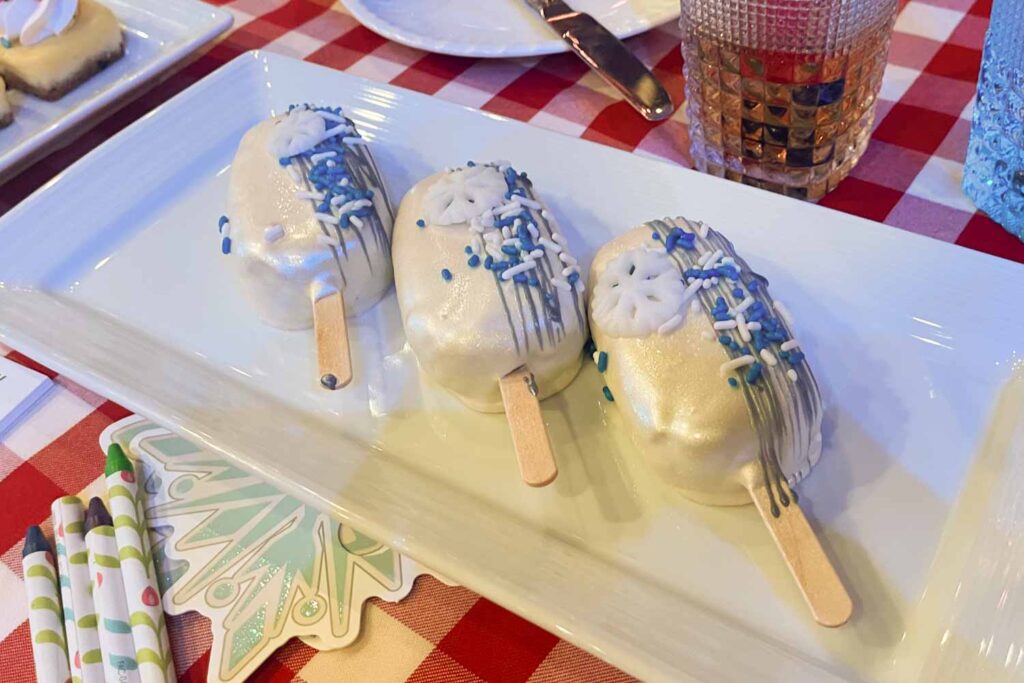 Ultimately, if you are a Disney-loving family, especially if your children are fans of Frozen, Olaf's Royal Picnic promises a magical experience that you'll treasure.
Other General Tips for Olaf's Royal Picnic
Below are my general other tips summarized to help you make the most of being able to book on this super expensive cruise ship:
Consider Booking a Concierge Room: If Olaf's Royal Picnic is a must-do for your family, consider booking a concierge room. Concierge cruisers often have priority access to exclusive events like this.
Don't Give Up on Checking Reservations: Keep checking for reservations even after they appear to be sold out. People may cancel or change their plans, creating openings closer to your cruise date. Additionally, inquire about the waitlist at Guest Services once onboard.
Be Flexible: Be prepared for unexpected changes in the event's date and time, as circumstances may require adjustments. You might need to adjust your other plans or activities accordingly.
Dress Up a Bit: While there's no strict dress code, consider dressing up a little for this special occasion. The hosts may appreciate the effort, and it can add to the festive atmosphere.
Arrive Hungry: The amount of food served at the picnic can be substantial. Arrive with an appetite to fully savor the delicious offerings.
Extra Carry-On for Souvenirs: If you're flying home after your cruise, bring an extra carry-on for souvenirs. The gifts, especially the cinch bags, can take up space, and having an additional bag can be convenient.
Other Character Opportunities: If you can't secure tickets to Olaf's Royal Picnic, don't worry. You'll have other chances to meet Frozen characters during your cruise, with meet-and-greets scheduled for both kids and adults. The Oceaneer Club also hosts events where your little ones can interact with costumed characters, including Olaf.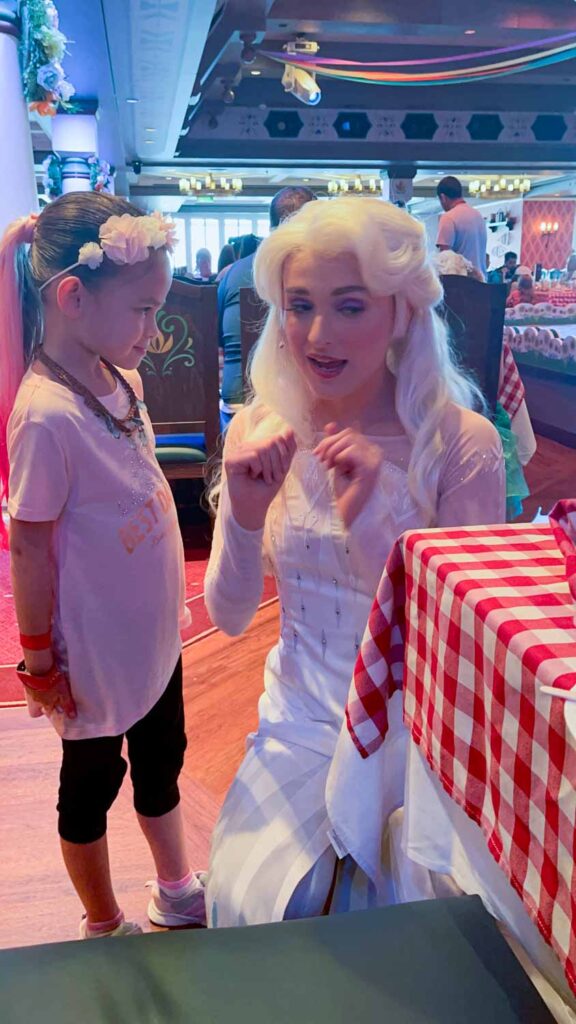 Overall Experience
My daughter had an absolute blast, and the memories we created with the characters were priceless. As for bringing along my older kids (8-year-old son and 11 and 12-year-old daughters), I'd say it was a wise decision not to. They opted for the Incredibles course with Dad, something they enjoyed more.
Olaf's Royal Picnic is a must for young Frozen fans. While the price may seem steep, the joy and enchantment it brings to your child's face make it worth every penny. So, if you're planning a Disney cruise with little ones, make sure to book this delightful experience early, dress for the occasion, and get ready for a magical journey they'll cherish forever.
Disney Wish Tips and Tricks