If you are thinking about taking your family with young kids on a cruise on Royal Caribbean's Symphony of the Seas, I'm sharing with you our experience with our family of young children in the hopes that you learn about some of the best tips and tricks on having a great time.
Symphony of the Seas is currently the largest and biggest cruise ship in the world that boasts so many activities, dining options, and rooms that you won't find on any other cruise line.
While our first experience with cruising was with Disney Cruise Line Dream Ship, we wanted to try a more affordable option. Let's just say that Royal Caribbean did not disappoint us! I'm going to share with you what to expect, what to book, things to avoid, and also some money saving tips!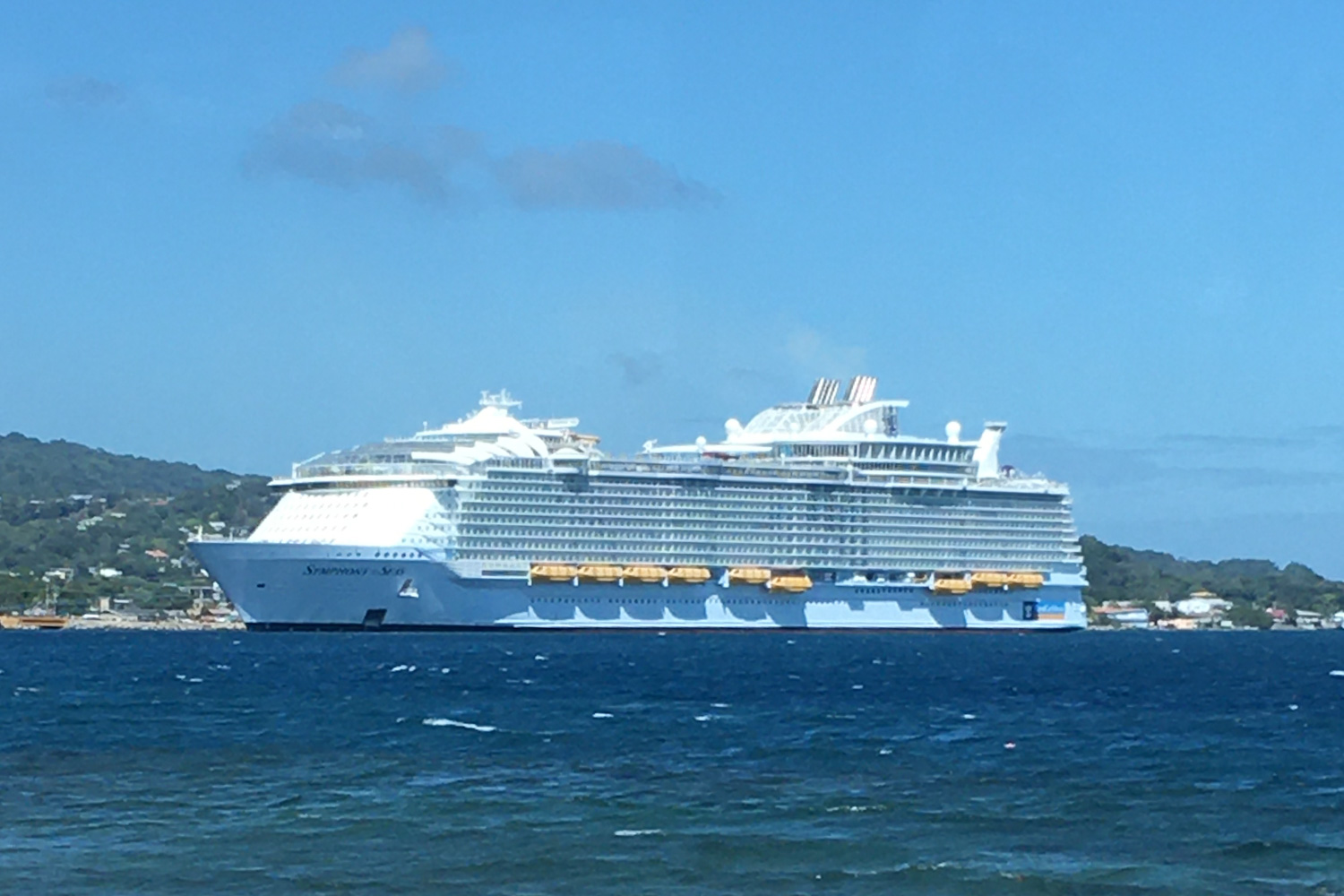 Symphony of the Seas Overview
Symphony of the Seas is Royal Caribbbean's largest ship. It has several pools, restaurants, and activities to keep various ages of families entertained.
Statistics
Launch date: March of 2018
Number of Passengers: 6,680
Number of Crew: 2,200
Number of Floors: 17
Number of Staterooms: 2,759
Gross Tonnage: 225,081 GRT
Ship Width: 215.5 Feet
Ship Length: 1,188 Feet
Levels: 18 Decks
Cruising Speed: 22 Knots
Ship Registry: Nassau, Bahamas
Ship Areas
Central Park - Open outdoor space (almost like an outdoor mall)
Boardwalk - Another outdoor space, but where carousel and sports bar are located
Solarium - Adult only sesion
Sports - Basketball
Pool Zone - Also where frozen yogurt is located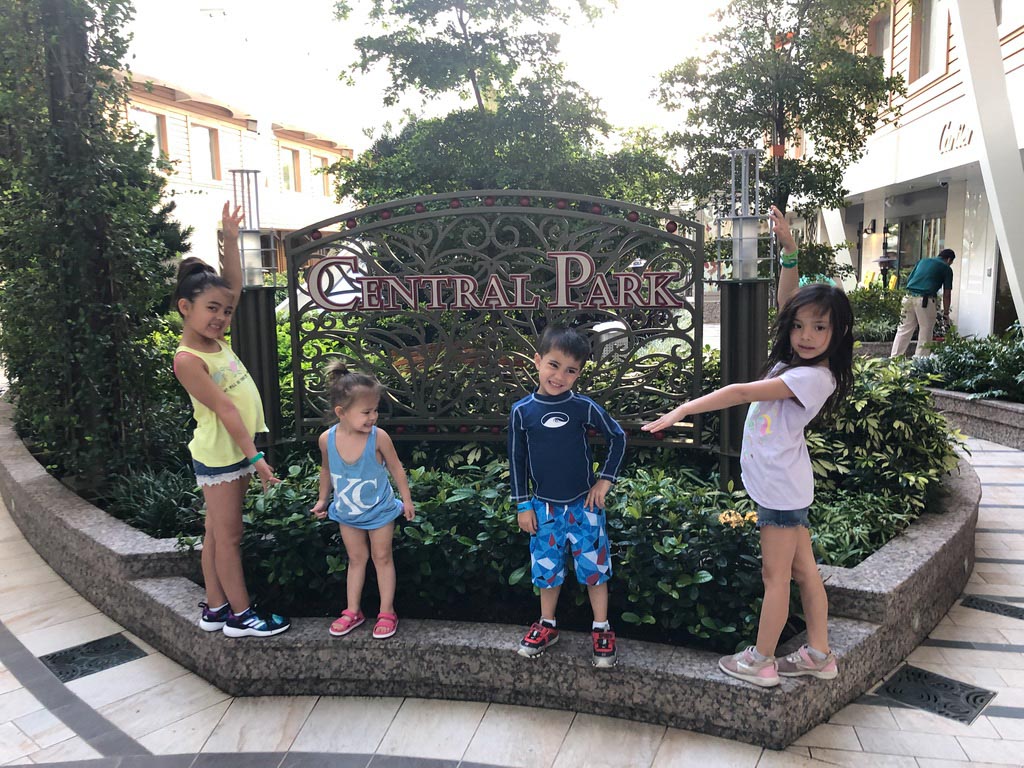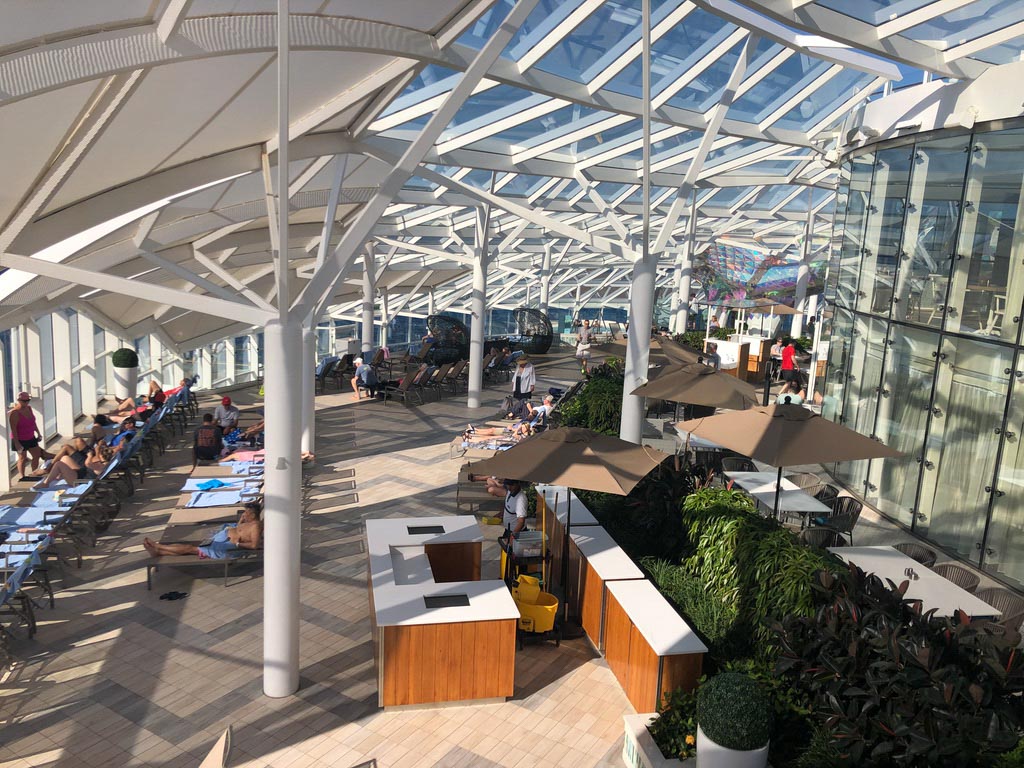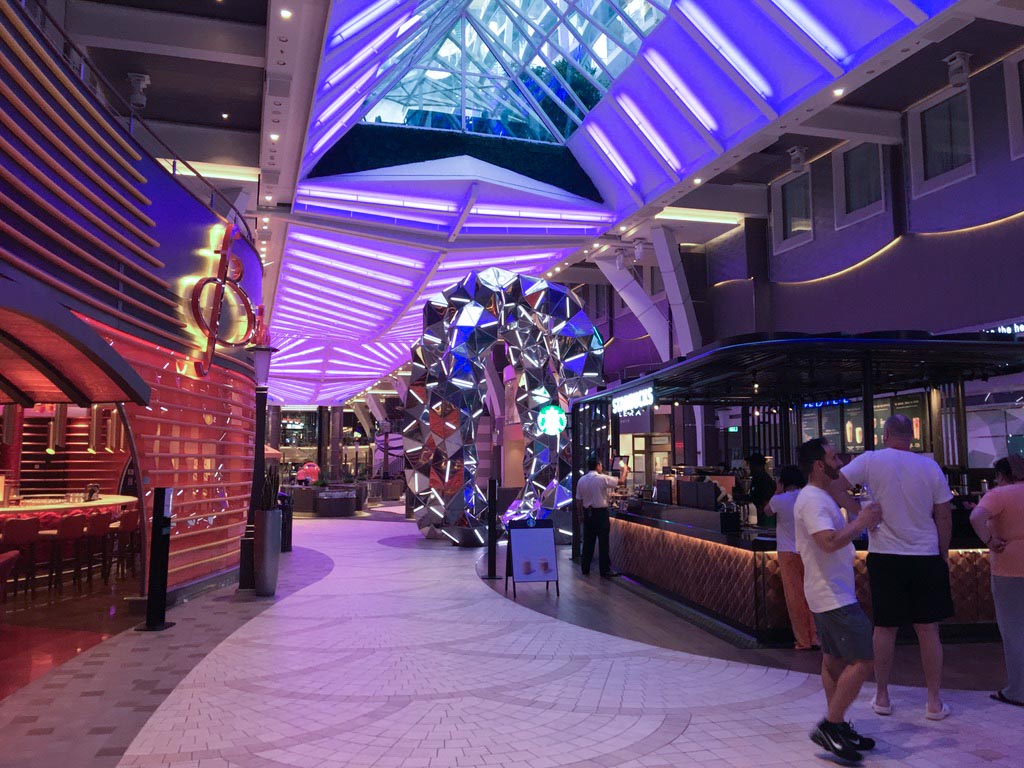 Connecting Rooms for Big Families
At the time of sailing, our family comprised of two adults and four kids all under the age of ten. We wanted to have a balcolny while also having space for all of us. We opted for connecting rooms and received room 10586 and 10588, which was an absolutely perfect room for our family.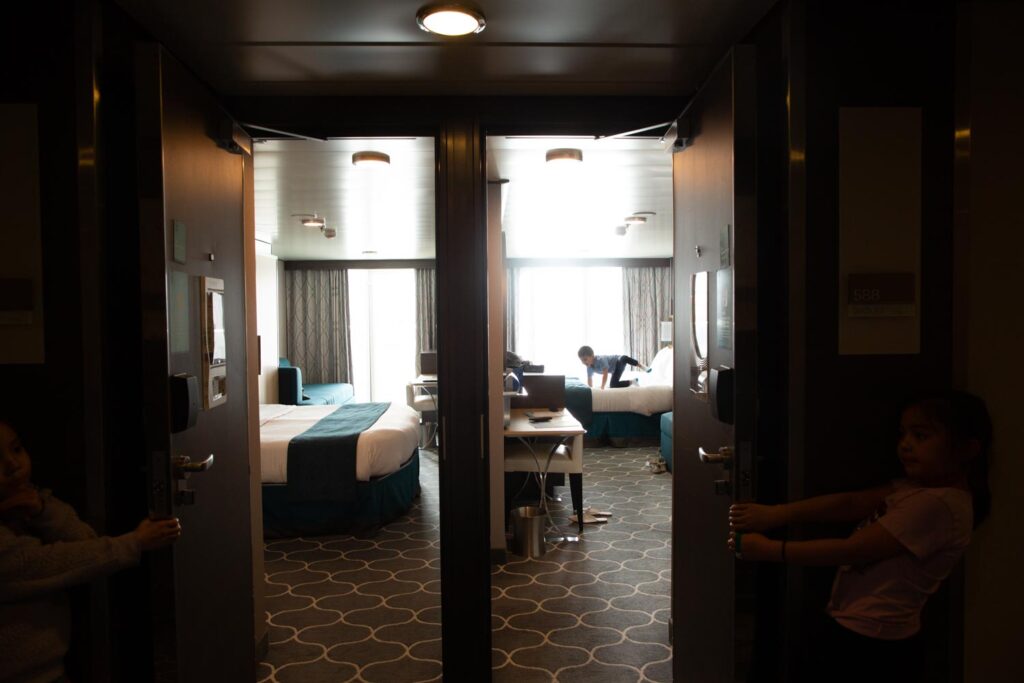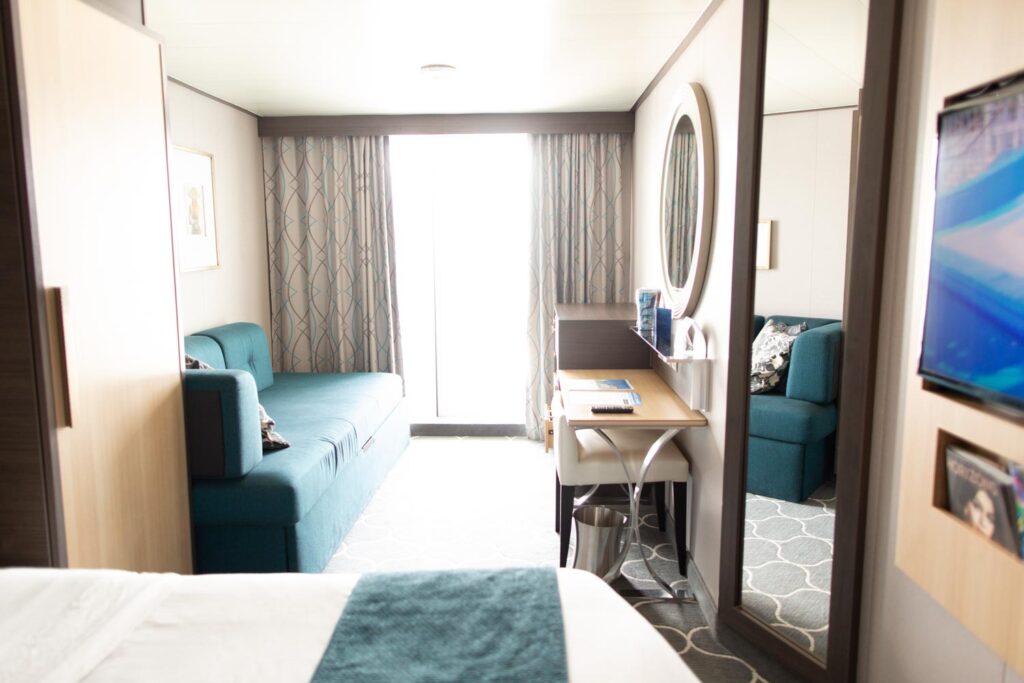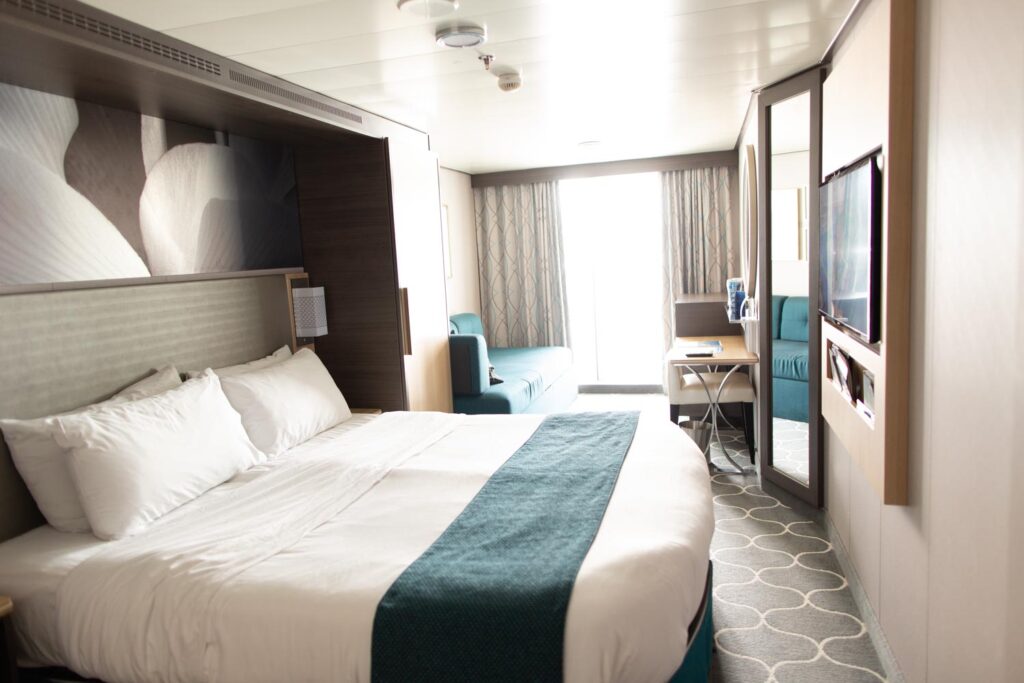 The great thing around doing a connected room instead of trying to book the ultra spacious room with bunk beds was that you get two bathrooms to get ready in.
We had to use a shoe to keep the connecting door open. There were times we were afraid that little toes would get stuck if the door was accidentally closed. However, this never happened. This was a great decision. Check out my video here on it!
The sofas pulled out into two separate beds.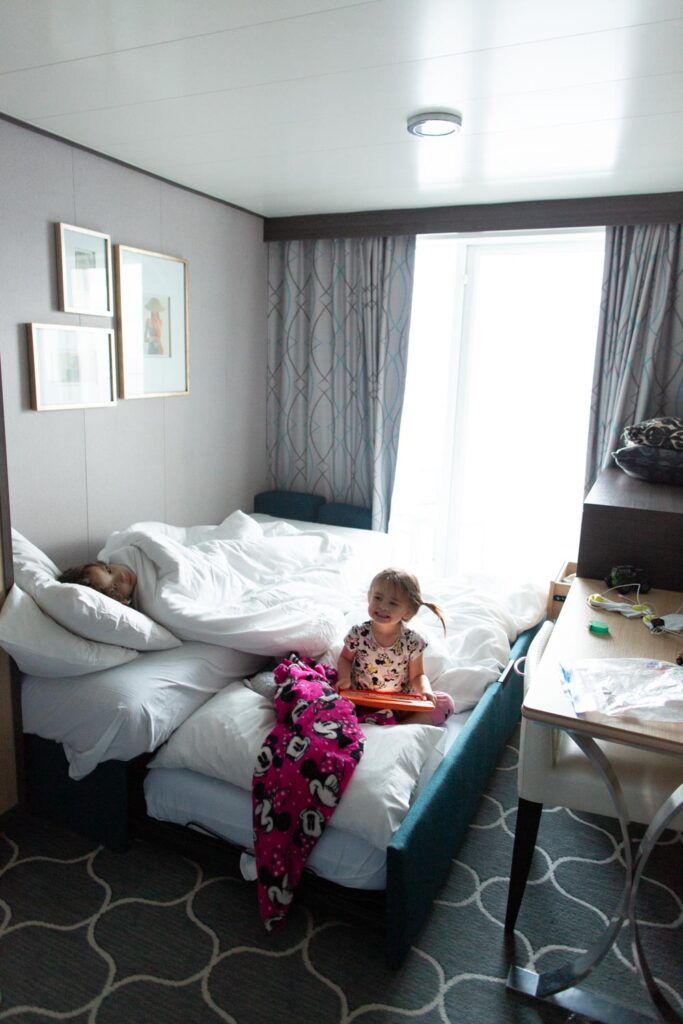 There are no tubs in the bathroom, just shower stalls.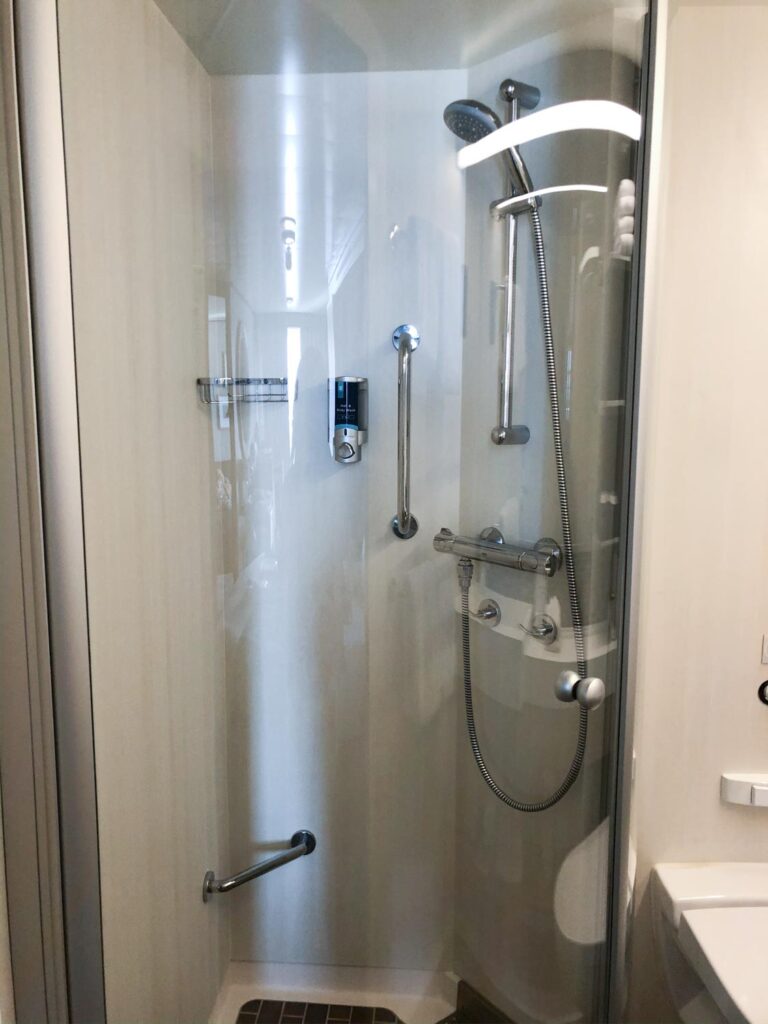 In addition, your balcolny is double the size and the wall divider can be folded to increase the balcolny square footage.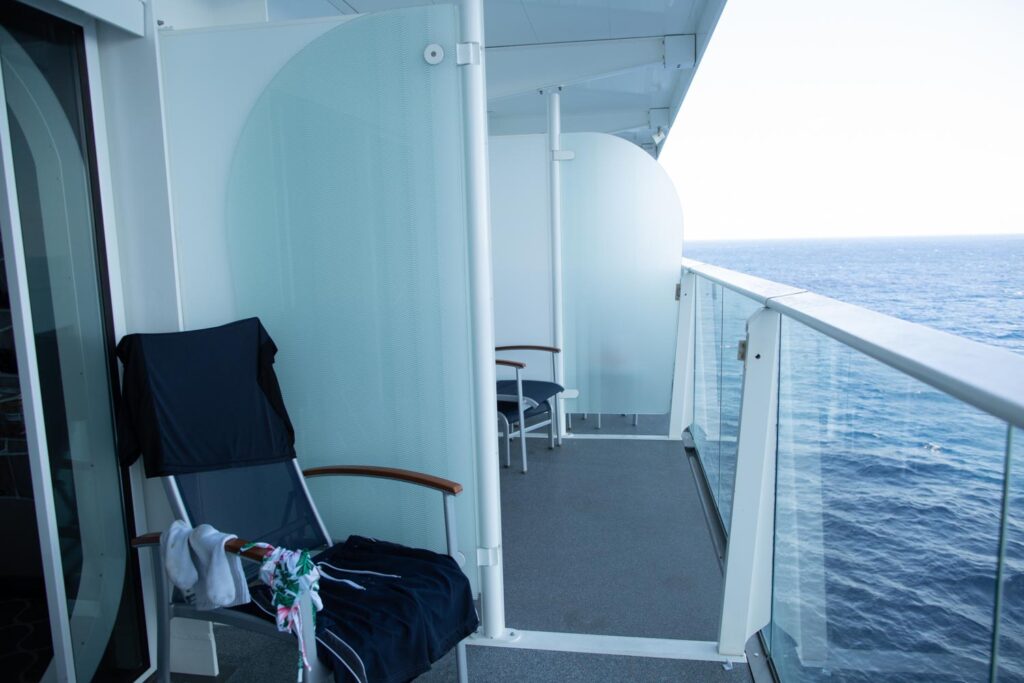 Child Care Options
Depending on your childs ages, they can be part of one of several instructional programs offered.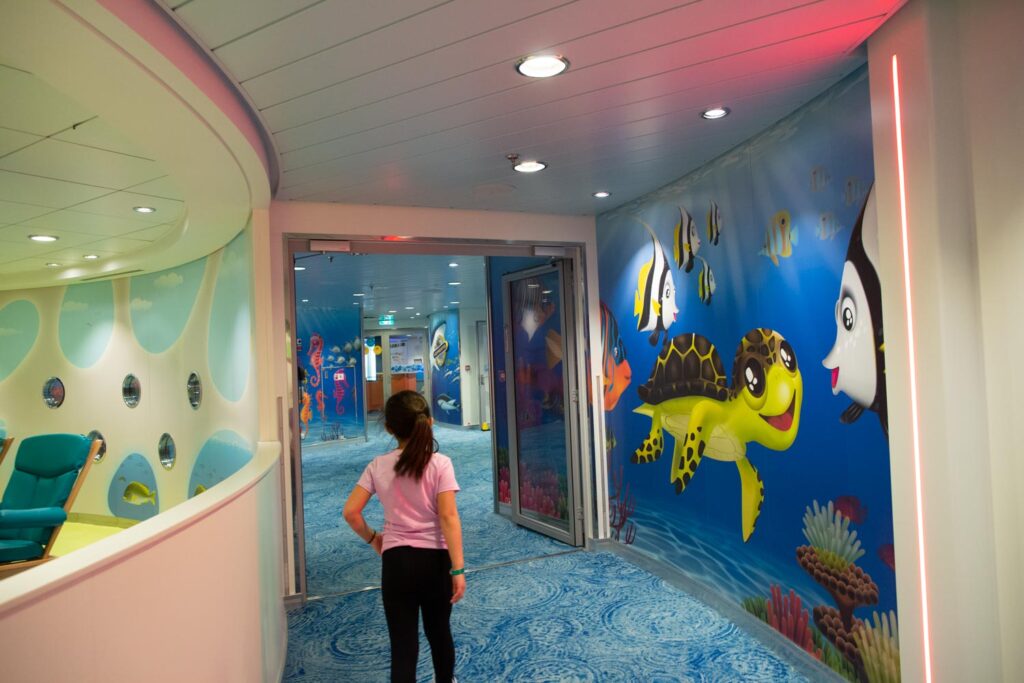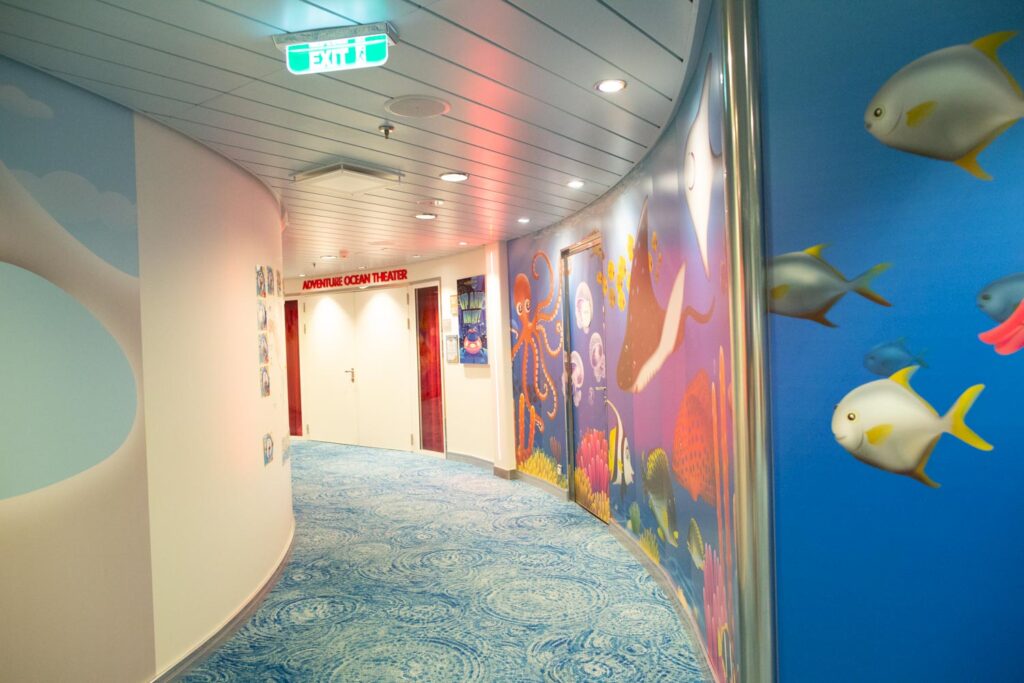 Royal Tots
Their baby and tot program is open for kids 6 to 36 months. Our child was 24 months at the time, and she as happy as a clam when we came and picked her up. The daycare teachers labeled everything and were so very caring when we dropped off and picked up. They charge hourly.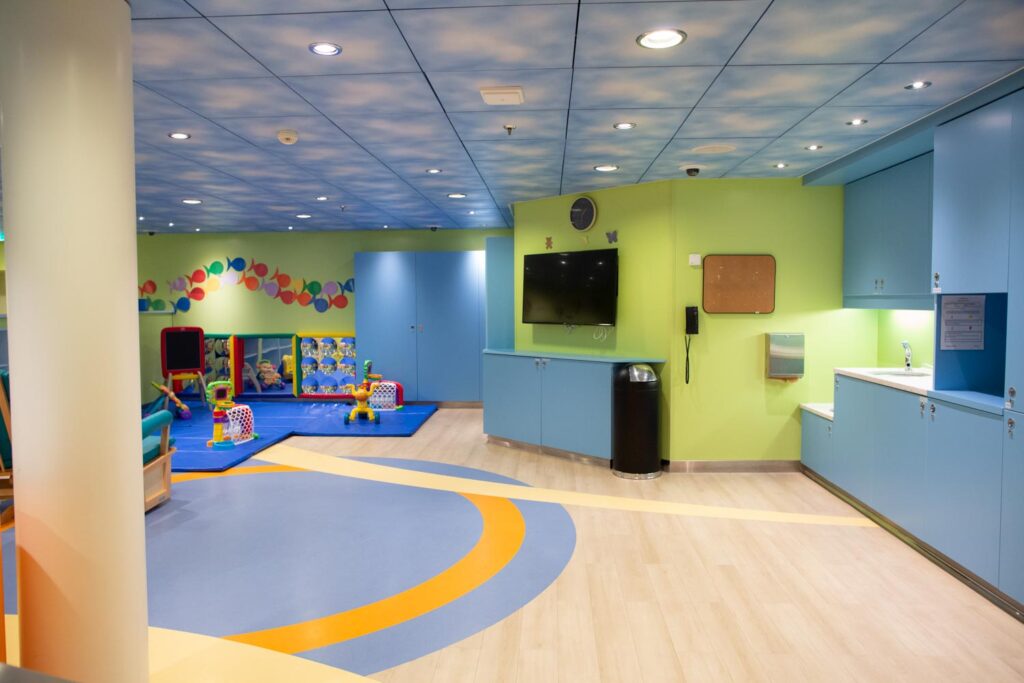 Adventure Ocean
Symphony of the Seas Adventure Ocean is a kids program/daycare that is onboard the ship. As parents, one thing you'll need to know is that Adventure Ocean is not open 24 hours a day. Unless its a port day, Adventure Ocean generally has set times and is not opening during dining hours. When you board the ship, you should definitely register kids the first day because it makes sure that the next nights where you'll use their service be smoother (rather than having to wait and register them later).
Symphony of the Sea's Adventure Ocean childcare is divided into the following age ranges for kids:
3 to 5
6 to 8
9 to 11
12 to 14
15 to 17
The hours for Adventure Ocean are commonly:
9am to noon
2pm to 5pm
7pm to 10pm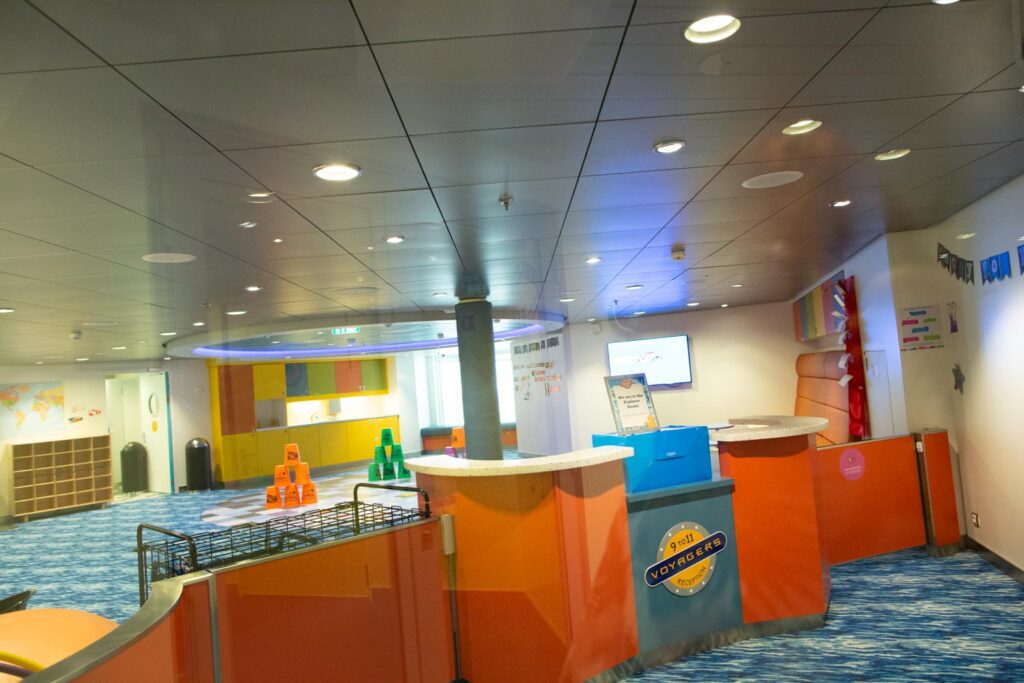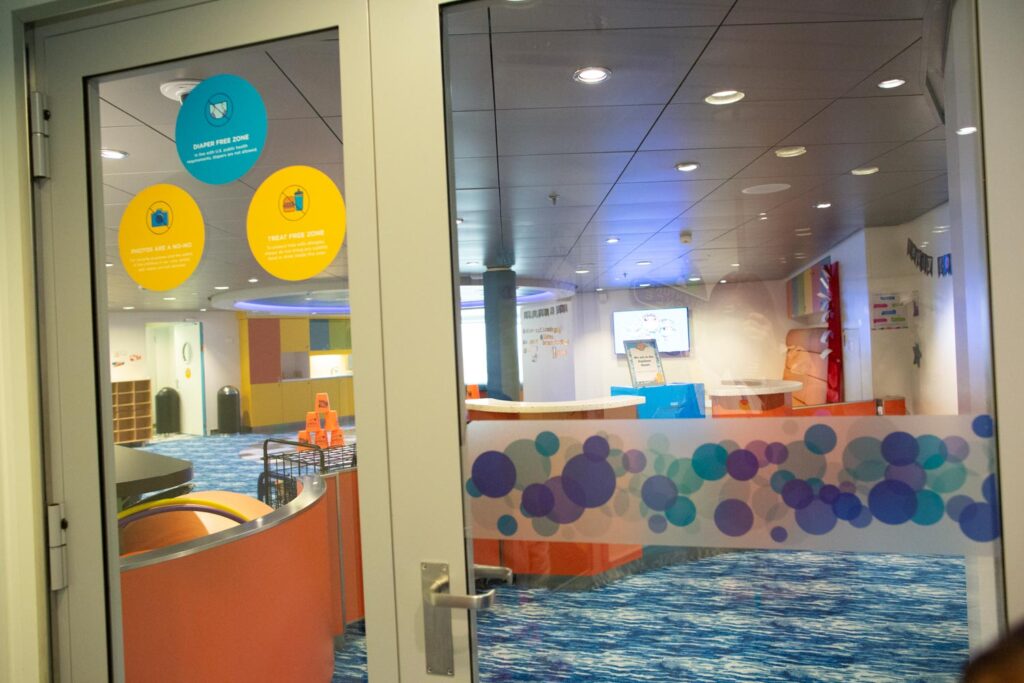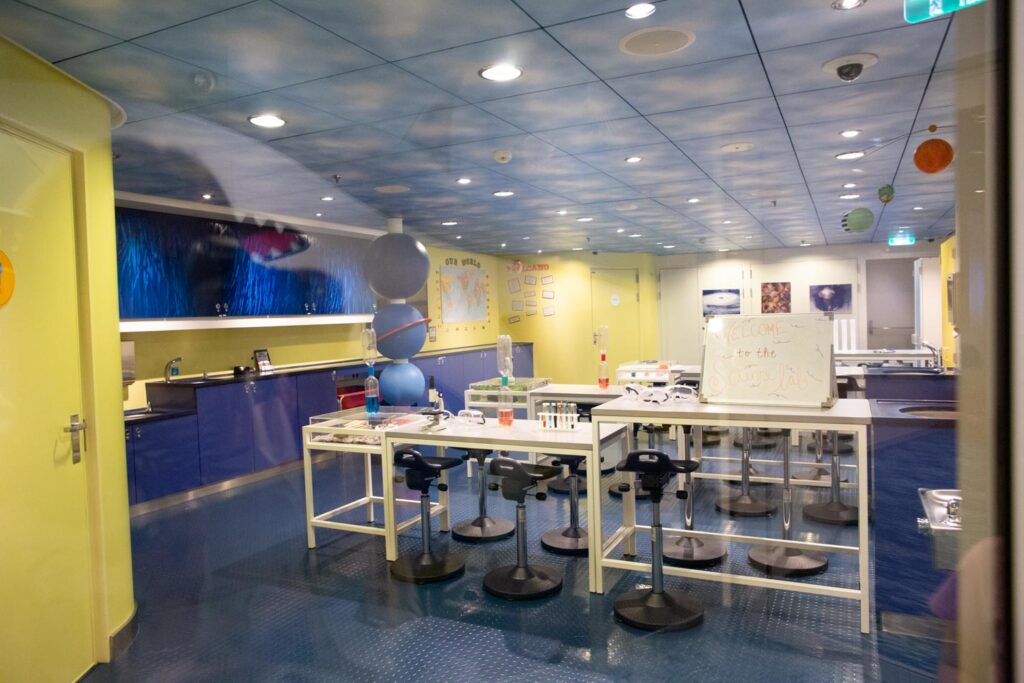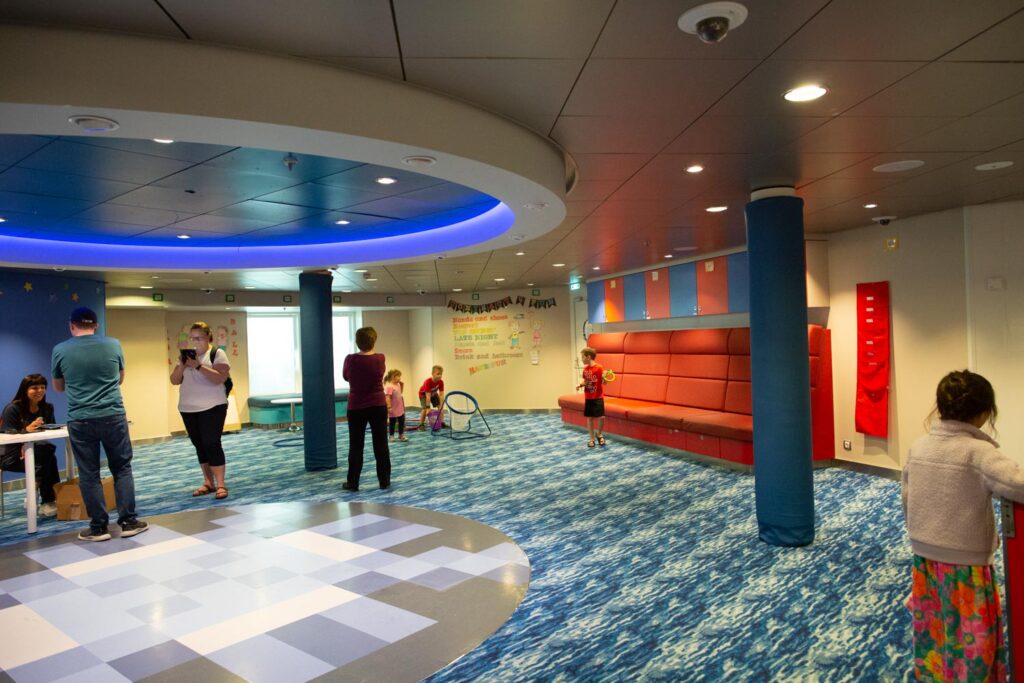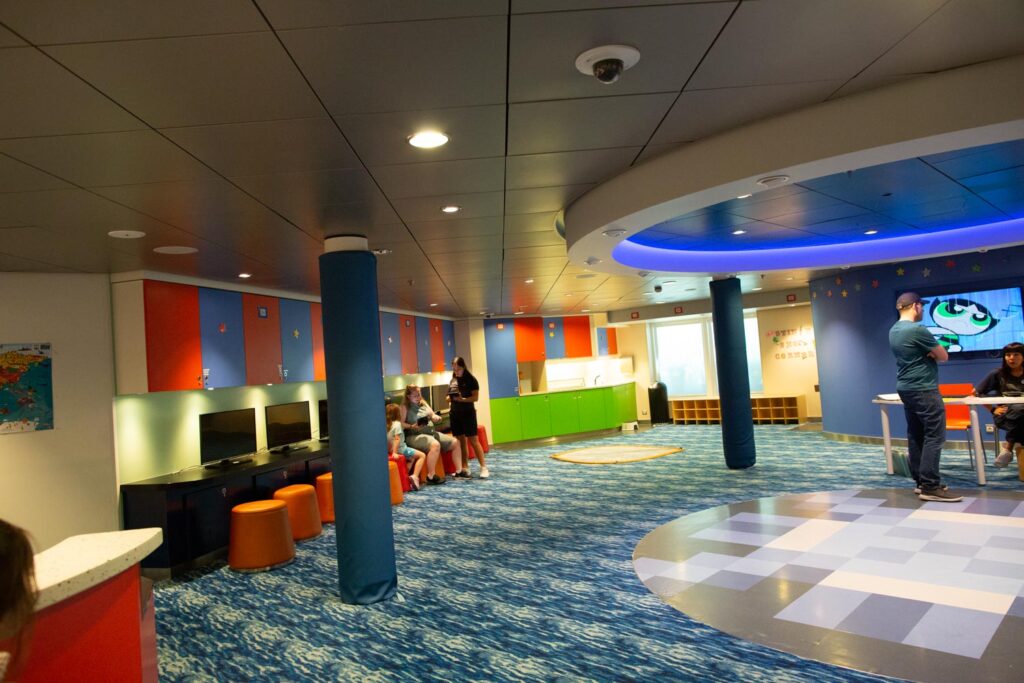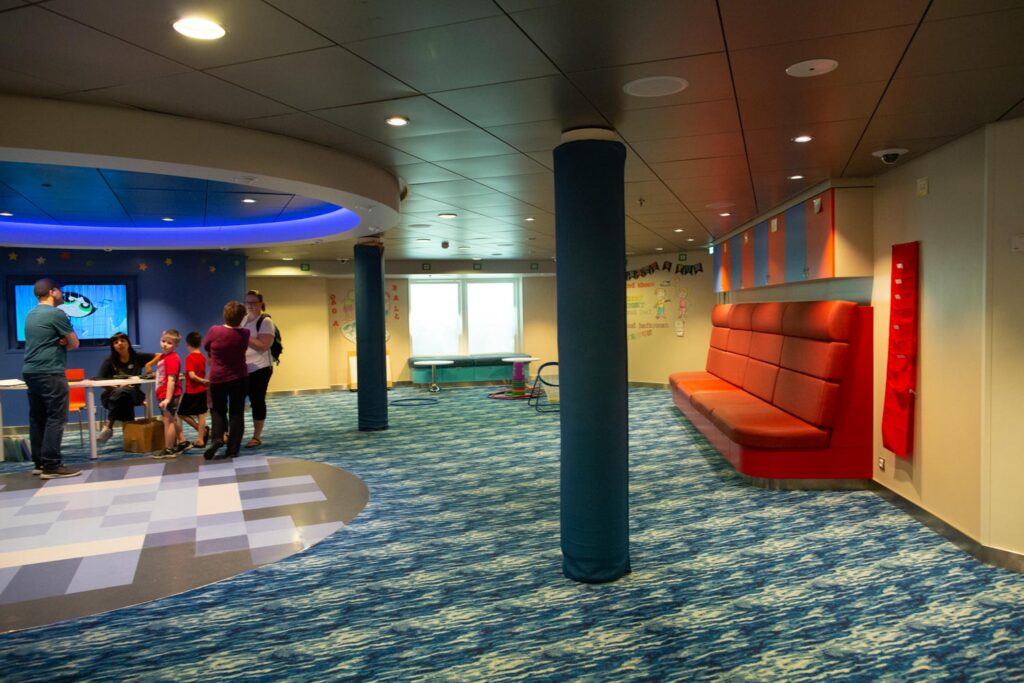 Restaurants and Dining
There are SO MANY places to eat on Symphony of the Seas. However, I wanted to share with you the most commonly missed things so you avoid any diappointment.
Dining First Day on Board
While most people head to Windjammer Cafe, check out Park Cafe, El Loco Fresh, and even Solarium Bistro (with kids). Park Cafe has a renowned roast beef sandwich, so you should definitely try it out!
Izumi Hibatchi
You'll want to book this experience EARLY or at least before boarding. This experience always book fast because of both the deliciousness and the entertainment.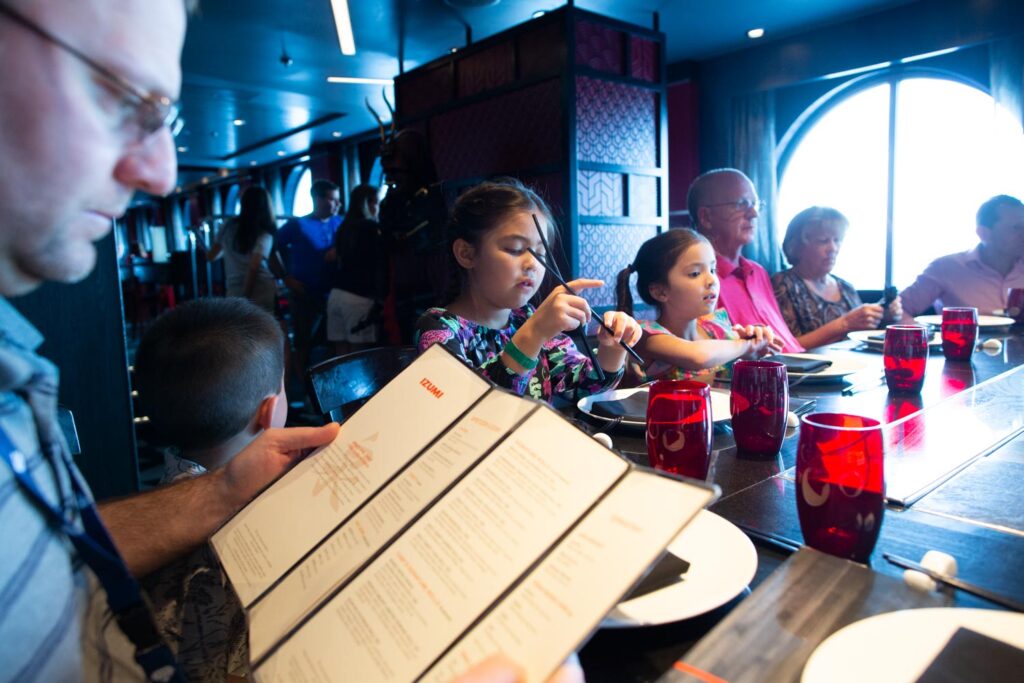 Breakfast Tip
Johnny Rockets offers a free complimentary made to order breakfast, just make sure you get there early!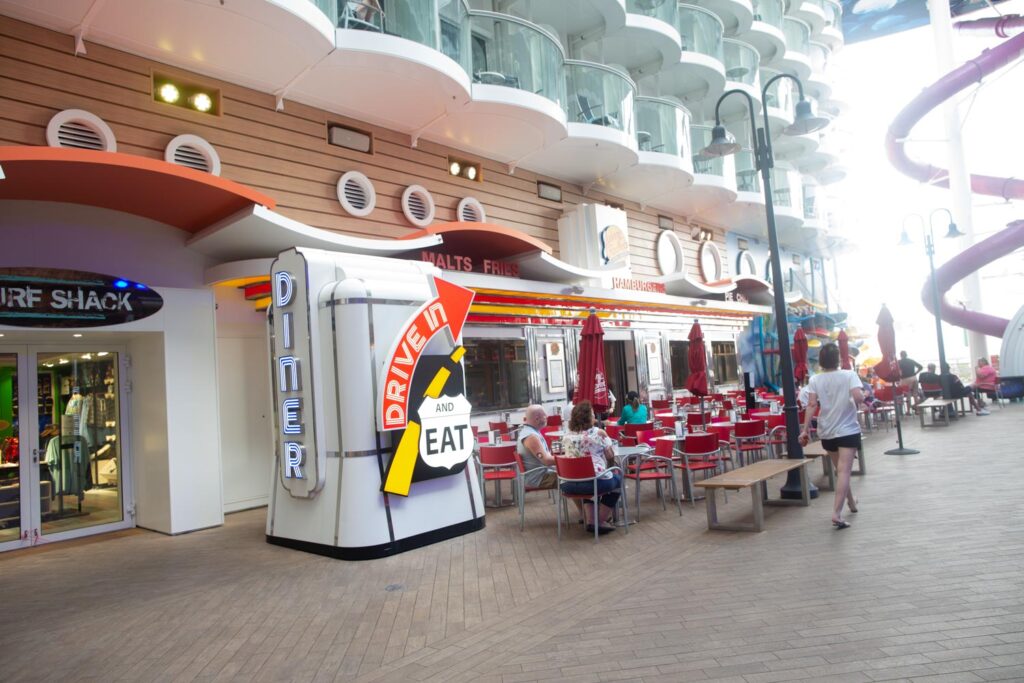 Main Dining
Main dining for both breakfast and dinner is delicious! You do not need to buy any specialty experience. I promise you, you won't be disappointed and should not feel any FOMO for not doing it.
Ice Cream
It's actually frozen yogurt and it is on the floor where the pool is.
Best Restaurant for Kids
El Poco is our favorite place to eat with our kids, namely because they love Mexican food. It's fast, easy, and delicious for grab and go meals.
Full List of Restaurants
Complimentary
Main Dining - Breakfast and dinner served complimentary
Sorrento's - Pizza Parlor with pepperoni, cheese, and antipasto bar
Cafe Promenade - Open 24 hours a day for coffee, pastries, bread, and cookies
Park Cafe - Fresh fruit cups, hot sandwiches, oatmeal, and bagel bar
Boardwalk Dog House - Great mid-day snack with hot dogs, sausages, and sides
El Loco Fresh - Tex-Mex that also includs a salsa bar
Windjammer Cafe - Open for breakfast, lunch, and dinner and has a ton of stuff available
Complimentary Depending on Meal
Solarium Bistro - Breakfast and lunch buffet complimentary, reservations and upcharge for dinner
Johnny Rockets - American burgers, frieds, and milkshake
Vitality Cafe - Finger foods, granola bars, and small muffins offered
Additional Fee
Izumi - Hibatchi experience as well as sushi menu
Playmakers Sports Bar and Arcade - nachos, buffalo wings, and helmet dessert that's delicious
Jamie's Italian - Classic Italian cuisine in Central Park
150 Central Park - Different entreees that represent New York City
Chop's Grill - Delicious steakhouse
Wonderland - Whimsical and magical food experiences that are entertaining
Hooked - Seafood with England clam chowder, fish, and lobster
Starbucks - There's a kiosk inside the main atrium. It's just like the one on land.
Shows
Thirty days prior to boarding the ship, shows will open up for booking. Make sure you schedule these based off of your port days. I tend to book show days off port days so that it breaks up the day.
Symphony of the Seas has some absolutely AMAZING shows. On our trip, we booked everything on Embarkation day and was able to see ALL of the shows.
Ice Skating Show - 1977 (in Studio B). The outfit changes are pretty much magical.
Broadway Show - Hairspray (in Royal Theater). I loved it, the littles not so much.
Aquatics Show - HiRO (in AquaTheater). This was so much fun. Make sure you seat the kids in the very FRONT to get them soaked! That means you may have to arrive early.
3D Show - Flight: Dare to Dream (in Royal Theater). The kids loved seeing the flying helicopter (but were bored up until that point).
Ice Skating Show - 1977
This show was incredible and the ice skating was impeccable.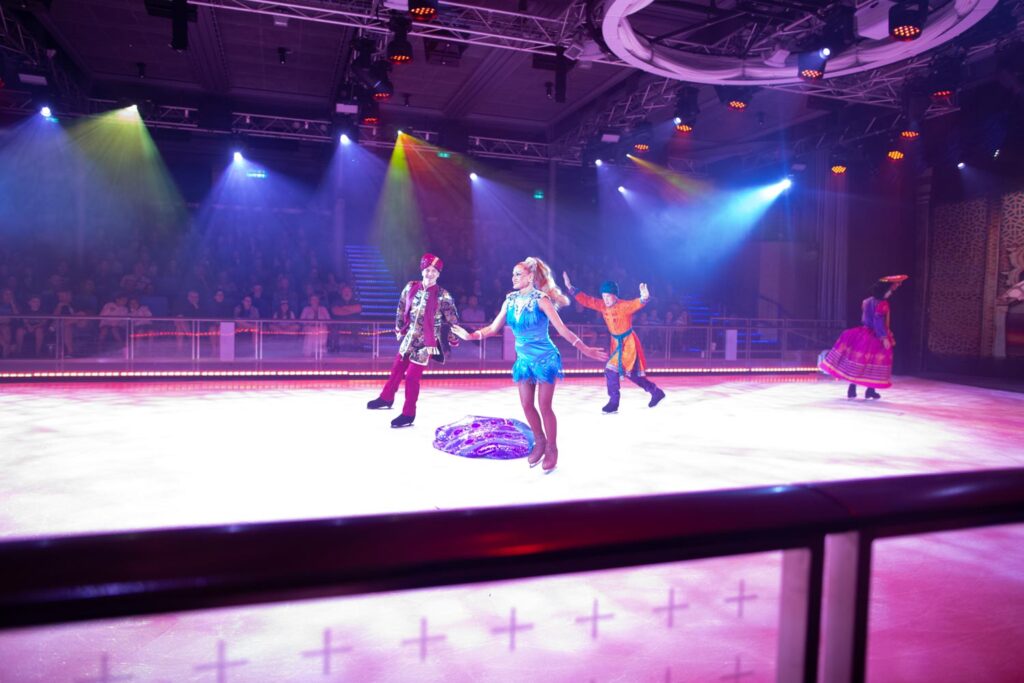 We had front row seats which allowed the kids to interact with the skaters.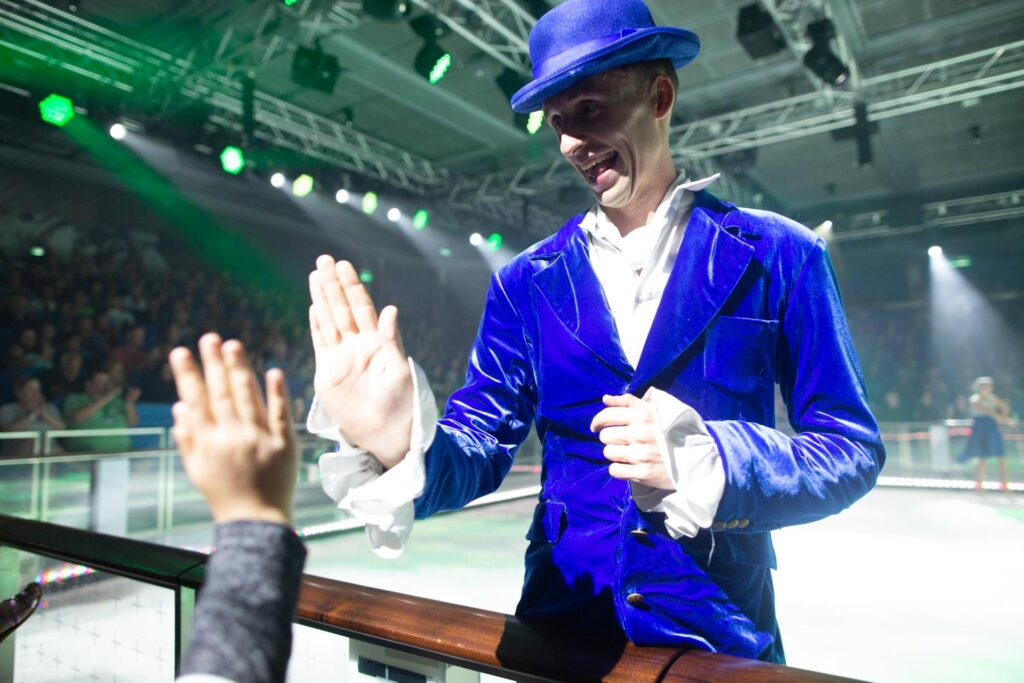 Broadway Show - Hairspray
I wouldn't recommend kids sitting through this because mine definitely got antsy. I loved it through - the singing was amazing.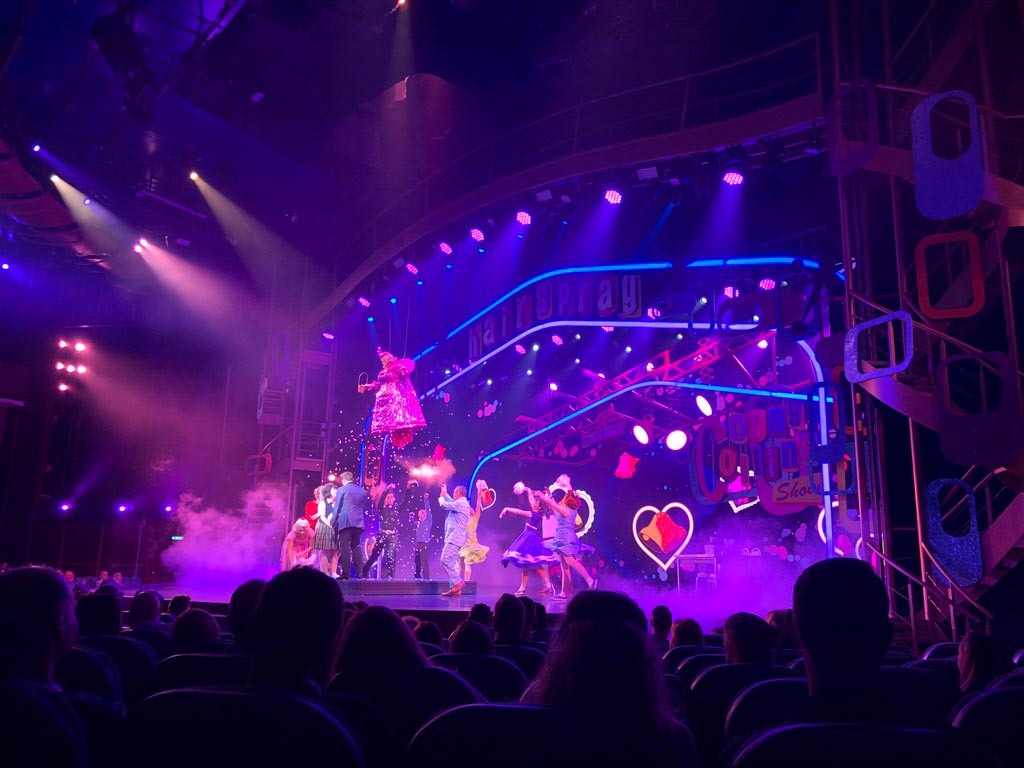 Aquatics Show - HiRO
This was by far our FAVORITE show. We sat up close and personal and the kids got soaked. They loved it. The stuntsman ship into a pool that small is unreal.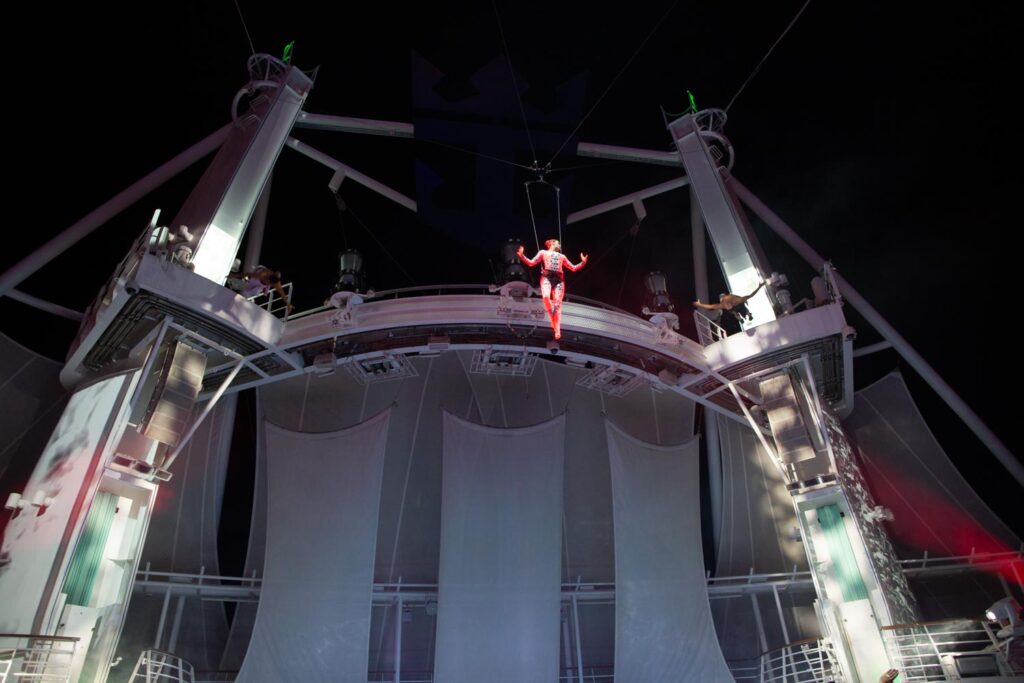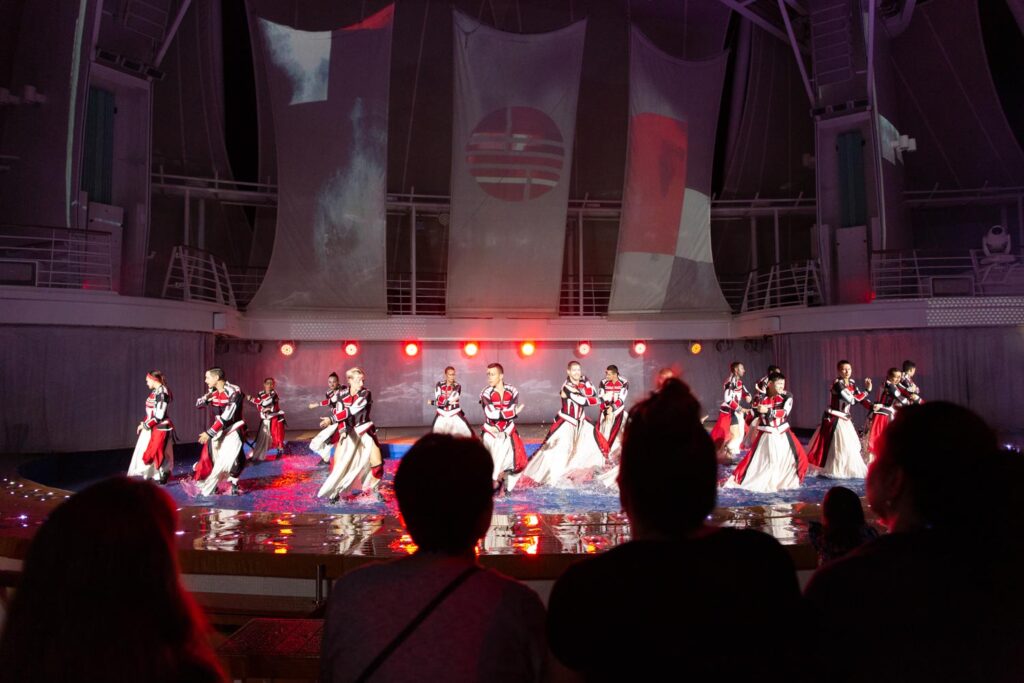 3D Show - Flight: Dare to Dream
We liked this show as well, but was probably our least favorite if we had to prioritize seeing the shows.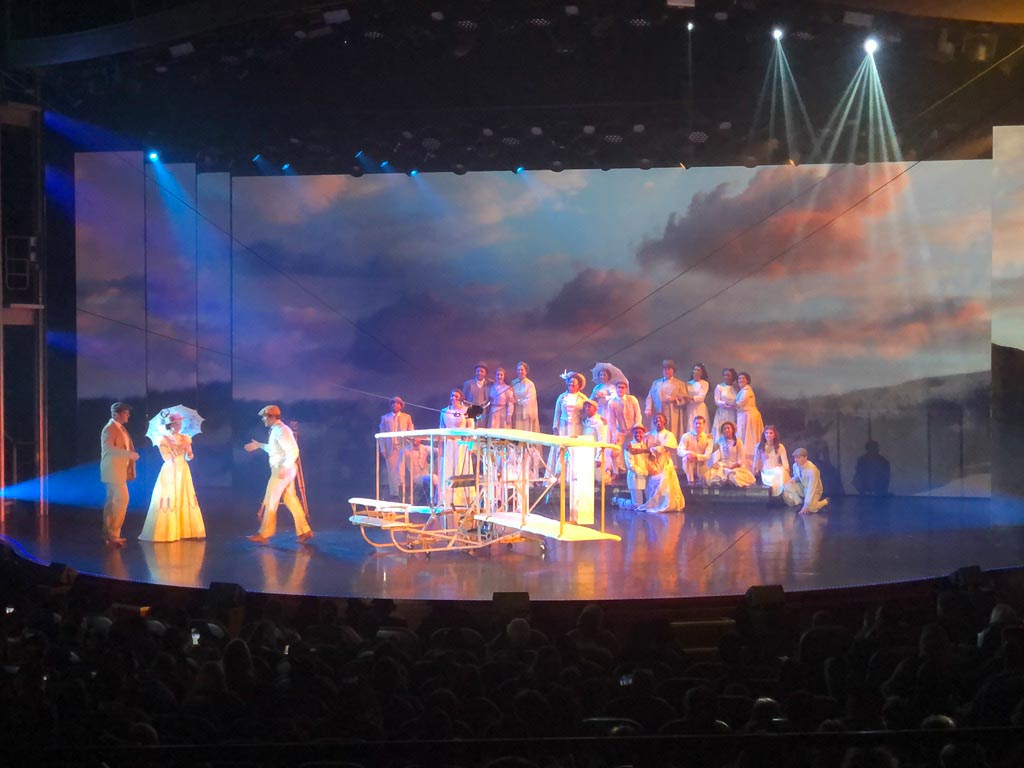 Entertainment
Ultimate Abyss is not to be missed. If you have little ones, you'll want to make sure there is a guardian at the top and the bottom so they don't get lost after riding down.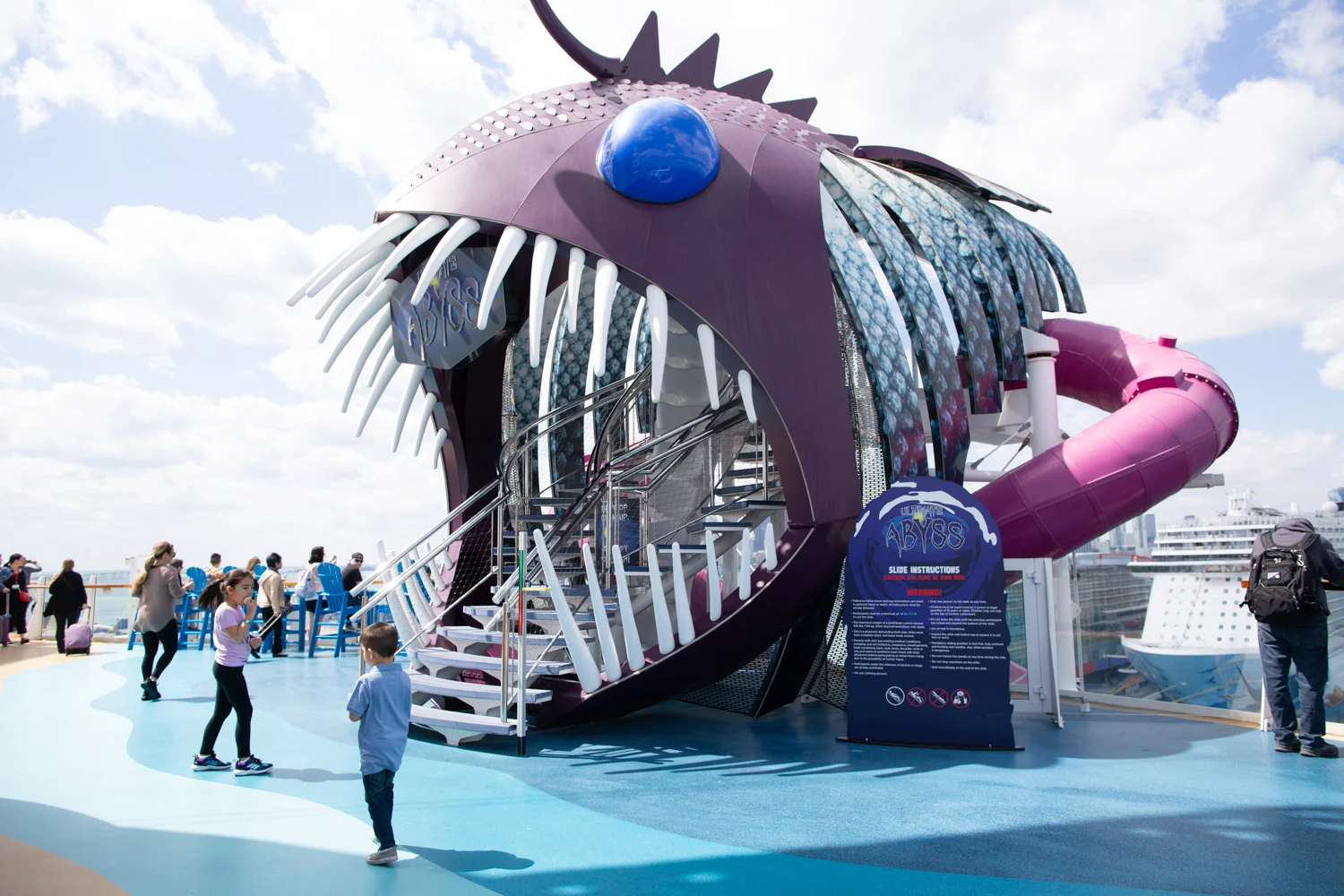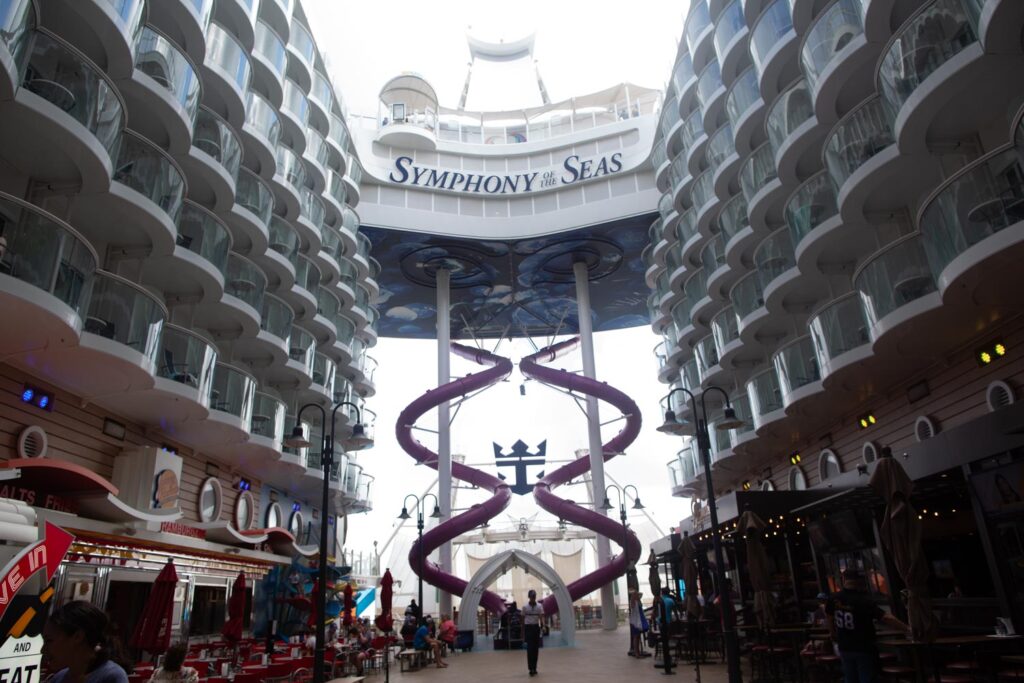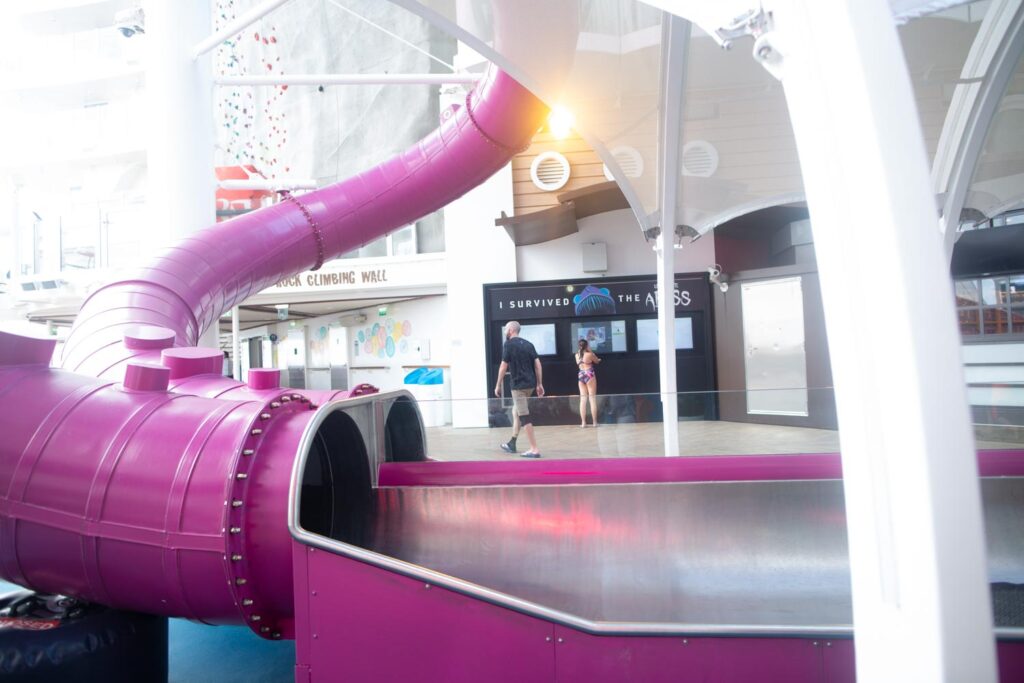 Big Wonder is a beautifully lit up bar at night that you'll need to go checkout.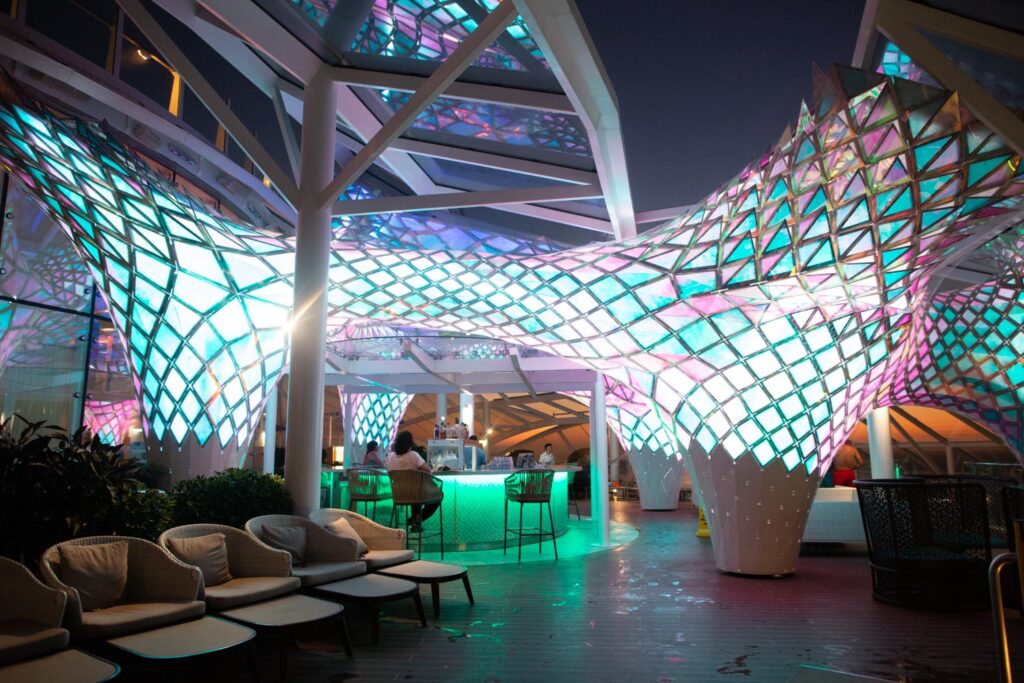 While you are there, checkout the "King of the World" moment section on deck, where you can see down to the ocean on a clear deck floor.
Zipline across 82 feet fof the ship. You need to be 52" and a max of 275 pounds (with a minimum of 75 pounds). It's free!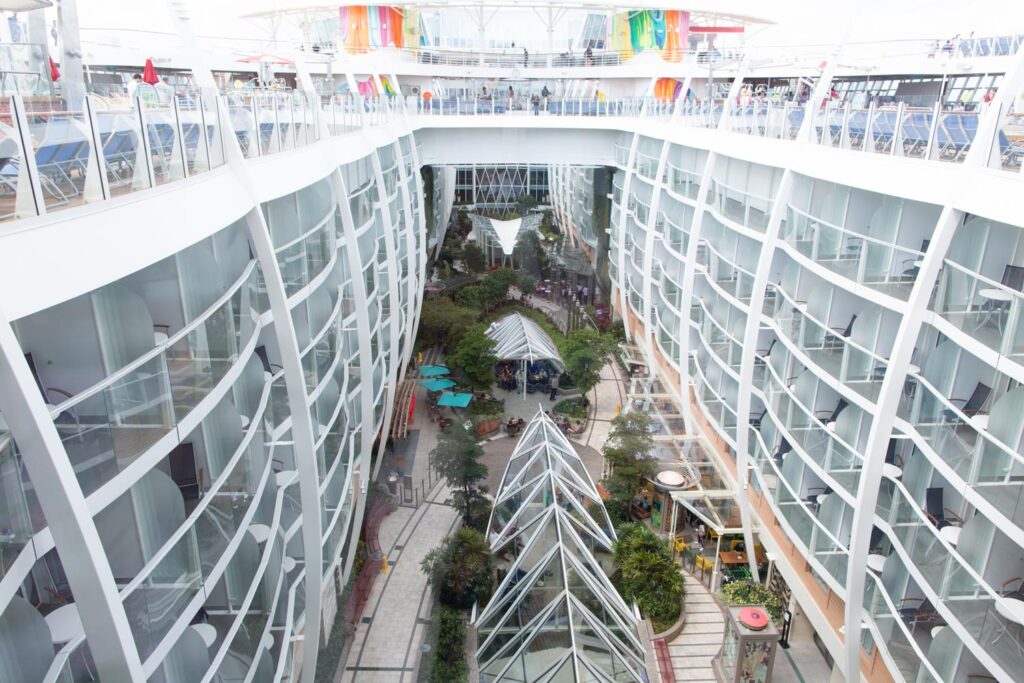 Rock climbing was really fun. I would recommend going super early in the morning before everyone else is up and so you don't have to wait in line.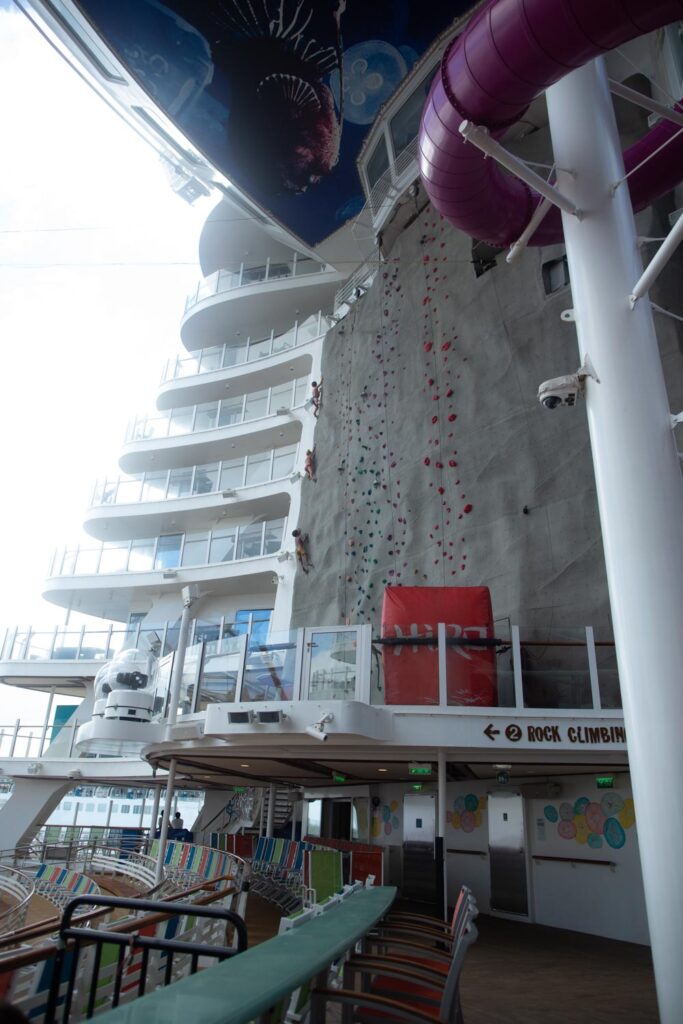 Waterslides are absolutely fun that includes a champagne bowl and the other are racer slides.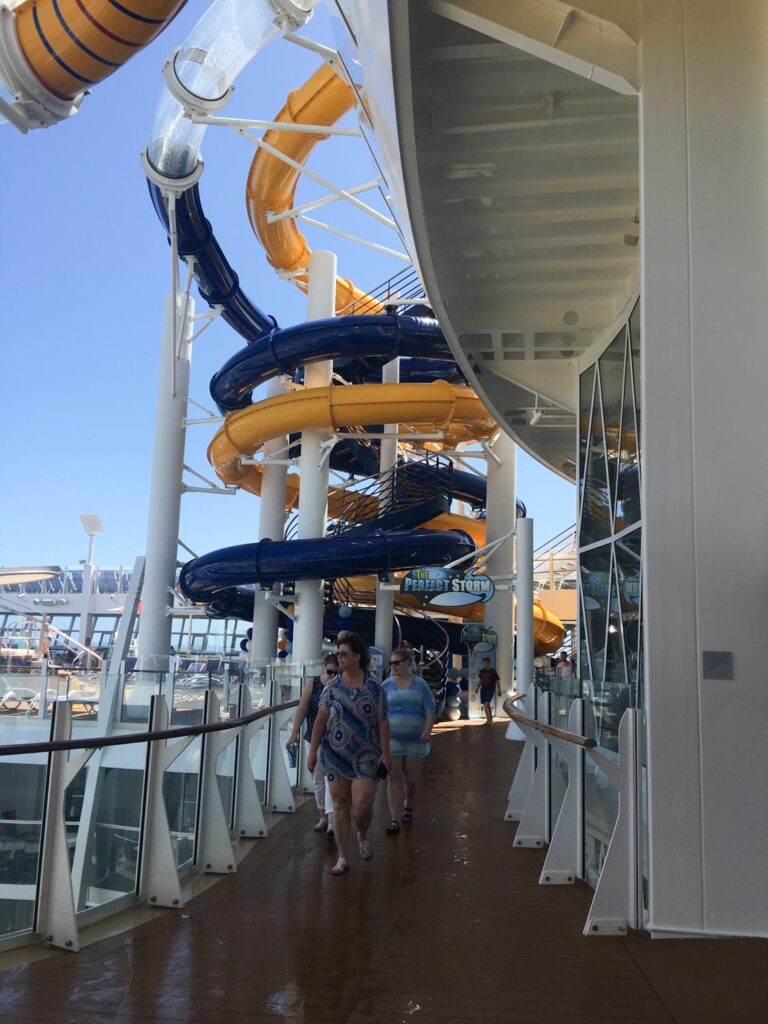 Splashaway Bay is great for kids to enjoy, both big and small.
Carousel on the boardwalk is super fun! The kids rode it many times.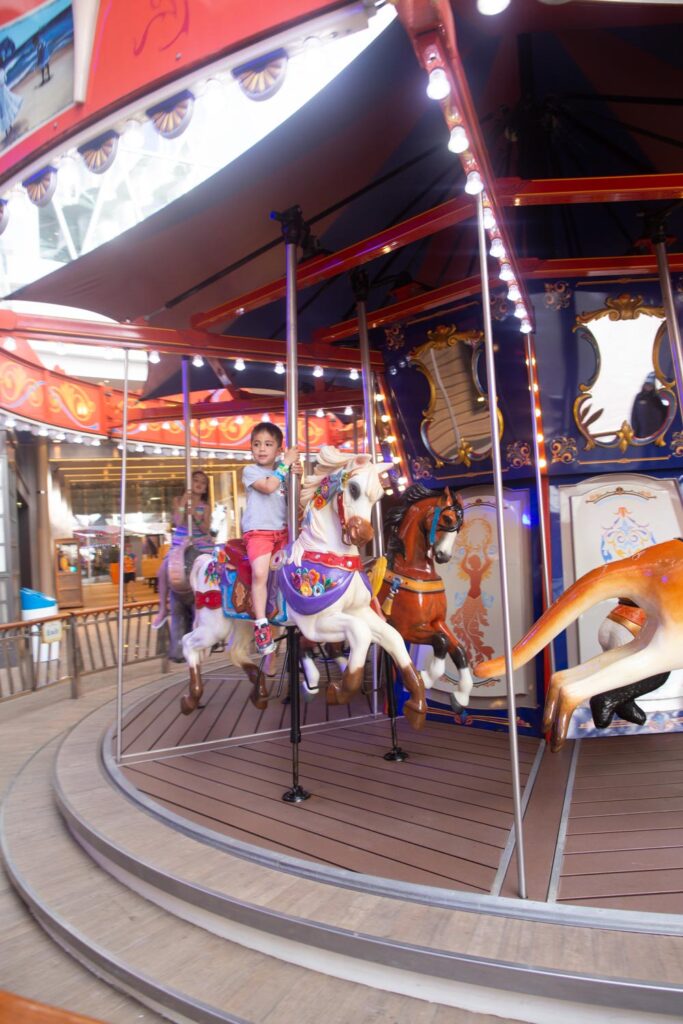 On a few of the days, they offer face painting right next to the carousel.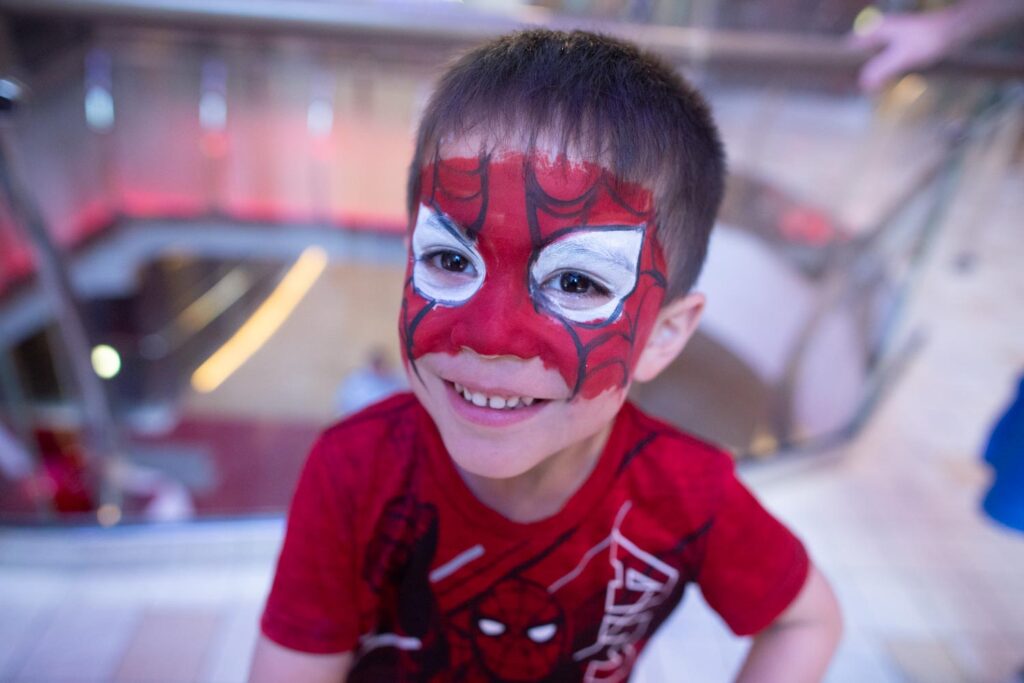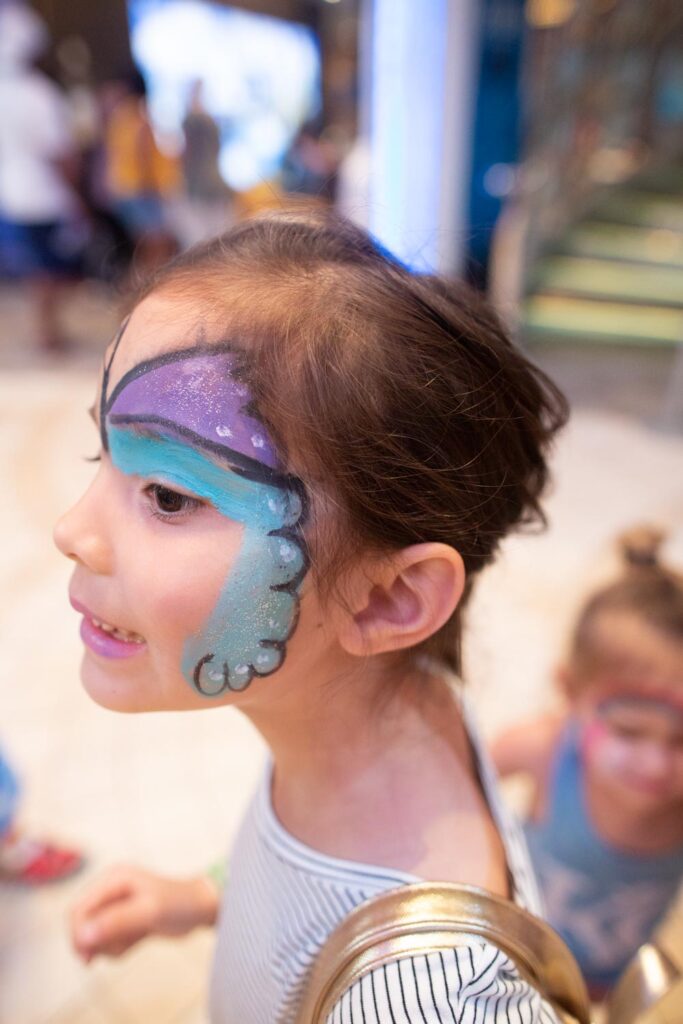 Mini golf is available, but our kids did not have the patience for it.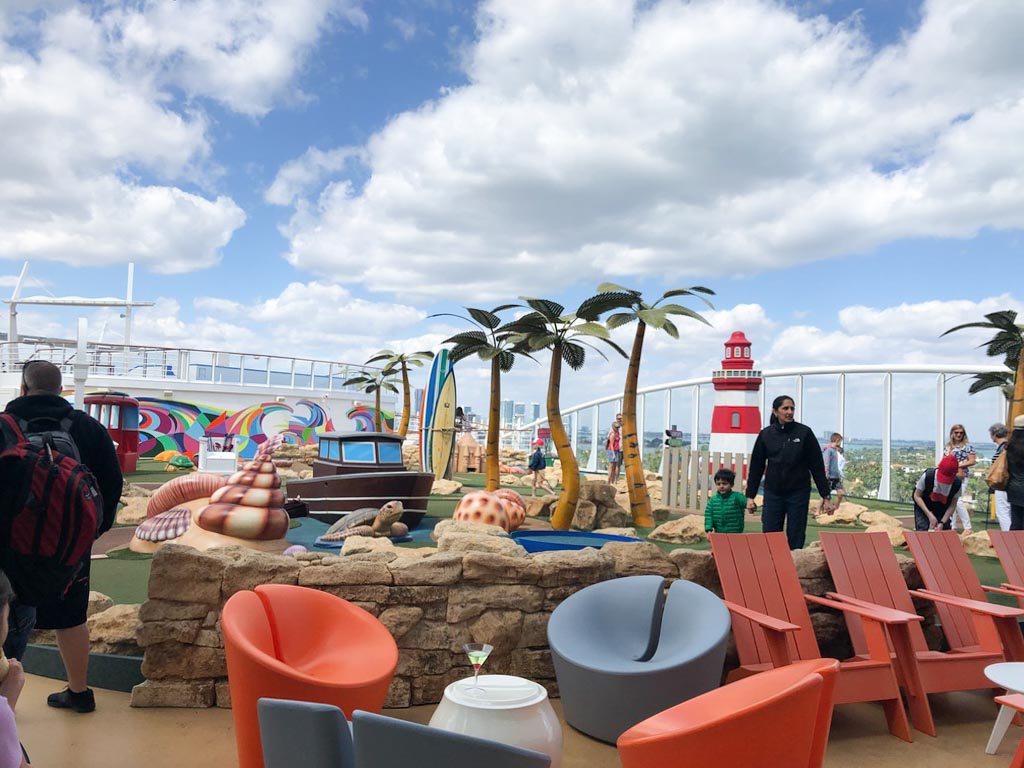 Laser tag was so much fun for our big family! We absolutely loved it more than we thought we would. It's in the same place as where they do the ice skating show!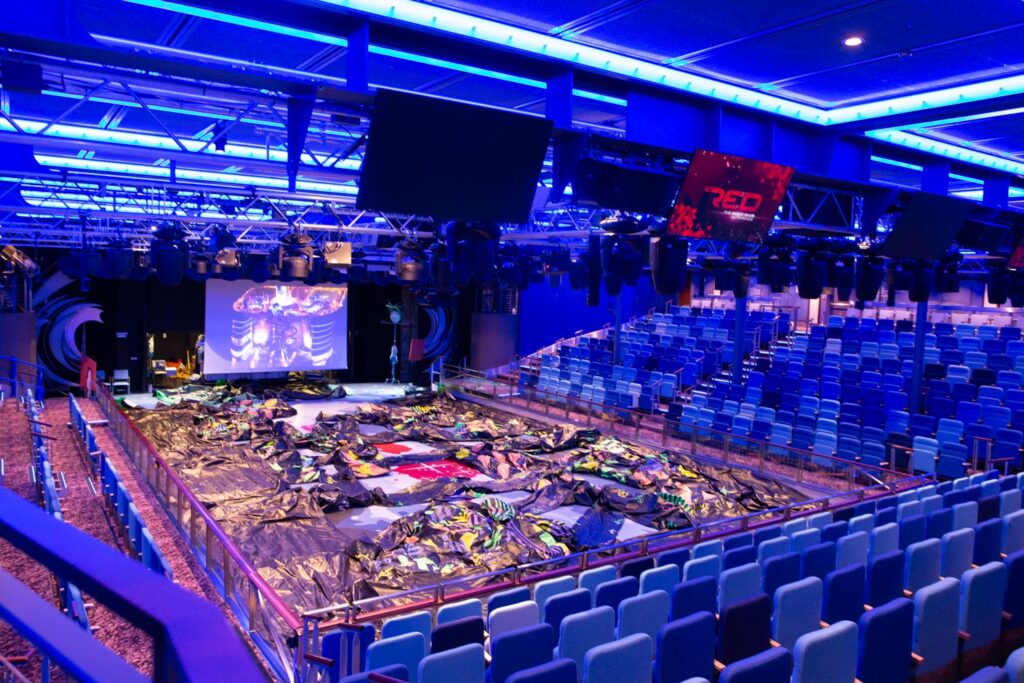 Flowrider is a fun simulation of surfing the waves!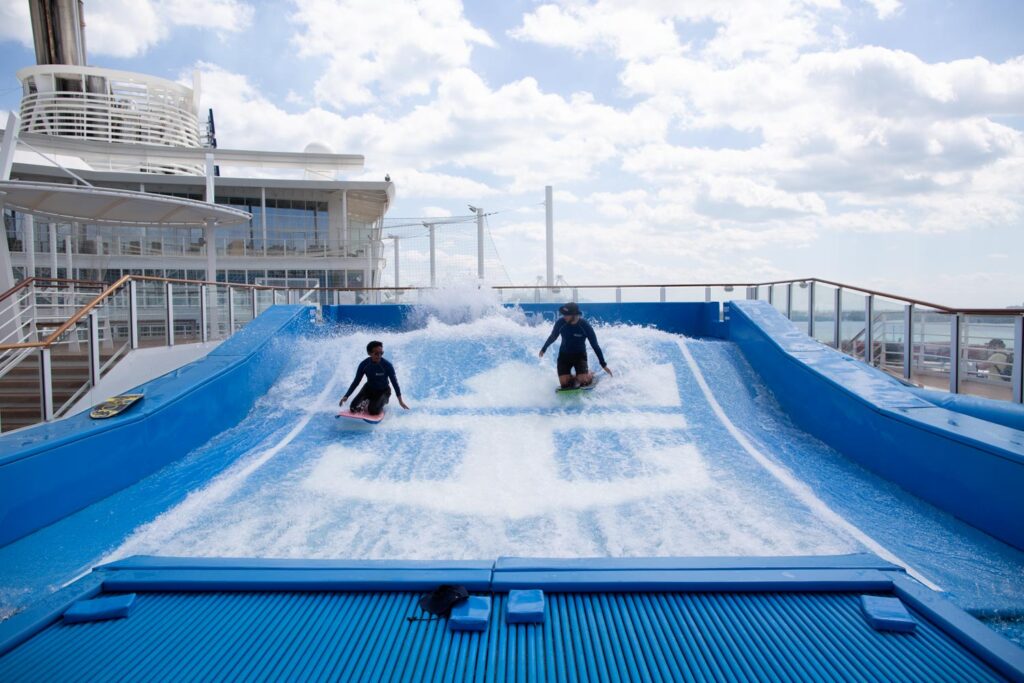 Parade happens at a set time, so make sure you go so you can get a good spot early.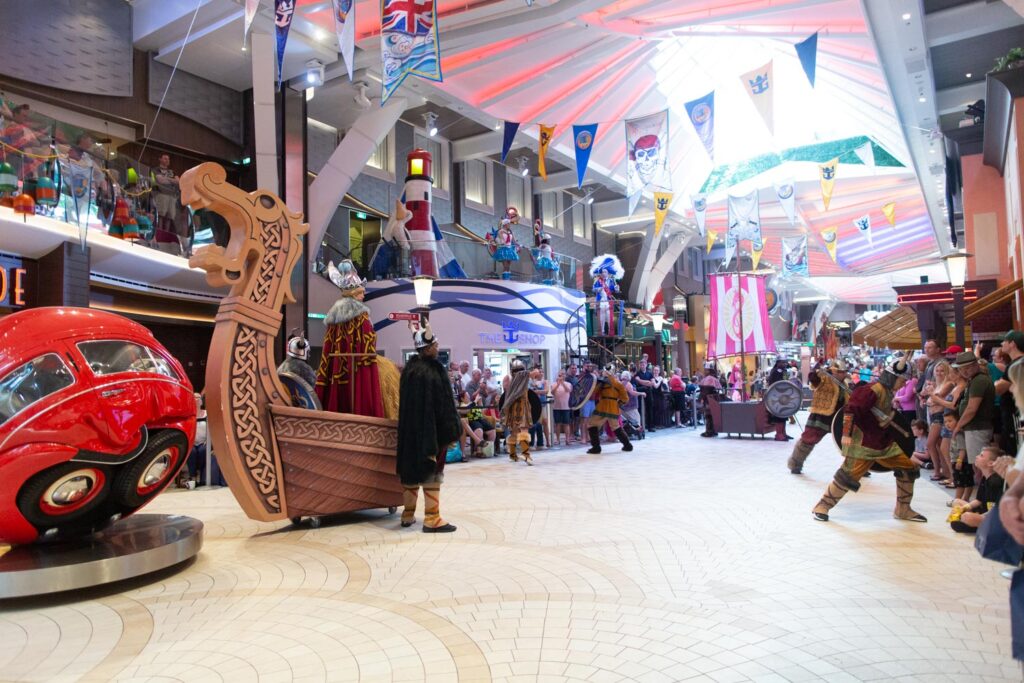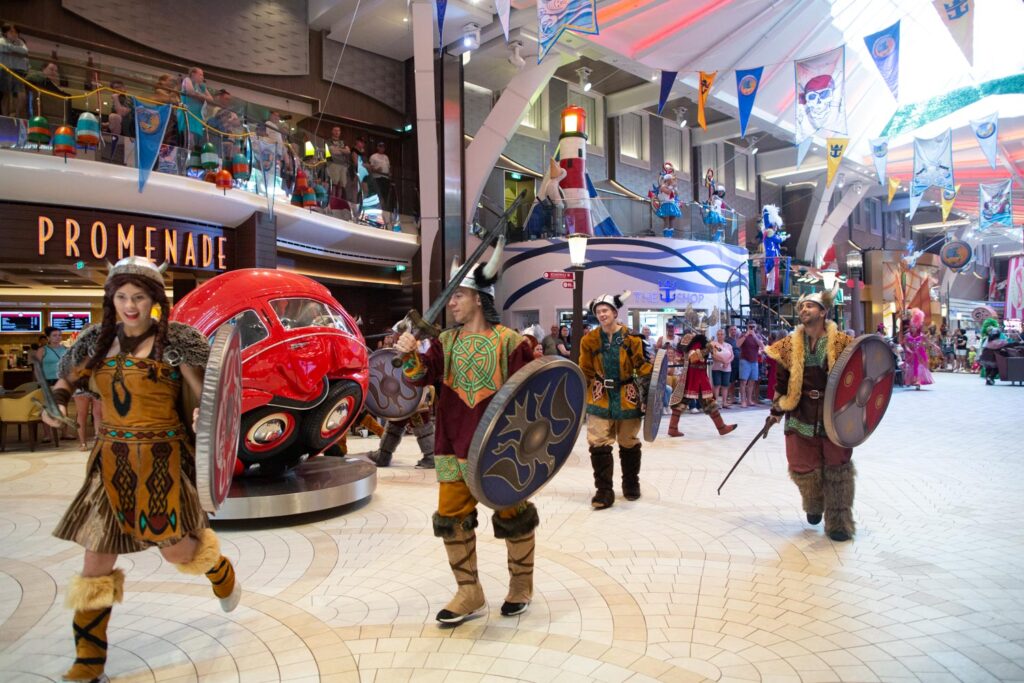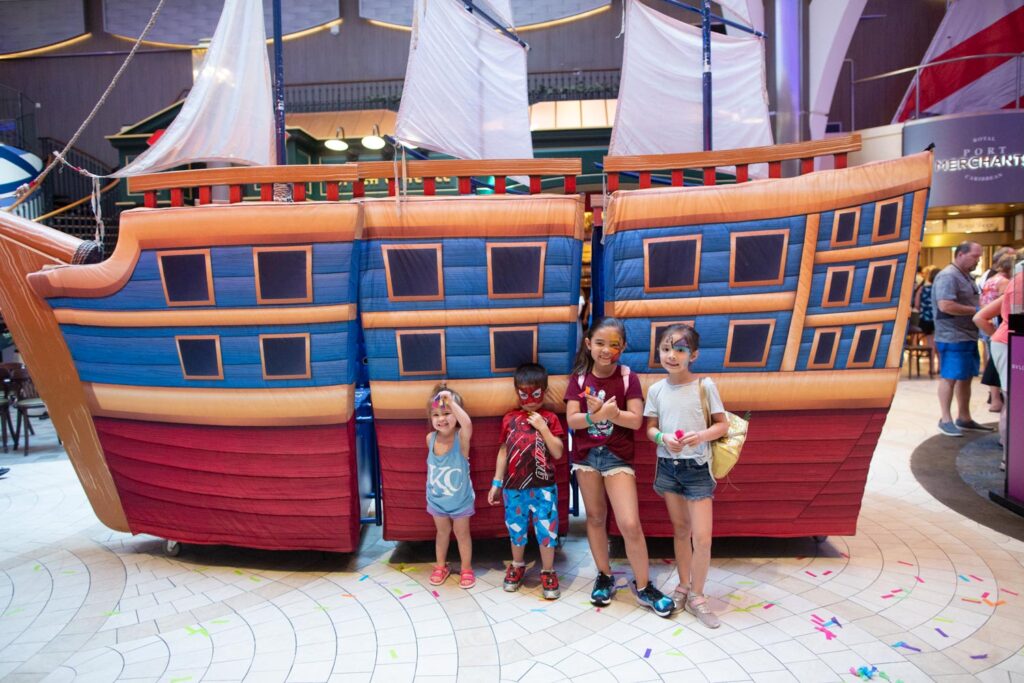 Technological bartender at the Bionic Bar is awesome at taking orders and making drinks.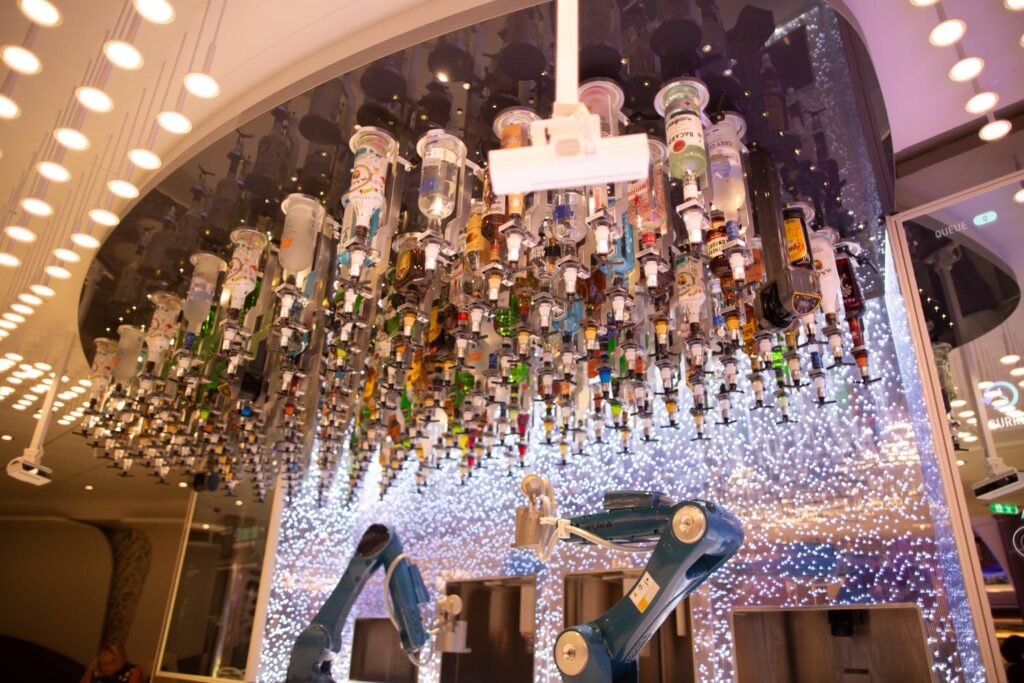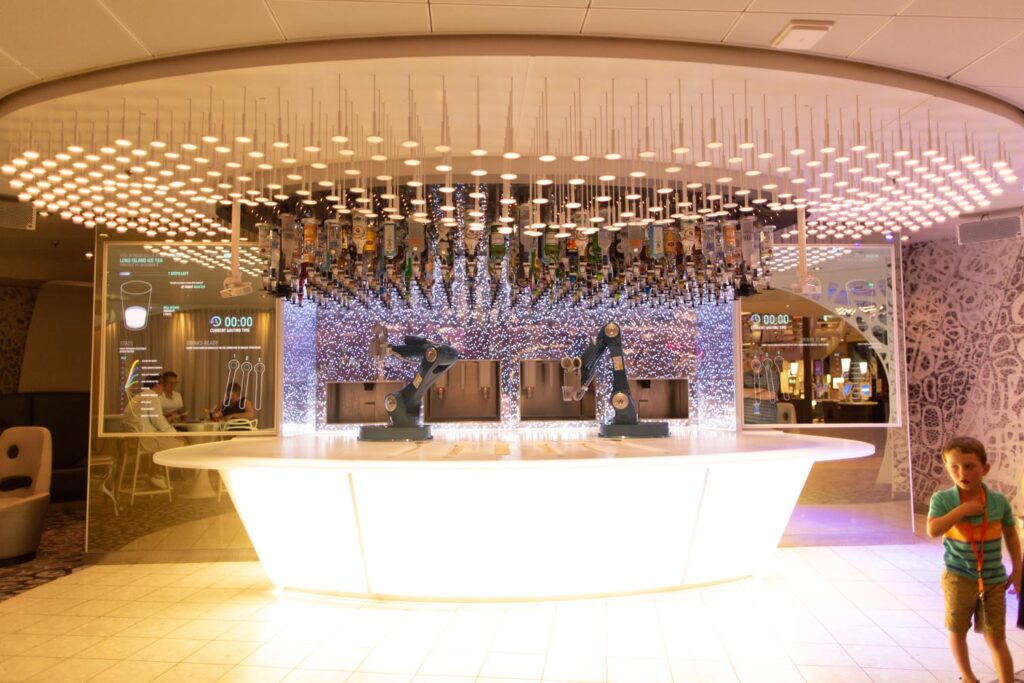 Sugar Beach is a candy store the kids absolutely loved purusing.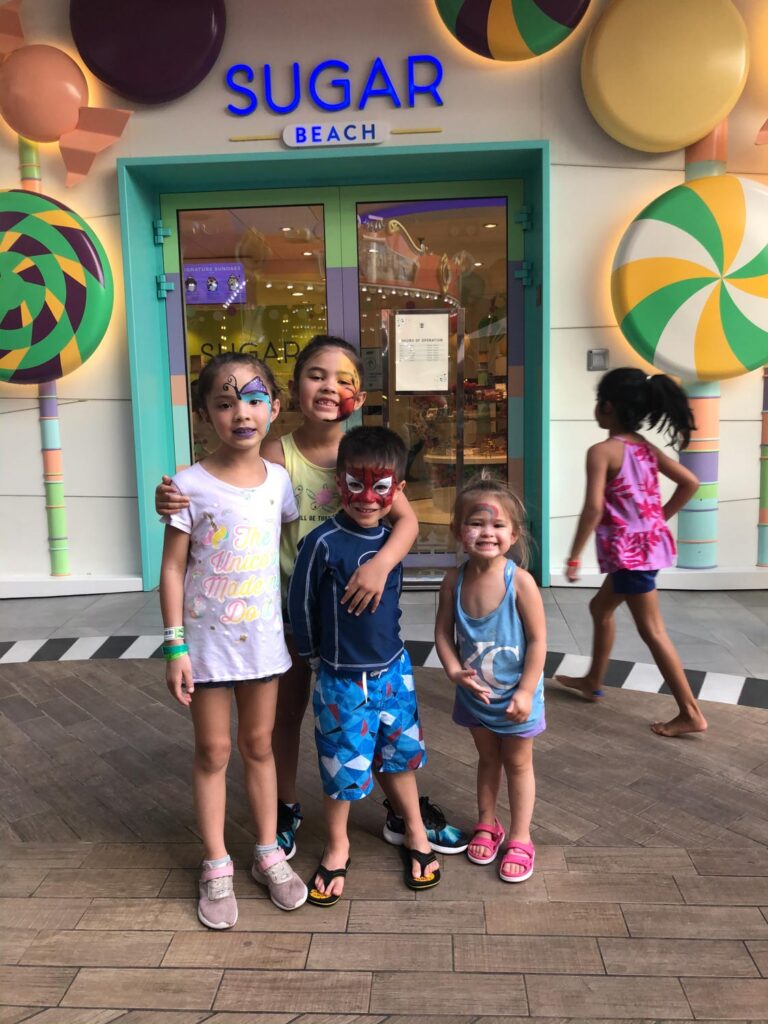 Arcade is also available, but we never see anyone using it!
Casino is also available as well, but we never visited.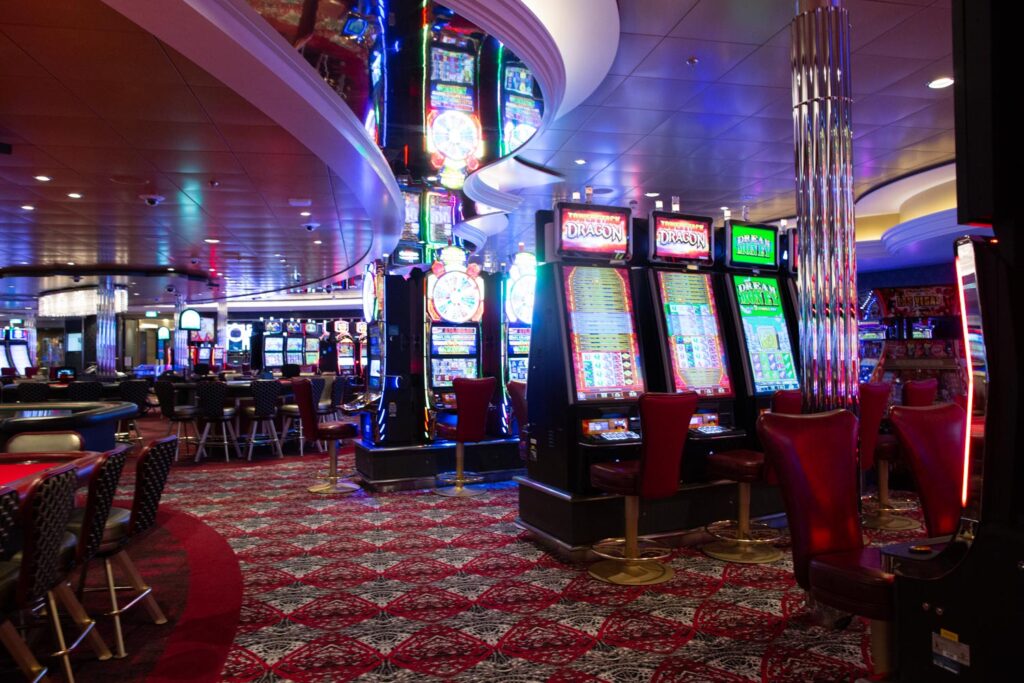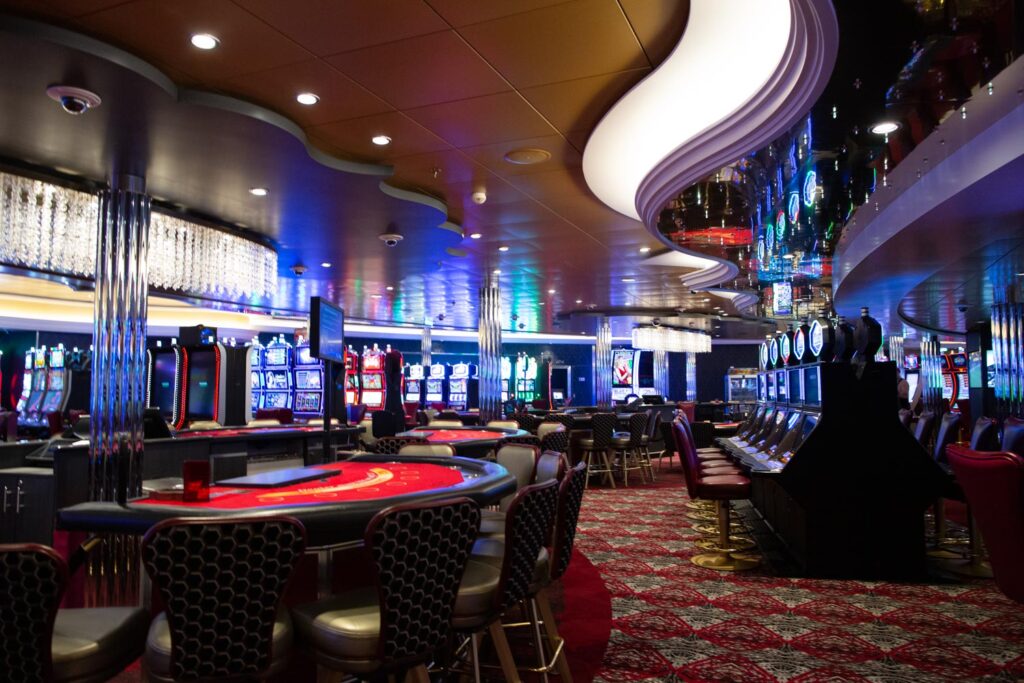 Honest Review of Symphony of the Seas
We absolutely loved it! While we did prefer the kids activity center better on DCL, we still liked Royal Caribbeans. The food was top notch, the service was incredible, and there were just so many things to do on the cruise ship!
For our family of six with two adults and four kids, there was something for almost everyone to love about the ship.
We loved it so much that we plan on going back to the sister ship. Being able to go on the sister ship will allow us to see different shows, but have the same exact ship amenitities that we absolutely enjoyed.
Frequently Asked Questions
Is there daycare on Royal Caribbean Symphony of the Seas?
Symphony of the Seas offers Royal Tots, for infants ages 6 to 36 months, and Adventure Ocean, for kids ages 3 to 17 years old. While Adventure Ocean has no additional fees, Royal Tots has fees by the hour.
Can you pre-book the shows on Symphony of the Seas before boarding?
Cruise passengers can reserve the shows ahead of time, and they are generally set between 30 to 60 days before the crusie sail date.
How much does it cost to go on Symphony of the Seas?
For a family of four, it costs approximately $4,000 to go on a 7-night cruise.
Are all activities free on Symphony of the Seas?
Most of the activities on Symphony of the Seas are included in your cruise fare including shows, laser tag, zip line, slides, carousel, face painting, parade, mini-golf, FlowRider, and swimming. Things that would cost additional money include specialty dining.
Symphony of the Seas Tips